August 3, 2021 at 4:40 pm
#3754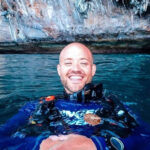 Travis Turgeon
Keymaster
Hi Johann, thanks for contributing to the forum!
We're still in the beginning stages of building the #BoatLife community, but I'll be happy to help answer some of your questions.
It sounds like you'll be using the dinghy pretty heavily. That's great! Having a dinghy as a secondary vessel to your small sailboat is going to open up a ton of opportunities – especially for those things like fishing, provisioning, and diving. However, with such a potentially heavy workload, I think you've at least narrowed down the "type" of dinghy you should be looking for.
RIB dinghies are going to be a perfect companion to your ALLIED PRINCESS 36 – Rigid Inflatable Boats offer the best of both worlds. The hard-bodied hull makes for a stable and damage-resistant body, while the inflatable tubes add optimal stability. The one thing you'll want to consider is your storage options. RIBs can't be deflated and rolled up, so you'll need to store it one of a few ways:
– Dinghy Davits
– Towed (Inshore only)
– Lashed Upside-Down on the Boat Deck
As far as the outboard motor goes, a RIB dinghy will generally support a wide range of outboard motors due to its strong build. Many choose to equip their 10-12 foot RIBs with a 10-15 horsepower outboard, and that gets them around just fine. For more capability, you can obviously opt for a stronger outboard – somewhere in the 20-50 horsepower range – although it's not common that you'll need the added power. The larger engines are also a bigger pain to transport, and the process of deploying and retrieving the dinghy can become troublesome. If you do choose a bigger outboard, be sure that you have a solution in place for mobility.
For more information about purchasing a dinghy, you can reference an article we wrote here: https://www.hashtagboatlife.com/choosing-a-dinghy/
All the best in your future endeavors on the water! Check back in from time to time to check for new content!