August 14, 2021 at 11:32 pm
#3879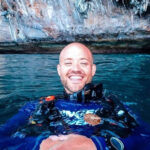 Travis Turgeon
Keymaster
Hi Roger, welcome to the forum!
Excellent questions, and something I know a bit about, so I'll try to help as much as I can.
I dive with a Sony A73, so it's actually the same in terms of the housing and compatibility – it's just not the resolution model that you have. While I don't have a ton of experience diving with DSLR setups, I've seen plenty of them being used underwater…They're MASSIVE! Of course, the mirrorless setups aren't exactly small, but compared to a DSLR, the entire setup seems much more manageable.
The nice thing about the Sony Alpha series is they do really well in low light conditions – although I don't think the R series has the same capabilities as the standard 24MP A73 camera body, as the extra resolution brings down the low light capabilities. Either way, I think the Sony A-series cameras are top-notch for taking stills underwater.
You may have to do some research to get some tangible comparisons between your exact camera models. I know someone who was diving with a 5dIII – and they loved it…took really nice stills as well. From my understanding, the white balance can be a bit better on the higher-end DSLRs – they're just a bit easier to balance against sand, scuba tanks, or something similar. For me, I just use a white slate. I rebalance every 5-10 meters as the light availability changes. You can, of course, adjust the white balance in post – but nobody likes to spend the time to correct every single one of their images.
Overall, I don't think you're in a bad position either way. Both setups have their pros and cons, but ultimately – especially if you'll be traveling with your dive equipment – size is going to make a world of difference.
I hope that helps a bit, and keep an eye out for any future responses from other dive photographers. Good luck!
Cheers!