August 6, 2021 at 6:28 pm
#3761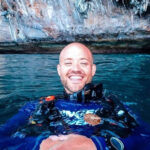 Travis Turgeon
Keymaster
Hi Jennifer. Welcome to the forum, and thank's for contributing!
First off, congratulations on preparing for future journeys by sail! Trying to plan sailing with your pets can be tough, especially when doing it for the first time. The good news is, you definitely aren't the first to take your pet with you on a big journey, and there are a ton of resources and first-hand advice to help you prepare and feel good about your upcoming adventures.
To address your questions specifically:
– It can be tough to get your pets the exercise they want while making big week+ passages, and it's one of the toughest parts for them when it comes to the cruising lifestyle. Most people will do their best to get their pets the most exercise as possible before the journey and prepare an area below deck that the pets can let loose a bit. This may be an entire room or just in the open living space. Either way, preparing toys and activities that they can play with will be important. You should also set aside enough personal time with them so that they don't feel neglected. If the weather permits, you can take them on deck to have a little bit more open space. Just be sure that they are equipped with a harness and/or lifejacket in case of an emergency.
– When it comes to relieving themselves on board, your best bet will be to install an artificial grass pad somewhere on the boat. These are small mats made of artificial grass to make it feel more natural to do their business. You should train them on the grass pad before the journey to avoid any potential problems while in transit. Some choose to use two pads – one on the boat deck for fair weather scenarios and one below deck for every other time.
– About getting sick: the best way to prepare is to stock up on medications before departure. Stock everything from stomach meds to heartworm medication and everything in between. While you likely won't use most of it, it's better to be prepared for what might happen than not have something when you need it.
– Lastly, pet passports and entry requirements for different countries vary by location, but you can easily find the requirements for each location online or with the immigration department. Generally speaking, the biggest requirements will be based on vaccinations.
I hope this was helpful, and be sure to check back in from time to time to see what else our community has to offer!
Cheers!