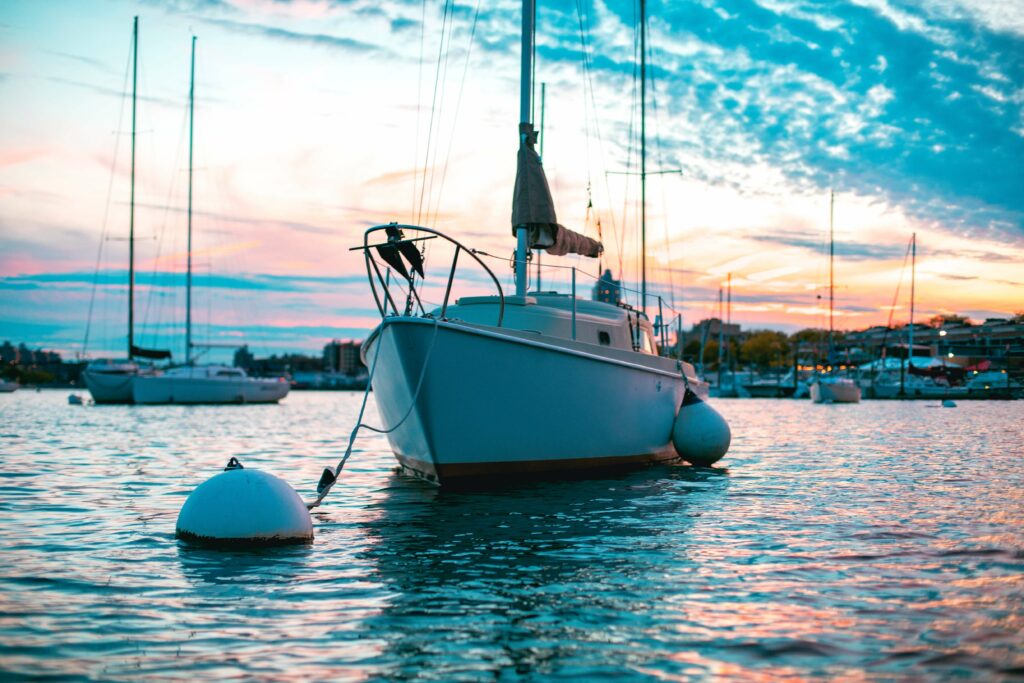 So you've decided to make boating a staple in your life. The first step? Buying a boat. The road to making a wise and well-informed purchase is a long one, and you should be ready to make countless considerations along the way. In this guide, we walk you through the entire process so that you can ensure you make a confident and thought-out purchase.

Early Considerations When Buying a Boat
Consider the following before you start the search for your first boat:
Your Budget
Buying New or Used
The Vessels Primary Purpose

Your Budget
While boating can be an affordable endeavor, many first time boat buyers are often surprised by the costs and fees that come with owning a boat. Apart from initial costs, you'll need to maintain room in your budget for things like fuel, maintenance, repairs, onboard gear, and mooring fees. This list is far from exhaustive, either, so begin to make a list of costs to consider while reading through this guide.
When putting together your budget, don't forget to take into account all of your financial responsibilities. Think about things like your income, credit history, overall debt, monthly payments, and the money you have available for a down payment. It's standard to spend tens of thousands of dollars every year on loan payments, insurance, maintenance, and fuel costs alone. Further, you'll need to make room for repairs, provisioning costs, docking fees – the list goes on.

Should I Buy a Boat New or Used?
Deciding on buying a boat new or used is a big consideration, and no one answer works for everyone. Depending on your budget, mechanical aptitude, and purpose of the purchase, you may find that one fits your situation better than the other. Let's take a look at a few of the benefits and drawbacks of each:
Buying a New Boat
If you plan to make boating or sailing a big part of your life, there are unmatched advantages of buying a new boat as opposed to buying a used boat. Keep in mind, the downsides to most of the benefits are cost-related, so prepare to reach deeper into your pockets for those advantages.
Advantages
Customization: The new market will open up the possibility of buying a boat that satisfies all of your desires to the smallest detail. You won't be limited only to what's available on the used market, and new boats will usually come equipped with the latest and greatest technology.
Warranty: New boats will come with a manufacturer warranty, a retail warranty, or sometimes both. Peace of mind may be a priority for you.
Rigging: Rig your new boat for its intended purpose, and avoid the cost of re-rigging a used boat.
Environmental Performance: Newer engines, particularly diesel-powered, have significantly better environmental performance than older ones. On average, atmospheric emissions have been reduced by 60% in modern engines, and they are also more fuel-efficient.
Easier to Finance: While higher in initial cost, new boats are often easier to finance than used boats, as their value is more concrete.
Disadvantages
Cost: All new boats will come with a higher price tag than their used counterparts. If your budget is looking slim, opt for a used boat.
Depreciation Value: As the first owner of a vessel, you will ultimately be responsible for the initial depreciation, which can be significant.
Wait Time: Building, shipping, and delivering your boat will take time unless you are buying a stock boat from a dealership or manufacturer.
Inability to Test Drive: While there might be a base model available to test drive, you will not be able to take your unbuilt, customized boat for a spin before purchase.
Buying a Used Boat
Buying a used boat as a first time owner can be a great choice. You have the opportunity to experience boat life on your terms and within your budget. If after owning a used boat you decide to invest in boating as a fixture in your life, you can upgrade to a bigger and better vessel down the line. Finding a great used boat for under $100k is a breeze, and you can often get into one for well under $30k.
Advantages
Cost: Sure, you will be buying a boat that has seen its fair share of open water. The tradeoff is getting more for your money in terms of size, features, and technology.
Time Tested: While not always the case, used boats that pass an initial inspection have often already had their big problems manifest. Generally speaking, there is less chance that a major component will be faulty or cause immediate issues.
Method of Sale: Whether you buy from a website, as a trade-in with a manufacturer, or from a private seller, you may be able to find huge discounts or benefits such as low mooring costs when taking over existing contracts.
Cheaper Insurance: With a lower overall value comes lower insurance payments.
Included Equipment: Often, previous owners will include their boating equipment in the sale, reducing smaller purchasing costs.
Paid Depreciation: The previous owners(s) will have paid most of the depreciation, leaving less room for loss if you decide to resell.
More Choice: The used boat market is about 60% larger than the new boat market.
Disadvantages
Hidden Problems: As with buying anything used, problems can be hiding anywhere, bringing us to our next point below.
Inspection Costs: A proper inspection of any used vessel is necessary before purchase, adding to your secondary costs. A few of the most critical assessments include the hull, drive-train, and engine. This is especially for vessels over ten years old.
Lack of Customization: You may have to settle with an alternative to the technology or features you desired.
Less Favorable Finance Terms: Especially when buying directly from the previous owner, used boats are more difficult to finance than new ones.
No Warranty: Most warranties will not be valid after a transfer of ownership, so if not, be sure to consider purchasing your own from a third-party provider.
Whether you'll be buying a boat new or used, make sure you're choosing a vessel that's right for you at that moment. Try not to get caught up with spending beyond your means, and don't assume that you'll be able to afford something later on down the line and finance it now. Similarly, if you plan to make boating a part of your life in the long term, make sure you get something that can withstand the test of time while still covering all your needs.

The Vessels Primary Purpose
Perhaps the most significant consideration to make before starting your search is the purpose of your purchase. A live-aboard sailing vessel won't share the same features as a small fishing boat, and a boat fit for scuba diving won't satisfy the needs of a racing yacht. Before you start searching for your first boat, gather as much information as possible – making lists to separate your needs from your desires. Create a primary list to include all of the necessities that let your boat function for its intended use. Make a secondary list to include the bells and whistles you'd like to have, but don't need.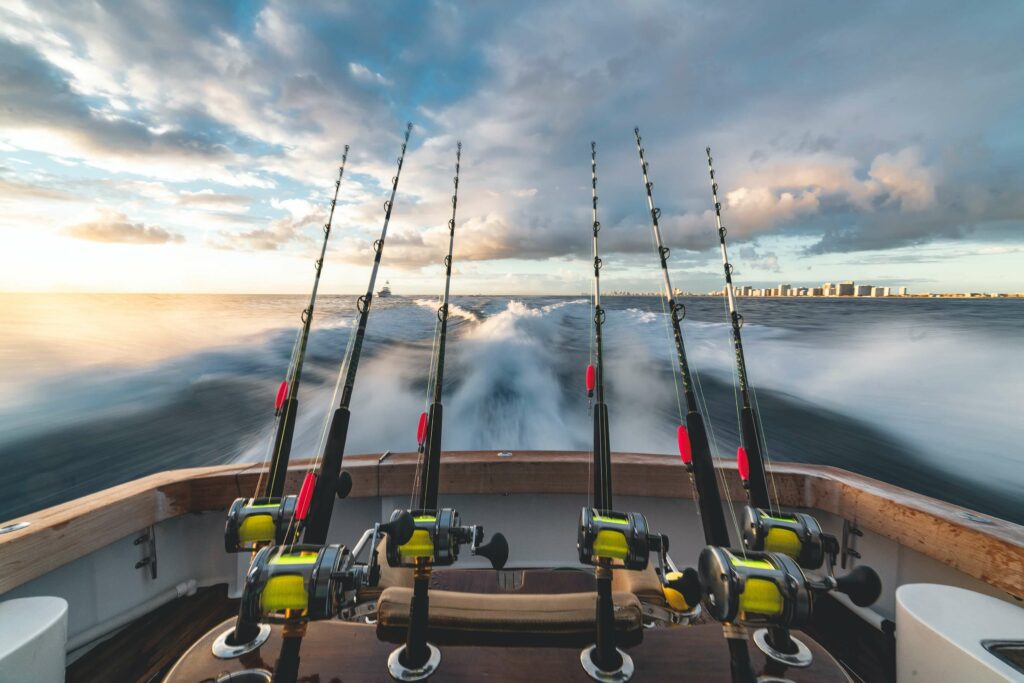 The Costs of Boat Ownership
The costs of boat ownership vary dramatically, and various factors attribute to the gaps. It's hard, then, to answer a question like – "how much will it cost to buy my first boat?". Many first time boat buyers end up buying a used boat for under $20k. Others opt for buying a new boat from a dealership or manufacturer, easily driving costs into the 6-figure range. For high-end luxury yachts, prices can rise well into the millions of dollars.
Standard Costs of Boat Ownership
One of the first costs for any boat owner is storage and mooring fees. If you live in a part of the world prone to cold, wet winters, you'll need to find an indoor storage facility for the season. Indoor storage costs vary, but depending on the size of your vessel and the location, costs range between $1k and $10k per year. Mooring fees and slips at a marina can cost you an additional $1k to $20k per year – depending on location and price per foot.
Registration fees, licensing costs, and taxes are another grouping of standard charges that all boat owners will need to pay. While these are upfront and either one-time or yearly fees, they still need to be considered.
Insurance, while not required, it is recommended for all boats to be insured. Insurance for private boat owners is not as expensive as commercial businesses, but you will likely spend between $300 and $1000 per year for a basic insurance plan. As a general rule of thumb, average yearly boat insurance costs are 1.5% of a vessel's value.
Although there are no federal tax requirements for personal boat owners, you are subject to yearly state and local taxes. Depending on your location, you could be spending upwards of $11k in taxes per year, based on the vessel's value.
Depending on the type of boat you choose, your power source will be a recurring cost. Even wind-powered sailboats will require electricity to run the onboard systems such as the watermaker, lights, and more. Solar and wind power can be utilized, but there will still be costs for gasoline, diesel, or electricity, depending on the boat.
While it's hard to generalize fuel costs, it is common to spend a minimum of $3k a year when running the boat regularly. Lubricating oil will also be required for any mechanical engine or component to avoid wear and tear.
Secondary Costs of Boat Ownership
Maintenance and restoration costs will vary, and buying a boat should reflect these considerations.
Boat Maintenance Costs Can Include:
Replacement Parts and Equipment
Cleaning
Painting
Water Damage Repairs
Hull Restoration
The possibilities go on, and lower boat costs often come with the need for more overhaul and repairs. On average, yearly maintenance costs add up to 12% of a boat's value, and these costs are recurring yearly.
All boats need to have general safety equipment such as life jackets, first-aid kits, fire extinguishers, flares, horns, etc. More advanced safety equipment is available and should be considered for any boat at sea for extended periods or operating in remote locations. Things such as bailer kits, rescue buoys, hull plugs, distress flags, and more should be kept on board to provide rescue without assistance in worst-case scenarios.
To be sure that a boat and all of its onboard kits are up to standard, follow the requirements set by the U.S. Coast Guard.
The minimum equipment requirements for a recreational vessel in the United States are as follows:
Personal Floatation Devices (one per person)
Fire Extinguisher
Visual Distress Signals
Sound Producing Devices
Backfire Flame Arrestors
Ventilation
Navigation Lights
Pollution Regulations
Marine Sanitation Device
Navigation Rules
The Coast Guard offers free inspections and safety checks for personal vessels, and while it would be nice to get an inspection done before buying a boat, they will only conduct an inspection if you are the owner. Still, an inspection post-purchase can help quickly determine repairs and replacements to be prioritized.
Navigation and radio equipment are necessary for any vessel used in open waters and can be as simple as a compass and paper map. At the same time, VHF radio systems must have the ability to contact emergency services in case of a Mayday or Pan-Pan scenario.
Other hidden costs will present themselves and will be specific to each boat. Some vessels may need a lift to transfer your boat from slip to storage, and others will find themselves towing their boats across state lines. Budget accordingly and leave room for unexpected costs.

Buying a Boat for Your Needs
If you are a first time boat buyer, chances are, you won't be aiming to purchase a 70-foot yacht right out of the gate. Instead, a smaller and more humble vessel may be better suited for your needs. Powerboats are cheaper, smaller, and easier to maintain and are a standard recommendation for first time boat buyers.
However, some will want to learn the ropes of sailing right away and be willing to put in the time and money required for a bigger and more complex setup. This is especially true of anyone who plans to set sail across the globe or live on their vessel for a large part of the year.
As we mentioned earlier, you can get yourself into a mid-sized, used live-aboard sailboat for $20k to $30k, not including overhaul or repair costs.
Some will undoubtedly go ahead with buying a boat up-front and pay all costs of their vessel. For many of us, though, a loan is going to be necessary for purchase. As with all loans, your credit will dictate the loans and rates available to you, and each will have specific terms to follow.
For a standard boat loan, plans will begin with an 8-year repayment structure, with longer loan terms increasing overall interest costs and decreasing monthly payments to the principal. Meaning, if you want to buy a nicer boat, you can opt for a longer-term loan to make it fit your budget.

Understanding the Types of Boats Available
Below, we discuss the different types of boats, their attributes, and who each is best suited for Motorboats Vs. Sailboats. Both motorboats and sailboats offer access to two different sides of the same coin and depending on your boating goals, one may be better suited for you than the other.
Motorboats
Great for use in the bays or for brief trips into the open ocean for fishing or other activities. While some people live aboard their motorboats, it is less common due to the high fuel costs required to run the engines.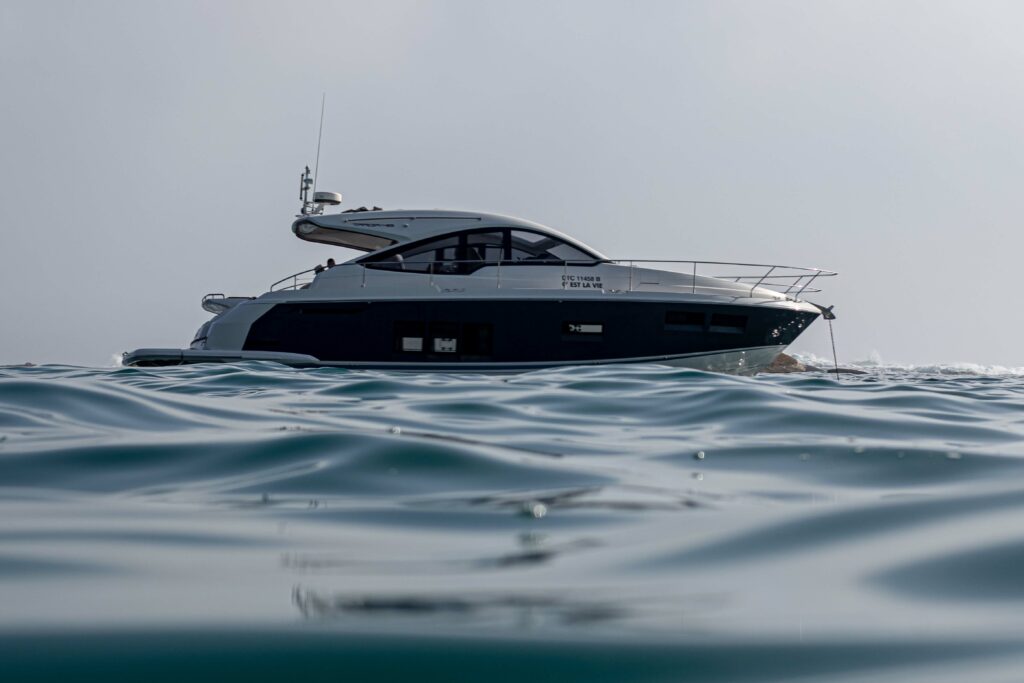 Here, we take a quick look at some of the advantages and disadvantages of owning a motorboat:
Advantages
Speed: Motorboats can have dual engines with speeds between 15 and 20 knots.
Capacity: Spacious, with extra cabins and galleys.
Easier Navigation in Bad Weather: Powerful engines compensate for rough seas, and less technical knowledge is required to navigate through bad weather.
Shallow Draft: Easier to dock in shallow waters.
Disadvantages
Fuel Dependent: Inboard and outboard motors require a non-renewable fuel source to run.
Pricey Engine: Repair costs can be high for motors when problems occur.
Less Stable in Windy Conditions: Due to their shallow drafts and high center of gravity, motorboats don't fare as well as sailboats on windy days.
Loud Motor: Noisy engines while running.
Sailboats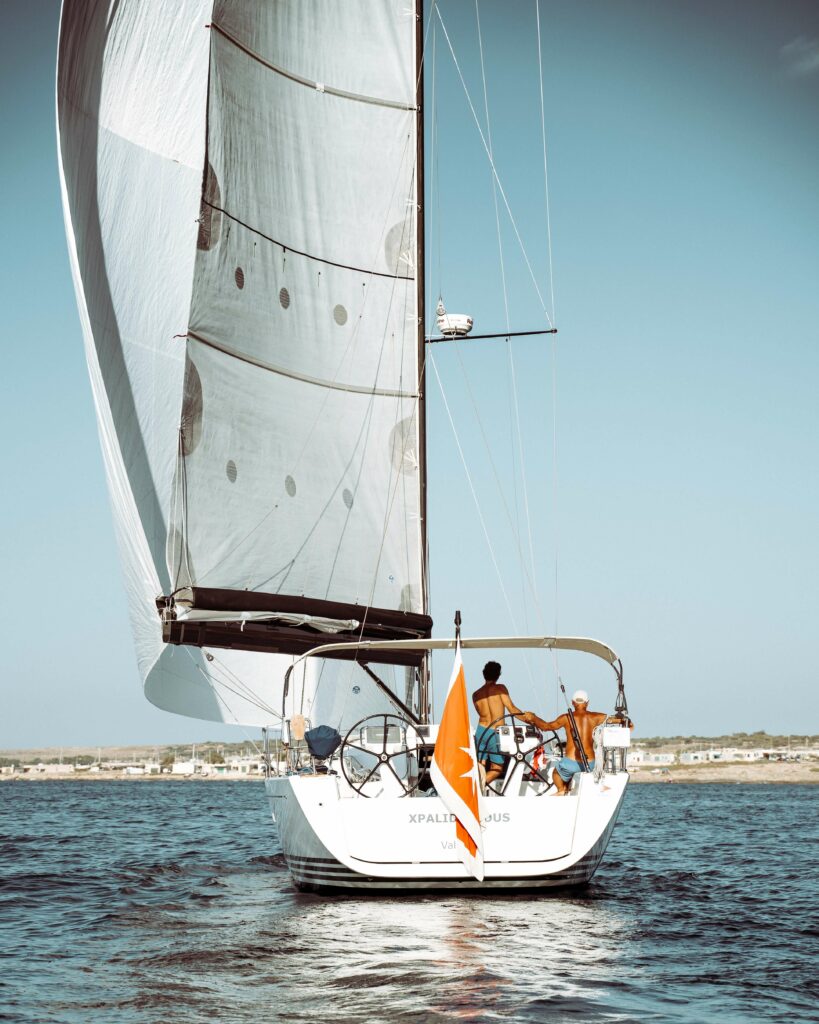 Sailboats are ideal for those who want to navigate on their own terms and spend long periods on the water, either exploring or cruising.
They are a popular choice for people who have decided to live aboard their boats, as fuel costs are reduced when using wind power for movement.
Let's take a quick look at some of the pros and cons of owning a sailboat:





Advantages
Less Environmental Impact: Relying primarily on wind for movement, sailboats have far less impact on the environment than motorboats.
Extended Travel Time: Fewer limitations to travel long distances, as the need for on-board fuel is drastically decreased.
Affordable Engines: Small engines have lower initial costs, as well as requiring less fuel to operate. Additionally, motors on a sailboat are only used as a secondary power source, so run times are low.
Quiet: Smaller engines are quieter than larger engines, and while the sails are up, there will be no engine noise at all.
Disadvantages
Less Capacity: Due to the shape of the hull, sailboats have less overall space.
Minimal Sun Coverage: Less shelter area on deck due to masts, sails, and rigging.
More Technical Navigation: It takes time and effort to grasp the inner workings of onboard equipment such as wind orientation, speed, and other sailing techniques.
Time and Energy Commitment: Training or extensive personal experience is needed to learn to sail.

Big Boats Vs. Small Boats
A recurring theme throughout this guide will be buying a boat for your needs. "Small boats" and "big boats" are not only ambiguous terms, but they offer something entirely different to each owner.
Big Boats
Bigger boats offer a variety of things that smaller boats simply can't, which we discuss below:
Increased Safety and Stability
Liveaboard Potential
Faster Speeds
Access to Water Sports
Accommodation for More People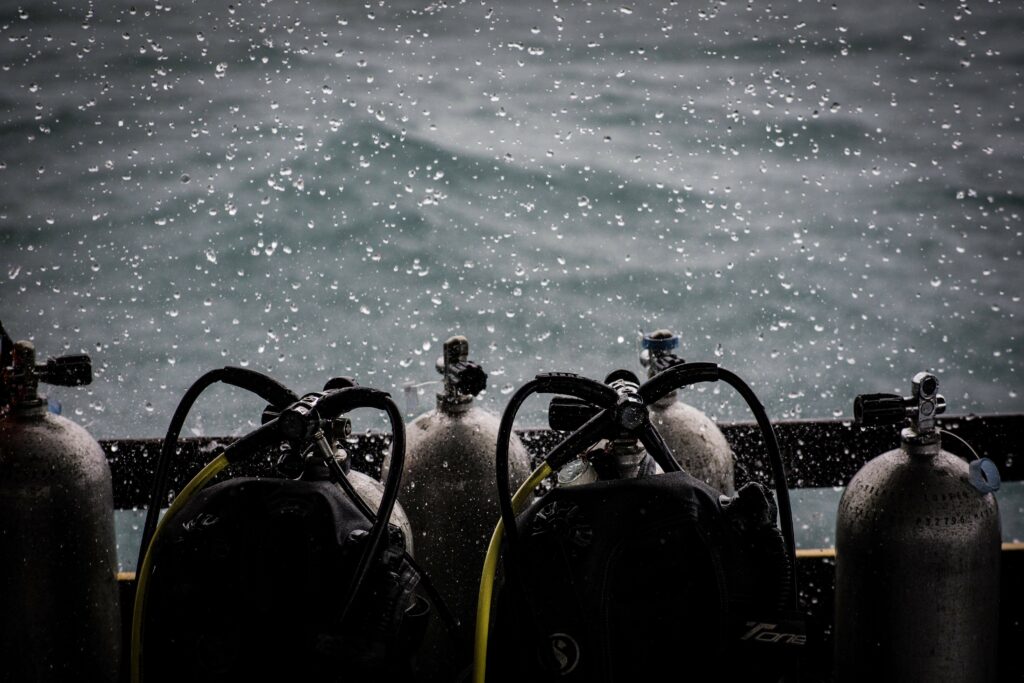 Increased Safety and Stability
When bringing your friends and family out for a day on the water, safety is a top priority. This becomes especially true when living on board or cruising for long distances. Generally speaking, the larger the boat, the less affected it will be by elements such as strong wind or large swells. If you plan to spend a lot of time in open waters, go for the biggest boat you can afford, without sacrificing any of your other needs.
Liveaboard Potential
The bigger the boat, the more potential there is for comfortable living on board. Setting out to sea is one thing, but once you include everything from personal items, to provisions, to equipment, the available space will shrink rapidly. Provisioning is a big point here, as fewer trips inland mean you can stay off the grid for longer. Bigger boats will often have built-in cold storage or room for dry goods. If not, more space allows for customization for these things. With any extra unused space, you can designate areas for a sundeck, a shaded area, indoor workspaces, and much more.
Faster Speeds
Although a boat's speed is more influenced by its waterline length than it is by the hull type, bigger boats will often include a planing hull that has the potential for faster speeds. Of course, bigger boats can also have bigger engines, but many factors can offset the larger engines in terms of speed.
Access to Water Sports
Larger boats give those with an interest in watersports more access to enjoy the things they love. Equipment storage, boat customizations, and entry/exit platforms are made available with unoccupied space. Take fishing, for example. If you want to install rod holders at the back or sides of the boat, the extra space may allow for that. How about scuba diving? Additional space for a compressor, tanks, and dive equipment will make that possible.
Accommodation for More People
Perhaps one of the biggest benefits of having a larger boat is its ability to host friends and family comfortably while at sea. Extra cabins and more spacious common areas make it possible to take on larger groups for weekend gatherings or holidays at sea.
Small Boats
While smaller boats may not offer as much in the way of luxury and capability, they can offer convenience for their intended purpose, which we discuss below:
Benefits of a Single Purpose Vessel
Access to More Places
Conveniently Stored
More Affordable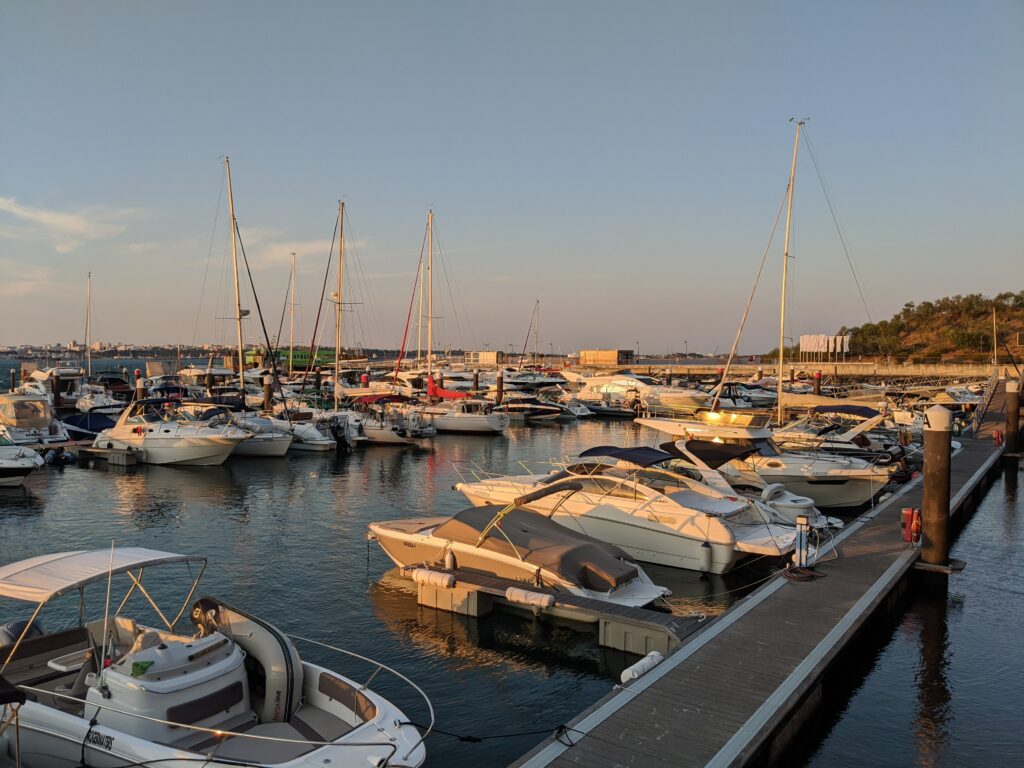 Benefits of a Single Purpose Vessel
Smaller boats are often purchased for a specific purpose. That purpose could be anything from fishing to leisure, but one designated focus is likely. For this reason, it makes it easy to customize the vessel for that niche. A small fishing boat decked out with gear and accessories will have more functionality than a large boat meant for sailing that you happen to fish from.
Access to More Places
Having a smaller boat allows you to explore creeks, marshes, mangroves, and other areas that bigger boats cannot access. Find yourself a nice small boat, customize it for optimal fishing, and hit the backwaters to find that golden fishing hole.
Conveniently Stored
The costs of housing your boat, whether indoors or at the marina, can be expensive. Most mooring fees are charged by the foot, meaning slips for bigger boats cost more. With a smaller boat, you save more money that can be repurposed to customize or upgrade the onboard equipment. If you live somewhere with cold winters, the months of storage for a small boat will be significantly cheaper than for a large boat.
More Affordable
While not always the case, smaller boats often cost less than their larger brothers and sisters. While there is less to offer in the way of accessories and space, smaller boats can be made affordable to those who want to make boating a part of their life. Besides, we all don't need to start out with large vessels. Why not work your way up in size over time?

Understanding the Different Boat Engines
Regardless of why you're buying a boat, understanding the difference between boat engines and how they operate will be essential. Below, we discuss the most important components of the following engines: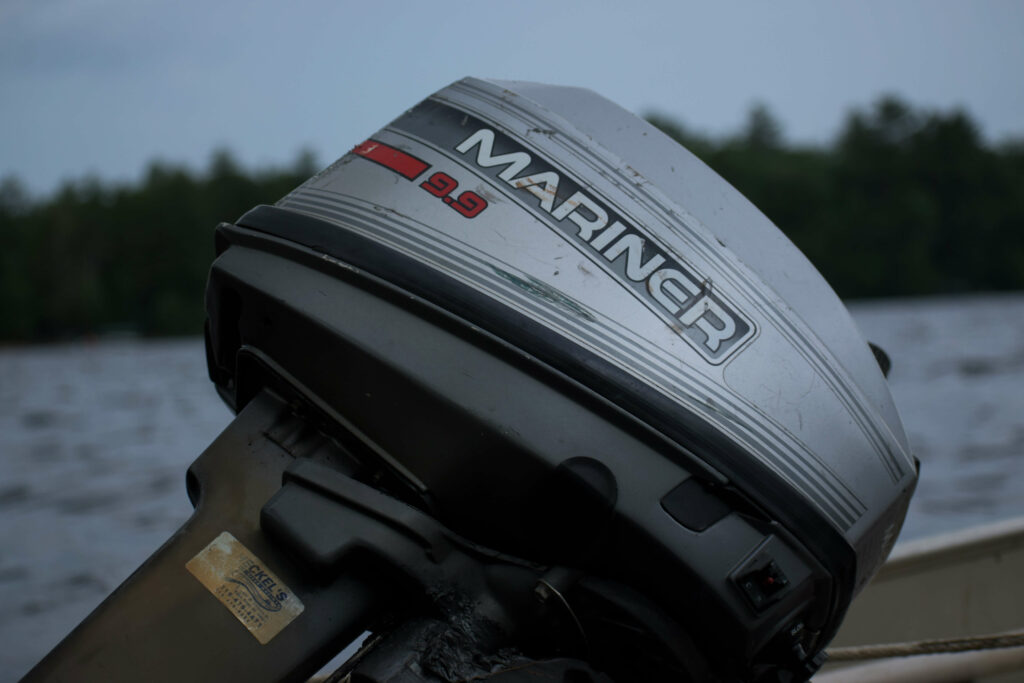 Outboard
Inboard
Sterndrive
Surface Drive
Pod Drive
Water Jet-Propulsion



Outboard Engine
Most commonly used for smaller vessels, outboard motors consist of an engine, gearbox, and propeller or jet drive situated outside of the transom and mounted on the boat's stern. Outboard engines are equipped with a steering rod for navigation.
Most commonly, outboard motors use gasoline as a fuel source, as it gives the most power output for smaller engines. Outboard motors are not permanently installed, meaning they can be removed and taken to a shop for maintenance and repairs. Because most outboard motors use gasoline engines, they are easily serviced in almost any location.
Outboard motors are common targets of theft, so be aware of the risks when leaving your boat unattended.
Inboard Engines
As opposed to outboard motors, inboard motors are mounted within the hull of a boat and are connected to the driveshaft and propeller, while steering is usually controlled by a rudder. Inboard motors are most commonly installed in mid to large-sized vessels and are far larger than their outboard counterparts.
Most commonly, inboard motors run on diesel fuel, although some run on gasoline. While diesel engines are louder than gasoline engines, installation within the hull reduces noise significantly which can be furthered by sound-proofing the engine room. Diesel engines tend to be more fuel-efficient and less combustible, making them an attractive option for an enclosed installment.
Sterndrives
Also known as an inboard/outboard motor, sterndrives take components of each to better suit a vessel for certain situations. The main difference between a sterndrive and inboard or outboard motors is the location of installment and the steering. The engine is situated right in front of the transom, while the drive unit is located outside of the hull. Navigation is done with a steering rod, similar to that of an outboard motor, and no rudder is needed.
One of the main drawbacks of using a sterndrive is the lack of access for maintenance and repairs, as the engine actually sits just inside the hull. Additionally, they are less fuel-efficient than an inboard motor.
Surface Drives
Best known for high speeds and performance, surface drive propulsion units are commonly used for racing vessels. While true that speed and performance are two of the engine's advantages, they are also especially efficient. Half of the propeller spins in the water and half outside, reducing resistance and making them more efficient than a fully submerged prop.
The major downside to surface drives is their many moving parts, which result in very high maintenance and repair costs.
Pod Drives
Pod drives are a newer type of engine system commonly used in cruising yachts. Both the gearbox and the drive are mounted beneath the boat and submerged in the water. This mounting system reduces drag and increases fuel efficiency, making it ideal for long-haul travel. Pod drives have been praised for their improvements on yacht handling and maneuvering, as it eliminates the need for rudders, steering systems, prop shafts, and propellers, just to name a few.
Of course, the major downside to pod drives is the need for an engine specialist for maintenance and repairs.
Water Jet-Propulsion
These engines are designed as inboard systems that intake water, discharging it at high pressure through a nozzle and accelerating the boat forward. Steering is done by the same nozzle, which is installed on a swivel for maneuvering. Because there is no need for a propeller, there is less risk or danger to people or marine life in the water.
One disadvantage to this system is the loss of steering without a rudder when the boat is not moving. Additionally, you should not operate the water pump in shallow water or in areas with floating debris.

Diesel Vs Gasoline Engines
If you have opted to purchase a motorboat instead of a sailboat, your next decision will be which fuel source will power your engines, diesel or gasoline. There are plenty of attractive and deterring factors for both engine types, and depending on your vessel, one will likely be better suited than the other. Your vessel's size should be the main consideration when choosing your engine, and two engine specifications will help decide which engine is better suited for you; Torque and horsepower.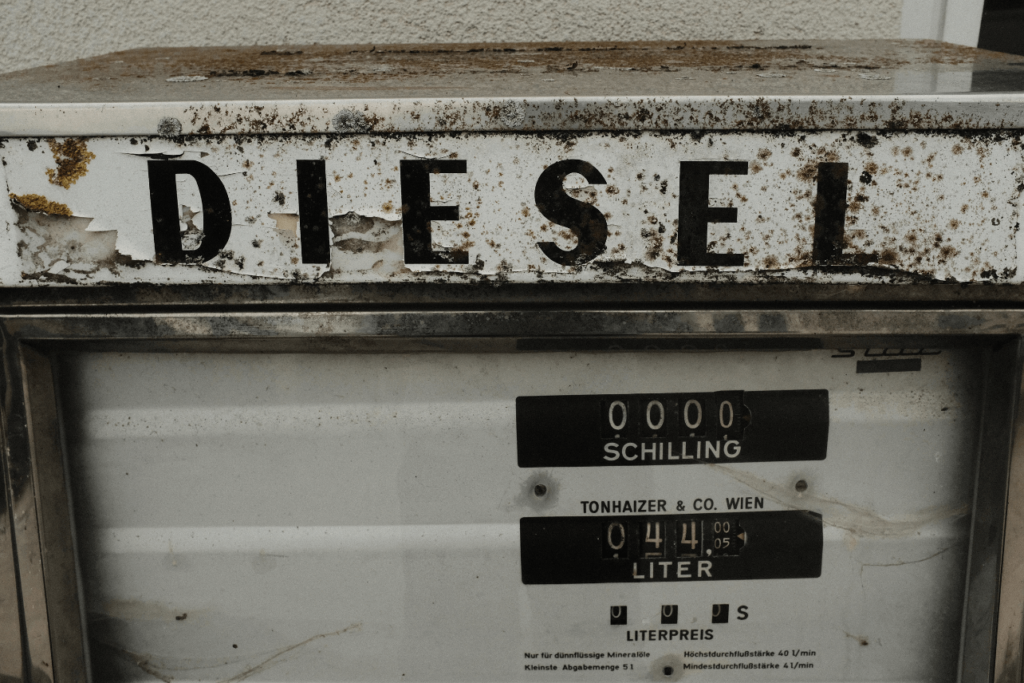 Torque is the measure of a force that causes an object to rotate about an axis. "Twisting force."
Horsepower is the overall power output of an engine. "The rate at which work is done."
Diesel
Larger and heavier boats require more torque to handle the weight, and because diesel engines provide more torque than gasoline engines, they are better suited for large vessels. Beyond their technical specifications, diesel engines have advantages and disadvantages, which we cover below:
Advantages
Less Environmental Impact: Compared with gasoline engines, diesel engines output less carbon emissions, especially in the newer models.
Energy Potential: Diesel engines have approximately 10% more energy potential than gasoline engines, making them ideal for bigger vessels.
Cheaper Fuel: Diesel is generally cheaper than gasoline, although prices fluctuate globally.
More Efficient: Diesel engines, while more expensive upfront, run more efficiently than gasoline engines. Usually, the efficiency pays off after some time of use.
Fuel Availability: Most marinas, docks, and bays have diesel pumps, as most inboard motors run off diesel fuel.
Stronger Build: Diesel engines have a stronger build quality than gasoline engines. Further, diesel fuel is self-lubricating due to its thick consistency, which helps prevent engine degradation.
Disadvantages
Noisy: Diesel engines are extremely loud, and boat owners will often soundproof their engine rooms to reduce noise.
Maintenance and Repair Costs: While diesel engines are stronger and longer lasting than gasoline engines, maintenance, and repair costs are significantly higher.
Lower Horsepower: Although diesel engines have higher torque, their overall power output is lower than gasoline engines.
Upfront Costs: As with maintenance and repair, upfront purchasing costs for diesel engines are high.
Exhaust Odor: Diesel fumes are more noticeable than gasoline fumes, especially at lower speeds, but they do not have as much of a negative impact on the atmosphere.
Gasoline
Smaller and lighter boats are better suited for engines with high horsepower than high torque, making gasoline engines the preference for most. High engine outputs are not deterred by the vessel's low weight, so speed can be achieved without the extra twisting force from a diesel engine.
Let's take a look at some more of the advantages and disadvantages of running a gasoline engine:
Advantages
Purchasing Costs: Costs for gasoline engines are cheaper than diesel engines.
Maintenance and Repair Costs: Parts for gasoline engines are readily available globally, keeping repair and maintenance costs low.
Aftermarket Parts: Due to their abundance, aftermarket parts are available for most gasoline marine engines.
Greater Power Weight Ratio: Gasoline engines are lightweight, high powered engines that provide a lot of bang for your buck.
Easily Serviced: Even in remote areas, mechanics around the world can service most gasoline engines.
Disadvantages
Fuel Efficiency: Gasoline engines are not as efficient as diesel engines, driving up fuel costs for reasons beyond purchasing price.
Life Expectancy: Gasoline engines have a shorter life expectancy than diesel engines, and they require more care to maintain.
Carbon Emissions: Gasoline engines emit more carbon than newer diesel engines, which is harmful to the environment.
Blower May be Required: Because gasoline vapors are highly combustible, it may be smart to use an engine blower to evacuate fumes in an enclosed space.

Advice for Buying an Outboard Motor
Now that we have covered the basics of outboard motors in the sections above, we will further discuss our recommendations when buying an outboard motor for your vessel.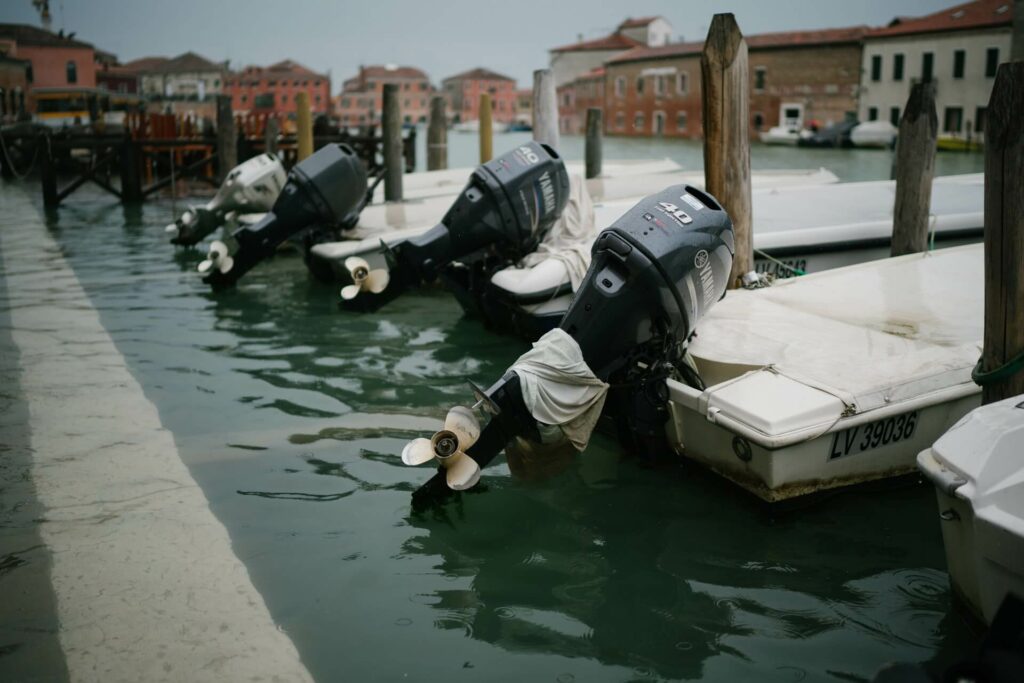 As with most things, outboard motors can be purchased as new or used units. There are several things to consider before making your decision, and depending on your vessel, it may be smart to buy new.
Used outboard motors can be picked up at a low cost, but keep in mind, most outboards are gasoline-powered engines that wear down significantly over time.
Depending on the previous owner, you could be purchasing a well-maintained unit or an engine with serious problems that are not immediately present. Always check the oil in the engine and the gearbox to see how they are maintaining the unit at that moment.
Another benefit or downfall, depending on how you look at it, is the repurposing of old car engines for outboards. Small car engines are converted to outboard motors for small vessels and are commonly used across Asia. If you can repurpose something like this yourself and have the resources to do so, it may be a good short-term option that won't break the bank.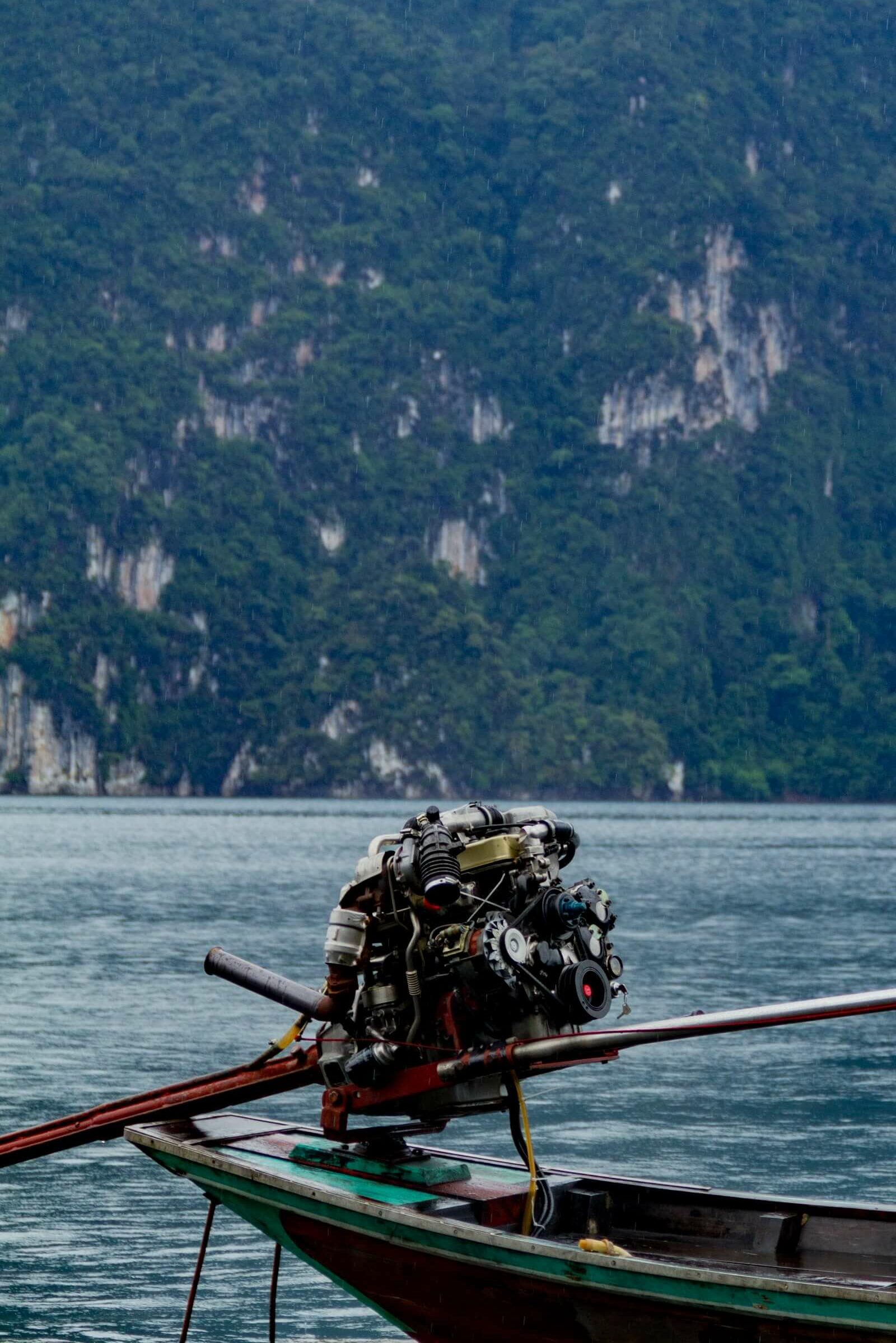 We recommend asking for a service history of the outboard when buying used. Most responsible boat owners keep these records for resale later on.
New outboard motors come with a few obvious advantages and some peace of mind that won't come with used units. With the right care and maintenance, it could last you a long time.
Buying your outboard new allows you to get something that is nicer, without having to pay entirely up-front if you qualify for financing options. Newer, fuel-efficient outboards will not only save you money in the long run, but are better for the environment as well. Additionally, new engines almost always come with a warranty, letting you rest easy knowing you are covered in case of an incident.
There are several other things you will want to consider before making a purchase, including:
Boat Size and Weight
Engine Power Output
Engine Manufacturer
Security
The boat's size and weight should play a major role in deciding what type of outboard you need. The smaller the boat, the less power output will be required, and the less you need to spend on the outboard. Having an outboard that is too large for your needs will not only be wasted money, but it will cost you more in fuel and maintenance.
The engine's power output should relate directly to how big your boat is and how much it weighs. It should also take into consideration the primary use of the vessel. For example, if you are using the boat for towing other small vessels, you will need an engine with sufficient power output; Otherwise, you will be losing fuel efficiency and money. Even towing innertubes or floats for recreational uses will require more power than your most basic outboards.
The engine manufacturer should also be a serious consideration, especially when buying new.
Look into that specific outboard motor and read user reviews to see how they stand up over time. Try to find reviews that talk about service support and decide if the manufacturer takes care of its customers fairly. This is the best way to ensure that you are buying an outboard motor from a reputable company that values its customers.
While not the first thing that people consider when buying an outboard motor for their boat, the security of your vessel should always be part of the decision. Unfortunately, outboard motors are common targets of theft, as they are removed from boats relatively easily. So, depending on your situation, you may be setting yourself up for bad news. If you have a boat stored or kept in a location with little security and easy access, consider the motor's cost first.
Can you use a cheaper motor until you have access to safer storage? Is buying a new outboard cause for upgrading your storage situation? Be mindful before making your purchase.

Choosing the Right Boat for Rivers, Lakes, and Oceans
As you might expect, the process of buying a boat for rivers, lakes, and oceans will vary drastically. Boats are manufactured for specific environments, and you should make your purchase accordingly.
High-performance boats are great for larger lakes because they accommodate anything from water skiing and wakeboarding to fishing and lounging. These boats usually have a larger and more powerful engine to gain the speed desired and the wake for recreational sports.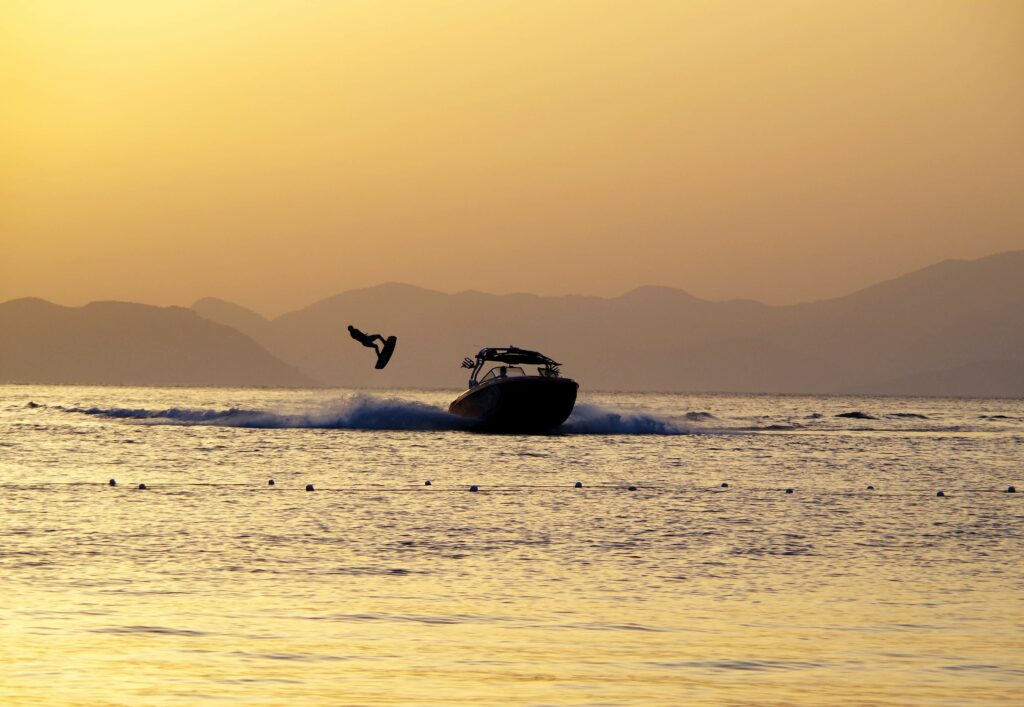 Common boats for a lake include ski boats, bowriders, and pontoon boats, just to name a few. Ski and wake boats can be expensive, but you can often find them used for a reasonable price. Bowriders are commonly found between 17 and 35 feet in length and are a great option for cruising and water sports. Pontoon boats are a favorite of bass fishermen because they are good near the shore and keep your boat hull shallow in the water.
Boating on Oceans
Taking a boat into the ocean exposes it to the elements more than inland water systems, with swells, wind, and strong tides influencing your experience. Ocean vessels usually have a deep keel for stabilization and are on the larger end of the size spectrum. Additionally, they require flushing systems that safeguard the engine from saltwater corrosion.
Cabin cruisers and sailboats are great for the ocean, as they give you sufficient deck space and include inside cabins. Sizes can vary greatly, with shorter boats being used for bays or in calmer conditions. Lengths of 25 to 75 feet are common for all types of ocean vessels.

Buying a Boat That's Right for You
When hitting the water, different occasions require different boats. Below, we consider some of the choices available for various types of excursions.
Sailing for the Holidays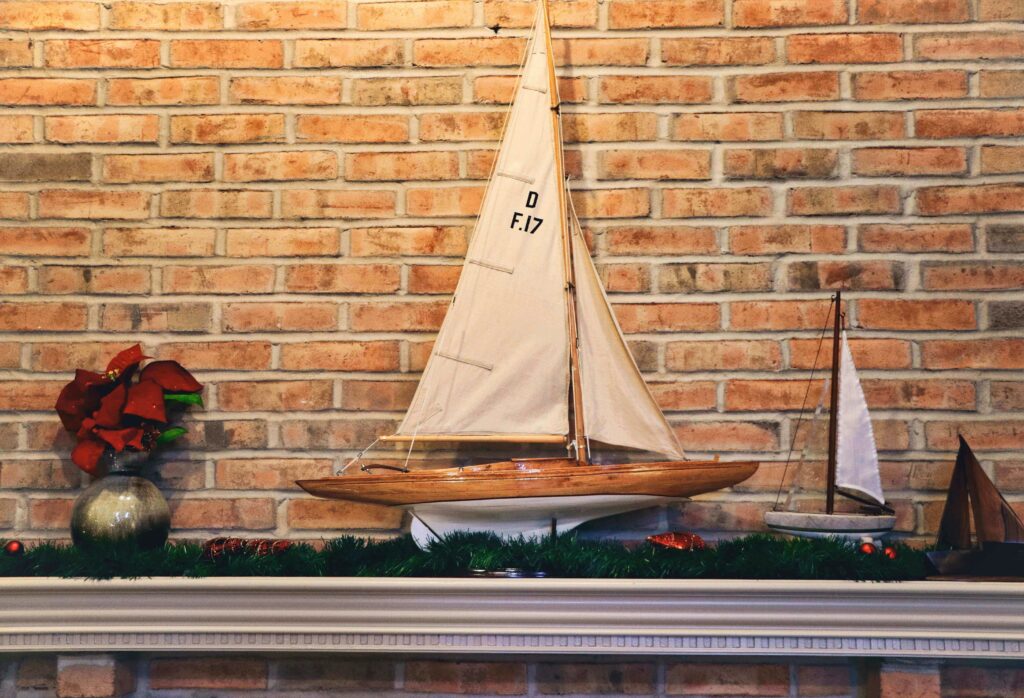 Cuddy Cabin Boats
Well suited for yachting, sailing, and fishing, Cuddy Cabin boats are some of the most family-friendly options on the market. The hull is constructed with a combination of fiberglass and aluminum with a minimum length of 25 feet, and the cabin allows for overnighting in marinas or secluded coves.
Cuddy Cabins vary widely based mostly on size and onboard amenities. Smaller Cuddy Cabin boats are designed for the low-end market, and most will not include a gully or other basic features that come standard with larger models. Larger models often include cabins with en-suite bathrooms, cooktops, and refrigerators, and are commonly found on lakes, rivers, and coastal canals.
Cuddy Cabins can be used for:
Wakeboarding
Water Skiing
Tubing
Leisure Fishing
Cruising
Cabin Cruiser Boats
With all the essential features of a home, family and friends can spend days on the water in a cabin cruiser. These boats are often fitted with comforts and amenities such as heating and air-conditioning, hot water, electricity, a small kitchen area, and a toilet.
While these boats can be found on larger lakes, they are most often spotted in the ocean, where they can utilize multiple outboard motors, a shaft drive mechanism, and rudder steering.
Common boating activities include:
Offshore Fishing
Wakeboarding
Water Skiing
Cruising
Motor Yachts
Yachts are most often used for leisure activities with friends and family on the open water. Their standard lengths range from 30 feet all the way to 90 feet, and multiple engines depending on the use. Family and friends can enjoy long trips near shore, or out on the open ocean.
Because these vessels are classified in the luxury market, expect to pay a premium price for one. One way to justify buying a boat with such a high price is by living aboard your vessel for long periods, or even all year round. You may be able to maintain the responsibilities on your own, but things are made easier with some help, whether it's family or staff.
The market caters to day sailing, weekend sailing, cruising, and luxury, with available activities that include:
Jet Skiing
Scuba Diving
Deep-Sea Fishing
Snorkeling
Sea Kayaking
Fishing Boats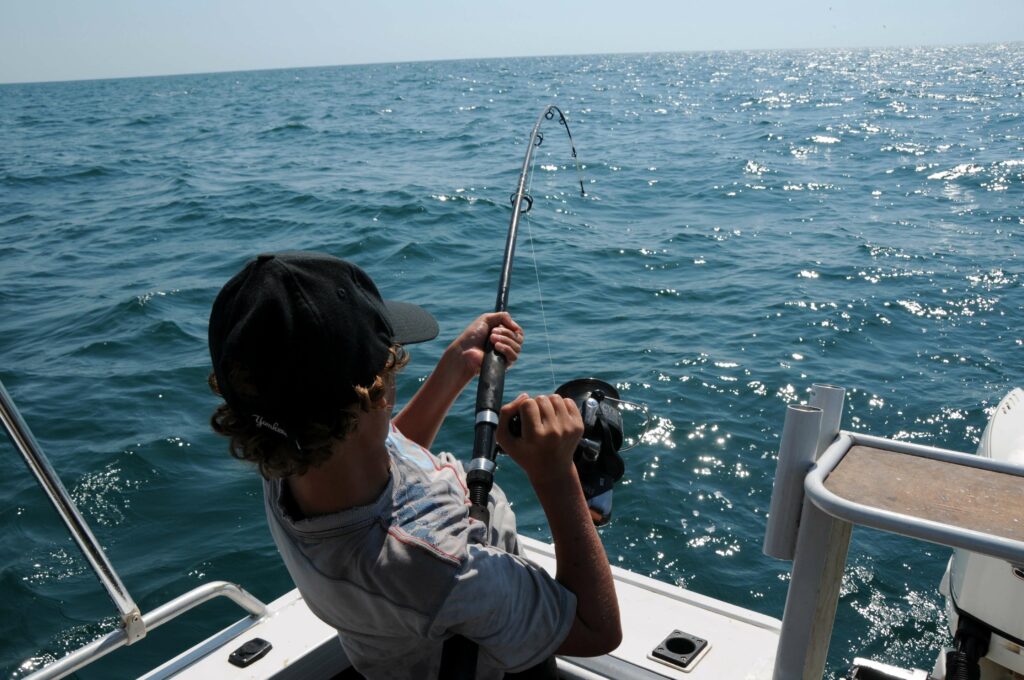 Center Console Boats
Center Console Boats are user-friendly and built with versatile fishing capabilities. The helm is located in the middle of the boat, giving excellent visibility and space for movement without getting fishing lines tangled or crowding your neighbors' space.
Center Console sizes vary between 18 and 40 feet and generally have navigational equipment, a live bait tank, and up to four outboard motors. Depending on the size, these boats can be used inshore and offshore.
| | |
| --- | --- |
| PROS | CONS |
| 360-degree fishing with less chance of getting lines tangled. | No protection from terrible weather. |
| More affordable. | Little to no shade. |
Catamarans
Catamarans are excellent offshore fishing boats for several reasons. Between the gliding capabilities and the twin hulls, catamarans offer stability and fuel efficiency in open waters. The aerodynamic design requires less power and lower fuel than other popular open water vessels.
Sizes can range between 6 and 50 feet, with smaller vessels meant for nearshore environments. Larger catamarans usually come fully equipped with a small kitchen, sleeping area, and other amenities found on large cruisers. They also commonly feature live bait tanks, rod holders, and outriggers or downriggers.
| | |
| --- | --- |
| PROS | CONS |
| Stable, spacious, and aerodynamic. | Move slower than other boats due to the size. |
Flat Boats
Flatboats are highly recommended small fishing boats because of their characteristics that make them so useful in various environments. Flat bottom boats allow room for both fishermen and their gear, with a 360-degree area of movement. Their flat bottom allows for fishing in extremely shallow waters, making them ideal for hard-to-reach fishing holes and open waters in calm conditions. Generally, flatboats have a capacity of four to six people and range in length from 15-25 feet. While you may be able to fit more than four people on the boat at once, space would be limited and would not be ideal for fishing.
| | |
| --- | --- |
| PROS | CONS |
| Zero engine noise / quiet experience. | Susceptible to terrible weather conditions. |
| Visible on water. | Limited shade and storage space. |
| Able to operate in waters as shallow as one to two feet | Low stability in deeper, choppier waters. |
Bay Boats
Bay boats are best utilized for inshore and nearshore fishing. Anglers enjoy these boats so much because they work well in shallow calm waters, as well as choppier conditions. With a capacity of about four passengers and a length between 18 and 25 feet, bay boats are perfect for an afternoon on the water with family or friends.
| | | | |
| --- | --- | --- | --- |
| PROS | | CONS | |
| Very versatile in water + ample storage space. | | There is a limit to how far offshore you can go. | |
| Withstands unstable weather conditions. | | Struggles to navigate shallow waters, although when using a trolling motor in the right conditions, they are usable in water as shallow as two feet. | |
Kayaks
Kayaks are a common favorite for inshore, nearshore, and backcountry fishing for several reasons. While higher-end kayaks are an option, most of them are reserved for extreme sporting and fishing with features that most don't need. The materials they are constructed with are cheap yet stable, making them the ideal companion for a fisherman on a budget. Further, they are man-powered, which means no motor noise will scare away the fish. While fishing kayaks are often only meant for a single passenger, multiple passenger fishing kayaks are available, ranging from 6 to 18 feet in length.
| | |
| --- | --- |
| PROS | CONS |
| Light and quiet boat. | Compact, and usually for individual fishing. |
| Easy to move around. | Manually Powered |
Cruising Boats
Performance
Before buying a boat for cruising, you will want to individually consider the performance of each. Your cruising style will largely dictate the performance level needed, and it should reflect your style accurately. For instance, a fast speedster boat will not meet the same needs as a moderate-displacement cruiser meant for a more relaxed experience.
Storage Space
Storage space, especially on cruisers and liveaboard vessels, is crucial to stay off the grid for an extended period. Capacity, of course, will increase with the size of the boat, although it comes at a cost. For that reason, you should only go as big as your needs dictate, or slightly bigger for future growth. If you plan to live onboard for extended periods, make sure there is sufficient space for dry goods, frozen/cooled goods, and personal items.
Hull Strength
The hull of a boat is its body minus sails, masts, yards, and riggings. Hull strength is determined by the material it's made of and often consists of hi-tech carbon fiber composites to increase strength. Consequently, the stronger the hull, the more expensive the vessel will be. If you are boating in areas with harsh or rocky conditions, you should consider getting a vessel designed with kevlar or other high-strength materials to prevent and reduce damages.
Latitude Range
The latitudes in which you intend to sail will determine several crucial boat features. High latitude areas generally come with harsher conditions, colder water, and unpredictable weather, so having a well-insulated and strong hull is vital to reduce damage and abrasion. The harsher the conditions, the more robust your hull design should be.
Living Space
Your cruiser's size should depend on a few important factors, such as the number of passengers, the length of time and travel, and the conditions in which you will be sailing. If you set off with yourself and a couple of friends, your needs for a bigger boat will be less than if you set off with a family of six. Of course, you may pick up a passenger or two along the way, but be sure that you aren't buying a boat that's bigger than your immediate needs. Large open spaces, the number of cabins, and en-suite bathrooms should be determined by each group's individual needs.

Boat Manufacturer and Brand Considerations
The best boat manufacturers stay true to their specific boat type or niche, so it is always smart to pinpoint which manufacturers make a vessel that is specific to your needs.
Understanding the Market
A big help when considering boat manufacturers is understanding the selling market. As with cars, houses, or any other personal property, every seller will push for you to buy from them. As a soon-to-be first time boat buyer, this can make buying a boat a hassle. How do you know who to buy from? Our best advice is to learn each manufacturer individually and see what they are known for or specialize in.
Of course, the internet is at your disposal, but the best way to find valuable information is by word of mouth from other boat owners. Usually, they will give you unbiased information and be willing to tell you about their boat's flaws or things that they would change if they could.
A happy boat owner, especially one who has owned a particular vessel for years, is a good sign for the manufacturer.
Some companies are manufacturing boats for one purpose, while others are well-rounded companies with their hands in a few different places. Prestige, a company that specializes in luxury yachts, also manufactures several types of cruisers. Similarly, Regal primarily manufacturers deck boats, but they also make several types of cruisers.
If you are specifically looking for a small fishing boat, you have many choices, with a few companies standing apart from the rest. Boston Whaler has been around for over a half-century and has a wonderful reputation with its customers. Having successfully been in business for so long shows the market that they can be trusted.
For performance boats and speed boats, Baja, Fountain, and Jupiter are highly respected brands with an outstanding reputation.
Pontoon seekers can look to Bennington, Smoker Craft, or Harris, while ski boat enthusiasts can head to Mastercraft, Moomba, Nautique, or Malibu. Each brand mentioned in our guide offers specialized features and performance within their niche, and you should consider each aspect before buying your first boat.

Buying a Boat Online: Where are the Best Deals?
When you are in the market for a boat, you need to be careful about where you purchase, as there are both good and bad deals aplenty. For most things, you would be out searching for the cheapest item or the best deal you could find. So why shouldn't it be the same when buying a boat? For the nicer things in life, you get what you pay for with hardly any exceptions. If you want a quality boat, you should expect a matching price tag.
So, where does one search out the good deals while still being sure that they aren't getting themselves into something that isn't worth buying? While there are endless suggestions to guide you down the wrong path of purchase, we have put together a list of the best online resources that are both reputable and trustworthy:
Boats.com
As the largest global search engine in the marine market, Boats.com has plenty of options and great deals worldwide. To take it a step further, the website has a ton of resources such as boat sales, tutorials, videos, blog posts, and reviews to help guide you to your dream vessel.
RightBoat.com
With thousands of boats available in countries worldwide, Rightboat.com offers excellent deals on new and used boats for sale and even for charter. With brand names such as Benetti, Mastercraft, Sea Ray, and Wellcraft on hand, there will be something to fit nearly everyone's needs and desires.
TheYachtMarket.com
This company's mission statement is to provide a worthwhile online experience for selling and purchasing boats and yachts. With forward-thinking technology and various helpful resources, you are likely to find something that works for you.
MarineMax.com
While not solely focused on the used market, marinemax.com offers a huge selection of used vessels. Not only are you able to buy from their site, but you can also work out a trade-in offer for any boat that's already in your possession. Not too shabby for an online sales platform.
Boat24.com
Known as "THE" used boat market, boat24 offers over 16,000 used boats to help people find the boat that fits them perfectly. Like marinemax.com, this company offers a great platform for those looking to sell their current vessel or slip into a new one. Hosting over 400 experienced boat dealers, they remain true to their slogan and offer help "for all boat lovers!"
BoatTrader.com
Laying claim to America's largest marketplace for selling and buying boats, BoatTrader is well equipped to meet all of your boating needs. Not only is BoatTrader the biggest marketplace in the states, but it also offers services to almost everywhere else across the globe. With an audience of over 4 million, this site should not be missed.

Buying a Boat from an Online Showroom
While not as reliable as attending an in-person boat show, online showrooms allow us to search out options from all across the country or even the globe. These online showrooms let you view all aspects of boats for sale. You can virtually open doors, turn the lights on and off, arrange furniture, and simulate wind and waves to see just how well this boat will suit your needs.
What Are the Benefits of Buying a Boat from an Online Showroom?
There are many reasons we may not be able to attend an in-person show when in the market for a boat. Maybe it's 2050, and we are still practicing social distancing due to COVID-19. Or, more likely, you just want to save yourself a drive across the city. Either way, you can compare the basic features of several boats at once before investing your time in person.
How do you Complete a Sea Trial when Buying a Boat Online?
It's always ideal to inspect a boat in person after you have made a decision of interest. When shopping digitally, you can arrange a sea trial with a surveyor in that area and have the professional results presented to you afterward.
If you're buying a new boat, the boat will be warrantied, so there is little reason to worry about the big stuff. What you will want to know is specific to the handling, speed, and overall performance in the water. A professional surveyor will be able to accurately assess these aspects.

Buying a Boat Online: Pre-Owned
There are some obvious advantages of searching out and buying a used boat online. You can compare and contrast the base specs of several different boats at the same time, all from the comfort of your home. Since you are buying a used boat, you will be getting more features for less money. But be wary; a boat is a big investment that requires careful inspection and consideration. Let's take a look in more detail at the process of buying a used boat online.
There are three main sources for buying a used boat online:
From a private seller
Through an online broker
Through a dealership
Private Seller
There are a ton of boats available from private sellers since making a sale yourself is more profitable than using a broker or selling to a dealership. Because the market is a bit more saturated, and because you won't know who you can trust initially, it will take more time and research to find a trustworthy seller. For this reason, it is advisable to get a boat surveyor to inspect the boat before purchasing.
The survey process will include a sea trial, which saves you the need to book one yourself. You can request to attend the sea trial, but be sure to stay out of the surveyors' way and let them conduct a proper assessment without interfering.
If you reach a point of agreement and you are ready to make a purchase, move forward with getting a sales contract together. Make sure to mention all transferable warranties and other negotiations clearly in the contract. Never trust someone with a verbal agreement.
Online Broker
Reputable and well-established boat brokers offer excellent service to boat buyers. Brokers can offer personal or online services, and you should expect realistic prices when using them, as they can only sell listed vessels.
Most brokers own boats themselves, so they can provide sound and practical advice along with excellent sales service. While you could negotiate your own terms for a contract, a broker will negotiate the deal on your behalf with the seller. Saving yourself the hassle of negotiating is the biggest upside to using a boat broker for your purchase.
Online Boat Dealership
Buying your boat straight from the dealership offers plenty of advantages that will make the process go smooth and easy. If you are working with a reputable dealer, there should be no doubt that you are getting accurate and in-depth information about any vessel they are selling. If you need to know technical specifics or a certain functionality aspect, they should be able to help you out. Further, warranty adjustments can be made easily, as a dealership can act as a middleman between you and the manufacturer. Finally, financing and down payments are easier as the dealership will work directly with banks to help find you the best financing deal available.
No matter which outlet you choose for buying a used boat, you will need to manage a few things before, during, and after your purchase:
Inspection Procedure
The hull is the first and most important thing to inspect when buying a used boat. You will want to inspect it for any damages, big or small, as well as the quality of the gel coating. Make sure the fittings on the deck are well secured and cabin hatches and windows are working well. Ensure the engine is running well, and inspect all machinery and navigational equipment for functionality. After your personal inspection, you will want a surveyor's report to confirm the boat's condition, as it will be required by most insurance agencies.
Completing the Sale
When closing the deal with a private seller, you will need to complete a sales contract to provide both parties' legal protection. Complete every section of the contract and include details that state what will happen to the deposit if the deal is terminated early for any reason. The report should include:
Hull Identification Number
Engine Serial Number
Trailer Serial Number (If necessary)
Ensure that all of the terms and conditions are stipulated in the contract, and have a lawyer look it over if you don't feel 100% comfortable doing it yourself.
Checking for Encumbrance and Liens
Most countries offer services to check for outstanding installments on boats or trailers by the lender or bank. Checking for any encumbrance will safeguard you from financial loss or repossession.

Buying a Boat From a Dealership: In-Person
Buying a boat from a dealership in person is probably the best way to invest your money, especially when buying a new vessel. However, there are some things to be aware of before closing a sale with a dealer.
What Are the Benefits of Buying a Boat from a Dealership?
Most boat dealers are professionals with expertise in the marine field; therefore, they should be able to help you decide which type of vessel is best suited for your needs and budget.
As much as boat dealers want to close a deal, they are often more trustworthy than private sellers because their focus is on quality and customer satisfaction. Additionally, boat dealers assist with purchasing processes such as warranty paperwork and repairs that are in line with the boat's manufacturer warranty.
Buying a Boat From a Dealership: Things to Consider
Warranty
Having a warranty included with your purchase should be a priority, especially when buying a boat from a reputable dealer. Almost all manufacturers offer these.
Budget
Having a firm budget to present to a dealer is crucial in ensuring they can provide you with the best service possible. A good dealer will always explain the repair, maintenance, and other hidden costs involved with a specific vessel and steer you down the correct financial path.
Credibility
No dealership should be created equal without being properly vetted first. Since buying a boat is a long-term and costly investment, you should do your due diligence to find a reputable and certified dealer to suit your needs.
What Services Can I Expect When Buying a Boat From a Dealer
Maintenance
A good dealer should offer maintenance services and explain the approximate costs of maintaining the boat you are looking to buy. They should also offer a maintenance schedule for oil changes, mechanical updates, and inspection tests.
Sales
Most dealers are considered consultants in the boating sales industry, so they should provide accurate and factual information regarding the boat purchase and explain all documents.

Inspection and Evaluation Protocol When Buying a Boat
Below, we discuss the ins and outs of how to buy a boat using self-evaluation.
Self Inspection
A self-inspection involves completing and filing inspection forms to document that the boat is in working order and in good condition before purchase. You should also be sure to check all equipment and documentation that is included in the contract of sale. There are inspection checklists available online to help guide you through the process and advise you to inspect the following:
Exterior
Interior
Standards and Certifications
Exterior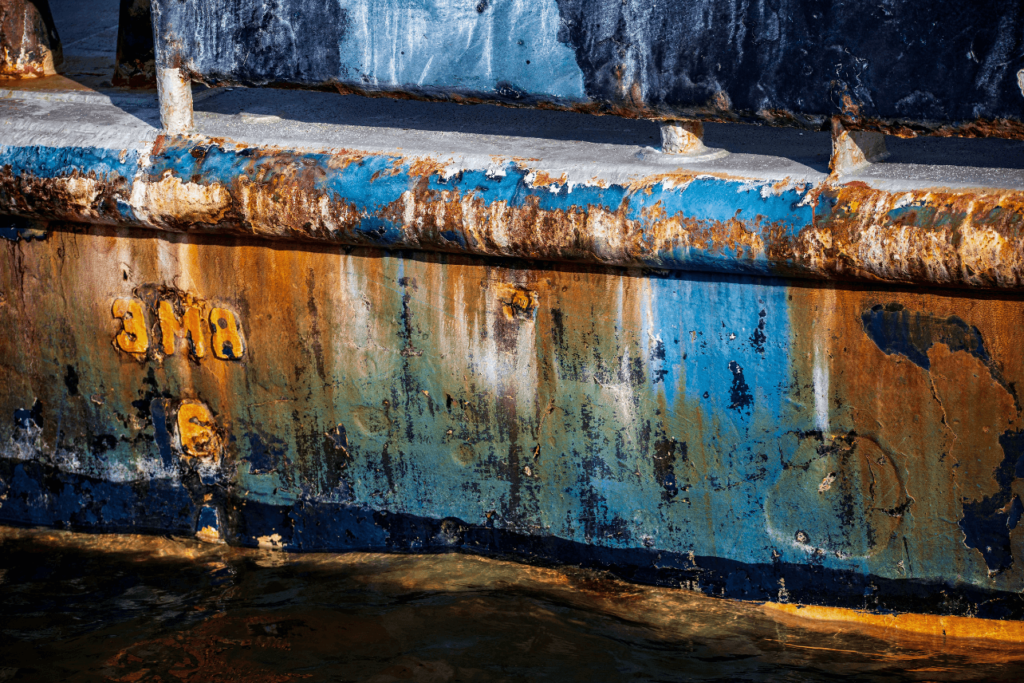 The Hull
Start the inspection with the boat body, ensure the design material is in good condition, and the hull is free of rust. Check for peeling paint, dents, cracks, and anything that could compromise the vessel's structural integrity. Minor blemishes should not be a reason to rule out a purchase, as they can normally be repaired with ease.
The Deck
Boat decks should be watertight, so check for cracks, depressions, and voids. Deteriorating paint is often not a big deal; however, it could indicate a serious structural defect. Inspect carefully and thoroughly.
Keel
The keels are supported by the boat's framework, so it should not show any signs of damage. There is no room for a flawed inspection of the keel, so if you are not knowledgeable and experienced with boats, it is advisable to hire a boat surveyor to get the inspection done properly.
Controls and Helm Station
Check the navigational equipment and make sure the steering and other controls are working flawlessly. If there seems to be an issue with any of the components, have a further inspection done professionally.
Life Rail
The life rail should be tightly bolted to the deck and free from rust. Many newer boats have stainless steel rails that prevent rust, but older boats should be inspected carefully.
Windshield
If the boat has a windshield, you should ensure that it is tightly secured and free of any existing or forming cracks and chips.
Interior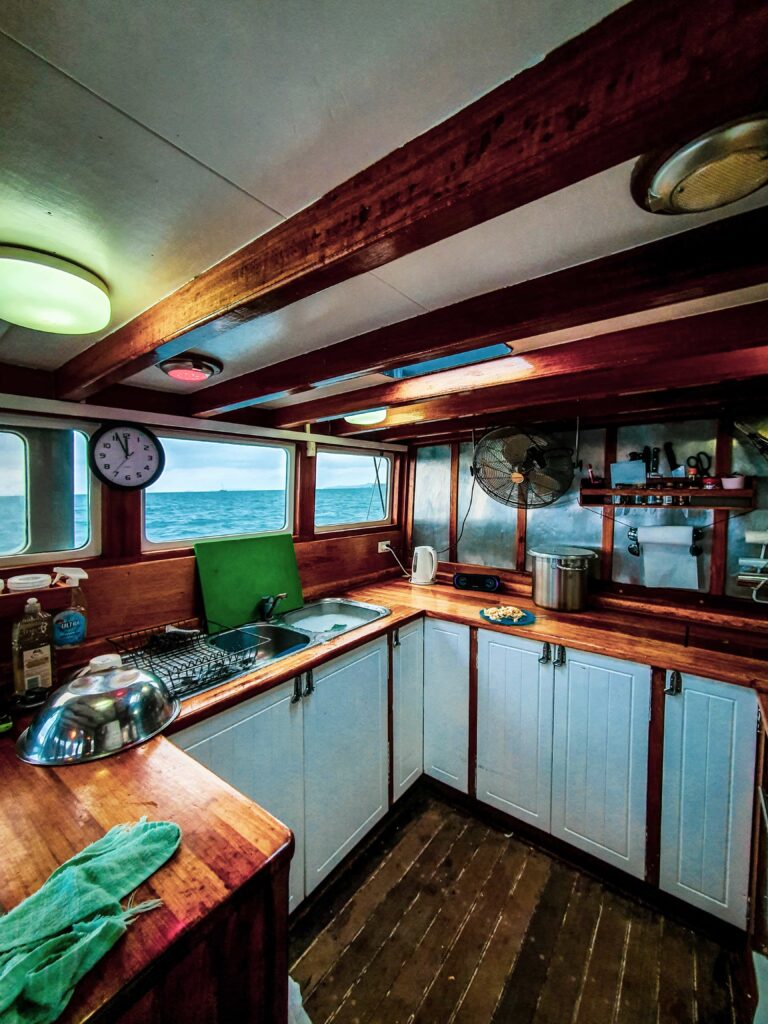 Safety Equipment
Check all life support gear to ensure it meets the necessary standards to be in the water. Fire extinguishers, floatation devices, and first-aid equipment should all be up to the US Coast Guard standards.
Engine
Inspect the engine thoroughly, and make sure the serial number matches the contract. The engine hatch should open easily, so inspect the interior to the extent you can. Hiring an engine mechanic is advised if you are not highly knowledgeable.

Wiring
All cables, wires, and spark plugs should be up to date and installed correctly according to the standards in your location. Test all electrical equipment for functionality. An electrician can do a thorough inspection, so hiring someone for the job should be considered.
Living Area and Kitchen
If you plan on spending a significant amount of time at sea, you need to be sure that the boat will have the amenities needed to keep you comfortable and feeling at home. Check for aesthetics, but more importantly, check the functionality of all the basic amenities.

Standards and Certifications
What is the NMMA Certification?
Prospective boat buyers should be on the lookout for the "NMMA-Certified Using ABYC Standards" label present somewhere on the boat. While the US Coast Guard standards are often recommended, NMMA certification is broader as it incorporates the standards of the American Boat and Yacht Council. There are plenty of benefits to having your boat or yacht NMMA certified, which you can view HERE. NMMA certification is designed to help boat manufacturers comply with industry safety and construction standards, and federal regulations. NMMA certification covers over 30 specific standards and includes the following:
Fuel Systems
Ventilation
Passenger and Weight Capacity
Horsepower Capacity
Navigation Lights
Flotation
Electrical Systems
How are the Safety Standards Implemented?
When a boat is being commissioned, someone is appointed as the lead throughout manufacturing. This person will know all of the standards and how each of them needs to be met. They are responsible for educating the manufacturing team in any case of unmet standards.
During the manufacturing process, trained staff inspect the boat throughout several stages to make sure each and every standard is met. The inspector creates a list of all mechanical and electrical deviations and provides information to the manufacturers. The manufacturer then has 30 days to rectify the problem.
Engineering issues may require a part or component to be re-tested or even re-manufactured, and proof of correction is necessary to remain eligible for certification.

Using a Surveyor When Buying a Boat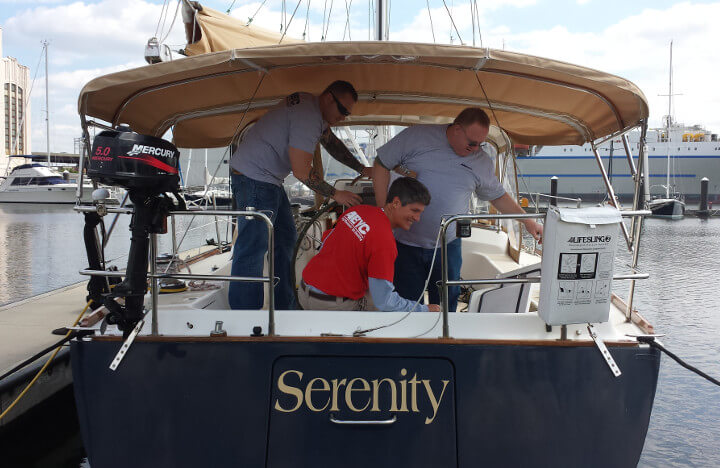 So you've just found the perfect boat for your needs, and it seems to be within your budget. What next? As we spoke about in the section above, you will want to inspect the boat to make sure it is in proper working condition and is up to all necessary standards. Unless you are a boat expert yourself, your next step should be to hire a surveyor to conduct all necessary tests and inspections.
What is a Boat Surveyor?
Boat surveyors, sometimes referred to as marine surveyors, inspect vessels to ensure they are up to standards and in proper working condition. A surveyor is extremely knowledgeable and should offer advice and recommendations for buying a new or used boat. Boat surveyors evaluate nearly everything about the boat, including:
The Hull
The Rig
Machinery
Coding Surveys
Vessel Stability
Tonnage
Marine surveyors come from a wide variety of backgrounds within the boating industry and have various experiences qualifying them for surveyor positions. Some have a Navy background, while others were boat builders or captains. Each surveyor will have his or her strengths and weaknesses, but they all should have the resources to analyze and inspect a boat properly.
How do I Employ a Surveyor?
Surveyors are registered with the Society of Accredited Marine Surveyors (SAMS), and you can acquire a list of certified surveyors in your area directly from the SAMS website. Many surveyors are hired through word of mouth, though, so don't hesitate to hire on a recommendation if you trust the source. Before agreeing to hire a surveyor, you should consider the following:
Do they have experience surveying similar vessels?
What will their survey include?
How long will the assessment take to complete?
What to Expect from a Boat Survey
A sea trial or out of water inspection will start the survey process. A sea trial is a "test drive" to see how the vessel performs in the open water and is one of the most important segments of the inspection. Although the surveyor may have a longer list of items to inspect, the following are commonly included with a sea trial:
Normally Functioning Systems
Engine Compliance with Manufacturer Guidelines
Exhaust and Crank-Back Pressure Systems
RPM and Cruising Speeds
The main objective of an out of water trial is testing the structural integrity of the vessel. The following is included in an out of water inspection:
Moisture Quantity in the Boat's Metal Core (Hull Test)
Structural Deficiencies
Keel Inspection
Electric Systems
Fuel Systems
Types of Boat Surveys Available
Marine Surveys are classified into the following categories:
Pre-Purchase
Insurance Surveys
Damage Inspection
Appraisal Assessment
The Survey Report
After the surveying process, a written report is issued, which includes:
A description of the vessel
A description of each onboard system
Findings and recommendations rated by level of importance
A summary of the boats overall condition
Replacement and fair market values of the boat based on industry data
The statement will conclude with the decision on whether the boat passes inspection for its intended purpose.
Getting the Most Out of a Boat Survey
After you receive the survey report, compare it with the information you researched and sourced for yourself. By doing this, you not only check for the quality of the survey, but you learn about the important factors that need to be in working order for a boat to pass inspection.
Be sure to arrange beforehand the stipulations that state only partial payment will be due if the survey is abruptly stopped for any reason. This includes the surveyor finding crucial evidence that the boat is deemed unfit for use or purchase.
Things to Avoid
The cost of materials is consistently rising, making new boats more expensive every year. As a result, the prospect of buying a used boat at bargain prices is alluring, to say the least.
Most first-time boat buyers do not possess the necessary experience or knowledge to repair older boats, and most people don't want to put in the time to fix them up themselves anyway. For this reason, it's best to do your research before buying a boat to overhaul.
Do Your Research
If you have a specific vessel in mind, try to find owners of similar boats to find out how their boat performs in the water. Ask about issues with the keel, if the boat is prone to fiberglass delamination, and anything else that may require time or resources to repair. Use the internet to find customer reviews that address some of the problems you may encounter after your purchase. You can also locate the owners association specific to the type of boat you want, to see if there are common problems that the vessels have.
Get Sound Advice
Without extensive experience or technical knowledge, spotting a fixer-upper is a difficult task. As a result, getting a professional inspection done by a surveyor is your best option to make sure you spot any significant problems with a boat.
When buying a boat from a boatyard, speak to the staff to gain insight into how the boat has been cared for, or how long it has not been in use.
What to Watch For When Buying a Used Boat
Broken or detached structural components
Wet or rotted core materials in the deck or hull of the boat
Rotted plywood bulkheads
Seized or rusted engines and corrupted fuel tanks
Severe blistering on the body of the boat
Old or defective wiring
Broken or Detached Structural Components
If identified, it is best to have repairs done professionally by someone in that exact field of work, as structural failure could result in significant problems and costs down the road.
Wet or Rotted Core Materials
Repairing the core will require a significant amount of fiberglass, and you will need to be skilled in order to fix it properly. Depending on where the core is located, costs and time to repair will vary, but it could take several weeks or even months if the problem is bad enough.
Rotted Plywood Bulkheads
Rotted bulkheads are a common fix required for used production boats, and they are usually found where the chainplates are attached to the bulkhead.
Since the bulkheads support the boat's frame, it is important to be careful not to deform the hull or deck with reconstruction. Employ an experienced professional when necessary.
Seized or Rusted Engines and Corrupted Fuel Tanks
Cast iron will rust and corrode when exposed to saltwater and humid air over long periods. If a vessel has not been in use for a while, rust may have formed, or the engine may have seized entirely. Be sure to have the engine inspected professionally to ensure a problem will not present itself in the near future. Fuel tanks and fuel lines should also be replaced if the boat has not been used for some time.
Severe Blistering
Another common issue when buying a used boat is blistering on the laminate, which, if bad enough, could be difficult and costly to repair. Surface blisters on dry material can usually be repaired quickly and easily, but if you remove layers of fiberglass, they will need to be reconstructed.
Old and Defective Wiring
Copper-stranded wire will corrode as it is exposed to water, which can cause intermittent or complete failure of the electrical circuit. Wiring replacement and installation on a boat can be a costly and time-consuming affair and should always be done by a professional.

Spotting a Bad Deal When Buying a Boat
There are lots of ways to spot a bad deal when buying a boat, but the easiest and cheapest is to play detective with your eyes.
Take a look around. Is there corrosion on interior hardware? Look at the hinges and drawer pulls, is there rust? Is there an interior waterline inside a locker or hidden behind something?
Check out the pumps, lamps, and breaker panels; is there any damage or corrosion? These are all indicators that the boat has gone through an event that caused severe water damage and is most likely an ill-advised investment.
If the boat is in a seemingly good condition, yet there seems to be fresh paint on anything from the walls to the hull, it could be an indication that the seller is trying to hide something. New furniture and cushions could also be a tip-off that there has been some interior damage. If you spot any of these things, make sure to have a full professional inspection done before proceeding.
When inspecting the hull, pay close attention to a few things. A dishonest seller may have patched a broken hull with filler rather than fiberglass, which can end up both expensive and dangerous if it goes unnoticed. If you find a spot that you suspect has been poorly restored, give a tap with your knuckles and listen carefully. If the area produces a different sound than the rest of the boat, it is worth further inspection.
Leaks, Corrosion, Algae, and Other Deal Breakers
When leaks occur on a boat, it is important to recognize them early. This is especially true when buying a used boat, as the cost may not reflect the boat's condition. If a leak goes unnoticed, it can cause extensive corrosion and damage to the boat's integrity. One of the most common places to find a leak is in the hose connected to the thru-hull and the boat's hardware.
Algae can be a concern when your boat is stored in the water. If you notice algae accumulating on the boat's exterior, act immediately to clean it, as the scum and residue can lead to corrosion, leaks, and severe body damage.

The Advantage of Chartering Before Buying a Boat
Purchasing your first boat is a big investment, so it's nice to get a feel for a certain type of vessel before making a financial commitment.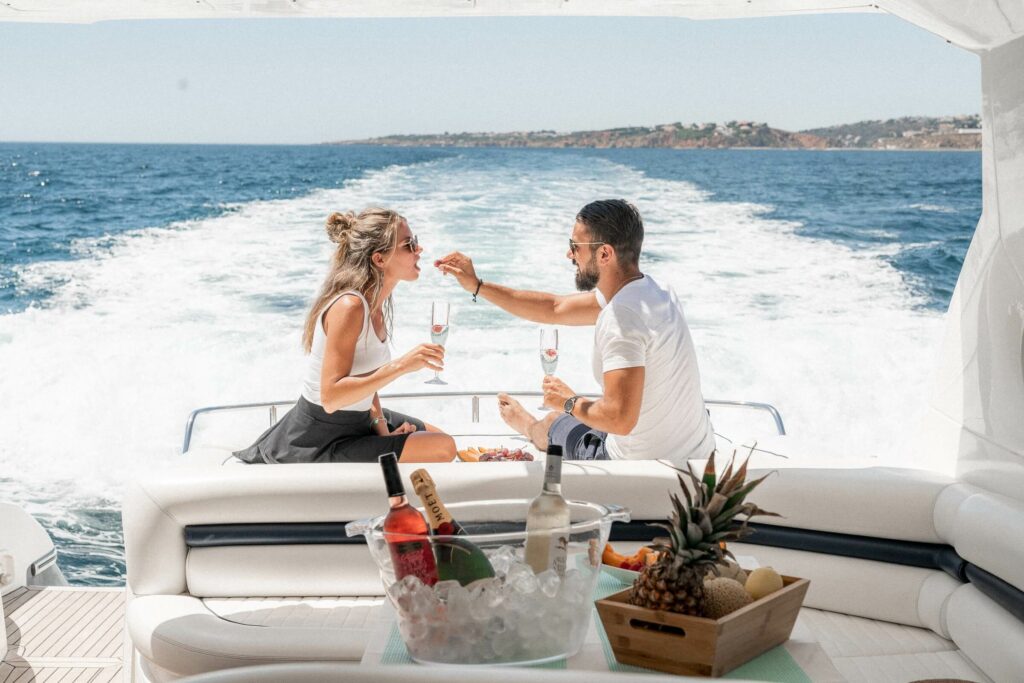 What is Chartering a Boat?
In a nutshell, chartering is a rental service for single trips or events, and prospective owners can use the service to feel out a boat and decide if it's right for them.
What are the Benefits of Chartering a Boat?
The main reason to charter a boat is to take it for an extended test drive and use the onboard amenities. Even if you are chartering a boat that isn't identical to the boat you may purchase, it can still give you a feel for the size, weight, and overall comparisons.
If you aren't quite ready to pull the trigger on your own vessel, chartering a boat gives you the opportunity to fulfill your holiday or excursion for a small fee. Charter boats are available with a full onboard crew as well, so if you just need to get away on a care-free vacation, it may be an option worth considering.

Designing and Building a Boat
An additional option outside of buying a new stock yacht is to design and build one for yourself using a design service. When customizing your own yacht, you can build it around your lifestyle and the vessel's purpose. As you likely won't have experience in boat design, you should hire a designer with the manufacturer or a third-party source.

Solo Vs. Shared Boat Ownership
As with shared property ownerships or timeshares, there are options for multiple parties to invest in the same boat. There are many benefits to shared ownership, depending on the relationship and situation involving the other owner(s). Below, we discuss some of the pros and cons of each type of ownership.
Solo Boat Ownership
If financially viable, solo ownership is the chosen method for most boat owners, as the investment will lie in your hands and your hands alone. Everything from size, to budget, to the boat's primary use will be up to you to decide, making it a truly unique experience for you. Management and maintenance will also fall directly on your shoulders, so be prepared to invest plenty of time, energy, and money.
Shared Boat Ownership
One of the most appealing things about shared ownership is the lower costs, and in many cases, it could make a lot of sense to share ownership of a boat. Not only are all of your costs shared, from purchase to repairs, but you also get to divide the burden of maintenance, storage, and transport as well.
Maybe your partners have the opportunity to sail during the months of the year you can't. Or maybe you work weekends, and they are busy during the week. Maybe you have a property timeshare in a tropical location, and your partners want to invest in a boat for the house. There are plenty of possibilities, and every group or couple will have to decide if shared ownership is the best option for them. There are two classifications of shared ownership, private or commercial, which we cover below:
Private shared ownership is for family or friends who want to invest in a vessel together and keep the peace of mind of knowing the other owners personally. If you are investing with friends and family, chances are, you have some level of trust to lean on. Still, you need to act carefully and have a proper contract written up for the shared investment.
A contract will ensure that everyone holds up their end of the deal and will include the following:
Member names and signatures
Amount of shares owned by each party
Guidelines and procedures for boat use
Time-share details
Boat insurance details
Commercial shared ownership, or a boat share, is the most convenient way to split costs and ownership responsibilities when you don't have friends or family to invest with. To be part of a boat share, you will need to employ an agent who will help arrange other investors. The agent will act as a middle man, or matchmaker, to negotiate terms and conditions of ownership. If you want, you could even enter multiple boat shares to enhance your overall experience or test out a few different boats before making a purchase further down the road.

Financing Your Boat
Unless you plan to purchase your boat outright, you will likely need to finance the boat with a loan. Below, we talk through the basics and offer a few boat buying tips to get you started.
How do Boat Loans Work?
Financing a boat works just as it does with most things, just with a few nuances. As with most loans, a boat loan will require a down payment, usually based on a percentage of the total purchase. Interest will be accrued over time, and it will be based on your credit and the loan specifically offered to you by the lender. The biggest difference with something like a car loan is the repayment length. Boat loans are often long-term loans with repayment plans between 15 and 20 years.
Secured vs. Unsecured Boat Loans
Secured boat loans generally use the boat itself as collateral on the loan. If the liable owner does not make payment on the vessel for any reason, it can be repossessed by the lender to earn back their money. Secured loans have higher limits, lower interest rates, and longer repayment terms. The standard secured boat loan repayment period is 15 to 20 years.
Unsecured boat loans don't use anything as collateral, which results in lower borrowing limits, higher interest rates, and shorter repayment terms.
Where to Get a Boat Loan
Banks generally offer loans on anything, including boats. To borrow from a bank, you will need to have a sufficient credit score and credit history to prove you are trustworthy. The better your credit score, the higher the borrowing limits, and the lower the interest rates. Most banks will offer a loan of up to $150,000 for new boats and $100,000 for pre-owned boats.
Marine lending specialists act as brokers to acquire boat loans for purchasers and search for financing through any source, including banks and private lenders. The advantage of using a marine lending specialist is that they have previously established relationships with lenders and understand the ins and outs of the business. It does, however, cost more than searching out your own lender.
Credit Unions offer loans to borrowers with less than admirable credit scores and credit history. Credit unions normally offer loans at competitive and fair rates and work with people from different income levels and backgrounds. Still, they are generally not as economical as a fair bank loan.
Online Lenders are well known for offering unsecured loans, which come with lower borrowing limits, higher interest rates, and shorter repayment plans since there is no collateral in terms of the loan. Online lenders will often offer loans of up to $100,000, depending on the borrower.
Things to Consider Before Applying for a Boat Loan
Before applying for a loan, be sure to check your financial commitment carefully, including your current and future income. Take all expenses into consideration, and leave plenty of room for maintenance, servicing, and repairs. As a general rule of thumb, it is advisable to keep the loan payment to no more than 20% of your total income. There are plenty of online boat loan calculators to help set a budget and price range for a loan specific to you.
Interest rates vary and are affected by credit history, income level, and loan terms. Knowing your credit scores is good, but keep in mind that hard inquiries to check them can hurt your overall credit score, so be careful and tactical when looking into them.
Consider the penalties included in terms of the loan for things like late payments, paying off the loan before the contract ends, or default.

Equipping Your Boat with Gear and Accessories
It's official, you are now the proud owner of your first boat, and you want to make sure that you are hitting the water with everything you need in hand. While this list is not exhaustive by any means, we cover some of the things you may want to gear up with or upgrade if they weren't included in your purchase:
Anchoring and Docking Equipment
Navigation and Marine Electronics
Generator and Watermaker
Repair and Service Tools
Safety and Rescue Equipment
Fishing and Watersports Gear
Kitchen Supplies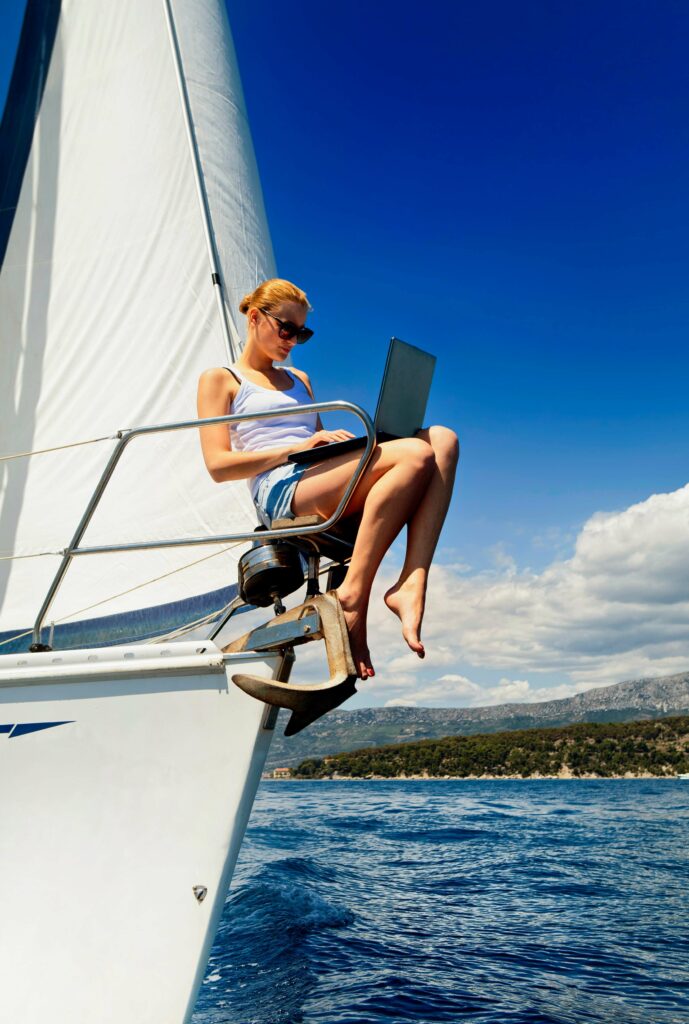 Anchoring and Docking Equipment
While these accessories help make docking and anchoring easy, they are also used to create a safe experience. Boats can drift when mechanical problems are present, and keeping yourself anchored to one position could be crucial to your safety. Depending on your vessel and the locations of use, different anchors and docking equipment are available. Do some research specific to you to decide which equipment will prove most useful.
---
Navigation and Marine Electronics
Navigation equipment is important in any scenario, but especially when you plan to be out on the open water for extended periods. Along with navigation equipment, GPS locators and a VHF-Radio are essential to making sure you can contact services in case of an emergency.
Generator and Watermaker
Depending on your vessel's type and use, generators and watermakers are extremely useful to get your boat up to standard for open water. If you plan to run all of your electrical components onboard, a semi-powerful generator set will be required. A 5-7kw generator should be sufficient for mid-sized vessels to run all onboard amenities, including things like scuba compressors and watermakers. Watermakers convert seawater to potable freshwater that can be used for cooking, cleaning, and consumption.
Repair and Service Tools
Having the knowledge to repair or maintain your vessel is great, but it doesn't do much good without the right set of tools to perform. Routine checks and servicing need to be done on the engine and any other mechanical component that are subject to wear and tear over time. Hiring anyone to come work on your vessel can be expensive, so do yourself a favor and get equipped with everything you'll need to service things yourself.
Safety and Rescue Equipment
Rescue buoys, life jackets, first-aid kits, flares, smoke signals, and life rafts are all equipment you should consider investing in to ensure your safety while onboard. Make sure your equipment and first-aid kit are location-specific and cover all potentially dangerous scenarios.
Fishing and Watersports Gear
If you bought your boat for specific uses such as fishing or scuba diving, you'd want to make sure you are fully equipped to make your experience on the water top-notch. Downriggers, pole holders, bait lockers, scuba tank storage, air compressors, and entry/exit platforms are just a few examples of how to upgrade your boat for its purpose.
Kitchen Supplies
After catching fish out at sea, you'll want the proper space and supplies to make preparation and cooking a breeze. Dry storage can be upgraded so that everything is packed away neatly and conveniently, and collecting your utensils won't be a hassle. Some people have put up "safety ropes" to keep the cook from getting tossed across the room when weather conditions are less than favorable.

Storing your Boat
The decision of where to store your boat, whether in between use or over the winter, will depend largely on where you are located. Depending on the weather conditions in your area, you may choose to store your boat in a wet slip, a dry stack, or in your personal space such as a garage or in your backyard.
Wet-slip storage: keeps your boat in the water at a marina or in a storage bay. When storing your vessel on a wet-slip, make sure to use a boat cover to protect it from sunlight and harsh weather.
Dry-stack storage: is most common indoors, with boats stacked on boat racks. They can also be stored on racks outdoors, but this is only common in areas with less variable and less severe weather conditions. A crane is employed to lift the boats on and off of the racks.
Below, we talk about some considerations that need to be made when choosing your storage facility: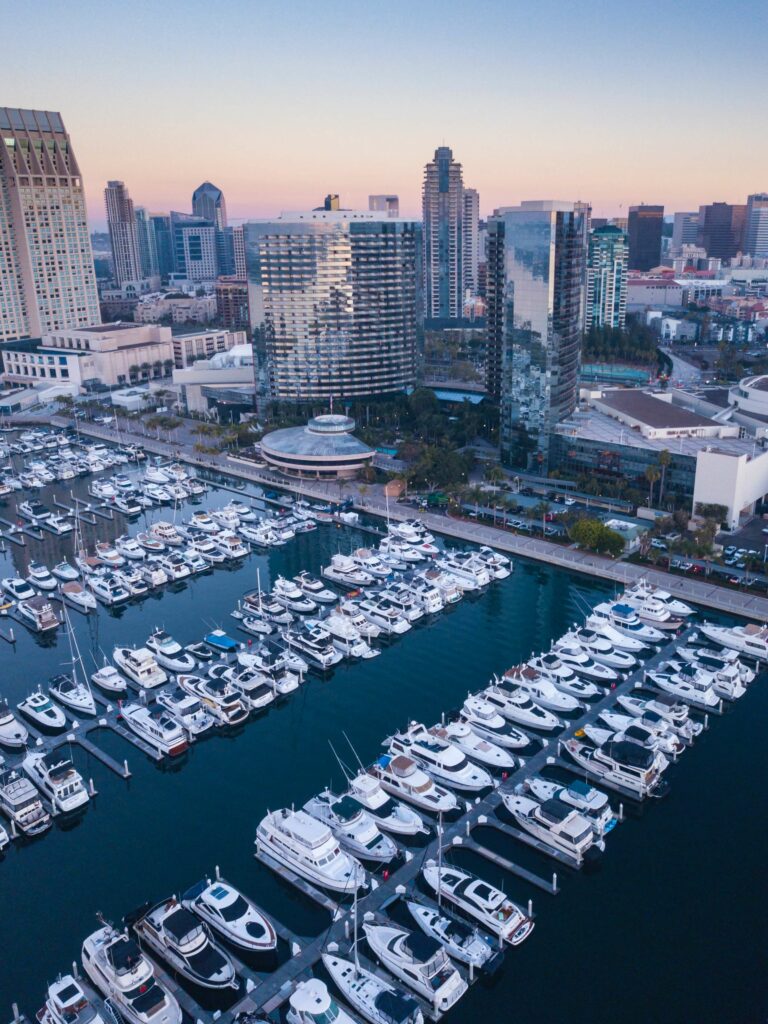 Do you Need Constant Access to your Boat?
Wet-slip storage is best for anyone who wants to access their boat regularly without storing it for long periods, while dry-stacking makes your boat only accessible during hours of operation.
How Often Do You Plan Trips?
If you use the dry-stacking storage method, you must inform the marina before taking it out. If you plan trips often, you may want to consider keeping the boat on a personal trailer for easy and quick access. Just hook the trailer to your truck, and head out.
Are there Size Limitations to Storage Options?
Most of the dry-stacking facilities can handle boats on the larger end of the spectrum, and most have cranes installed to move the boats around. Each dry storage facility will have its size limitations and schedule of access, so invest some time in research beforehand.
Wet-slips can also handle bigger boats, but it is common practice to charge per foot, so the larger the boat, the more costly storage becomes.
Will Storage Affect the Condition of a Boat?
The natural elements break down a boat and its components, so storage may or may not have an impact. Sunlight, heat, hail, big swells, and cold can impact your boat, which is why it is so important to choose a storage option based on your location.
When storing your boat in a wet slip, you should periodically inspect the vessel for moss and algae growth. For the boat's exposed parts, a cover can be used to protect it from the elements.
Which Method of Boat Storage is Safer?
Dry-stack storage is the safest way to house your boat for a couple of reasons. First, the prospect of theft is greatly reduced as dry storage facilities will have cameras set up, need an operator to remove the boat from the stacks, and have possible employment of security services. Dry-stack storage also keeps your vessel safe from the elements and the prospect of wear and tear from harsh surface conditions.
Which Method of Boat Storage is More Affordable?
The cheapest option for storage is to keep your boat housed in a garage or on your personal property somewhere, although personal storage comes with the sacrifice of security services.
Wet-slip storage is the next most affordable option in many cases, and you also get security services and easy access.
The most expensive method is dry-stack storage, as the storage property will have a lease, and the equipment needed for moving the boats is quite expensive.

Investing in Proper Boat Transportation
Depending on the size of the vessel you purchased, you may need specialized transportation to get it where it's going. This could be from the point of the initial purchase, moving to a new location, or simply transferring from pier to storage. Regardless of which stage you're at, we discuss your options below.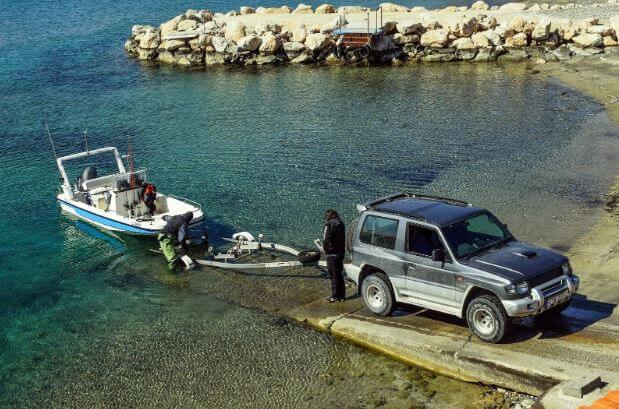 Self Transportation
Your self-transport method will depend entirely on the size of the vessel and the resources at your disposal. The larger the boat, the more resources you will need.
For small fishing boats such as kayaks, the simplest method of transport is in a truck bed, on a trailer, or even strapped to the top of your car. These methods are cheap and don't require additional services outside of a personal friend or family who is willing to help.
For mid-sized to large boats, the most common method of personal transport is with a truck and trailer. The truck should have the tow strength required for the boat and trailer's weight together, and the trailer should have a holding capacity for the weight of the boat.
If you decide to get a boat trailer for personal transport, be mindful of the material the trailer is made from and the location where you will be using it. Most boat trailers are made of either aluminum or steel, and aluminum is less susceptible to rust. If you are hauling your boat to or from the ocean, you should not use a steel trailer. If you do, expect a busy maintenance schedule to keep it from rusting and breaking down.
Boat Shipping Services
For larger boats or for transport from a far-away location, shipping services are available for employment. The service will provide a crew and hauler to get the vessel to the location of your choosing. These services normally charge by the distance traveled, though, so get ready to reach quite deep into your pockets.
Semi-Truck and Container
If you have purchased a very large vessel that will not fit on a standard truck and trailer setup, your best option for transport is likely with a semi-truck and container. While this method is more expensive due to the equipment and crew required, it is the safest and most reliable way to get your boat from one point to the next. Since you will be using a legitimate company, they will be liable for any damages or extra expenses accrued along the way.

Boat Registration
After buying a boat, you need to make sure it complies with the registration and titling requirements set by the country of operation. Each government requires boats to be registered, although the title requirements vary with each country. Below, we walk you through the basics of what you'll need to know.
Do I Need to Register My Boat?
All of the following watercraft must be registered in the country of intended use:
Any gasoline-driven watercraft
All diesel-driven watercraft
Any electrically driven watercraft
And boat with a trolling motor
Sailboats without auxiliary power exceeding 5.5 feet in length (Lengths vary by country)
Where do I get my Boat Registered?
The registration process will vary by country but will likely involve one of the following departments:
Department of Fisheries and Game
Marine Department
Department of Licensing
Department of Natural Resources
How do I Register My Boat?
In most countries, online registration processes are available and are submitted with an application fee. As long as you are approved, your license stickers will be posted to you in under six weeks. In some countries, you can also apply by mail, although this process is less common due to the time and hassle of paper mail systems. In-person registration is always the best of all options, as you can deal directly with the registration agency and get immediate answers to your questions and concerns.
If you purchase a new vessel from a broker or dealership, they may offer support through the process. It is still your responsibility to make sure your vessel complies with the registration requirements.
Documents Needed for Boat Registration
Boat registration documents fall into three categories:
New Vessel Registration
Registration of a new boat requires the bill of sale from a licensed dealership and a full description of the vessel, including:
Make of Vessel
Model of Vessel
Year of Manufacture
HIN (Hull Number)
Serial Number of Motor
Horsepower Ratings
Date of Sale
Amount of Purchase
Completed Registration Application
Pre-Owned Vessel Registration
Registration of a pre-owned boat requires the bill of sale to include the notarized signature of the seller and a full description of the vessel, including everything from the list above, and the following additional items:
Name, address, and signatures of buyer and seller (for sales tax purposes)
Other valuables included in the sale, listed with their value
Buyers proof of ownership – supporting documents such as registration papers from the previous owner and proof of insurance in the previous owner's name
Registration certificate
Homemade Vessel Registration
A homemade boat owner must first apply with the Marine Police Division for a hull serial number. After inspection, the Marine Police will provide a HIN, consisting of twelve digits attached to the outer stern or beneath the gunwale on the boat's right-hand side.
The following documents are also required:
Date when construction was completed
Marine police inspection documents which include a HIN number
Statement by the owner to prove the vessel is homemade
Building costs of the boat
Approximate date of completion
Completed registration application

Boat Insurance
One of the most essential pieces of advice for any boat owner, especially new boat owners, is to have good insurance that covers you in nearly every scenario.
Things that Lead to Boat Damage and Loss
Many things can damage and deteriorate boats, some of which can have an expensive and lasting effect. Things to consider when purchasing insurance for your boat include:
Human Error
Weather and Natural Elements
Theft and Vandalism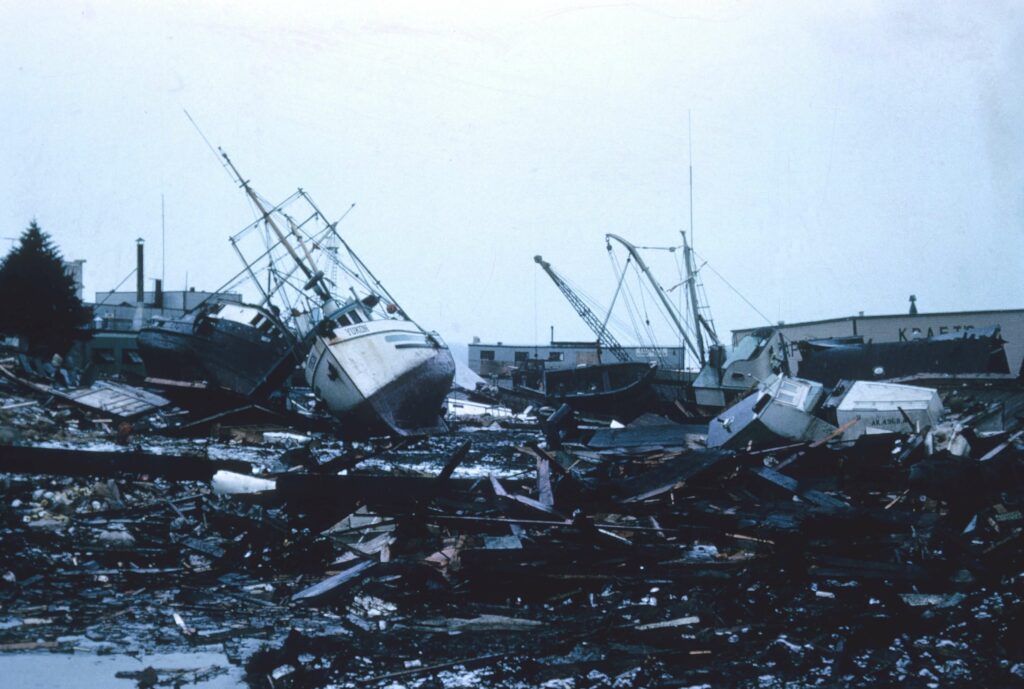 Human Error
Any damage or loss incurred by operators or bystanders is classified under human error. The list of possible damages is long and includes carelessness, driving errors, disruption of maintenance schedules, and more.
Weather and Natural Elements
The boat should be insured to withstand damages from foul weather and turbulent conditions. These types of damages are very common, and any good boat insurance will cover the natural elements. Ensure that natural disasters are also covered if you keep your boat stored permanently in a bay or marina.
Theft and Vandalism
Boats and their parts, particularly the outboard motors, can fall victim to theft or vandalism. Piracy is a common occurrence in different parts of the world, so make sure your insurance covers you in case of an incident. If you only take out your boat for short periods and return it to a safe and secure storage facility directly after, you could consider coverage that is not as hearty.
What Isn't Covered by a Typical Boat Insurance Plan?
As stated above, each insurance plan will offer a different range of coverage, some of which are more comprehensive than others. Below, we go over some things that are commonly not covered by insurance:
General wear and tear: are not covered because this happens with every vessel, regardless of how well they are maintained.
Theft or vandalism: where there are no security systems in place. Part of the stipulations for theft or vandalism is that the boat must be kept in areas where security systems can identify the culprits.
Misbehavior or reckless: actions by the owner will not be covered, including incidents involving alcohol or drugs.
Depreciating costs: are not covered because this is a normal loss that every boat and boat owner will incur.
Damage or loss under supervision: of anyone other than the boat owner. Only named boat operators on your insurance plan will be covered.
Damage or loss by location: not specified by the insurance plan. Larger areas of use will come with a higher payment and premium.

Boat Safety and Training
There are tons of benefits to boat safety and training courses, with the most obvious benefit being your personal safety, as well as everyone else on board with you.
There are standard boat safety and training courses that enable you to be more prepared on the water, and include things like:
Boating Law
Man Overboard Procedure
Docking
Weather and Tides
Boat Handling and Maneuvers
Many countries actually require you by law to have completed a boat safety and training course to operate, so be sure that you cover your bases and get it out of the way.
Obtaining Your Skippers License
If you are a new boat owner, it's important to understand who needs to be a certified boat captain, and if not, how to operate your boat. To carry passengers for hire, or in other words, to have passengers pay you, you need to be a certified boat captain. Selling service for anything from yacht tours to fishing excursions will require a certified skipper to be at the helm.
There are two types of captain's licenses to obtain, so you first need to decide which one is right for you and your vessel:
Operator License
Master License
Boat Operator Licenses are used for vessels that hold up to six passengers, weigh less than 100 tons, and travel no more than 100 miles from shore.
Boat Master Licenses are for boats that carry seven passengers or more and travel up to 200 miles from shore.
Before you can begin either course, you will need to provide a few prerequisites, including:
Proof of Age 18+
Physical Exam, Drug Screen, First Aid Training
360 Days Logged on the Water – 90 in the Past Three Years
Either boat captain's license exam will include three main areas of knowledge, including:
Coastal Navigation
Deck Knowledge
Right of Way Rules
By following the guidelines above, planning and buying a boat should be far less stressful than the alternative. Research, planning, and following through all sound like simple tasks, but the boat market is complex and hectic for a first time boat buyer, to say the least.
Want some more first-hand advice for buying a new boat? Join the #BoatLife community and submit a post on our public forum! Our readers are always looking to help like-minded folks.
If you found this article helpful, please leave a comment below, share it on social media, and subscribe to our email list.
For direct questions and comments, shoot me an email at travis@boatlife.io