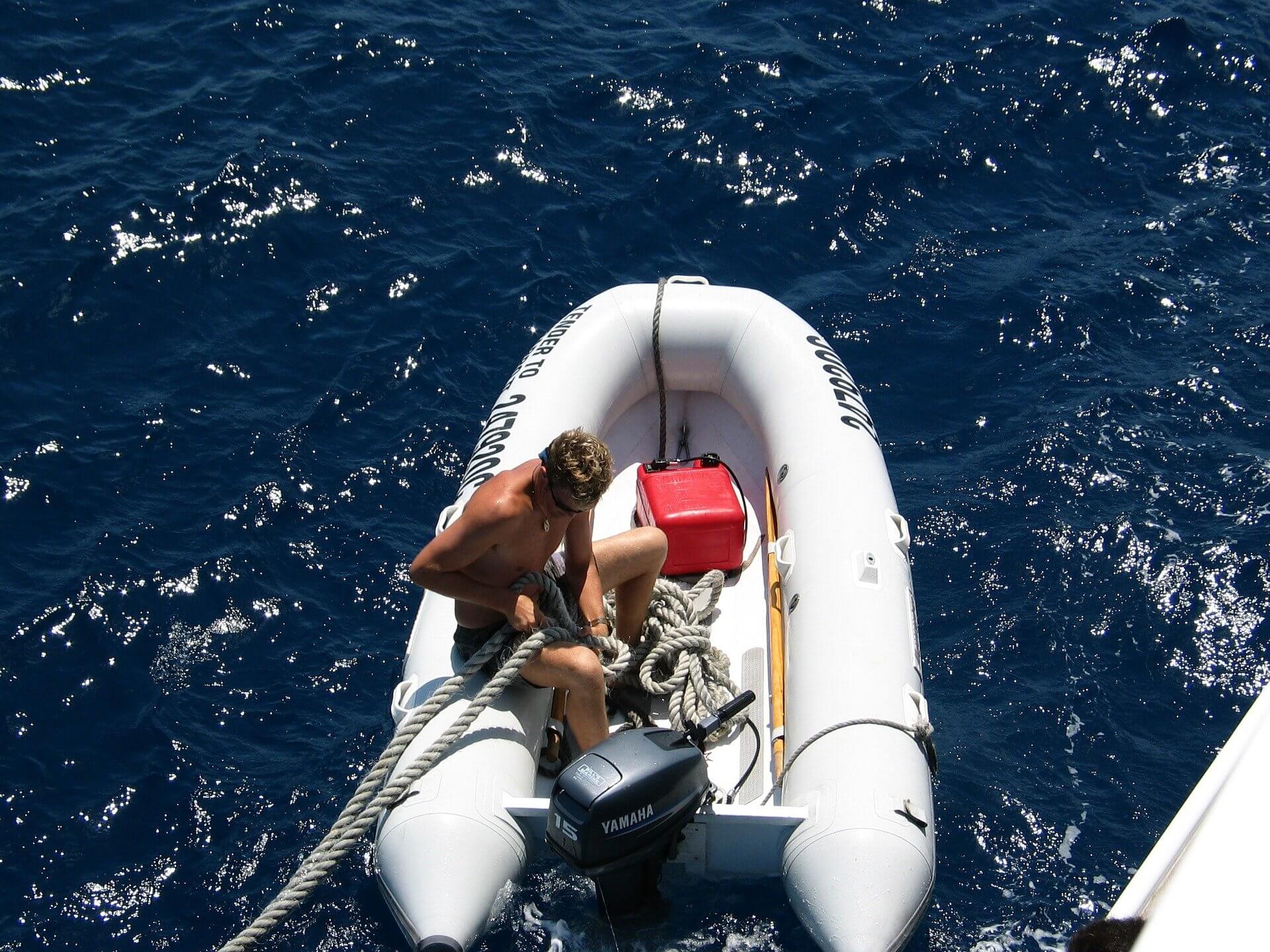 At anchor, a dinghy boat serves as your lifeline to everything from leisurely excursions to provisioning trips. Every captain or crew will use their dinghy differently, so it's essential to consider what features and functions are important to you.
Do you plan to explore remote areas away from anchor? Do you plan to fish, snorkel, or dive from the dinghy? How many people will you need to carry at once? Every aspect should play into your decision.
Below, we cover the following to help you choose a dinghy that's right for your boat:
Key Factors to Consider
Types of Dinghies
Outboard Motors
General Information and Tips

What Should I Consider Before Buying a Dinghy For My Boat?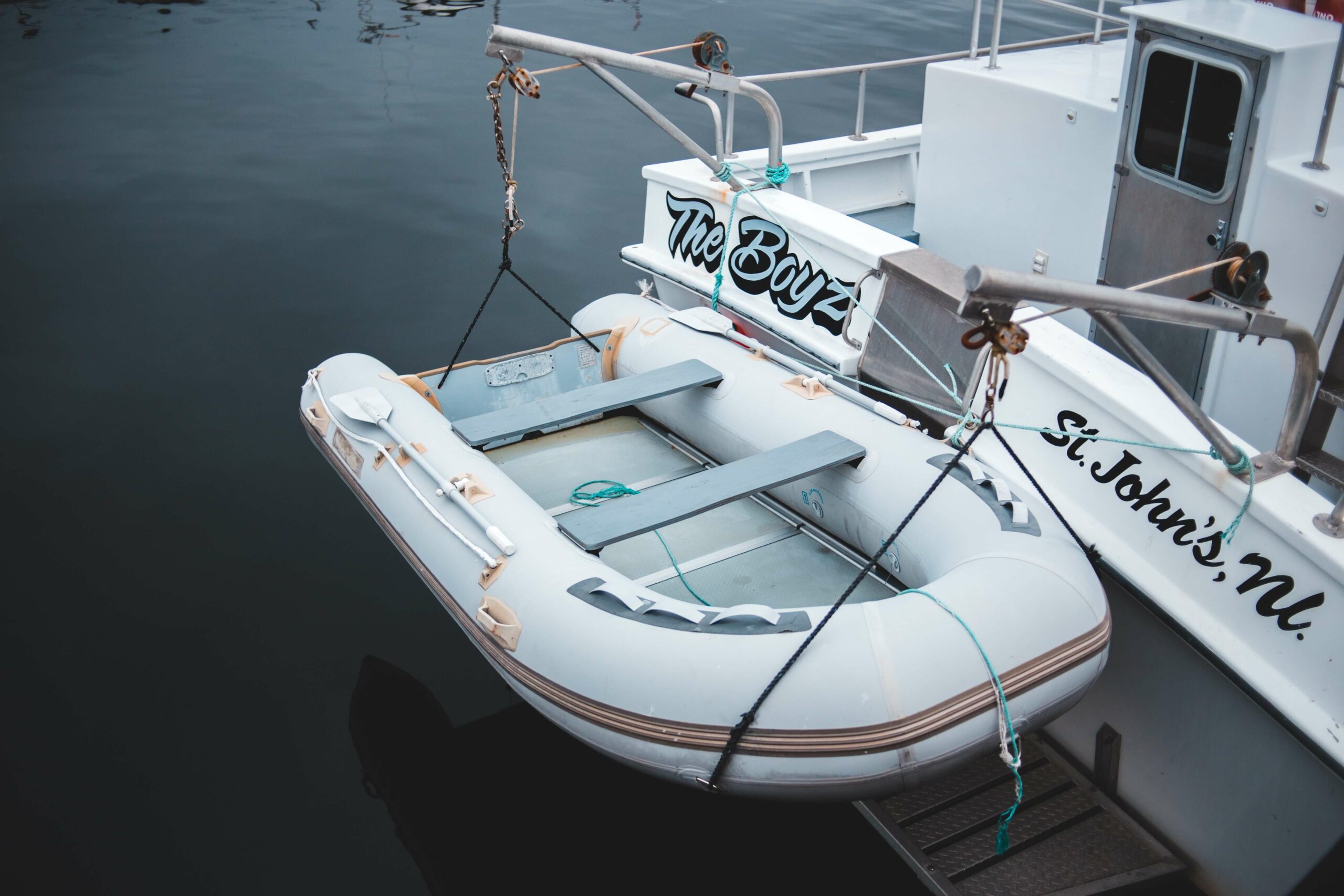 Make the following considerations before purchasing a dinghy for your boat:
DInghy Storage
Carrying Capacity
Material
Use of the Vessel
Dinghy Storage
Storage should be a defining factor when purchasing a dinghy for your boat. There are several common ways to store a dinghy, but not all storage is suitable for every vessel. A rigid dinghy will need enough space to be tied on the deck or at the back of the boat, while you can stow an inflatable dinghy in lockers or lazarettes.
Regardless of where you choose to keep your dinghy on the boat, it should be in a location that does not reduce drag, restrict access to important areas, or prevent easy access for storage and use.
The most common options are:
Dinghy Davits
On-Deck
Swim-Step
Locker
Towed
Davits: Permanently installed at the stern of the boat, davits are used to store, deploy, and retrieve your dinghy from the water. Davit storage is standard for any dinghy that's too heavy to manually lift in and out of the water. Although storage on dinghy davits is convenient, it poses a risk when sailing through heavy seas. Large waves and wind can cause the dinghy to flood while in transit, and the weight can damage the stern of the boat or the davits.
On-Deck: Some people choose to tie the dinghy upside-down at the bow, stern, or side of the boat. For this to be an option, you need sufficient unused space on the deck, and you need to be sure that the dinghy is not interfering with any important pathway or area on the boat.
Swim-Step: Boats with an elevated swim-step can accommodate a dinghy at the boat's stern as long as it's elevated far enough out of the water. Keep the dinghy tied aerodynamically and tilted so that it doesn't fill with water.
Locker: Roll-up inflatable dinghies are easily deployed and retrieved from the water by hand, and they can be deflated and stored in a locker anywhere onboard.
Towed: For nearshore journeys in calm conditions, you can easily pull the dinghy behind your boat. Be careful, though, as high speeds and choppy seas can cause a dinghy to flip in the water.
Dinghy Carrying Capacity
If you're sailing with multiple crew or passengers, you will want a dinghy that can carry the same amount of people. Making numerous trips from ship to shore will not only cost you time, but it will also run up fuel costs. Further, you'll want extra room for luggage, provisions, recreational gear, and anything else that may find its way onto your boat.
The handling in your dinghy can become problematic when loaded beyond capacity, so use caution – especially in rough seas. Safety should always be a top priority, so the goal is to aim for the biggest dinghy you can get without sacrificing too much storage space.
Dinghy Material
Rigid dinghies are most commonly made of fiberglass or aluminum, but you can opt for a more classic wooden design as well. The material will partially dictate where the dinghy can be stored and the need for equipment such as dinghy davits. While fiberglass hulls are cheaper than aluminum, they also come with the burden of a heavier weight. Alternatively, aluminum hulls will outlast their fiberglass counterparts, but for a higher price. Overall, rigid dinghies can withstand wear-and-tear better than inflatables, although routine maintenance is required.
Inflatable dinghies are kept afloat using tubes surrounding the boat's hull, commonly made of either PVC or CSE. CSE, or "Hypalon," is a synthetic rubber material that is highly resistant to chemicals, UV light, extreme temperatures, and abrasion. CSE is a lot like PVC, but it's lighter and has more UV and water-resistant properties. It's also more abrasion resistant, making it ideal for taking to shore. CSE offers a longer service life and a more extended warranty, although again at a higher cost. The most common complaint you'll hear about CSE is the rate at which the air escapes from the tubes. On average, CSE tubes lose about 15% of their air within 24 hours, while PVC loses under 7%.
PVC is an excellent alternative to the more durable CSE, as the material still offers a reasonable service life at a lower cost. PVC is also much lighter, more convenient to fold, and easier to clean than CSE. The biggest potential problem with PVC is simple neglect and lack of maintenance. If cared for properly, modern PVC materials can last long enough to justify not paying the higher costs for CSE.
For some excellent tips on maintaining your inflatable dinghy, check out Sail Magazine's Tender Choices article, here.
How You'll Use The Dinghy
The last factor to consider is how you intend to use the vessel. Will you be traveling long distances from anchor? Exploring remote locations? How many people do you need to transport? Do you need special features to accommodate scuba diving and fishing? You should do as much research as you can to ensure that you're buying a tender that suits your needs while staying within your budget. Below, we discuss the difference between each type of dinghy – and who each is best suited for.

Types of Dinghies
Choosing the right type of dinghy for you and your boat will require some careful thought. Your dinghy is your primary source of transportation between journeys, and you'll want to make sure that your purchase is fitting for your immediate and future needs.
The three most common types of dinghies are:
Rigid Boats
Inflatable Boats
Rigid Inflatable Boats (RIB)
Rigid Boats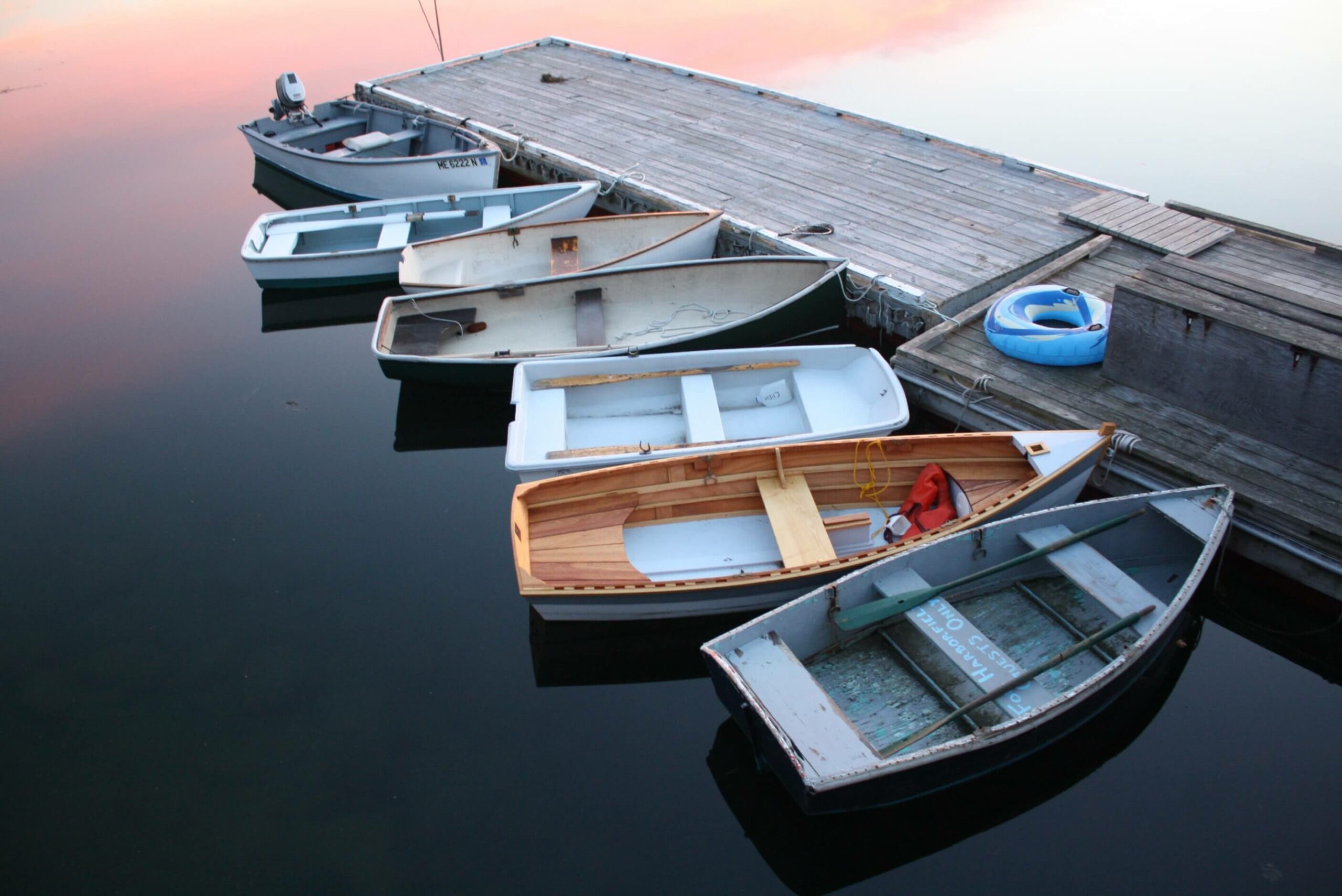 Hard-body (rigid) dinghies are among the simplest styles of tender, and they come in a variety of shapes, sizes, and materials. Rigid dinghies are sufficient for those who don't need to travel long distances or through rough conditions. However, more and more people are moving to inflatables or semi-inflatables for their wide range of abilities when needed.
When considering if a rigid dinghy is right for you, think hard about the material each is built with. For the hull specifically, the materials will affect the price, durability, and cosmetics of the vessel, as well as the weight and ability to transport. Most rigid dinghies are constructed with fiberglass, aluminum, or wood and have a lower carrying capacity than inflatables. They also have less stability when entering, exiting, and moving through the water.
Advantages:
Easily Propelled
Puncture Resistant
Outboard Compatible
Low-Cost Option
UV Resistant
Disadvantages:
Instable
Easily Scratched and Blemished
Adequate Storage Space Required
Inflatable Boats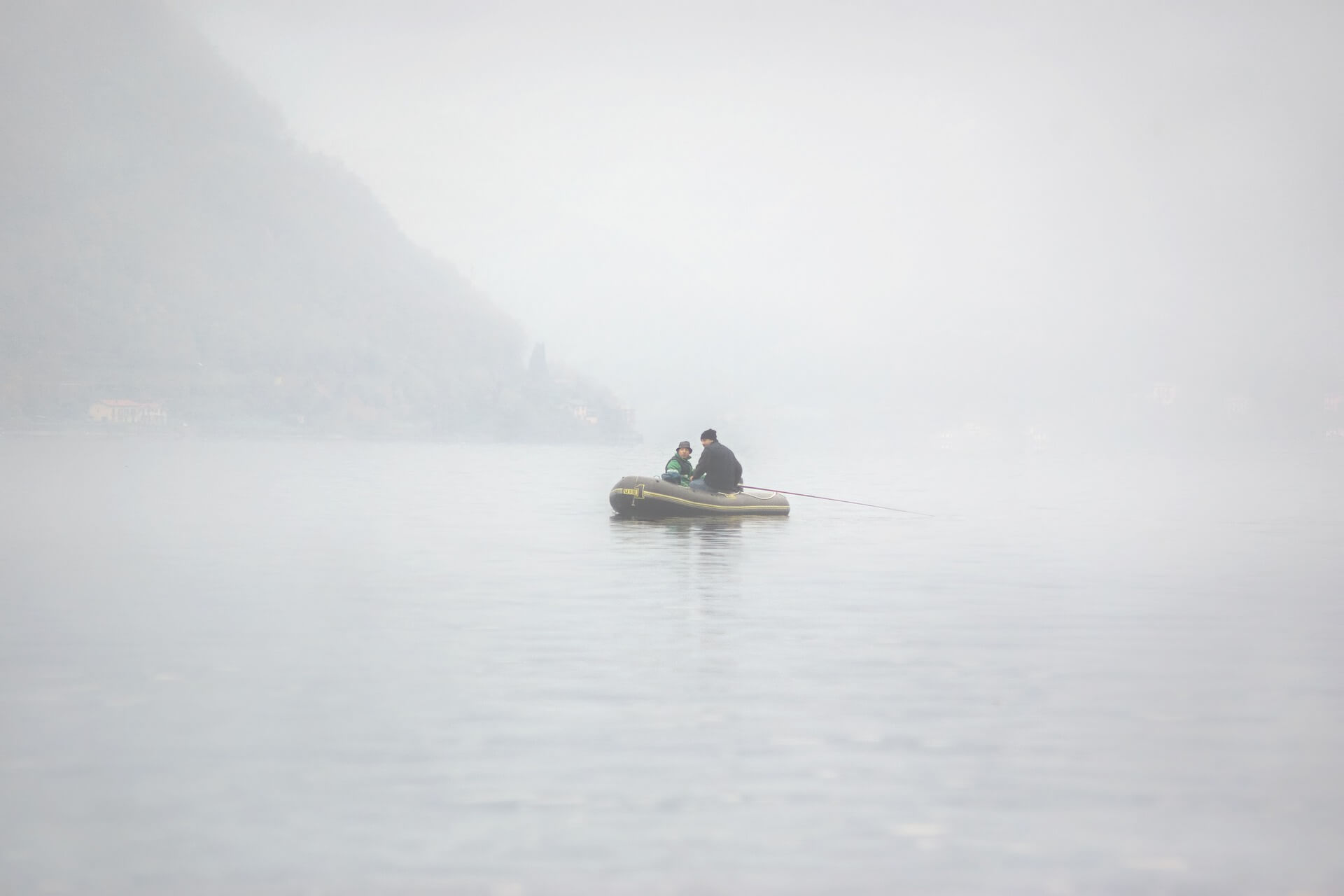 More popular than rigid dinghies and less popular than RIB's, inflatables offer a good middle ground for those looking to compromise between cost and functionality. The large PVC or Polyurethane tubes in the front and sides of the boat are more stable than rigid vessels and allow for a higher carrying capacity due to their buoyancy. Compare those benefits with the low costs of materials, and it's easy to see why inflatables are so popular.
There are numerous variations of Inflatable dinghies, with the most common being:
Soft Bottom Roll-Up
Rigid Floor with Soft Bottom
Soft Bottom with Rigid Transom
Dinghies with soft bottom have the widest variance in configuration. Some have rigid transoms where an outboard motor can be mounted. Some have rigid, removable floors, and some have an inflatable keel that increases the vessel's stability and planing abilities. Other than the lower-end inflatables, though, almost all will have stable floors and a captain's seat. Rowing is difficult in rough conditions, so inflatables are most commonly used with a 5-10 horsepower outboard.
Roll-up inflatables are easily stored, don't take up much space, and are the lightest of all inflatable options. They also have the least to offer in functionality, and since most don't have a rigid transom, they must be rowed by hand. Unless you only plan to use the vessel in calm conditions, you should consider dinghies with hard floors and transoms.
Soft bottom dinghies with rigid floors and transoms are more ideal, as they can be used efficiently in a wider variety of situations. The ability to mount an outboard allows you to use the vessel in harsher conditions and travel greater distances. The rigid floors allow you to use the vessel for fishing, diving, provisioning, and more without sacrificing stability and comfort.
Advantages:
Lightest Option
Easily Compacted and Stored
Low cost
Disadvantages:
Easily Damaged and Punctured
Consistent Maintenance Required
Low Efficiency
Rigid Inflatable Boats (RIB)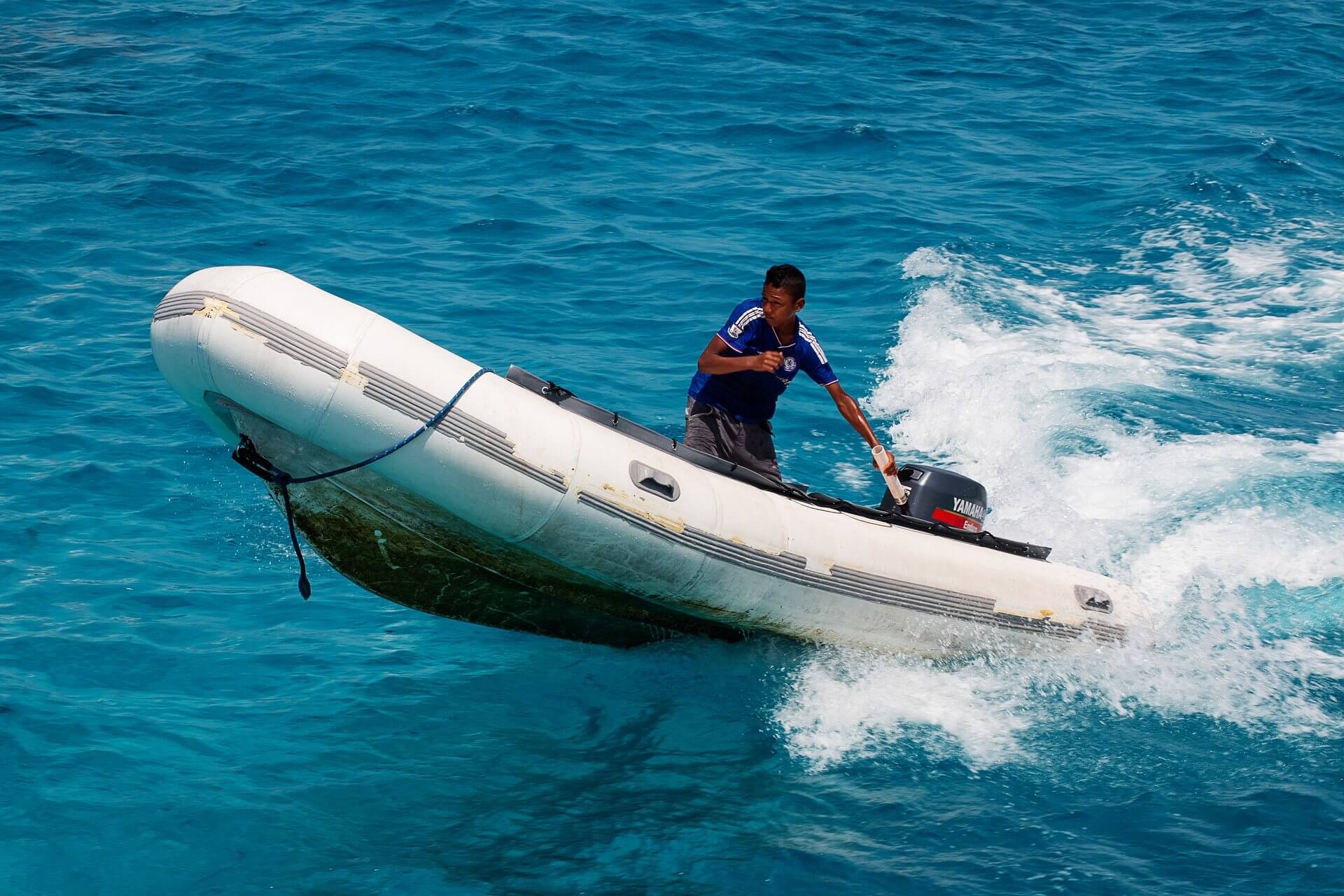 The RIB design is a cross between a soft bottom and rigid hull and gives you the most bang for your buck in the water. The hard-bodied hull makes for a stable and damage-resistant body, while the inflatable tubes add optimal stability. The RIB design is so efficient that it's even used by the US Military and Coast Guard. The tradeoff you make with a RIB is portability and storage, as the hull can not be taken apart or broken down. However, this can be overlooked by carefully choosing a RIB that's right for your boat. If you're looking to outfit your boat for scuba diving, a RIB should be pretty much your only consideration for a tender.
Rigid Inflatable Dinghies are the most popular type of dinghy for cruising sailors, and it's easy to see why. RIBs used as dinghies are commonly between 10 and 15-feet long, with anything larger being reserved for massive yachts with dinghy garages or excess storage space. RIBs are typically stored on davits or lashed upside down somewhere on the deck of the boat. For shorter trips near shore and in calm conditions, you can tow the RIB behind the boat.
Typically, RIBs are available with either aluminum or fiberglass hulls. Aluminum is lighter and stronger than fiberglass, although you should expect to see a price tag that matches those benefits.
Advantages:
Optimal Speed, Handling, and Stability
Rugged
Disadvantages:
Heavy
Expensive
Limited Storage Options

Outboard Dinghy Motors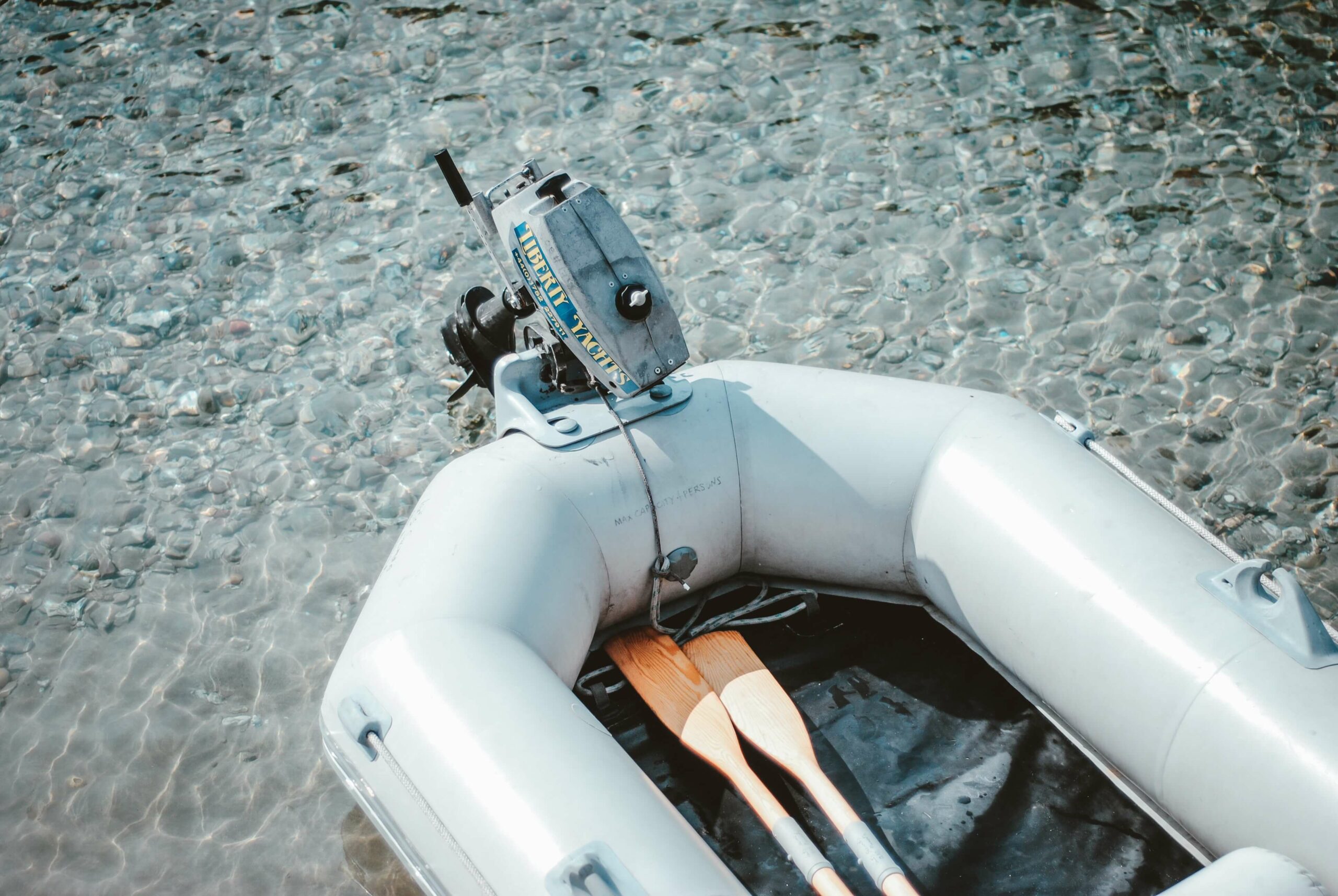 After choosing the dinghy that's right for you and your vessel, you'll need to select an outboard to fit. You'll want something powerful enough to make the dinghy plane at full capacity but also light enough to transfer to and from the dinghy's transom. Before making a decision, check with the manufacturer to determine the recommended power output for your intended use.
Generally speaking, fully inflatable dinghies that measure around 10-feet in length support a 5-8 horsepower outboard, which is sufficient for the basics. For a more capable inflatable, look for a 10-25 horsepower outboard. Just be cautious, as too much power can flip a lightweight dinghy.
Similarly, a 10-foot RIB will support a heavier engine, such as a 10-15 horsepower outboard that provides enough power for the boat to plane while carrying more than one passenger. For more capability, look for an outboard in the 20-50 horsepower range.
Either way, you'll need to decide your dinghy's primary purpose and buy an outboard to support it.
If it's simply used for trips to shore in calm conditions, a lower-powered outboard will likely be sufficient. The more power you can apply, the more capable your dinghy will become. Further, the maximum power output of the engine should always exceed the recommendations for operating the dinghy at full capacity. If you have a powerful outboard, you won't have to worry as much about overworking the engine when the boat is full.
When determining which motor is right for you, keep in mind the storage and transportation options you have. If you need to lift the dinghy and outboard out of the water manually, it might be safe to say that the lighter the outboard's weight, the better. If your back can handle the extra weight, though, the 4-stroke engines are far better suited for things like water sports and rough surface conditions.

General Information and Tips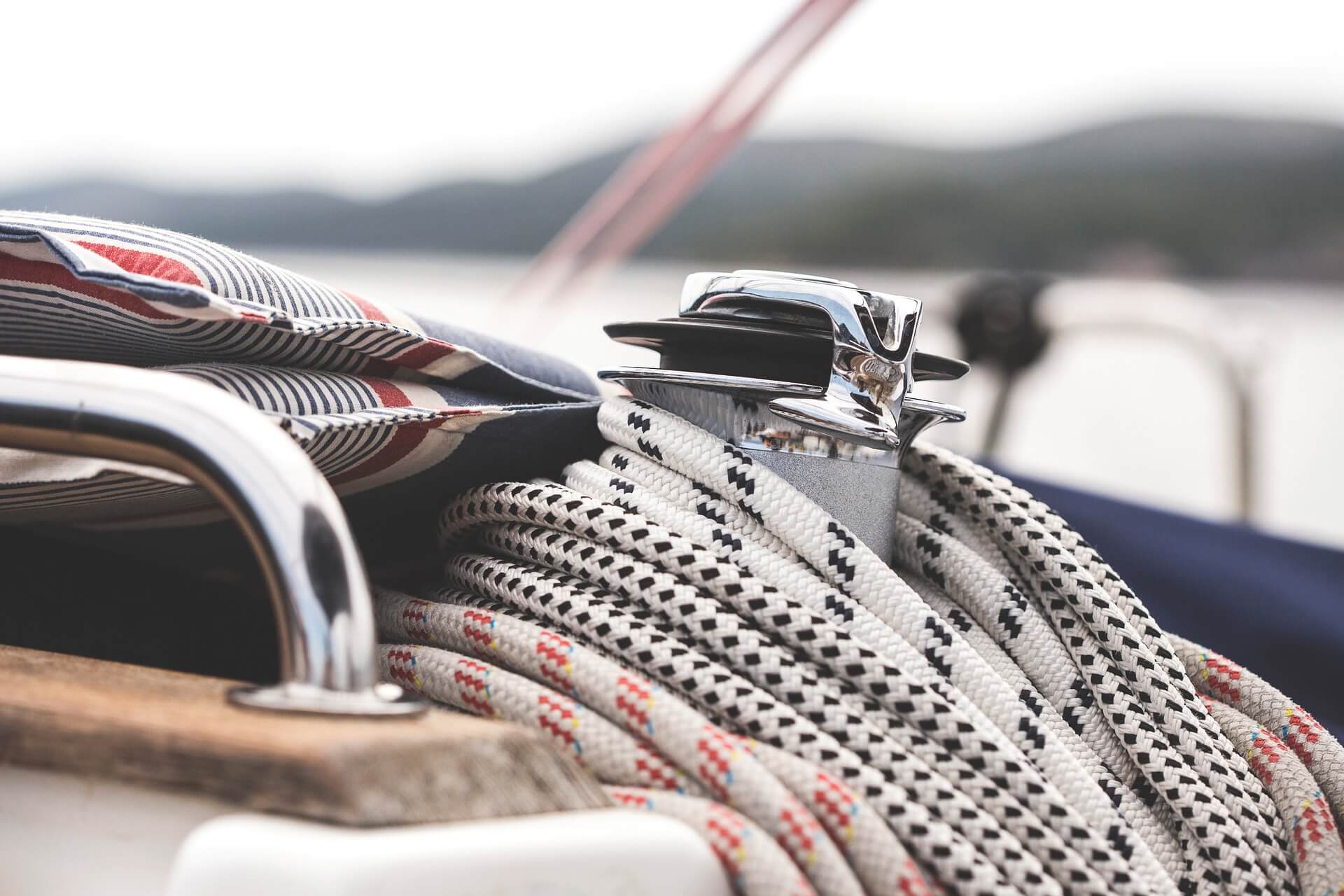 Dinghy Excursion Checklist

Check inflation levels and make sure there is no water inside the boat. If there is, look for leaks or damage.
Ensure the boat is free of all loose lines, flags, or anything that could get caught in the boat propeller.
Check to make sure the outboard is appropriately and securely mounted to the transom.
Quickly test both the forward and reverse gears to make sure everything is working as it should.
Test the lights on the dinghy, even if it's still light out.
Check for paddles, lifejackets, first-aid kits, and dinghy repair kits.
Operating the Dinghy

When operating the dinghy alone, clip the emergency motor stop to your clothing. If you fall overboard, your motor will stop.
Be cautious when using a powerful outboard. Too much power can cause a lightweight inflatable to flip or overturn.
Bring the dinghy upwind when returning to your boat for a more controlled approach.
Always use both front and rear-facing lights when operating the dinghy after dark.
When towing the dinghy behind your boat, experiment with the length of the tow rope to find the smoothest pull.
If there is any surf present, do not attempt to beach your dinghy.
Use a dinghy anchor if there are large tide changes, waves, or swells present.
Keep a dinghy repair kit on board at all times in case of small punctures or tears.
Other Tips

Dinghy covers reduce UV light exposure and prolong the life of the dinghy by up to five years.
Cosmetically, CSE doesn't wear down for about 10 years. PVC begins to look rough after only a few.
Consider where you intend to use your dinghy. Will it be in locations with high swells, rocky shores, and cold water? If so, consider a more rugged and damage-resistant material.
Before purchasing a dinghy, visit a few boat shows, and read user reviews. You want to be comfortable making a purchase, and having first-hand resources to chat with is the best way to feel confident about your decision.
Keep your dinghy insured separately in case of incidents that happen away from your yacht.
Dinghies and their outboard motors are common targets of theft, so be sure to lock up both whenever possible.
When choosing a dinghy for your cruising lifestyle, it's important to know exactly how to buy a new or used boat and what considerations should be prioritized.
Join the #BoatLife community and contribute to our new forum!
Get a new conversation started, or use your experience to address existing posts.


If you found this article helpful, please leave a comment below, share it on social media, and subscribe to our email list.
For direct questions and comments, shoot me an email at travis@boatlife.io