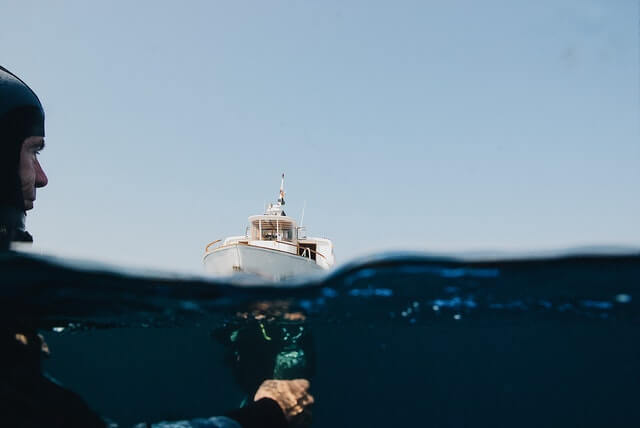 Do you want the freedom to explore uncharted reefs and wrecks that few people ever dive? Sailing and diving present the perfect match, and to be able to sink beneath the waves unbothered by boat engines or other dive groups is a dream. Below, we cover everything you need to know to get your boat set up for desolate adventures in the blue. From supplying your boat with the proper safety equipment to choosing the right scuba tank compressor, this guide is the perfect starting point.
Here's what you need to get started:
Scuba Tank Compressor
Scuba Tanks
Dive Emergency and Rescue Equipment
Scuba Tank Compressor For Your Boat
If you plan to live on your boat and dive on a regular basis, having a scuba tank compressor onboard gives you the opportunity to stay off the grid longer. The most epic diving destinations are often well offshore, so be sure you're ready for self-reliance in remote areas.
The most significant factors to consider when purchasing a scuba tank compressor for your boat are:
Gasoline, Diesel, or Electric
Operating Pressure
Pumping Capacity
Purchasing Costs
Maintenance Costs
Parts Availability
Types of Scuba Tank Compressors
Each scuba tank compressor system has its pros and cons, which we cover in detail below:
Gasoline Scuba Air Compressors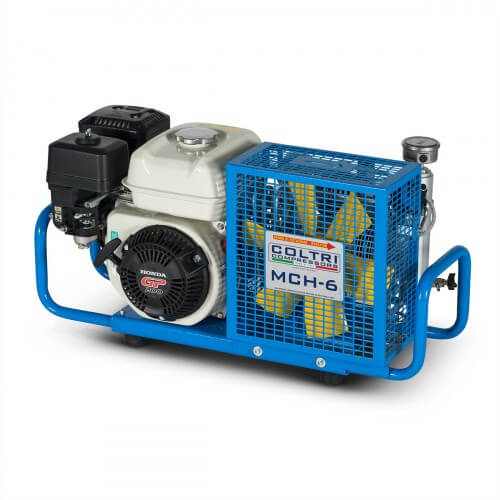 Pros of Gasoline Compressors:

Easily Refueled: Fuel source is readily available as many outboard motors run on gasoline.
Portable: Gasoline compressors generally remain portable. Most boat owners store them in a cockpit locker or lazarette and only pull them out for occasional use.
If you need to fill your tanks on a more regular basis, find a spot for permanent installation. Permanent installation works best with a deck box that is removable when the compressor is in use. Open-air and well-ventilated areas are key to avoid air contamination from the compressor's exhaust. Carbon Monoxide and Carbon Dioxide emissions can accumulate in enclosed spaces and make air harmful to breathe.
Further, Carbon emissions degrade filters quickly by contaminating the air the compressor intakes, which drives up maintenance costs. In extreme cases of negligence, degraded filters contaminate the air, which has fatal potential if used while diving. Follow manufacturer guidelines closely for filter replacement schedules.
Easy Maintenance: Gasoline compressors are customizable to include a removable bracket on the base, which allows for installation somewhere on deck. By keeping the compressor portable, repair and maintenance is simplified.
Cheap Replacement Parts: Parts for gasoline engines are located in nearly every part of the world and are easy to come by in case of emergency. Most of the mechanics at small engine repair shops will be able to service a gasoline engine quickly and easily when needed.
Cons of Gasoline Compressors:
Noisy: While not as loud as diesel compressors, gasoline compressors are still loud, meaning you won't make friends by running them near other boats. Additionally, don't run the compressor once you get to the dive site or you risk scaring away the marine life.
Rusts Easily: Exposure to saltwater is greater when installed on the deck. Gasoline compressors require careful and consistent maintenance.
Frequent Maintenance: Filters are expensive and need regular replacements – this is critical to the life of your compressor. Necessary replacement times will depend on use, heat, and humidity factors, and each manufacturer will provide a formula to calculate replacement intervals.
Manual Tracking: Gasoline compressors require you to record the hours of operation to determine a maintenance and repair schedule. Their electric counterparts record the time of operation automatically.
Diesel Scuba Air Compressors
Pros of Diesel Compressors:
Fuel Availability: Depending on the fuel source required to run your boat, you may already have diesel on board. If not, diesel is generally easy to come by in most locations around the world.
Fastest Fill Times: Diesel compressors commonly fill tanks at a higher rate than gasoline and electric compressors. Water-cooled diesel compressors are best for filling lots of tanks in a single day. If you need to fill less than 5 or 6 tanks a day, this system would be overkill.
Very Durable: Diesel engines tend to be more durable and can withstand wear-and-tear better than gasoline engines.
Cons of Diesel Compressors:
Expensive: Purchasing, repair, and maintenance costs will be higher than gasoline and electric compressors. Specialized parts and repair make it harder to get the compressor serviced in some locations.
Heavy: Diesel compressors are heavy and can be difficult to move. Having the diesel compressor installed as a fixture means onboard service and maintenance is necessary.
Deafening: Diesel compressors are the loudest of all options.
Manual Tracking: Hours of operation need to be tracked manually with diesel compressors to determine a maintenance and repair schedule.
Electric Scuba Air Compressors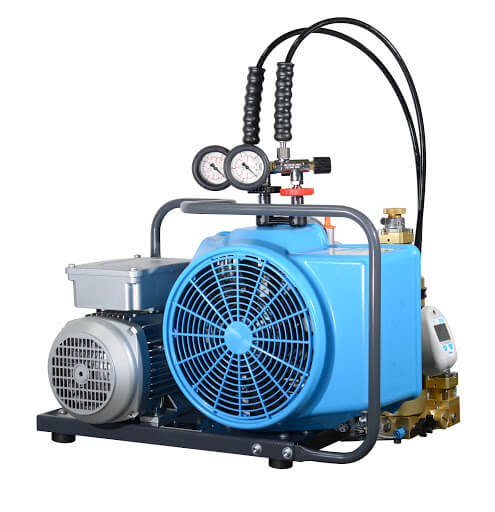 Pros of Electric Compressors:
Easy Installation: Single-phase electric motors are compatible with most generators, and most are relatively simple to install. If you aren't filling more than 8 tanks per day, a single-phase compressor will be sufficient.
Quieter: Low noise output when compared to gasoline or diesel compressors, and filling tanks near other boats or the reef is manageable.
Low Maintenance: Electric compressors require far less maintenance than gasoline or diesel compressors. You will still need to replace the filters on a schedule set by the manufacturer.
No Extra Fuel: With no fuel required to run the engine, the costs of running the compressor can be low – especially when using solar panels or wind generators.
Cons of Electric Compressors:
Power Hungry: Single-phase electric compressors use a fair amount of power and usually require a generator that has a minimum of 5-6kw. For most liveaboard boats, the current generator will be sufficient. However, always check specifications before making a purchase. As an example, a 220-volt electric compressor running off of a 7kw generator requires all other power sources on the boat to be shut off while starting up. After the initial startup, you can slowly turn things on such as the watermaker or a couple of air conditioners, but the power supply limits what you can use.
Not Portable: Electric compressors are stationary, and normally installed in the engine room. They do not require significant servicing or maintenance, though, so portability shouldn't be an issue.
May Require Cooling: Installation in enclosures may require additional cooling. Installing fans to pull the heat from a room is the easiest and cheapest way to keep temperatures down. Engine rooms can handle high heat output, though, and most electric compressors won't bring you over that threshold.
Operating Pressure
Dive shops around the world use scuba tank compressors with a pressure output between 3200 and 5000 PSI, so consider a compressor for your boat that matches these specs.
Pump Capacity
Pumping capacity is the rate at which the air flows through the compressor system. Pumping capacity has a direct impact on fill times and the type of tank you can fill. For fill times between 20 and 30 minutes, aim for a pumping capacity of around 100 liters per minute (+/- 10 liters/minute).
Our Recommendations for the Best On-Board Scuba Tank Compressor Brands
While there are several other brands of scuba tank compressors on the market, we've chosen the following three brands for use on liveaboard cruisers. Our recommendations are based on parts availability, ease of servicing, and established rapport within the diving community.
Note: As of 2017, Rix no longer makes scuba compressors. You can still find used units, but they don't stay on the market long – they provide great value for their price.
Below are three examples of specific models of scuba tank compressors to consider for your boat:
Bauer Junior II-W (Single Phase Electric)

– Also available as a gasoline model.
Initial Cost:
Compressor: Approximately $4500
Fill Times:
Approximately 28 minutes for an empty 12 liter tank filled to 200 bar
Special Considerations:
Add 50mL of oil every 40 tank fills.
Change the oil after approximately 1000 hours of operation, or annually.
Do not fill more than two tanks at once, even with the option for additional fill whips. Fill times don't improve, so there's no reason to increase the stress on your compressor.
Each model comes with the option for an automatic condensate drain. Without one, you will need to drain the condensate manually every 15 minutes.
Electric compressors require the use of hour-meters – a time tracking device for the hours your compressor is in use. Maintenance schedules should reflect the the overall usage.
Weight: 101 lbs
Coltri MCH 6 (Gasoline)

– Also available as an electric (EM) model.
Initial Cost:
Compressor: Approximately $3900
Fill Times:
Approximately 20 minutes for an empty 12 liter tank filled to 200 bar
Special Considerations:
Additional fill whips are available, but it's recommended that no more than two tanks are filled at once. Overall fill times do not change
Each model comes with the option for an automatic condensate drain.
Weight: 82 lbs
Coltri MCH 16 (Diesel)

– Ideal for those who want to fill tanks faster and more frequently.
Initial Cost:
Compressor: Approximately $10,000
Fill times:
Approximately 7 minutes for an empty 12 liter tank filled to 200 bar
Special Considerations:
Make sure you'll have access to diesel and room for storage onboard.
Hours of operation need to be tracked manually with diesel compressors to determine a maintenance and repair schedule.
Weight: 362 lbs
Scuba Tanks
While most dive shops around the world choose to use 12-liter aluminum tanks, the needs and desires for a personal boat will vary.
Factors to consider when choosing scuba tanks:
Type (Aluminum or Steel)
Capacity
High Pressure vs Low Pressure (Steel)
Storage
Type
There are two options when purchasing a scuba tank, steel or aluminum. Both have their own set of characteristics and neither is superior to the other in every case. All tanks should undergo a yearly visual inspection and a hydrostatic test every three to five years. All inspections should be done professionally by a shop technician.
Steel
Steel tanks are denser, stronger, and more damage-resistant than aluminum tanks. Alternatively, these tanks are far more susceptible to corrosion and interior rust – but with proper care and maintenance, they'll often outlast their aluminum counterparts.
Properties:
Steel is heavier than aluminum, meaning a diver can carry less weight when in the water. This can be beneficial when diving from your own vessel, as you wont need to stow away as many personal weights.
Divers who use more air than others often like diving with a 15-liter tank. Steel tanks are common for tanks with larger volumes to avoid high buoyancy changes.
Many divers prefer steel tanks to aluminum tanks because their trim is less affected by air consumption and tank buoyancy changes.
Aluminum
Aluminum is a softer metal than steel, which means tanks can scratch, dent, or crack easier than their counterparts. The biggest and most important difference between the metals is that steel can rust easily, and aluminum is highly resistant to moisture and salt degradation. Most dive shops around the world prefer aluminum to steel, simply for the ease of maintenance.
Properties:
Aluminum tanks are constructed with more metal at the bottom of the tank in order to stand upright. Divers tend to be more back heavy, which can affect trim while diving.
Aluminum tanks are more buoyant at the end of the dive because of the change of air density inside the tank.
Scuba Tank Capacity
Tank capacity is entirely based on personal preference. Standard adult scuba tanks have a capacity of 80 cubic feet, while younger divers are usually better suited with a 63 cubic-foot tank. Additionally, larger divers may be better suited with a 100 cubic-foot dive tank. Most often, smaller divers will use less air during a dive than larger divers, so the capacity should reflect both the diver's air consumption and comfort.
High Pressure vs Low Pressure (Steel):
Steel tanks come as high-pressure or low-pressure tanks. High-pressure tanks can hold more air than low-pressure tanks, and they are lighter and smaller in size. While those might be selling points for some, low-pressure tanks come with a few advantages.

High-pressure tanks are manufactured with a DIN regulator, which isn't standard in the recreational diving industry. If you choose a high-pressure steel tank, you'll need to convert your regulator's attachment. High-pressure tanks also require more maintenance, as the pressure puts strain on the tank's parts – making them less likely to pass inspection tests.
Storage
The best option for tank storage – if space allows – is to mount tank brackets on a wall not far from your compressor. Depending on your setup, you can buy tank brackets for vertical or horizontal storage. Avoid hauling the tanks around too much by purchasing a long enough fill whip to reach the fill-up station from your compressor.
Dive Emergency and Rescue Equipment
Emergency rescue equipment is essential for your dive boat. You will also want to make a few additions to your existing onboard first-aid kit. While it certainly isn't required, it would be advisable for all divers on board to be rescue certified when diving in remote locations. The rescue course teaches you how to react in an emergency, which methods of rescue to use, and how to use the emergency resources you have on board.
On-Board Emergency Diving Equipment and Planning
100% Oxygen Kit
When a diving emergency occurs, it's important to be able to recognize and respond to a problem with the right resources. Oxygen first-aid is essential in a victim's recovery and minimizing the lasting effects of a diving injury. Every dive boat needs to be equipped with an oxygen kit, and everyone on board should know how to administer oxygen in various situations. Oxygen should be given at the first sign of decompression illness, and after any event which results in a loss of consciousness.
Components:
Compressed Oxygen Tank
Demand Valve and Hose
Regulator
Rebreather Mask
Resuscitation Mask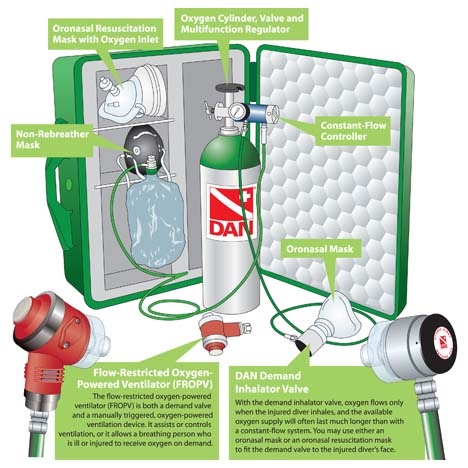 Automated External Defibrillator (AED)
Dive fatalities can be the result of sudden cardiac arrest or disturbances in the heart's rhythm. It is becoming more common to keep an AED on board in case of cardiac emergency. Entry level training courses are offered by agencies such as DAN (Divers Alert Network). The course teaches you how to recognise warning signs of cardiac arrest, provide life support while setting up the equipment, and how to use and care for the AED.
---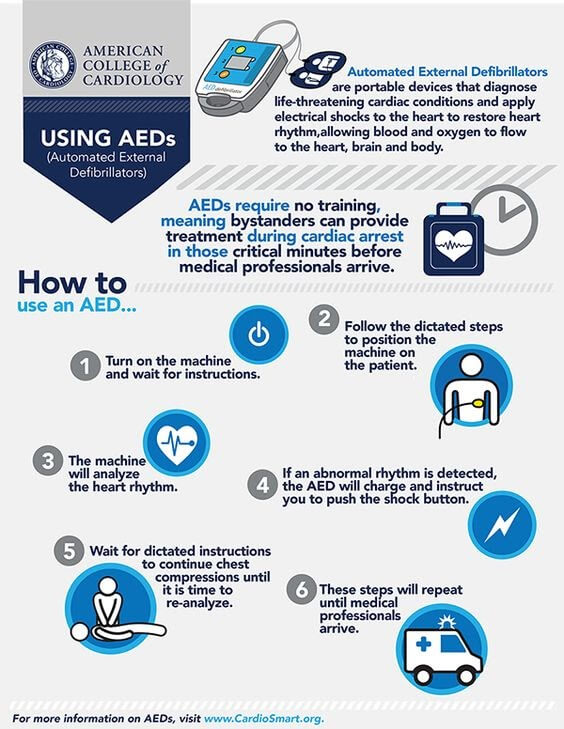 Rope and Float:
In a scenario where a diver is struggling at the surface due to exhaustion, panic, or current, a rope and float can be thrown from the boat for assistance. Strong currents or rough surface conditions make it dangerous for another person on-board to enter the water and perform a rescue.
Emergency Contact Information:
Before diving in a new location, always have an emergency plan in place and know how to contact emergency services in the area. Often, the quickest resource is the nearest coast guard.
Fish ID Chart:
If you're stung or bitten by marine life underwater, it's important to know from what species it occurred. Certain marine life are extremely poisonous or venomous and can result in death if not immediately treated. Fish ID charts will be location-dependent, so search out a chart relevant to a location before diving.
First-Aid Diving Kit Additions:
Disposable Razors – Cut away jellyfish tentacles
White Vinegar – Neutralize jellyfish venom
Tweezers – Remove sea urchin thorns
Space Blanket – Combat hypothermia
Diver Safety
Surface Marker Buoy (SMB)
An SMB is an inflatable tube that's used to signal boats both during and after surfacing.
Dive Whistle and Reflective Tool
These tools are used after surfacing further from the boat than intended. If strong currents are present, it is important to be able to signal the boat quickly.
Dive Knife
Always carry a dive knife when diving in remote areas. You can use the knife to cut free of potential entanglements underwater – or free trapped marine life from ghost nets and unattended fishing traps.
Dive Torch and Glow Stick
In addition to night-diving, a torch should be carried when diving in the afternoon. The torch can be used to signal the boat after dark. In addition to surface safety, the dive torch will serve as a reference to your location during night dives. Never dive without a backup torch, and always carry a glow stick for a last resort light source.
Marine Rescue GPS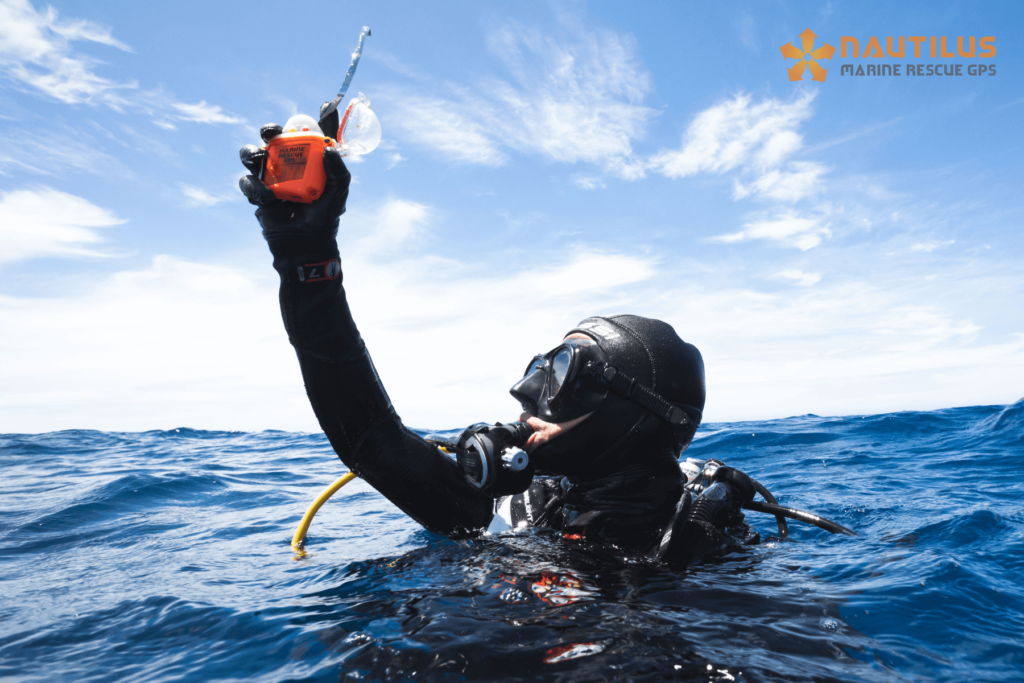 For remote locations – particularly those with strong currents – it's a good idea to wear a waterproof, pressure-resistant GPS device. In worst-case scenarios, this device can save your life. Our recommendation is the Nautilus LifeLine. It's pressure-resistant to over 130 meters, has a five-year battery life, and can transmit your position to boats from up to 34 miles away.
Want to join the community at #BoatLife? Get a conversation started on our new forum by leaving a question or comment!
If you found this article helpful; please leave a comment below, share it on social media, and subscribe to our email list.
For direct questions and comments, shoot me an email at travis@boatlife.io