The debate between single-hull sailboats and blue water catamarans has raged since the beginning of time, and it's unlikely ever to end! Both types of yachts have dedicated followers who are unlikely to ever be swayed by the benefits of the other. A lot of this is based on misconceptions and the influences of the people around them, though. We recommend that if you're considering a blue water catamaran, get in a few good hours of sailing through varied conditions before making a decision.
What Makes Blue Water Catamarans Great for Cruising?
Stable Platforms
Bluewater catamarans offer fantastic stability, despite what you may hear from single-hull yacht owners. There's no high lean angle when sailing into the wind and no need to strap everything down to prevent it from moving. Add to this little or no rolling when moored, and a catamaran is a lovely place to be.
Additional Space
An excellent beam to length ratio is essential on bluewater catamarans, and a 40-foot yacht will usually have a 20-foot beam. That gives you a 20-foot bridge deck, plenty of space on the hulls, and even more space forward on the netting.
Cruising Speed
The amount of wet surface area on a catamaran is significantly reduced compared to a monohull yacht. Without the need for a prominent, heavy keel for ballast, the catamaran can easily outperform a single hull yacht.
Shallow Drafts
Shallow draft boats allow easy navigation through shallow waters and exceptional stability for maximum comfort. You are far less likely to make mistakes with tide height predictions when sailing on a cat.
Enclosed Cockpits
Bluewater catamarans virtually always have an enclosed cockpit. Not only does this shield you from the sun in winter, but the elements in winter making cruising far more comfortable.
Safety
The enclosed cockpit makes sailing safer, plus of course, when you need to get out on the deck, the stable catamaran is not pitching and rolling.
Our Top Choices For Blue Water Catamarans Under $100,000
Rayvin 30
Designed and built by Rajen Naidu, the Rayvin 30 is a 29.5-foot cruising catamaran built for comfort. With a draft of just one meter, there are few places you can't go on the Rayvin. The hull is constructed of epoxy glass fiber, but carbon-kevlar has been used for added strength below the waterline.
Inside, you'll find three cabins, plenty of space, and even a bath! These are great value blue water catamarans with excellent performance.
Prout Snowgoose 37
Probably one of the most well-known blue water catamarans available, the Snowgoose 37 was designed and built by Prout and Sons in the United Kingdom. With a displacement of 6 tons, this is not a light boat, but the 600 square feet sail area gives a healthy hull speed of up to 10 knots. Many people have completed a circumnavigation in a Snowgoose.
It has a cutter design, but the overhang is substantial, leaving it susceptible to bridge slam, particularly on a close reach.
Over 500 examples were built, with plenty available under the $100,000 mark.
Prout Quasar 50
Sticking with Prout, the Quasar 50 was the largest catamaran designed and built by the company. The company was still making the Quasar until its closure in 2020, so you can find plenty of examples.
Constructed with fiberglass, the cutter design has a displacement of 10 tons and a sail area of almost 1185 square feet, giving a maximum hull speed of around 14 knots.
It has to be said the Quasar is not a pretty boat, but it makes a perfect large cruiser.
Catalac 12M
Catalac was a British boat building company owned by Tom Lack, hence the Catalac name. Over 600 examples of Catalac's (9M, 10M, 11M, and 12M) were built. All around, they're known as solid boats that handle well.
Designed as a sloop, the 12M displaces almost 9.3 tons. With a sail area of just 700 square feet, this cat offers a relatively slow hull speed of 9.5 knots.
An interesting point is the double thickness hulls, designed to withstand the North Sea weather.
Maldives 32
The Maldives 32 is a more modern design by Joubert-Nivelt. It features a short overhang with a netting deck to avoid bridge slam, initially built by Fountaine Pajot in 1988. The Maldives has a light displacement of 3.3 tons thanks to the fiberglass and foam sandwich construction. Add in a sail area of 592 square feet, and the Maldives can cruise at up to 11 knots.
The Maldives 32 is an excellent basic boat readily available well under our $100,000 price point.
Edel Cat 33
Thanks to the fiberglass construction, the Edel Cat 33 is another light boat, at just 3.6 tons and with a shallow draft of just 2.6 feet.
The Edel was designed by Yvonne Faulconnier and built by the Edel company in France, with the first bots being produced in 1985.
The 635 square feet of sail is enough for a good turn of speed for such a light boat without over-powering the hull.
A notable feature is the very short bridge hull, avoiding almost any bridge slam problems.
Endeavourcat 30
Designed by Cortland Steck and built in America by the Endeavour Catamaran Corp, the Endeavourcat 30 is a lightweight 30-foot catamaran constructed using fiberglass with a foam core.
It has to be said; the Endeavourcat is not pretty, but you get a lot of space for your money. Another issue is the enclosed bridge deck, making this suitable for gentle cruising only.
The sloop-rigged catamaran is a good, reasonably priced starter boat for taking the first dip into blue water catamarans.
Island Packet Packet Cat 35
If you are looking for comfort with a bit of style, then the Island Packet Cat 35 could be it. Designed by Robert K. Johnson and built in the USA by Island Packet, the Cat 35 makes the perfect boat for cruising the Keys.
The displacement of 6.25 tons gives the boat a solid, dependable feel, while the 2.6-foot draft allows you to explore water-restricted areas.
Inside there're acres of room, but the fully enclosed bridge deck will cause issues in heavy weather.
Gemini 105MC
The Gemini 105MC is a sloop-rigged boat designed by Tony Smith and built by Performance Cruising in the United States. It was in production for over 27 years, and they delivered over 1000 boats, so there are plenty available to suit most budgets.
An interesting design feature is a lifting centerboard, giving excellent stability when down but a draft of just 1.65 feet when lifted.
A displacement of 4 tons combined with 690 square feet of sail area gives the 105MC outstanding performance characteristics.
Lagoon 380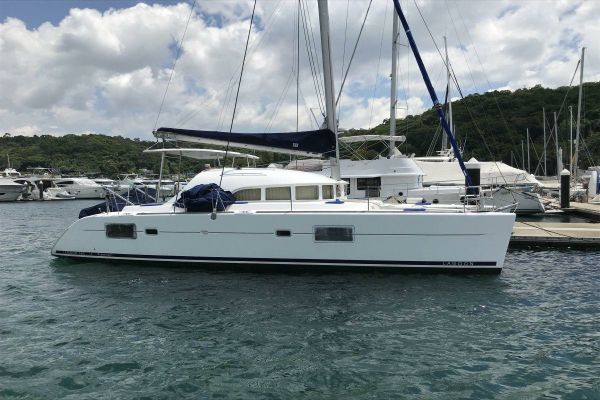 With 760 examples of the Lagoon 380 produced, there are plenty on the market at reasonable prices. Built by Jeanneau, it is one of the most popular bluewater catamarans ever made.
The distinctive vertical windows offer maximum internal space, and it has a spacious interior, but the tradeoff is a displacement of 8 tons, so performance suffers a little. You can cruise comfortably at 7 knots, and with the short bridge deck, you won't suffer too much bridge slam.
Dean 365
If you can track down a Dean 365, it's well worth a look. You can find these solidly built boats for $50,000 upwards. Designed by Peter Dean and built by his company, Dean Catamarans, they have an excellent reputation.
For a 36 foot boat, the 6-ton displacement is not light, but it does benefit from twin engines, and with the sloop rigging, it can sail downwind at up to 11 or 12 knots. With the genoa providing the main sailing power, sailing into the wind is not great.
Tiki 38
Sold as a self-build design, the Tiki 38 is a solid cruising catamaran designed by James Wharram. There are plenty available, but all will be different depending on the builder. With a displacement of around 6 tons, it's not the lightest, and the cruising speed is about 5 or 6 knots.
With a ketch rig, using two 30-foot masts, the sail area is around 730 square feet, but you can also use a 530 spinnaker. The draft is shallow at 2.5 feet.
The Tiki makes an interesting – perhaps quirky choice.
Crowther Spindrift 40
If you are more interested in performance than interior space, the Crowther Spindrift 40 could be an excellent choice. Designed by Lock Crowther, the Spindrift features narrow hulls, reducing the wet surface area and increasing your sailing speeds. The downside is a lack of space.
The sloop rigging gives you a total sail area of 791 square feet combined with a light 4-ton displacement, making the Spindrift excellent in light winds.
MacGregor 36
Three hundred of the Roger Macgregor designed 36-foot boats were built, so there are plenty available. It's built as a racing catamaran, so space is at a premium. There is only a trampoline between the two hulls, but the weight saving makes the displacement just 1.4 tons, and with the 534 square feet of sail, you can achieve speeds touching 28 knots.
Accommodation is restricted to the two hulls, but there are bunks for four people and a galley in the starboard hull.
Flica 36
The Flica 36 was designed by Richard Wood is a proven design capable of crossing oceans. A displacement of 5 tons gives a good balance between speed and stability, and the cutter rigging allows for a main and two foresails.
The hulls have been made from ply and fiberglass, which accounts for the slightly heavier weight and strength. The bridge deck offers plenty of space with a small overhang but will suffer from bridge slam in heavier weather.
Mirage Yachts 37
Only a few of the open deck Mirage 37's were produced, but consider them in your search. Designed by David Feltham and built by Thames Marine, the ketch-rigged boats are sturdy and safe.
At 7.3 tons, it's heavy for a 36-foot cat, and the small sail area of just 548 square feet makes it slow, with a hull speed of only 7.4 knots. As a coastal cruiser, it certainly makes sense to give you a comfortable base for exploring.
Simpson 35 Wildside
The Simpson 35 Wildside is an excellent cruiser, with three double cabins, two of which are across the bridge deck. Roger Simpson is the designer, and he's well known for his sturdy, reliable boats.
The Bermuda rigged sloop design features a fully covered bridge deck, so expect bridge slam if you sail in anything more than slight to moderate conditions. With a displacement of 5
tons, and a small sail area, the performance will never be exciting, but it's okay for coastal cruising.
Gemini 3400
The Gemini 3400 is the predecessor to the Gemini 105 mentioned earlier. If you can't find a 105 at your price, then a 3400 is a good alternative. Although weighing the same as the 105, at four tons, the sail area is smaller at just 490 square feet, giving a reduced performance.
As with all Geminis, the 3400 features retractable centerboards for better tracking when on a close reach, without increasing the draft.
The 3400 was designed by Tony Smith and built by Performance Cruising in the US, who still produce catamarans now.
Seawind 850
Originally built in Australia by Seawind Catamarans and designed by Scott Jutson, the 850 is a 28-foot cat featuring fractional sloop rigging. At a relatively light displacement of 2.4 tons, the 350 square feet of sail gives good performance and comfortable cruising.
The short bridge deck overhang is filled with a trampoline, allowing the 850 to sail in rougher weather without too much bridge slam. The Seawind makes an excellent cruiser despite its 28-foot LOA.
Aventura 23.5
Our last catamaran is the smallest in the review. The Aventura 235 is just 23 feet long, has a light displacement of only 0.77 tons, and a sail area of 312 square feet. Two cabins offer four berths despite its diminutive size, making it a comfortable cruiser for a small family.
There are, of course, compromises, with just a single outboard engine on the centerline, and internal space is limited. But with its lightweight design, easy handling, and shallow draft of 1.8 feet, it is a perfect first step into catamaran ownership.
Blue Water Catamarans Are a Fantastic Budget Option
Remember: When buying a bluewater cruising yacht for less than $100,000, compromise is inevitable.
The best advice for buying a boat is to be truly honest with yourself by defining your needs and separating them from your desires.
Need more advice on buying great blue water catamarans? Get a conversation started on our community forum by leaving a question or comment!
If you found this article helpful, please leave a comment below, share it on social media, and subscribe to our email list.
For direct questions and comments, shoot me an email at travis@boatlife.io