With so many books on the market to prepare you for sailing, it can be hard to know where to start. In this guide, we provide a list of the most beneficial sailing books by category so that you can begin with exactly what you need.
Click a Category to Jump Ahead
Sailing Books for Beginners
The Craft of Sail, by Jan Adkins:
For those with little to no sailing experience, Jan Adkins introduces the world of sailing perfectly. Published in May of 1973, this book has held its worth over the years for good reason. Adkins clearly describes the basics of sailing physics using simple language and illustrations, making it the perfect book for learners of all ages. Although first-time sailors may find themselves spending several hours studying a single page, there is no better resource to learn the ropes thoroughly and clearly.
Wooden Boat Magazine still uses the book to teach its "Elements of Seamanship" course, which teaches first-time sailing to adults, making it a no-brainer for anyone learning to sail.
Sailing for Dummies, by J.J. and Peter Isler:
Sailing for dummies, like the rest of the "For Dummies" series, was written with the virgin sailor in mind. This book's authors are sailing champions and experts on the water, in addition to having learned to navigate the seas since they were kids in California. At points during this book, you'll feel like you're learning skills that you shouldn't have lived without for this long. The satisfaction you receive from something as simple as learning to read a compass is terrific.
From learning the different types of sailboats, to finally setting sail, Sailing for Dummies is a useful resource for any newbie sailor. Jumping out of your comfort zone has never been so easy.
Plan to Sail Books
World Cruising Routes, by Jimmy Cornell:
One of the most recommended sailing books of all time, World Cruising Routes covers over 1,000 different routes from every ocean on the globe. From the tropical waters of the South Pacific to the icy seas of the Arctic, this book will guide you surely through the process of planning your journey.
The eighth and newest edition of this cruising book is revised to acknowledge the effects of today's changing climates and conditions of the sea. Learn how to navigate some of the most challenging waters and approach ports of entry around the world without feeling out of your element. With 64 pages, including colored maps and GPS images, this planning guide is both practical and enjoyable to read.
Ocean Passages and Landfalls, by Rod Heikell and Andy O'Grady:
Another highly recommended world cruising handbook, filled with valuable information to make your way around the globe. As with "World Cruising Routes," this book addresses changing climates, seasons, and the troubles of crossing some of the most challenging oceans to navigate.
One big difference between the two sailing books is the informal conversational tone that Heikell and O'Grady take on, giving it an authentic style missed in Jimmy Cornell's book. The information included in this book is first-hand knowledge, priceless for planning a cruising journey. The outline of each section is perfect, especially for giving route descriptions and country-relevant information in each course.
Inspiring Sail Books
Fifty Places to Sail Before you Die, by Chris Santella:
Perhaps surprisingly one of the best ways to get inspired for a sailing trip is by first exploring the world's locations through books. This book contains the most recommended sailing destinations from the best-known names in the sailing world. From professional adventurists to sailboat racing champions, this book is an absolute gem of recommendations.
While many readers will say that the descriptions are not as in-depth as they would like, it is certainly a good reference point to get you started. We suggest using it as a compass. Choose your direction, and follow up in detail on your own. One thing is for sure, the suggestions in this book will not steer you down the wrong path.
The Strange Last Voyage of Donald Crowhurst, by Nicholas Tomalin:
In 1968, for the first time in history, an around-the-world solo yacht race was about to begin. One of the voyagers taking part in the race was Donald Crowhurst, an adventurous sailor from Britain. Approximately eight months after the beginning of the race, Donald's boat was discovered adrift in the mid-Atlantic. The ship was intact, but Crowhurst was not aboard. Although the exact details are unknown, this book tells the believed events that led to his death during the race. While a sobering book regarding the dangers at sea, it inspires adventure and exploration for all.
Get Real, Get Gone: How to Become a Modern Sea Gypsy and Sail Away, by Rick Page:
It's common to think that only the wealthiest of us can hop a yacht and cruise the globe. While true that having that kind of money can help to sail luxuriously, this book helps redefine the idea of sailing entirely. Authors Rick and Jasna's lifestyle is by no means ultra-luxurious; In fact, they are quite frugal. Filled with both practical and whimsical advice, this book is the perfect resource for the budget-conscious dreamer.
If you are held back by the idea that you need to have millions of dollars to cruise the world, pick up this book and give it a read. By the end, you'll be on your way to planning an epic journey of your own.
On-Board Reference Guides to Sailing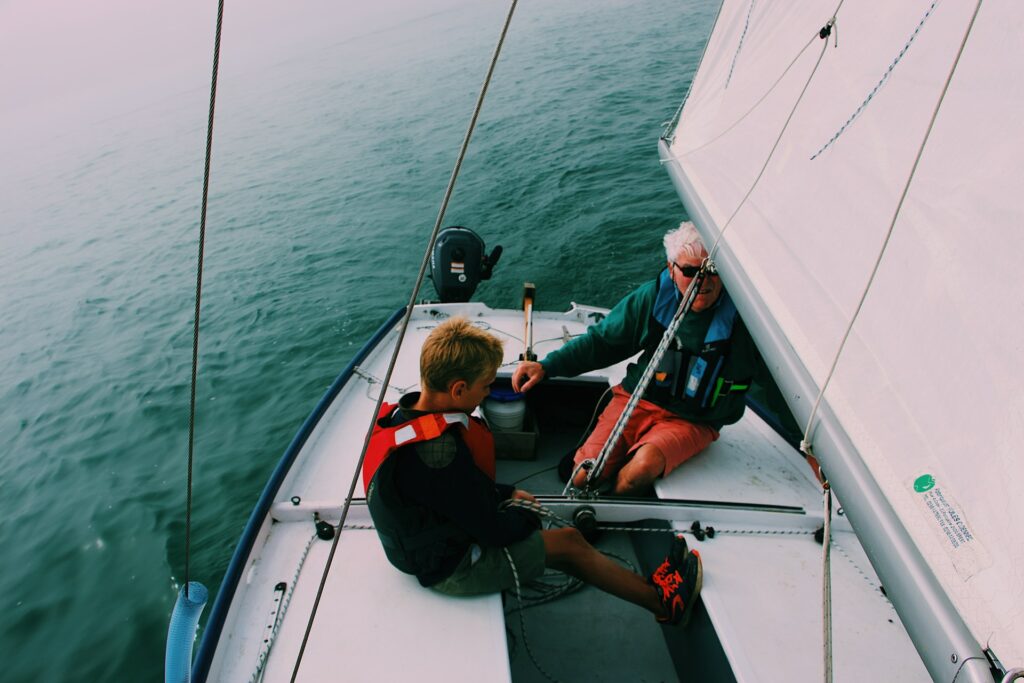 Boatowners Mechanical and Electrical Manual, by Nigel Calder:
Talk to any well-versed sailor, and they will recommend this book for onboard cruising. The amount of technical work that goes into owning a boat can be a sobering reality for many people, especially those who aren't well-seasoned mechanics and electricians. However, this book is for those people, and the information included should be treated as gospel. The drawings and photographs included will guide you through every process, big or small, and help you overcome the technicalities of owning a sailboat. If it can break, this book will be there to help fix it. The money you will save on maintenance specialists alone will go unmatched. Trust us; it's a must-have in your collection of cruising books.
The Morrow Guide to Knots: For Sailing, Fishing, Camping, Climbing, by Mario Bigon and Guido Regazzoni:
This book gives you step-by-step instructions, including illustrations to tie every knot you'll need when out at sea. The photos included make it a breeze to understand, and when more than one rope or thread is required, the book is color-coded to make things simple. There are over 600 illustrations in the book, and it even includes a section on decorative knots for the bored and creative. From the Spanish bowline to the Swivelhitch, fear knot, this book has you covered.
Sailing Field Guides
National Audobon Society Guide to Marine Mammals of the World, by Randall R. Reeves:
With descriptions of every single species of marine mammal globally, there is nowhere this book won't be useful. Written by a team of marine mammal experts, this book includes maps, illustrations, and photographs, covering over 120 marine species in detail. The images and descriptions in this book will make identifying a species in the wild easy and quick.
Reef Fish Identification, by Ned DeLoach and Paul Humann:
If you find yourself cruising through the waters of South Florida and the Caribbean, this is a must-have field guide. You will undoubtedly be spending plenty of time above coral reefs, and being able to identify the hundreds of immaculately bright reef fish is a treat. By knowing specific features, habitats, and behaviors of a species, you can actively search out your favorite fish or find new critters. Further, if you find yourself bitten or stung by one of the fluorescent fish, it will be nice to know what you're dealing with. Look into the book after you go out diving or snorkeling, and learn the fish by memory. You'll be a self-proclaimed biologist in no time.
Fishing at Sail Books
Cruisers Handbook of Fishing, by Scott and Wendy Bannerot:
Written for those who have dedicated huge parts of their lives to cruising and fishing, this book is an excellent guide to catching, cleaning, and cooking fish from your liveaboard cruiser. While the book covers most of the world's fishing environments, it covers fishing in tropical to mid-latitude waters best. Beyond fishing guides and techniques, this book also includes unique and delicious recipes to keep you and your crew on their culinary toes. Whether you are fishing from an anchor or in your dinghy, this book will become the bible to feeding yourself while living off the grid.
Planning on a trip to the Caribbean? Make sure to read up on the fishing laws and regulations for your chosen destination. The last thing you want is to run into legal trouble during your holiday on the water.
Sailing Cook Books
The Boat Galley Cookbook: 800 Everyday Recipes and Essential Tips for Cooking Aboard, by Carolyn Shearlock:
The space is tight, the ingredients are limited, and you just caught a fish you've never even considered preparing before. The recipes and tips in this book are sure to help out any long-term cruiser in the galley, but especially the unseasoned, first-time liveaboard chefs. In some parts of the world, you may be surprised to find that chicken will come whole, fish will come uncleaned, and you'll need bones for your broth. Making bread and yogurt can also be a daunting task with limited utensils and resources.
Taking raw, simple ingredients and turning them into full-blown authentic dishes inspired by cuisines worldwide is easy with this onboard treasure of a book. Don't fool yourself; you will find a use for this book guaranteed.
Sailing Books for Families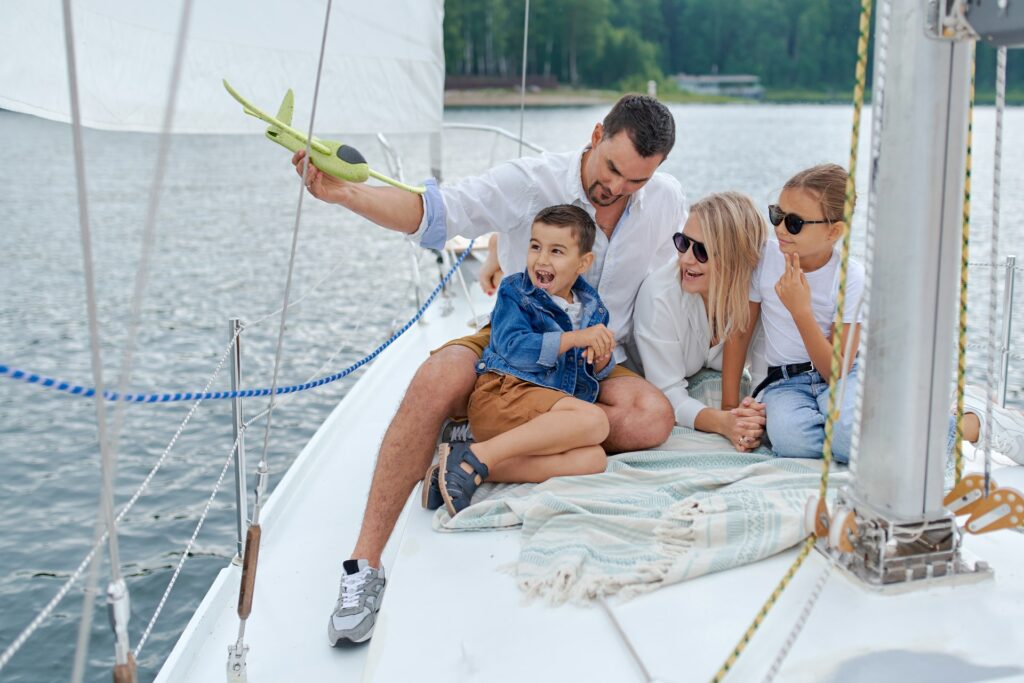 Voyaging with Kids: A Guide to Family Life Afloat, by Behan Gifford, Sara Dawn Johnson, and Michael Robertson:
This is a touchy topic, nobody will understand that better than a family trying to prepare for life at sea. "It's not safe" "What about school?" "You won't ever have time for yourselves."
These are all understandable concerns, but they are hurdles to overcome with the right planning and preparation. The nice thing about this book is the personal experience it offers.
The authors have successfully navigated this road and interviewed dozens of other families who took the same path. Normalcy is what you make it, and in reality, you won't need to keep up with the Joneses out at sea. From choosing the right cruiser for your family and their needs to preparing a suitable education outline, this guide to family life afloat is the perfect preparation companion to get you moving in the right direction.
At-Sea Medical Sailing Books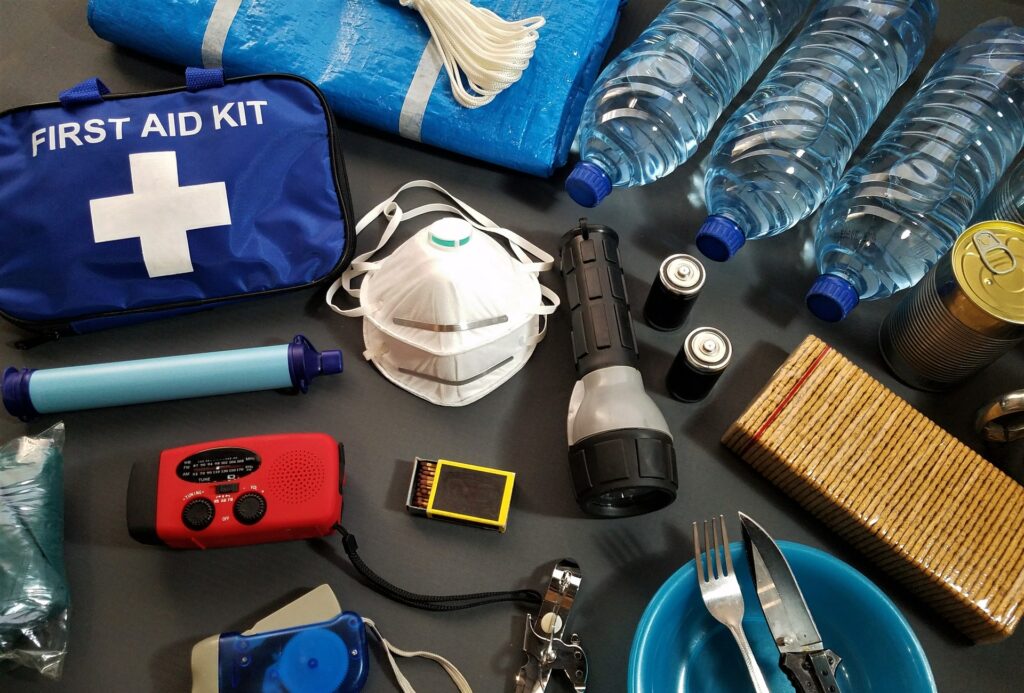 Your Offshore Doctor: A Manual of Medical Self-Sufficiency at Sea, by Michael Beilan:
As a doctor who is also an experienced sailor, Dr. Beilan constructed a fantastic guide for staying healthy and managing sickness at sea. Far from the nearest hospital or clinic, you are your own physician on the open water. You don't need to be a doctor by training, though.
Beyond advised fitness routines and general treatments, this book will provide anything and everything from dosages of the most common medications to treating Malaria symptoms. There is even a dedicated chapter to procedures with illustrations and explanations in case of severe emergency. Need help preparing a medical kit? This book covers it.
Need even more inspiration? Check out this post by Discover Boating to see what their Top 10 sailing books – everything from historical non-fiction to fiction.
Need some more advice on planning for #BoatLife? Start a conversation on our community forum and get first-hand advice from those who have experience in preparing and living life on the water.
If you found this article helpful, please leave a comment below, share it on social media, and subscribe to our email list.
For direct questions and comments, shoot me an email at travis@boatlife.io