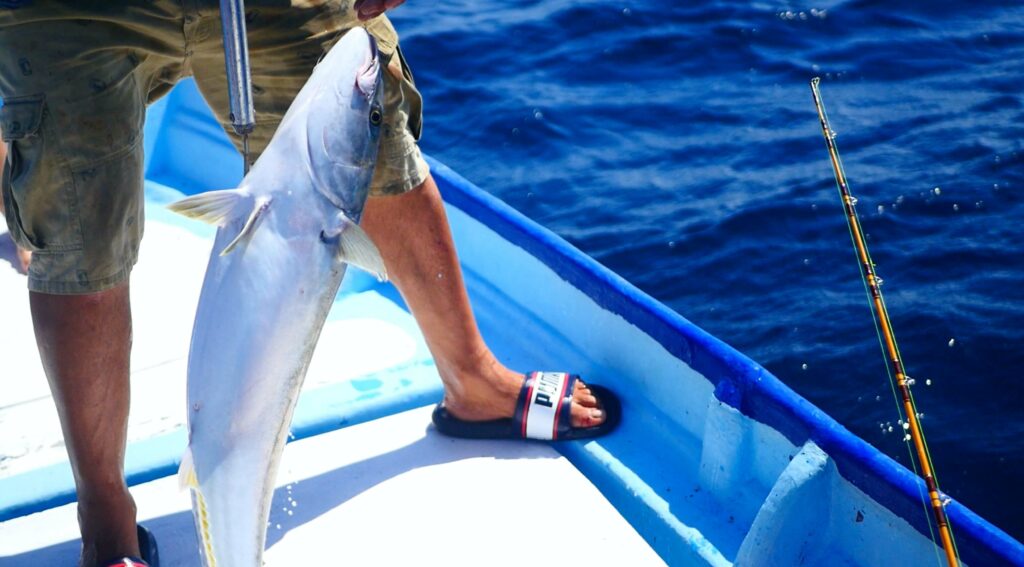 There's something special about catching and preparing your meals while at sea. Not only are you sustainably sourcing fresh, healthy protein, but you're doing it at practically no cost. The cruising lifestyle allows you to fish for food regularly, and below, we cover the basics of fishing from a yacht for anyone interested in starting out.
Types of Fishing

Line Fishing – Rod and Reel
Line Fishing – Handlining

Where to Fish
Choosing a Target Species
Dispatching Your Fish Humanely
Conservation
Tips and Tricks
---
Types of Fishing
Both line-fishing and spearfishing have been around for ages, and while it's far more common to see fishing lines trailing behind boats, spearfishing has seen a massive uptick in recent years.
Below, we discuss the various ways you can fish from your yacht and what you need to get started.

Line Fishing – Rod and Reel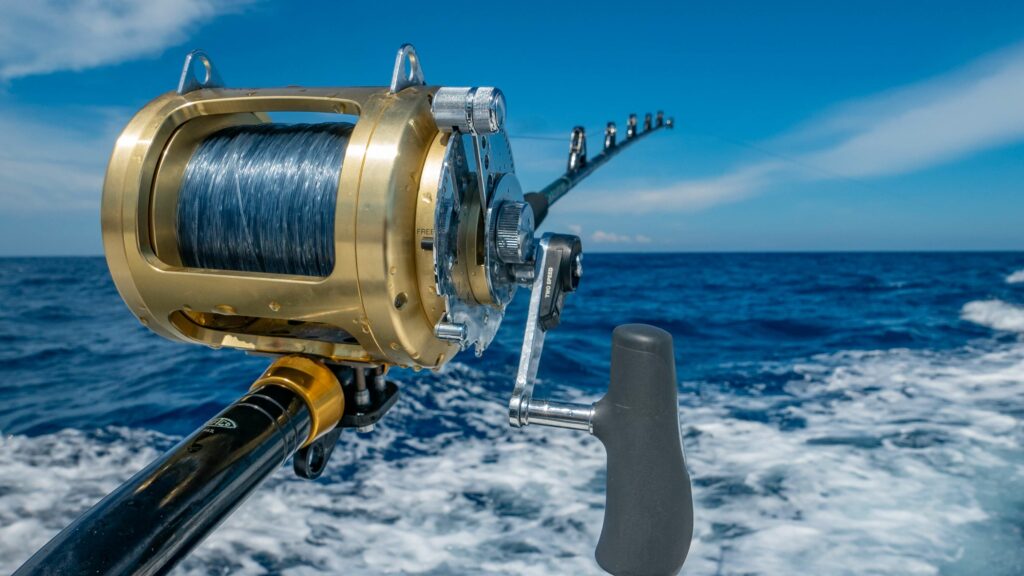 When we think about a day on the water, we often imagine tossing out a fishing line from a rod and reel. As the most common fishing method, it's important to understand the equipment and techniques used to fish from your yacht successfully.
Your fishing gear dictates where, how, and what you can fish for, so it's vital that you understand how to choose the right gear for your needs. You'll need some variation of the following to get started:

Trolling or Spinning Rod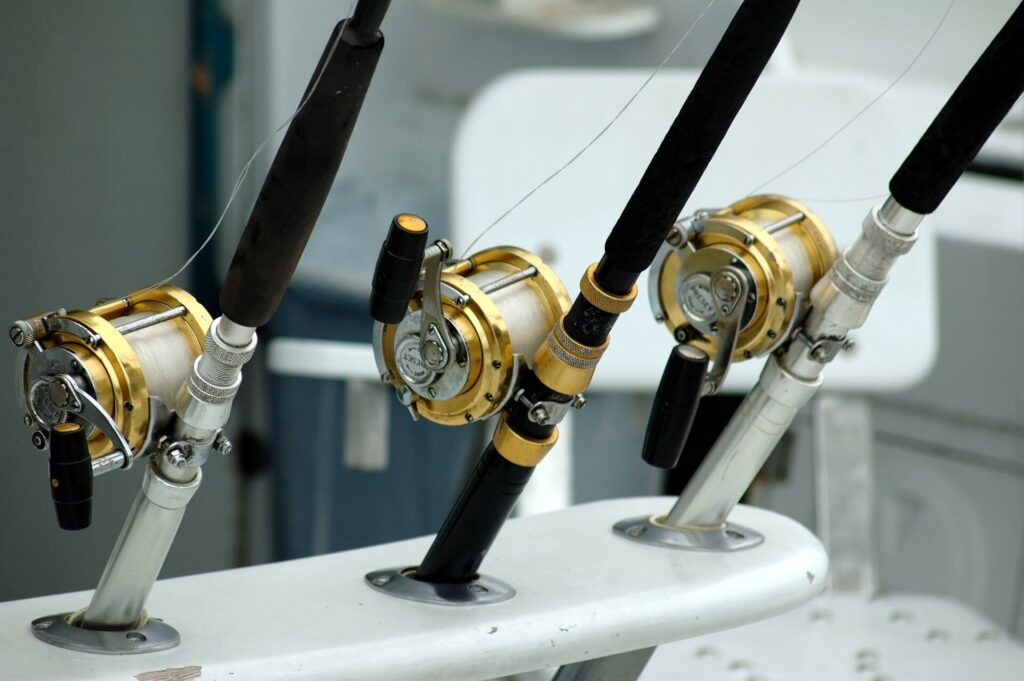 There's always the chance of hooking a monster while trolling in the open ocean, so you'll want to have a short, strong trolling rod that can hold up against big game. If you find yourself hooked with a 250 lb yellowfin tuna on a spinning rod, you may as well kiss your setup goodbye.
In open water, carbon and fiberglass rods are best. The low weight and high strength of these materials make them perfect for fighting the big fish, and you can find them made specifically for that purpose. Grips and handles with a bent formation can give you more leverage while reeling in your catch, and they take away some of the pressure put on the rod holder. Their main drawback is the lack of efficiency while using them standing up – the design works best when used in a seated position.
Lastly, it's a good idea to have "trolling rod guides" on your pole for the big game-fish. The guides reduce the friction put on the line and take away stress from the rod itself.
While drifting or at anchor, spinning rods target smaller fish like snapper and mackerel. They are longer, thinner, and more flexible than trolling rods, used with lightweight lures on a thinner line. A spin-fishing setup is similar to a trolling setup, just scaled down in size, weight, and strength.

Trolling or Spinning Reel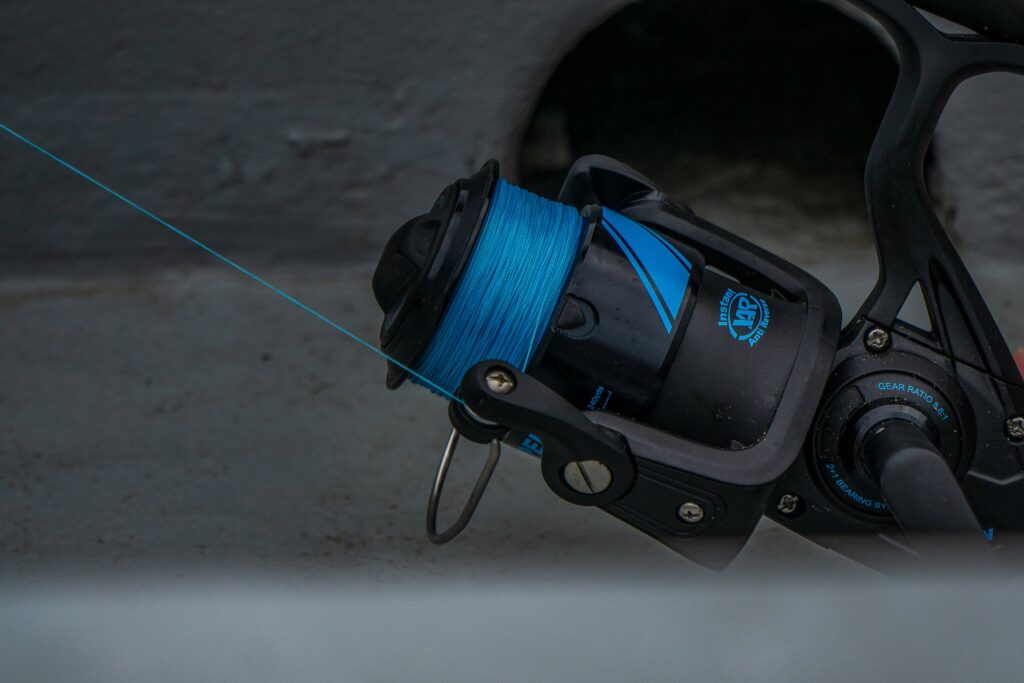 Depending on how serious you are about nailing the big fish, there are a ton of options and features available with trolling reels.
Conventional reels give you the benefit of a seemingly endless amount of line, and some of them have line counting features that help get your trolling methods down to an exact science. Interchangeable speed reels are becoming more and more popular, as they allow you to take in line at different speeds depending on how the fish is fighting.
Once the fish bolts in your direction, flip to high speed and take in as much line as you can before the fight resumes.
Other features to look for in a trolling reel include:
Clicker
Drag Adjustment
Braid-Compatible Spool
In an ocean environment, cheap spinning reels quickly break down and render themselves useless. The cost of equipment meant for saltwater environments is always slightly higher, but a quality saltwater reel will hold up for years.
A few things you should look for in a saltwater spinning reel are:
High Line-Capacity
Braid-Compatible Spool
Lightweight Build
Corrosion Resistant Gears
*Fishing techniques such as jigging are easily executed on standard spin-fishing gear, so there is no immediate reason to buy jig-specific equipment.

Strong Line or Braid
For trolling, use a high-test fishing line or braid and a strong enough leader to withstand a bite from massive toothy fish. Trolling line or braid strength should fall somewhere between 30-130lb test, with considerations for each location you're fishing in. With this line strength, you can comfortably catch tuna, marlin, kingfish, and more.
For spin fishing near shore, use a line in the 12-25 lb test range. You're able to cast the line further than most fishing lines, as it's thinner, stronger, and lighter than monofilament – a favorite of many inshore spin fishers. For a leader, use a strong fluorocarbon monofilament for the best results. The material refracts light underwater, making the line nearly invisible to the fish.
For big-game fish, try trolling at speeds of five to eight knots, with approximately 10 meters of line out for every knot of speed. For example, if trolling at six knots, let out about 60 meters of line. With smaller fish species nearshore, troll at speeds of two to four knots, with the line length between 20 and 40 meters, respectively.

Outriggers and Downriggers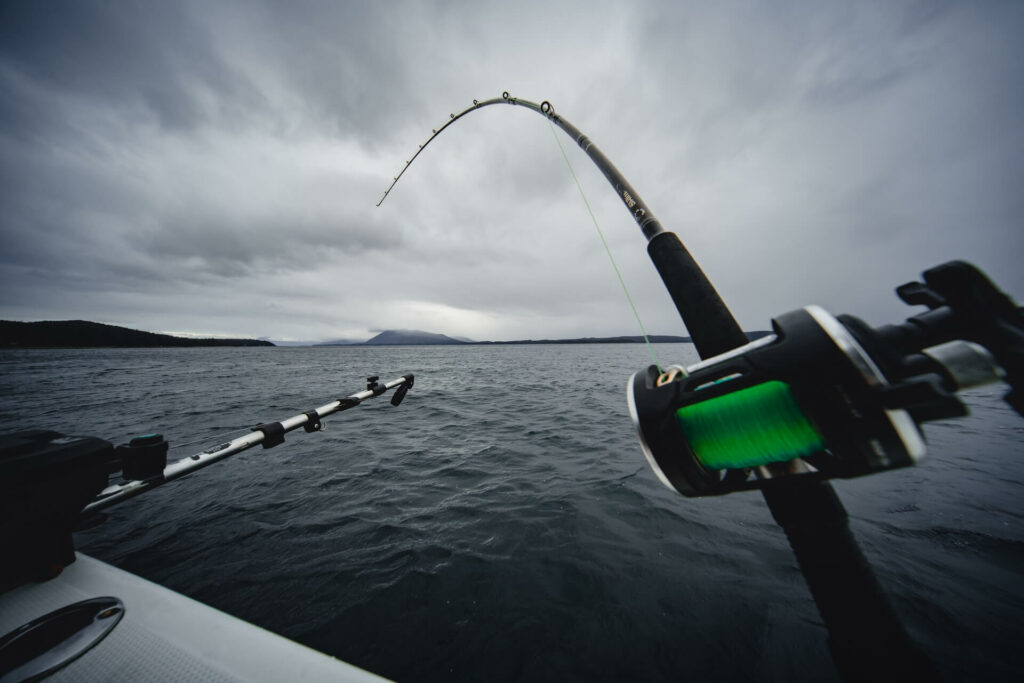 Riggers are trolling accessories that allow you to have multiple lines in the water at once without crossing them. Riggers allow you to fish across an area horizontally or vertically.
Outriggers are essentially just long poles that mount to the sides of a boat, and they allow you to spread your lines and bait across the water horizontally. You can set your line to different lengths, letting you cover the most area while trolling through a section of water. When the boat is turning, one side of the outriggers will lift the lures toward the surface, while the other side will let the lures sink further down.
Trolling at a slight turn allows your lures to separate horizontally and vertically, scattering among an entire cross-section for optimal results. Outriggers also manage the lures so that they remain visible outside of the boat's wake.
Downriggers install to the stern of the boat and allow you to troll at specific depths of your choosing. If you aim for fish that hang out in deeper water, downriggers are an excellent piece of equipment to own. If you want to troll at greater depths without a downrigger, you simply have to let out more line so that your lure falls deeper in the water column. Doing so, you may risk your lures or bait looking unnatural and reducing your catch rate.
Although riggers make trolling much more efficient, they are by no means required. Not only are they expensive to purchase and install, but you'll need multiple fishing rods and additional equipment to use them.

Crimping Sleeves and Strong Pliers
High strength monofilament line is hard to knot with your bare hands, so it's useful to keep crimping sleeves and a strong pair of pliers around to use as an alternative.
Aluminum crimping sleeves work best with fluorocarbon and monofilament lines, while brass and copper sleeves are suitable matches for cable. Consider the size of your sleeve, though, as one size does not fit all when it comes to crimping your fishing lines. Not only does your sleeve need to be the right size, but you also need to be extremely precise when using the pliers to secure a hold. An oversized or under-crimped sleeve will lead to the line slipping away, while an over-crimped sleeve will break the line inside of the sleeve. It's a delicate process that you should research well and test often.

Lures or Live-Bait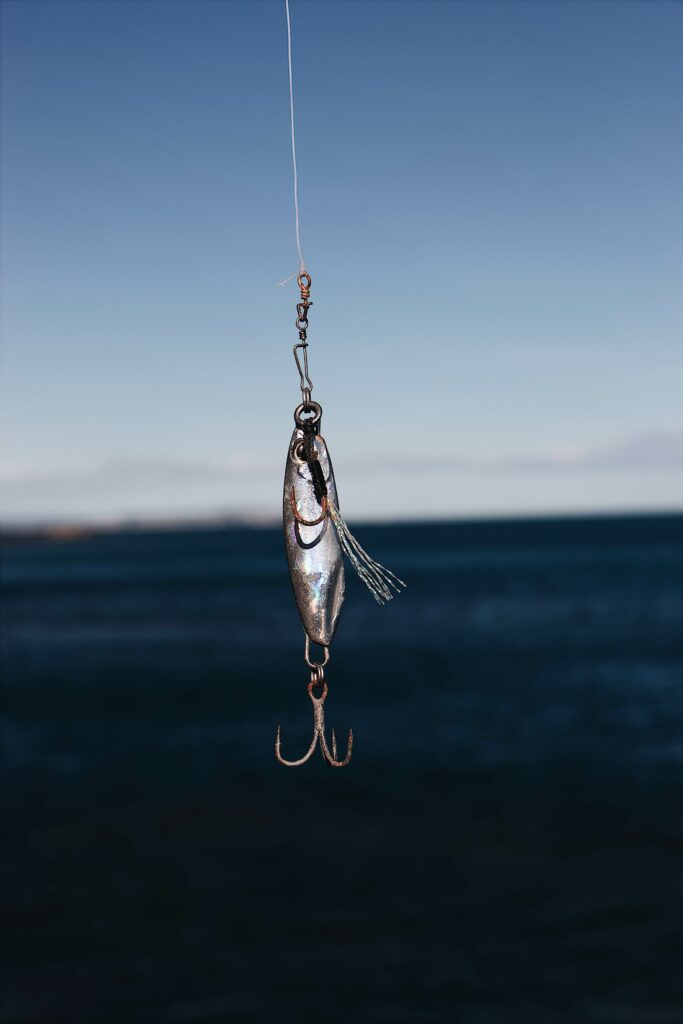 Choosing the right bait and lures for your presentation can significantly affect your catch rate, whether trolling for big fish or spinning for smaller fish. Whether you're using live bait, cut-bait, lures, or a combination of lures and bait, there are some key considerations to make.
There are four types of lures for trolling offshore for big-game fish: Skirted lures, soft plastic lures, spoons, and plugs. These lures can all work well, but skirted lures seem to be a favorite for offshore trolling. Spoons are great to use with downriggers, as they mimic baitfish that swim at greater depths. Plugs are mostly top-water or shallow-water lures to attract fish near the surface, and soft plastic lures mimic live fish closest, so they are the most versatile of the group.
Trolling with live-bait is also an excellent option for fish like cobia and yellowtail. If you aren't too particular about the type of fish you want to catch, then trolling with squid, mullet, and mackerel is a great way to have a successful day on the water. The biggest benefit of using live-bait or cut-bait for trolling is that you have the opportunity to source your bait for free.
A common offshore trolling method uses a combination of cut-bait and skirted lures. The lure's brightly colored skirt attracts fish from a distance, and once in proximity, the cut-bait brings them in for the strike.
Generally speaking, bait is the "better" option for fishing while drifting or at anchor, although lures can also work well.
Many spin-anglers find success with brightly colored poppers that skim the surface as you reel them in. Others prefer to use the more traditional shiny, spinning lures that catch fish's attention from a distance.
Alternatively, you can use sinking lures or jigs if you are near a reef or fishing for species near the seafloor. Jigs come in all shapes, sizes, colors, and textures, so there is something for every target. Two of the most common types of jigs are the bucktail jig and the vertical jig.
Bucktail jigs get their name from their decoration – deer hair. They work alone, with plastic lures, or with cut-bait attached to the hook.
Vertical jigs – otherwise known as butterfly jigs – are slim chunks of metal that cut through the water effortlessly and mimick baitfish quite closely. They generally have one or several hooks dangling from a split ring.

Knife and Gloves
Keeping a knife and a strong pair of fishing gloves on your person is ideal for hooking big-game fish. Fishing gloves protect your hands while handling strong fishing line, hooks, fish, and more.
Your fishing gloves should reflect the location and conditions you're fishing in. If you're fishing in the tropics in 100F heat, you should aim for a pair of light, breathable, fingerless gloves that are sturdy enough to stand up to the tasks at hand. When fishing in colder waters, you should consider full-fingered gloves constructed with water-resistant, heat-conserving materials. Comfortability is a top priority.

Fishing Gaff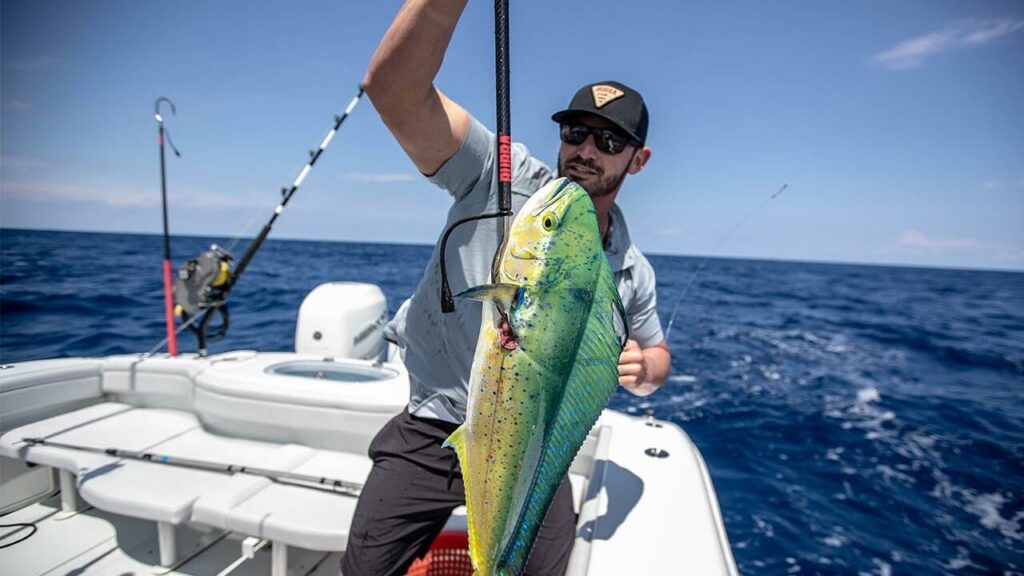 A gaff is essentially just a large hook at the end of a pole to hook a fish and bring it on board. As you bring a large fish onboard, it is not uncommon for them to give a desperate final attempt to free themselves, so gaffing the fish allows you to keep your dinner on the boat.

Rod and Reel Techniques

Trolling
While there are many techniques and variations that you can use to be successful with trolling, one variable reigns supreme – speed. Trolling speed affects the type of fish that you're catching the attention of, as well as the movement and the depth at which your bait is trolling. If you're moving too fast, your bait can spin out of control or make movements that look entirely unnatural. While fish aren't the smartest beings, they know how their natural prey looks in the water. If you can spot your bait or lure trailing behind the boat, check to see if it seems to be moving naturally. Adjust your speed to find the right fit, and wait for the line to run.
Most open water fishers like to cruise at speeds between three and twelve knots when trolling for big-game fish. On the lower end of the gap, trolling at speeds between three and six knots seems to work well for different tuna species. Six to nine knots seems to be the sweet spot for marlin and other types of billfish, while the ten to twelve-knot speeds are best for fish like wahoo, who have high burst speeds in the water.

Spinning
There are several variations and techniques for spin fishing, with each method targeting a specific species or variety of fish. From a boat, it's best to spin fish while drifting or at anchor. The spinning motion paired with the reflective metal mimics small baitfish that dart around near the surface, attracting predators such as kingfish, wrasse, and barracuda.
Jigging is another spin fishing method targeting fish near the seafloor. Simply cast your line and jig to the desired location, and let it fall to the bottom. Once it reaches the seafloor, pull your rod in a backward and upward motion to "bounce" the jig along the sand while reeling in. This motion mimics an injured baitfish, making it seem like an easy meal for predators. Techniques for jigging include up-and-down, side-to-side, or as a combination of the two.


Line Fishing – Handlining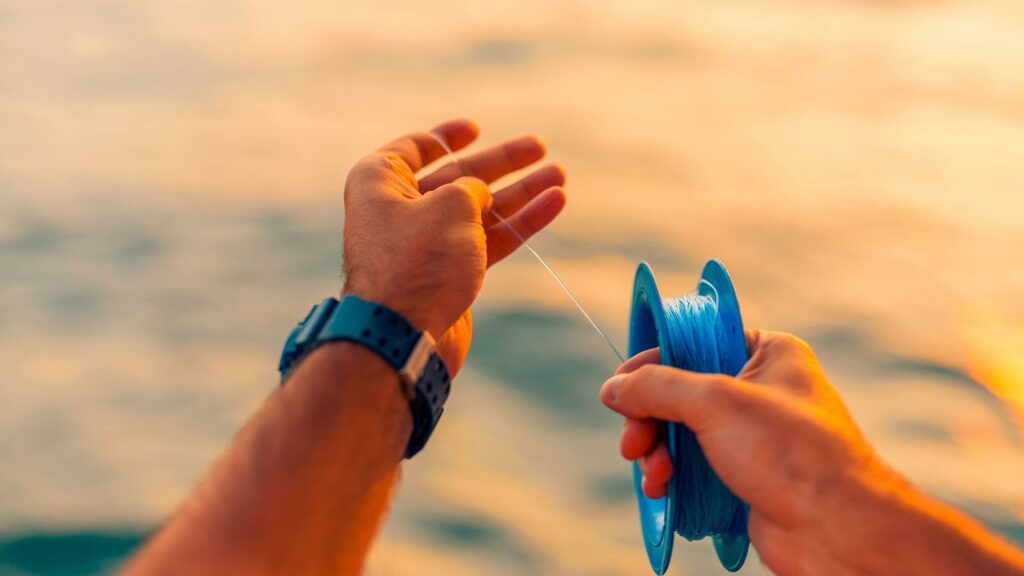 Handline fishing, or handlining, is one of the simplest and most affordable techniques to fish from a boat. Although handlining is somewhat of a primitive way to fish, it still requires a fair amount of skill and knowledge to be as successful as you would with a line and reel. With handlining, you don't have the option to cast your lures and bait over large areas, so identifying a good target area is key to success. These are the basics you'll need to get set up:

Spool or Reel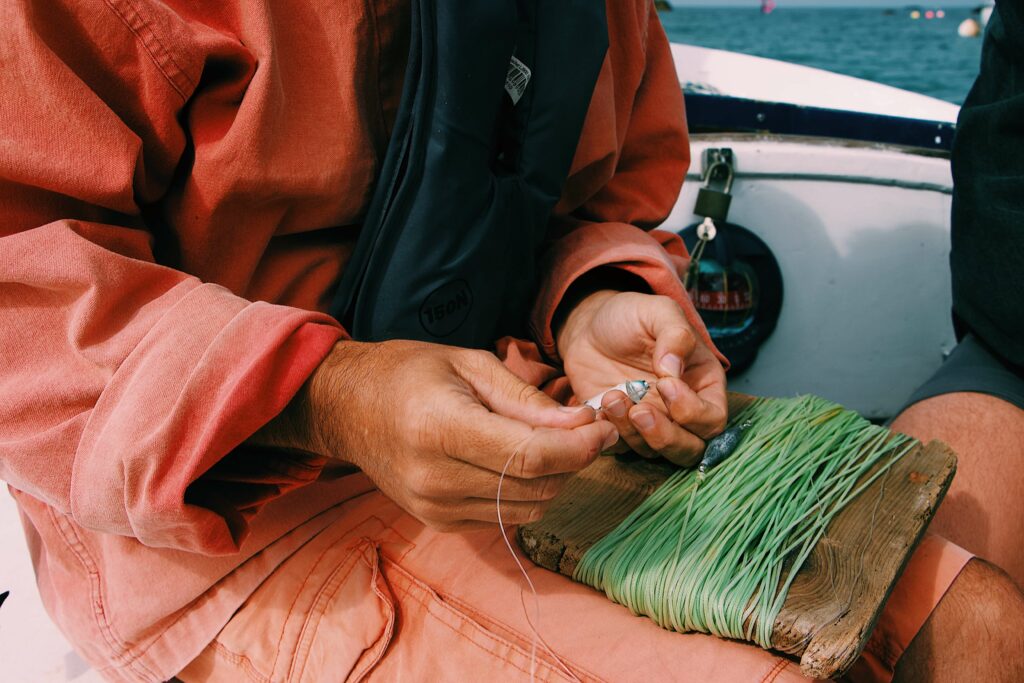 The first thing you'll want to have is some sort of spool or reel so that you can keep your fishing line nice and tidy. Without a spool, the line would lay across your feet as you pulled it in. In the worst-case scenario, a monstrous fish could take the bait, and you could quickly become tangled in the line.
You can buy brand-name handline fishing spools from any major fishing outlet, or you can simply use wooden boards, bottles, PVC pipes, and numerous other items to construct a spool. Just be sure that you can easily wind and release the line if you choose the makeshift route.

Strong Line
In most conditions, braided and twisted lines are best for handline fishing at sea. The line should be strong enough to withstand a bite from big-game fish while remaining as light and thin as possible to ensure maximum catch efficiency.

Knife and Gloves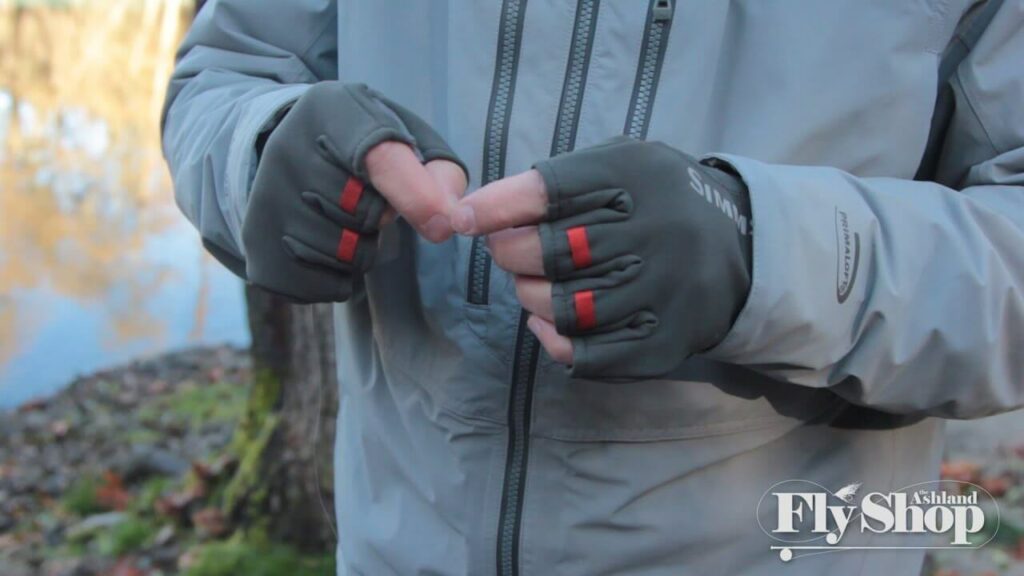 Gloves are an essential piece of equipment for handlining. Fingerless gloves are the best option, as they give you protection from the fishing line without affecting your ability to carefully handle the line.
*Never wrap the line multiple times around your arms, hands, or fingers. Fishing line can cut down to the bone if the fish is strong enough.
Keep a knife on your person at all times while handline fishing in case of entanglement. Any sharp knife, retractable or flip-open, will do.

Hooks and Weights
As standard, the hook's size should depend on the type of fish you're aiming to catch. A hook should be small enough to fit in the mouth of the fish but not so small that it easily slips away. Hooks with barbs are useful for powerful fish that thrash and flail when hooked.
Weights should be heavy enough to withstand currents and tides without being so heavy that it adds to the difficulty of bringing in a fish by hand. Be sure to place the weights above the bait by at least a few centimeters.

Lures or Live-Bait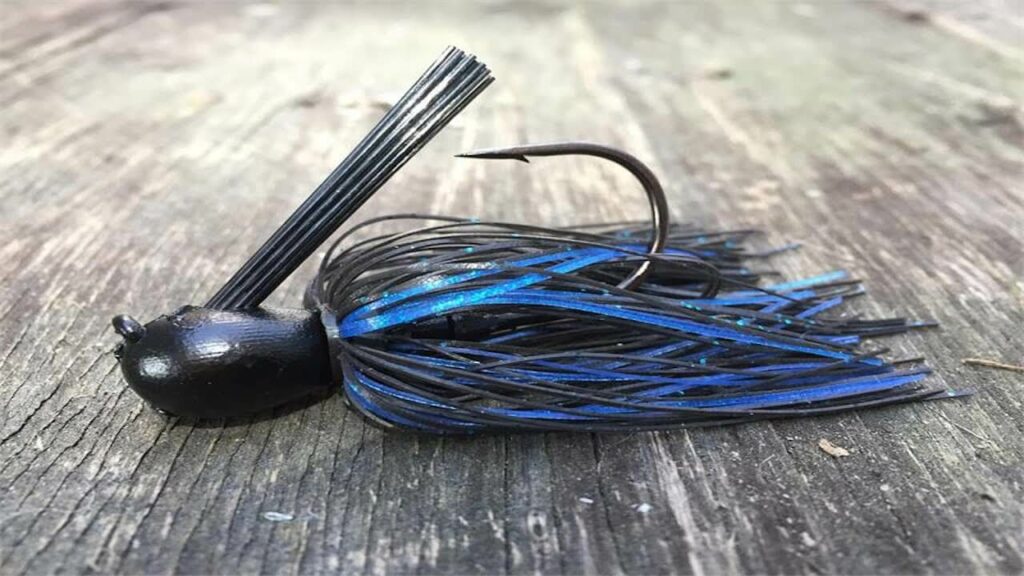 Jigging is the most common method for handlining, and the jigs work with live bait, cut bait, and a variety of artificial baits.
Lures are more challenging to use, although they're a great option when drifting or handlining into a bit of current. Bait for specific species will remain the same with handline fishing – it's mostly just the technique that changes.

Handlining Techniques
Jigging is the most common technique for handline fishing, as vertical jigging fits a boat environment well. Jigging is a rapid, tiny jerking motion that mimics injured baitfish. You should aim to jerk the line quickly, about ten times, before releasing the line and letting it sink a foot or two. If there's no bite, pull the jig up about 5 feet to a new section of the water column, and repeat. Handlining is all about feeling the line and setting the hook at the precise moment.
The most commonly fished species for handline fishing are tuna, snapper, and sailfish, although this will be location-dependent. Do your research on the type of fish you're trying to catch to better equip yourself with bait, hooks, and lines.


Spearfishing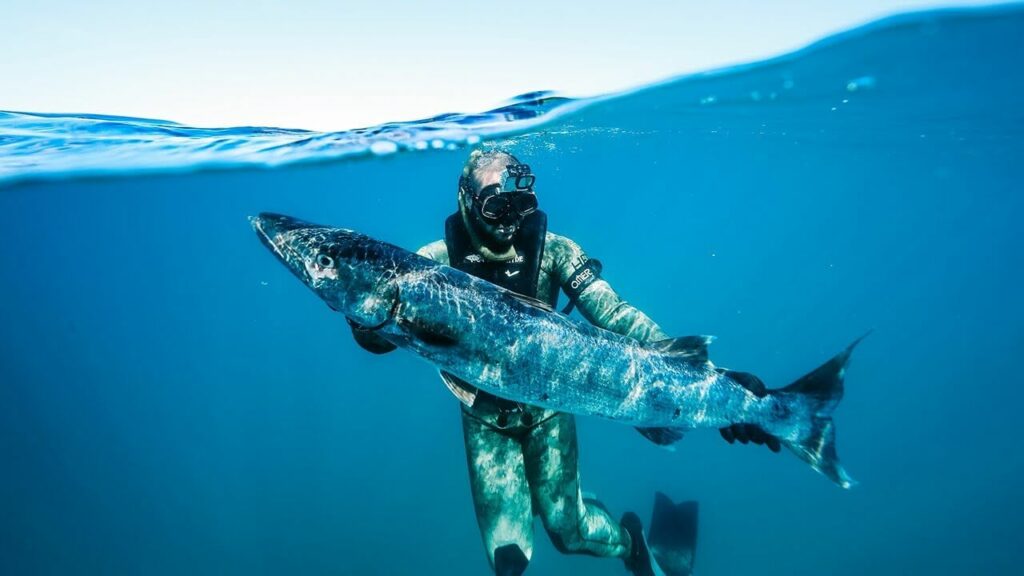 Spearfishing is appealing for many reasons, and it's easy to see why so many people are transitioning into the sport. Freediving is the most common method of spearfishing, which adds multiple layers of knowledge and skill to the already challenging activity. As a beginner, gathering information can be a stressful task on its own. Below, we walk you through the basics to make the process a bit easier.
A few things to be mindful of:
Consider the risks of Freediving carefully. Take a freediving course before diving recreationally, and never dive or practice holding your breath alone. Shallow water blackouts are not unheard of, so always dive with a buddy.
In most places around the world, it is prohibited to spearfish while scuba diving. According to many spearos, freediving is the only "true" method to spearfish anyway. Scuba equipment gives the diver an unfair advantage, while freediving evens the playing field.
Some variation of the following will get you started:
Mask and Snorkel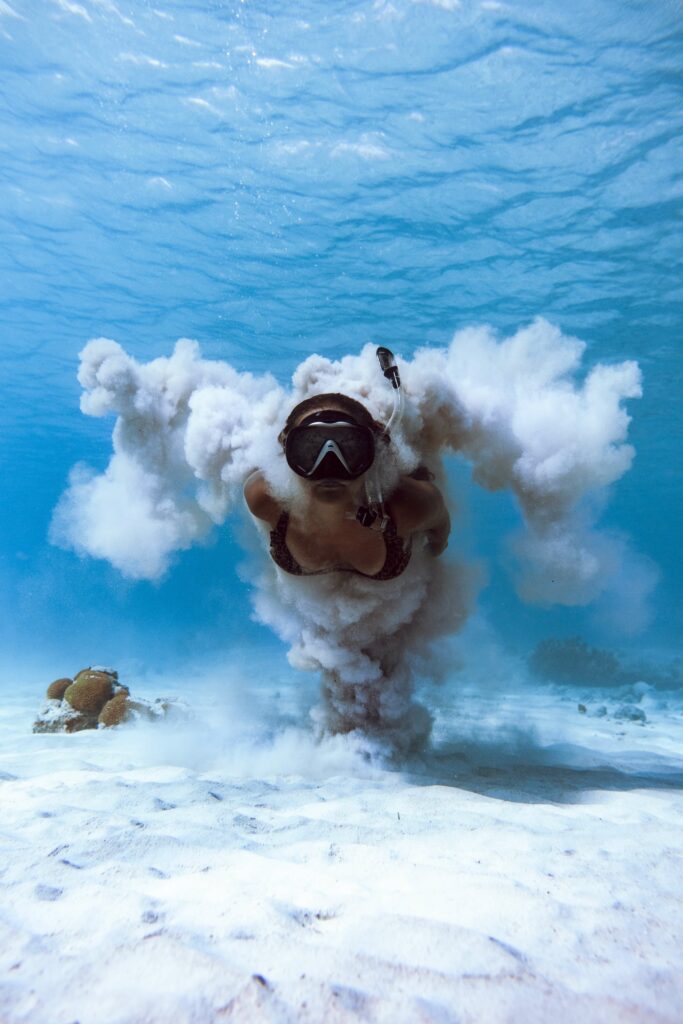 A diving mask is among the most basic yet essential pieces of equipment you will own for spearfishing. For freediving, you should aim for a low-profile mask with a small air volume behind the lenses. Less air volume reduces the amount of "mask squeeze" while diving. Above all else, you want to choose a mask that fits well and is comfortable to use. The mask should provide you with visibility in every direction, with clear lenses to accurately represent what you see in clear water. Colored lenses are best for low visibility scenarios.
Any basic snorkel should do the trick, so no need to get fancy. Snorkels help to train your breathing at the surface before making a dive, so as long as you can relax and breathe comfortably through it, you're good to go.
Avoid snorkels with purge valves, as the air released underwater causes bubbles that can startle fish.

Fins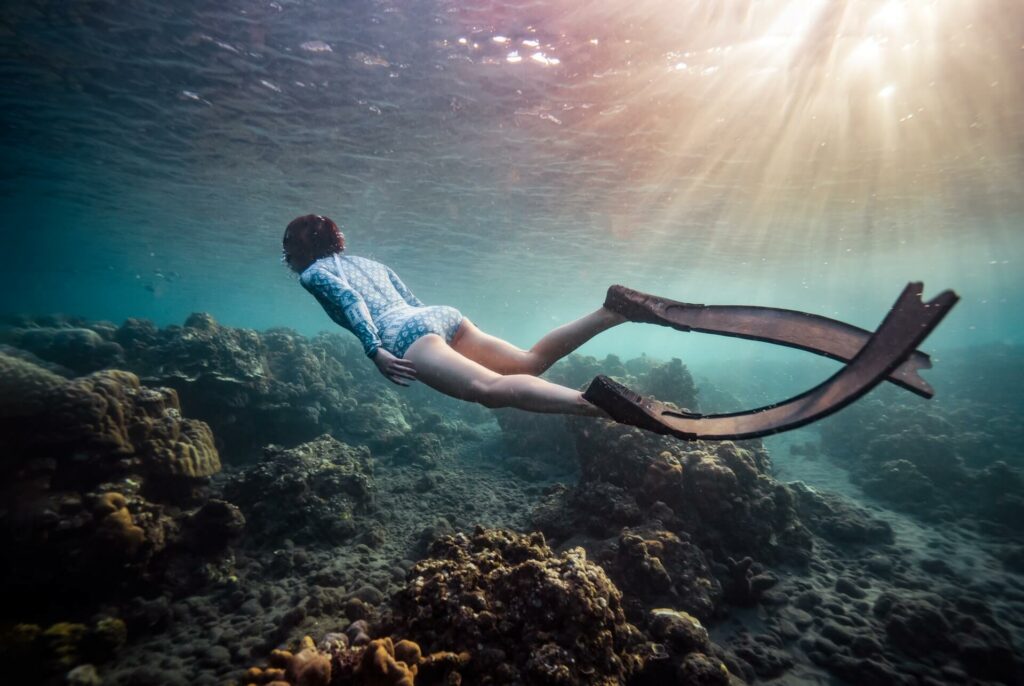 Fins are an essential tool for freediving. A good pair of diving fins will not only propel you through the water at higher speeds, but they allow you to conserve energy while underwater, extending your bottom time significantly.
You can opt for basic plastic fins, and those will be sufficient for most beginners to freediving and spearfishing. However, if you're a seasoned freediver, opting for the carbon fiber or fiberglass fins may be the right choice. The carbon fiber and fiberglass materials require far less energy to use, making them ideal for those looking to extend their bottom time and increase their depths. Be sure to get fin socks or booties to protect your feet, and if you're between sizes, always choose the size that's slightly big for you. It's easier to get thicker socks or booties than it is to shrink your feet.

Wetsuit and Gloves
The most important aspect of a freediving/spearfishing wetsuit is that it keeps you warm without restricting your movements or making you uncomfortable. Each diver will react to water temperatures differently, so the choice is yours entirely. There are some obvious benefits of wearing a wetsuit while spearfishing, though.
By conserving body heat, you're able to extend your bottom times, so it's great to have a wetsuit that keeps you warm and comfortable. Further, the neoprene layer protects you from the reef, debris, and lines used with your spear. Finally, wetsuits with camouflage patterns break up the shape of your body and make it easier to approach fish without scaring them off.
Gloves serve two key purposes for freediving and spearfishing. They keep your hands warm and functional when diving in more frigid waters, and they offer protection when handling the fish and spear underwater. Kevlar is a popular material for spearfishing gloves, as it keeps you warm while remaining lightweight, comfortable, and sturdy.

Dive Knife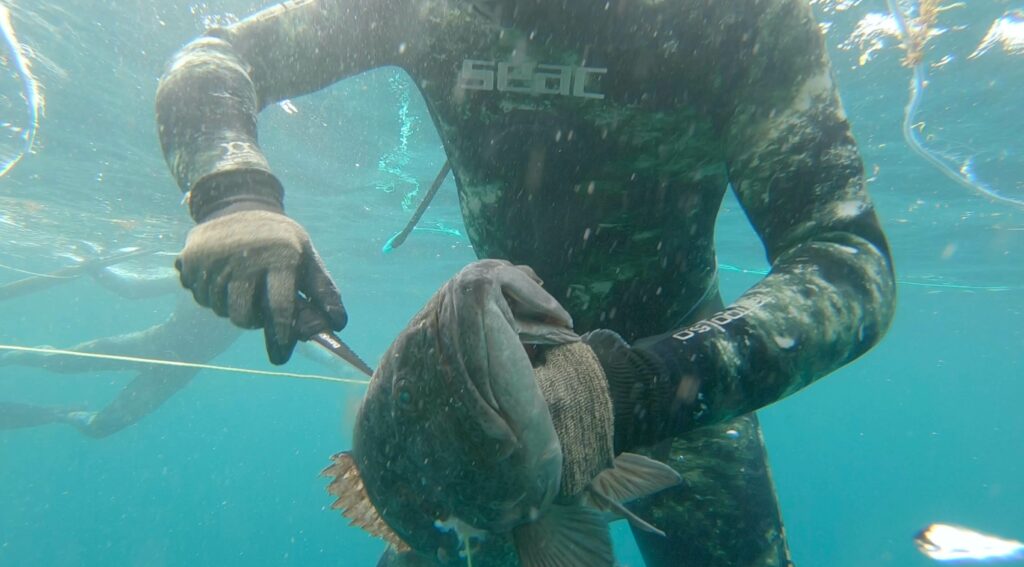 A dive knife serves several purposes. It's a tool to quickly dispatch fish that don't die immediately after spearing them, cut line free from hooks and weights, and cut yourself free of entanglements. If you hook a fish at depth and it begins to circle around you, you can quickly cut yourself free and make your way back to the surface.
A dive knife should have quality material that stays sharp and is rust-resistant in saltwater environments. When choosing a dive knife, quality should be the top priority.

Weight Belt
Weights are used for freediving to help you descend with your lungs full of air. Every diver requires a different amount of weight based on various factors, including muscle mass, body fat, bone density, the volume of air spaces in your body, and the thickness of the wetsuit worn.
Finding the precise amount of weight is a process, and it will take some tinkering to get it right. If you sink like a stone, you are definitely overweight. Before diving in the open ocean, practice in shallow or confined waters to dial in your weight requirements. Always make sure that your weight belt has a quick release buckle, and be sure to practice releasing it in emergency scenarios. This is all covered in an introductory freediving course, so you should consider attaining a proper certification before regularly freediving and spearfishing.
*Be mindful of buoyancy changes from freshwater to saltwater. Saltwater is more buoyant than fresh water, so a little more weight will be required.

Speargun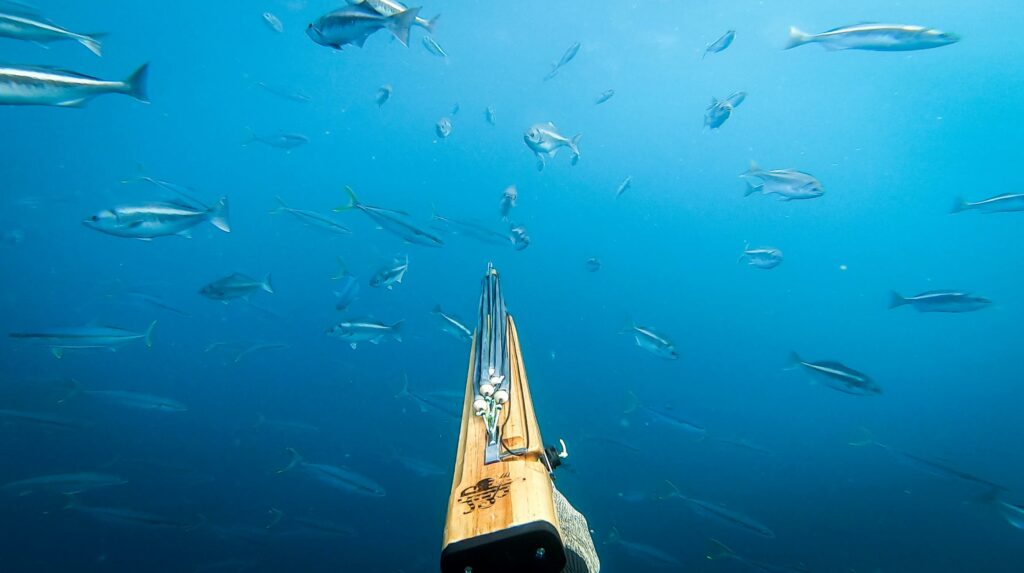 Two types of spearguns are commonly used for fishing, pneumatic and banded.
A pneumatically powered speargun uses compressed air, while a banded speargun uses the bands' tension, similar to a crossbow. The primary consideration is the reloading process. Banded guns take a bit more practice and skill to reload, especially while still underwater.
Spearguns come in various sizes and strengths, and you should make a purchase based on the location and type of fish you're hunting. Longer spearguns are best in clear, open waters, while shorter spears are best for murky waters or tight spaces. You should dive reefs, caves, and artificial structures with a shorter speargun to ensure you can operate without risking the health and safety of you or the natural environment.
*Spearguns are prohibited in many places, so check rules and regulations before making a dive.

Hawaiian Sling Vs. Pole Spear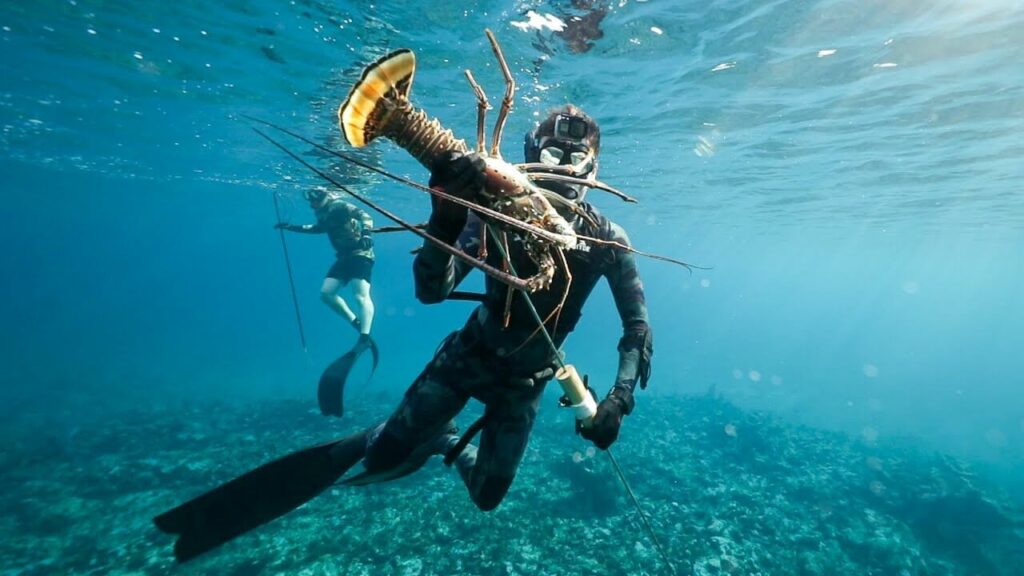 A pole spear and a Hawaiian sling are very similar, with just a few small differences. Both a pole spear and a Hawaiian sling are good in close quarters, and both are simple designs.
A pole spear is usually between three and ten feet long, with a spearhead housed at the pole's front end. At the butt end of the pole, an elastic band stretches forward to create enough tension to launch the spear.
To fire a pole spear, grab the pole with your non-dominant hand while pushing forward the elastic band, situated in the crook of your dominant hand's thumb, toward the front end of the spear. Once you apply tension, grab the pole towards the front end with your dominant hand. To keep the pole from bending or becoming crooked, twist the pole a quarter-turn as you're pushing the band forward to apply tension. Bring the pole up to your eye level, and hold your arm straight and directly in front of you. When you identify a target, release your grip from the pole. The spear should accelerate to a distance of approximately five feet, with force.
A Hawaiian Sling has a similar concept to pole spears but act more like a bow-and-arrow. They have a simple design – a spear shaft, shaft holder, and a rubber sling.
To use a Hawaiian sling, aim the pole with your non-dominant hand while pulling the sling backward with your dominant hand. Use your strong hand to pull back the sling – it can get tiresome to continuously draw the band. Locate your target and let it get in range before setting up your shot. The more energy used to prepare for the shot, the less bottom-time you'll achieve.


Where to Fish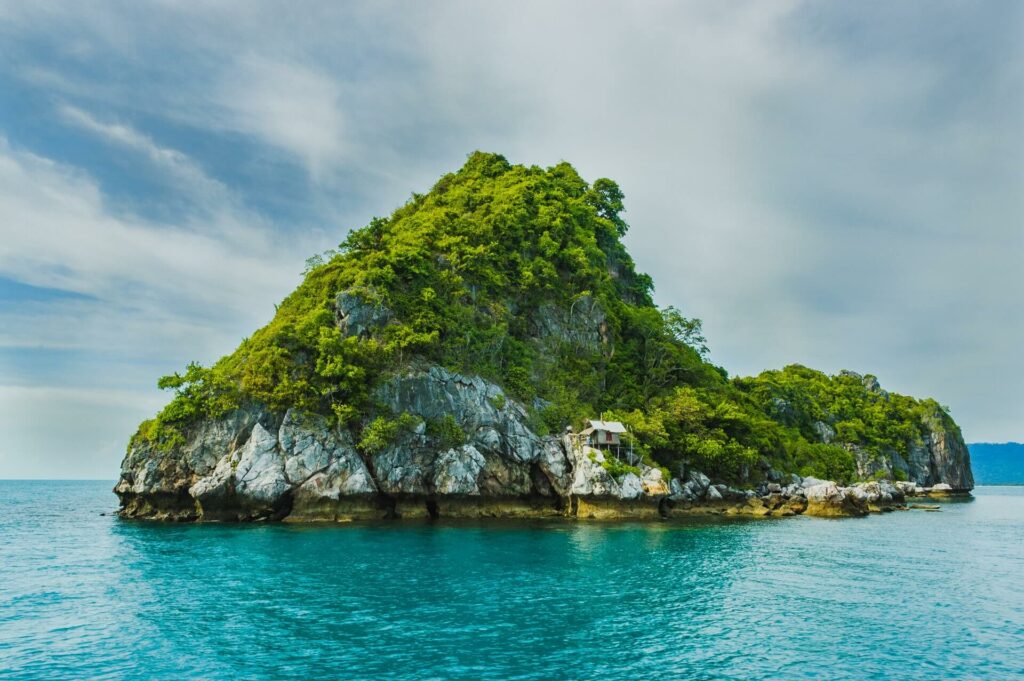 Line Fishing
You can troll from your boat just about anywhere that the water is deep enough, but most cruising sailors choose to troll when making a passage across an open body of water. "Offshore fishing" is a strategy to catch big game fish like marlin, tuna, and mahi-mahi. You can also troll nearshore for smaller fish, but you will want to change the lures and bait being used. Trolling too deep can easily result in broken lines and lost lures, so be mindful of your depth.
Spin fishing is most successful near shore, over reefs, or around structures that aren't too deep in the water column. Like coral reefs, structures near shore make for the perfect fish habitat, and they are often turned into artificial reefs that support a diverse community of marine life.

Spearfishing
Spearfishing can be done nearly anywhere there's fish, although your location will largely dictate how that experience looks. Additionally, you should always check the laws and regulations in any location you plan to fish. "Marine reserves" protect fragile ecosystems, and are generally off-limits to fishing and most other water activities.
Kelp beds offer a healthy and thriving habitat for fish, as well as a good training ground for beginner spearos. You can use the kelp as cover and strictly focus on your diving skills. Most of the fish in these communities are small enough that you won't be in over your head if the fish isn't killed with your spear and fights to get free.
Coral reefs are another fantastic location to spearfish, with shelter, cover, and entire fish communities around every corner. Here, you can carefully choose your target as it's still freely swimming. Practice using the reef as shelter and target larger fish that pass by on occasion. Remember not to touch the reef or target fish that are too big to consume.
Bluewater spearfishing is the most exciting way to spearfish. Not only have you stripped away all structures and shallow depths, but now you're up against some monstrous fish.
Bluewater spearfishing is only meant for the competent diver and spearo, and you should always be extremely cautious while fishing in the blue.
Chumming the water is a popular way to bring in big-game fish, although it can also bring in sharks and other large predators. Always have a spotter on the boat to help keep an eye out for potential dangers, and always keep your head on a swivel. Large predators commonly swoop in after a kill in an attempt at an easy meal. If a shark or other predatory fish approach you, cut your kill free and leave it as a gift.


Choosing a Target Species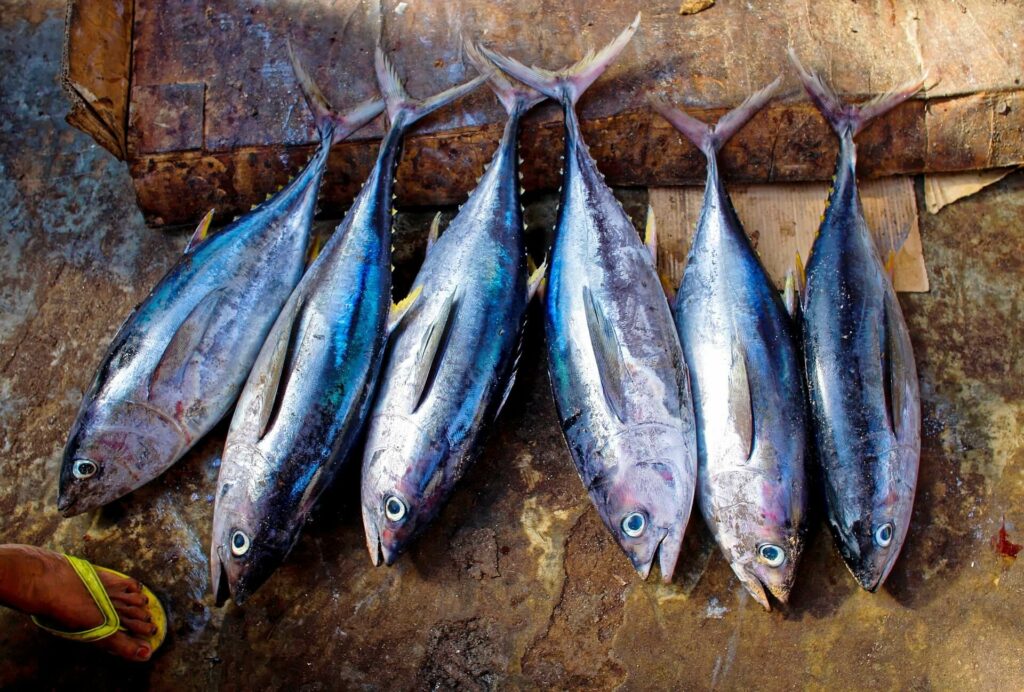 Choosing the type of fish you want to target can be as complicated or as easy as you make it.
Trolling for big game-fish in the open ocean is quite simple, as most of the fish will bite a wide variety of lures and baits. Of course, you can choose a bait or lure specific to that species; just don't be ready to find a variety of fish on your hook. There are a ton of resources, both digital and print, that go into the details of what to fish for, where to fish for it, and how to optimize your catch rate.
Whether fishing inshore or near a reef, spin fishing can target a more specific variety of fish. While spinning lures and bait will also be taken by several types of fish, you can more carefully choose your target with your bait and lures. Spin fishing allows you to cast your line to specific areas, drop your line to specific depths, or present your bait as you wish. All of these factors will help narrow the scope of your prospective catch.

Ciguatera Poisoning
Ciguatera is a food-born illness contracted by eating contaminated fish who live near or on coral reefs. The fish that contain the Ciguatoxin are not affected by it, although the toxin is poisonous to humans and causes some pretty terrible symptoms. Almost anyone who has had the illness reports gastrointestinal, neurological, and cardiovascular symptoms that can last for weeks, months, or even years. There are no treatments or vaccines specific to Ciguatera, so the best way to avoid the illness is by simply not eating reef-dwelling fish. Ciguatera is not generally fatal, although the symptoms have been described as "miserable" and "horrific."
Ciguatera is linked to tiny planktonic organisms that produce a specific toxin that attaches itself to the different algae present on coral reefs. Most reef fish consume the algae, and the toxin bioaccumulates as predators consume prey. In this case, bioaccumulation is a term that describes the toxin moving its way up the food chain as smaller fish are consumed by predators. The more small fish a predator eats, the more Ciguatoxin is present in its flesh. When that predatory fish is eventually caught and consumed, the toxin ends up in larger quantities on our dinner plates.
The toxin is tasteless, odorless, and cannot be removed through cooking processes, so there is no way to tell if a fish is contaminated. The toxin is found in tropical and subtropical regions, so extra caution should be used in these areas. Barracuda and sea-bass are two of the most infamous fish species to carry the toxin, although small reef fish and predators alike can carry it.
Other fish that commonly contain the toxin include:
Moray Eels
Sea-Bass
Sturgeon
Parrot Fish
Snapper
Trout
Hogfish
Mackerel
Amberjack


Dispatching Your Fish Humanely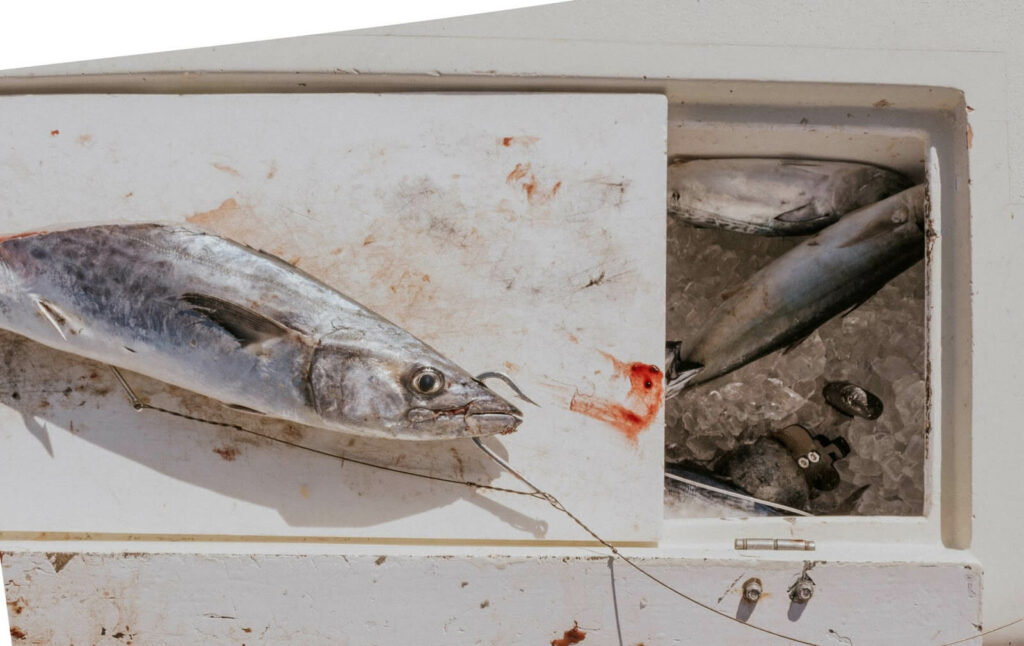 A vast majority of the fish that end up on our dinner tables die by asphyxiation. Not only do the fish have to endure a slow and painful ending, but they also lose quality in taste and smell before reaching our plates. This happens due to a chemical released when the fish is in distress. To keep your fish smelling and tasting top-quality with a longer shelf-life, dispatch fish as soon as possible after taking them from the water.
Dispatching fish humanely can be done in several ways, including:
Ike Jime (Spiking): A classic and traditional way of killing fish in Japan, Ike Jime is considered one of the most humane killing methods, as the fish do not suffer and show little to no signs of stress. The technique involves using a sharp metal spike being driven into the fish's brain before bleeding the fish by its gills or the main artery.
A blow to the head with a blunt object: A quick, decisive blow to the top of the head will cause the fish to immediately lose consciousness. Quickly after, bleed the fish by the gills or by the main artery for larger fish.
Break the neck or sever the spinal cord: For small fish, a quick snap of the neck is an easy and clean way to dispatch your catch. Place the palm of your hand under the fish's neck, and with your pointer and middle fingers in the gills, pull the fish's head back quickly until you hear the neck snap. Another option, although messier, is to promptly sever the spine of the fish with a sharp knife. This method is best used on thin fish, such as flounder, as the spinal cord is easy to locate, and you don't need to cut through much else.


Conservation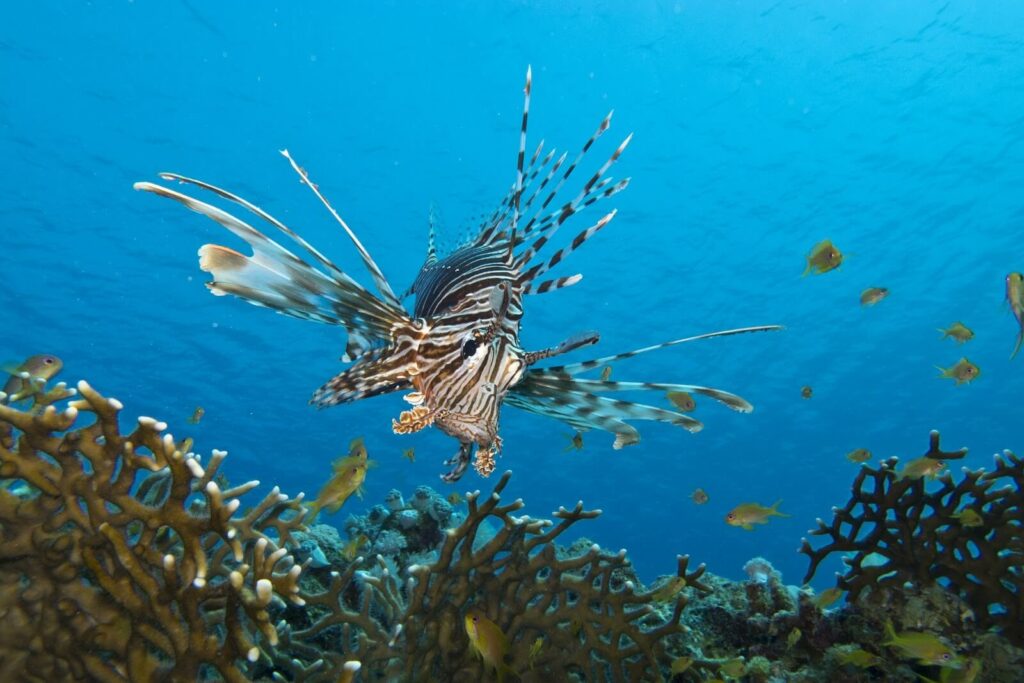 For the continuing health and production of our oceans, we as boaters and fishermen must do our part to stop the spread of invasive species while conserving species that are threatened or endangered within a region or ecosystem. It is also important to remove invasive species from an ecosystem whenever we have the chance.
To prevent the spread or introduction of invasive species to new environments and ecosystems, there are several things we can do as cruisers.
The following steps should be taken before heading to new destinations, whether it be a new island or a new country:
Inspect all surfaces, props, and anchors and remove any mud, vegetation, crustaceans, etc.
Clean all of your fishing gear, nets, waders, etc., after each use.
Dispose of any live baitfish. By taking live bait to a new location, you could end up introducing a new species to an ecosystem. Only use baitfish that are native to the area you are fishing. Historically, large populations of invasive species have started out as populations of just a few.
Report any invasive species to local conservation authorities in every location you visit. Surveying plays a vital role in the conservation efforts of individual ecosystems.
While fishing at sea, either in the open ocean or over a reef, it's important to be aware of threatened and endangered species. If you find yourself with one of these species on your hook, do your best to release the fish back into the wild. For an up-to-date list of all threatened and endangered marine species worldwide, visit NOAA's Species Directory. Be sure to check these lists for every new location you fish in.
Lastly, we can remove invasive species from the ocean and its reefs every time we get the chance. If you're spearfishing on a reef in Mexico and you spot a lionfish, that fish should be your one and only target. Not only will you be doing the reef a favor by removing it, but lionfish are also great to eat. If you enjoy white fish, you'll enjoy lionfish.


Fishing Tips and Tricks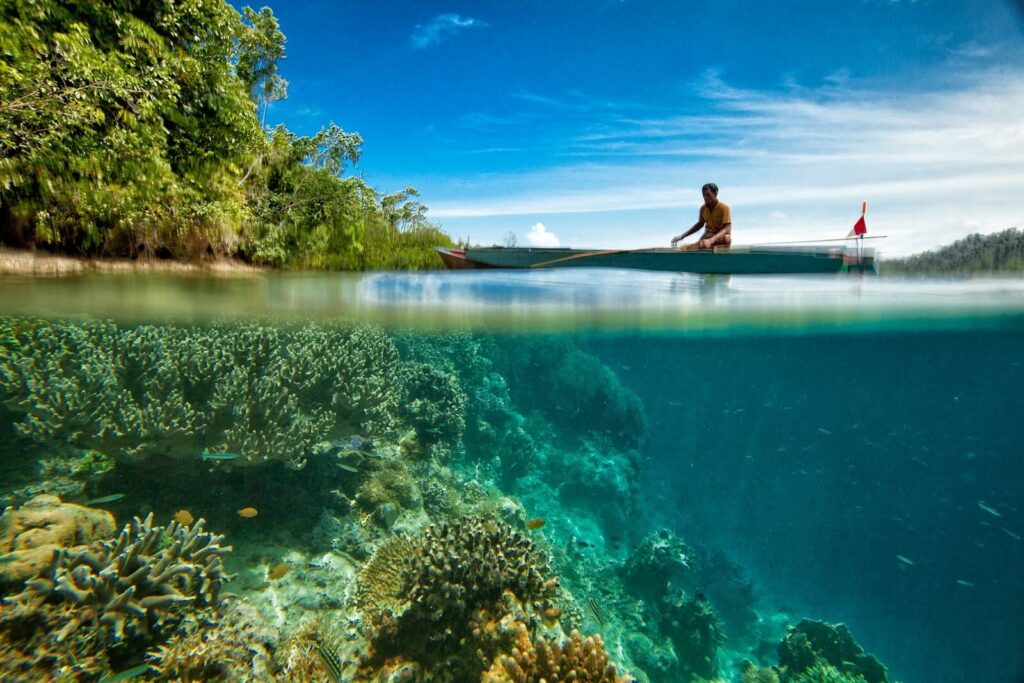 Trolling
When trolling with live-bait, troll at slower speeds so that the fish appear to be swimming naturally. Trolling too fast will drag the fish, often near or at the surface.
Switch trolling speeds and direction occasionally. Fish do not naturally swim in only one direction or at a constant speed, so switching up your method is an excellent way to mimic bait-fish more closely.

Spin-Fishing
Birds are a good indication that schooling fish may be present. If fish are schooling in an area, there's a good chance of larger predatory fish being around.
If you see floating debris in the ocean, try throwing out a line. Fish like mahi-mahi, wahoo, and tuna tend to hang around these floating structures, especially in open water.

Handlining
Never wrap a line around your hands, fingers, or any other body part. Fishing lines can cause severe damage when enough pressure is applied, with reports of flesh being cut all the way down to the bone in some instances.
After hooking a fish, let loose a bit of line from time to time when you feel the fish putting in a lot of effort. Once you sense that the fish is tired, pull the line in rapidly until the fight resumes.

Spearfishing
Start small. When starting out, practice only on the fish that you can eat. Never shoot fish that are too large to consume or that are not good for consumption in the first place. Lastly, never shoot fish just for practice. There are other ways to sharpen your skills without pointlessly taking fish from its habitat.
Invest in a freediving course to ensure your skills and safety while underwater. Never practice diving or holding your breath without a partner or a dive buddy.
Before making a dive, make sure to let out any excess air bubbles from your wetsuit. Even the smallest bubbles or noises can spook a fish.
Find a mentor, or join a club or network with other spearos so that you can stay up-to-date with everything in the spearfishing world.
Never put your hand in dark crevices, holes, or unknown areas. Much of marine life, especially on reefs, can be poisonous or venomous, and sticking your hand into places you can't see is strongly advised against.
There's nothing better than being part of a supportive and like-minded community – Join the #BoatLife public forum and get involved by starting a conversation!
If you found this article helpful, please leave a comment below, share it on social media, and subscribe to our email list.

For direct questions and comments, shoot me an email at travis@boatlife.io