Koh Phi Phi – Thailand is an idyllic island paradise located to the south of Phuket in the Andaman Sea. Situated within a national marine park, the natural beauty of these islands is astounding above and below the surface.
It's no surprise then why so many people choose to visit when cruising in Thailand. Below, we cover everything you'll need to know for boat life around Koh Phi Phi:
Visas
Ports of Entry and Exit
Weather and Seasons
Security and Emergency Contacts
Moorings and Anchorages
Provisioning
Scuba Diving
Fishing
Sightseeing
Nightlife
Nearby Destinations
*All information in this guide is accurate as of December 2020, but for up-to-date information and changes, please visit the website of your country's Embassy and Consulate in Thailand.

Visas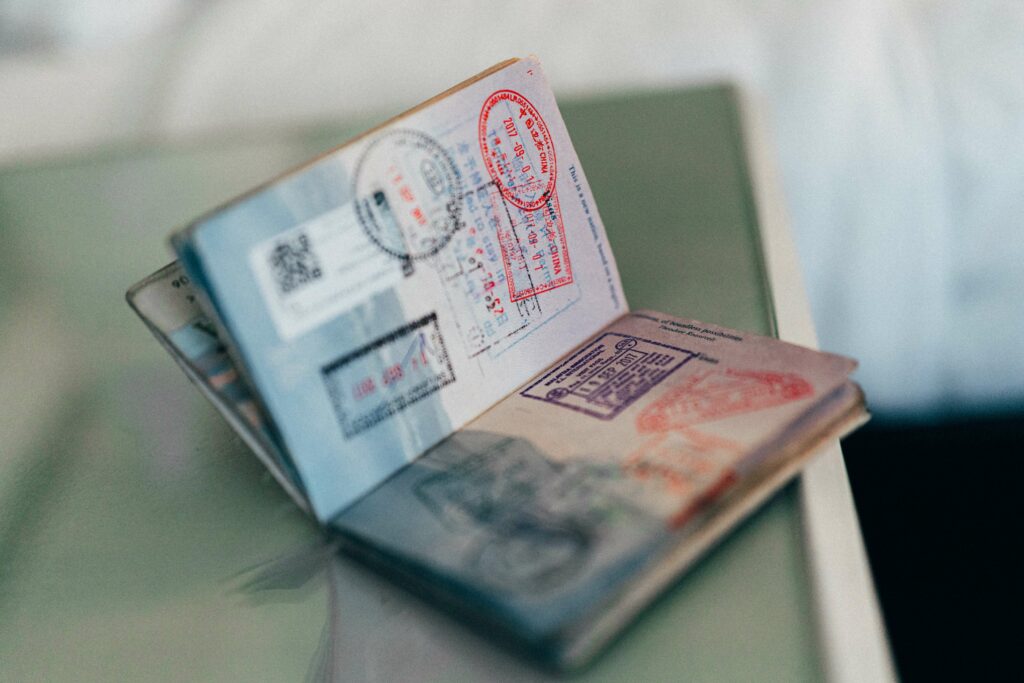 There are several types of visas available for visitors to Thailand, and the following are the most common for short-term stays:
Visa On Arrival – 30 Days:
A 30-day "visa on arrival" is available for yacht crew and passengers entering Thailand through a port of entry. While this is a hassle-free process for most, extending this visa is difficult without leaving and re-entering the country. If you plan to stay for more than thirty days, we recommend applying for a "visa in advance," which we explain in the section below.
If you overstay your 30-day visa on arrival, you will be charged a daily fine of 500 Thai Baht before you, and your vessel receive clearance to leave the country.
All yacht crew who arrive with a "visa on arrival" and wish to travel outside of Thailand without their vessel must define the dates of departure and pay a 20,000 THB security bond. The bond ensures that if you decide to overstay your visa outside of Thailand, you will be accountable for breaking the terms of stay. Any immigration office in the country can help you to arrange a bond. When you return to the country within the bond's terms, the 20,000 THB bond is refunded, minus a 200 THB processing fee.
Visa in Advance – 60 Days:
If you plan to stay in Thailand for longer than 30 days, things are made easier by applying for a "visa in advance" before your arrival. With this visa, you will receive a stamp in your passport marked "TR," and will give you 60 days in-country from the date of entry. You can then extend that visa for an additional 30 days at an immigration office for a fee of 1900 THB, or approximately $62.75.
If you arrive on a "visa in advance," you will be exempt from having to pay a bond if you wish to cross a border by land or air without your vessel.
*At all immigration offices, there is a 200-300 THB charge for clearing in and clearing out of the country. On weekends and holidays, the fee is 500 THB.

Ports of Entry and Exit
The three main ports of entry and exit for a trip to the Andaman Sea are Phuket, Krabi, and Koh Lanta. Along with immigration protocols, there are some things you will need to be aware of before entering or exiting Thai waters.
The following information is standard for all ports of entry, enforced by Thai customs:
Although rare that customs will visit tourist vessels, you must fly the "Q" flag when anchored before official procedures. The Q flag represents "Quarantine" and indicates that you are new in the country and have not officially checked in.
All crew must go to shore to complete the check-in process within 24 hours of arrival unless the immigration offices are closed for the weekend or a national holiday. Officials will expect anyone registered as crew during arrival to be leaving the country on the same boat.
If any crew onboard is planning to leave the country by air, they should check in with officials as a "passenger" rather than a "crewmember" upon arrival. Doing this will simplify paperwork when the vessel is leaving the country.
There is an option to place a 20,000 THB cash bond when someone from the crew leaves the country without the vessel; however, you may run into trouble reclaiming the bond if not initially registered as a "passenger."
Please keep in mind that the amount of time a yacht is permitted to stay in the country is not necessarily the same as crew visas. At this time, boats can operate in Thailand for up to six months, or one year if berthed at a marina.
*Entering through customs is free during the week, but expect a fee of 800 THB on weekends and holidays.
*When clearing departure customs during the week, expect to pay a fee of 200-300 THB. On weekends and holidays, the fee is 1000 THB.
*Note: When entering the country through Phuket, all yachts are required to have an AIS, or Automatic Identification System, which tracks your movements to ensure you don't break immigration laws. Not having an AIS can result in hefty fines, so be prepared before entering through Phuket.
Once in the country, all yachts must complete domestic clearance with a harbormaster in each province. Clearance will be verified at each province and given to the next harbormaster when traveling onward. In Krabi, you will receive a 5000 THB fine if you are not checking in from a previous point of clearance, although each harbormaster will treat this differently.
Documents Needed
Checking In:

Customs Declaration Form
Ship Registration + 1 Copy
Passports of All Crew and Passengers + 1 Copy
Clearance Document from Last Port + 1 Copy
AIS Certificate + 1 Copy
Checking Out:

Customs Declaration Form
Harbor General Declaration Form
Ship Registration + 1 Copy
Passports of All Crew and Passengers + 1 Copy
Clearance Document from Last Port + 1 Copy
AIS Certificate + 1 Copy
*Harbormasters charge 100 THB for any visit and are notorious for "not having change for large bills," so come prepared with small bills.

Weather and Seasons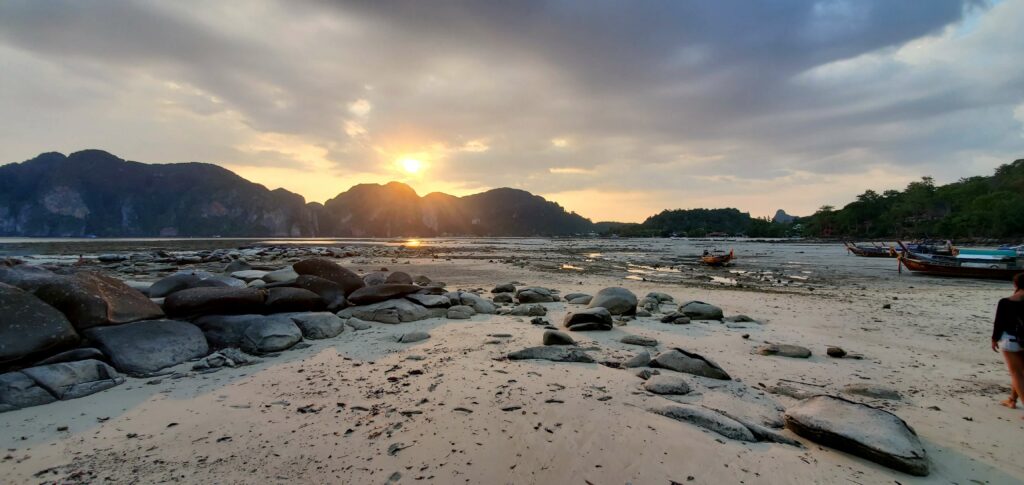 Southern Thailand is located near the equator and outside of the cyclone zones of the Pacific and Indian oceans, making it accessible by boat year-round. There are two general seasons for any location in Thailand, the monsoon season and the dry season. These seasons are classified as the southwest monsoon and the northeast monsoon, bringing wind and heavy rains to different parts of the country throughout the year.
Between May and October, the southwest monsoon brings a bit more rain and wind to the Phi Phi islands and the Andaman Sea. Yes, the weather is relatively worse this time of year; however, it is still accessible and enjoyable outside of the occasional severe storms. Most often, rains only last for an hour or two, with the rest of the day consisting of sunny skies.
The exception to this rule would be near the unsheltered Similan Islands, where weather and surface conditions can get intense and dangerous. During the southwest monsoon, the Similan Islands are closed to visitors.

Security and Emergency Contacts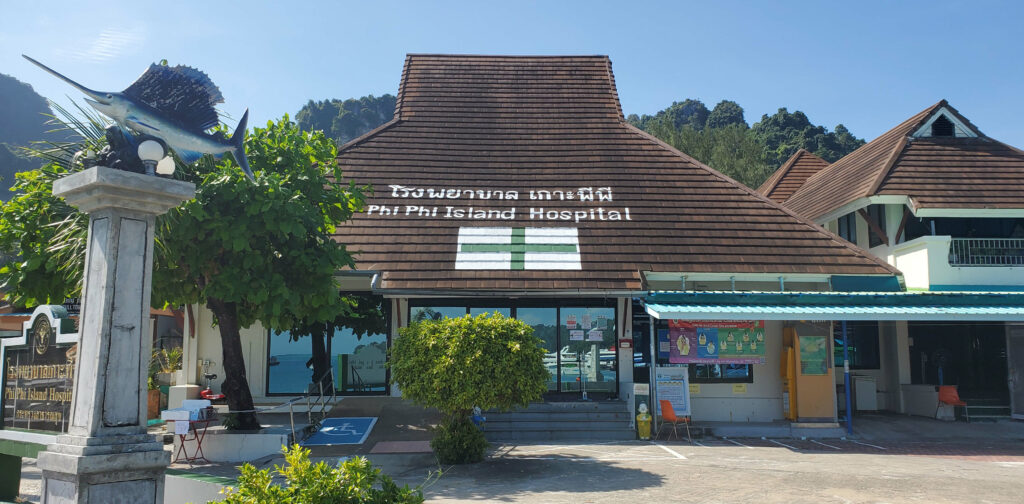 Reports of theft or attacks have been scarce throughout Thailand in the past, and there is no reason to expect a change. As with anywhere, you should keep an eye on your dinghies and outboard motors, as they are easy targets for burglars. Try to keep your outboard motors out of easy reach, and be mindful of where you are anchoring. With that said, Thailand is about as safe as anywhere, and only standard precautions are necessary.
You can reach Thai emergency services, as stated below:
Phi Phi Hospital: Dial 949 344 611

Address: 25/1 Moo 7, Ao Nang, A Muang, Krabi 81000

Police and General Emergency: Dial 191
Marine Police: Dial 076 218 831
Ambulance and Rescue: Dial 1554
Channel 16 on Your VHF-FM Radio
DAN Emergency Services: Dial 919 684 9111
Phuket Hyperbaric Chamber: Dial 081 081 9000

Address: 44/1, Moo 5, Chalermprakiat Ror 9, Vichit, Mueung, Phuket, 83000

Moorings and Anchorages
Depending on the time of year, there are multiple options available for mooring or anchoring. Almost all sites listed below are accessible during the northeast monsoon, and that list shrinks slightly during the southwest monsoon. During the northeast monsoon, winds generally blow west, while during the southwest monsoon, they blow east. Below, we cover your options in detail to help you choose the best site for your needs.

Koh Phi Phi Don
Tonsai Bay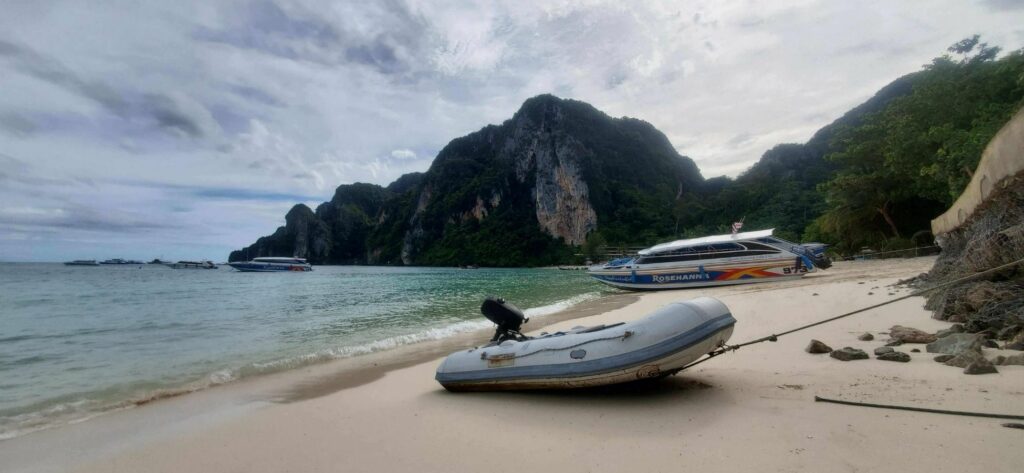 Tonsai Bay is the central transit zone at Koh Phi Phi Don. There is a considerably large anchorage on the bay's west side, and dozens of mooring lines scattered about. Depending on the time of year, you may or may not have trouble finding yourself a mooring line, but there is usually plenty of space at the anchorage. When anchoring, make sure to give yourself plenty of space between other vessels, and don't drop your anchor in less than 10 meters of water. Tonsai Bay is accessible and safe year-round, sheltered by the large semi-circle shape of the island. On the eastern edge of the bay, tides rise and fall from 2 to 20 meters, so be mindful of your route during transit.
When coming to shore, use the beach near the west end of the bay. The beach is a popular spot for swimming and snorkeling, though, so be cautious of people in the water while approaching. When possible, try to give the right of way to the bigger and faster moving tour boats operated by the locals. Never use the area directly next to the pier, as traffic is constant and reserved for ferries, cargo boats, and long-tails.
Laemtong Beach (East)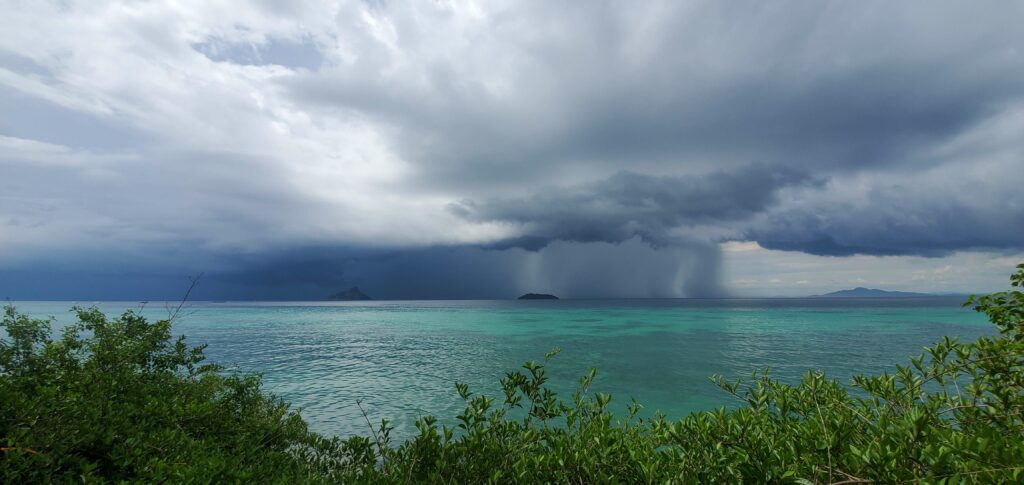 Laemtong Beach is a quiet location on the northeastern tip of Koh Phi Phi Don. This site is ideal during the southwest monsoon due to the shallow reef that extends about 200 meters from shore. If anchoring during the northeast monsoon, be sure to give yourself plenty of room between your vessel and the reef during slack tide. There are currently no mooring lines in the area, but anchoring is possible outside of the reef at a minimum depth of 15 meters.
This area of the island is called "Gypsy Sea VIllage," and here you can find small seaside restaurants, shops, and a dive center. The beach is long, quiet, and mostly unsheltered from the sun, and is a good location to swim and snorkel during high tide. There's also a five-star resort called Zeavola Resort & Spa for those who want to spend a nice night ashore.
Loh Ba Kao Bay (East)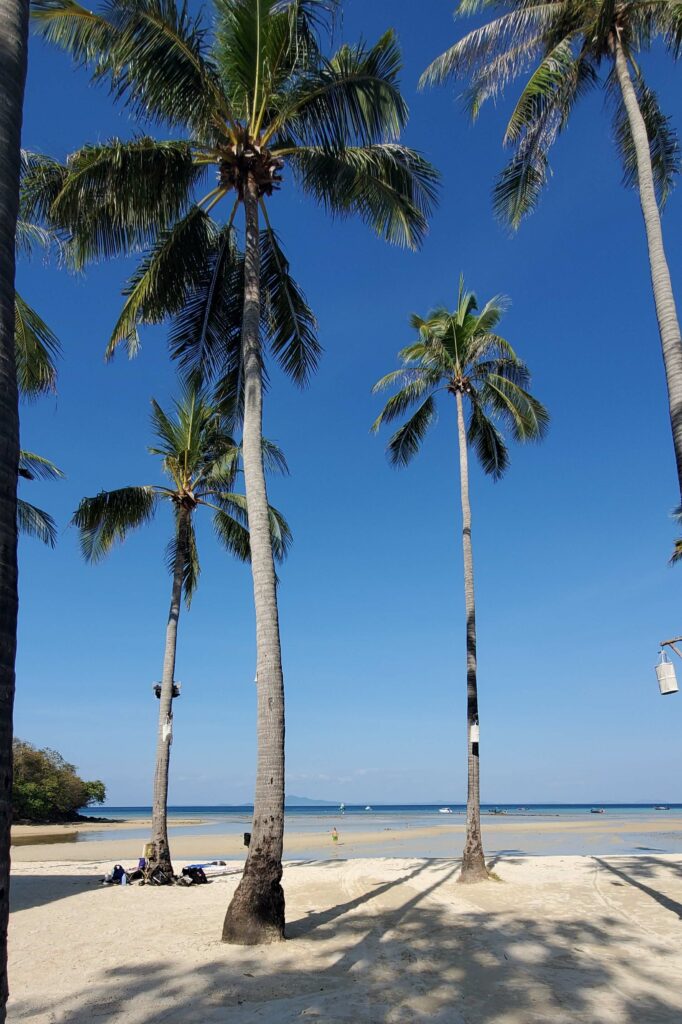 Situated right outside of Phi Phi Island Village, Loh Ba Kao Bay is an idyllic beach area accessible in either season. Be cautious when anchoring during the northeast monsoon, though, as slack tide coupled with eastern winds can bring your boat too far towards shore.
There is usually a buoy line to mark the anchoring boundary, but 15-20 meters of water should be sufficient. The bay acts as an inlet for the mangroves in the village, so rip currents can be quite strong during the transition to slack tide. Be sure to allow plenty of room between you any other boats when anchored.
On shore, you can find a few excellent beach resorts, a bar and restaurant, and some shaded space to relax. For more of a local vibe, walk back into the village to find several small Thai restaurants, a dive center, and a few shops to buy alcohol or snacks. If you want to go for a short excursion, head to the southernmost part of the beach and find the stairs leading up to the hotel. After you reach the hotel, keep following the path until you get to the abandoned resort that was destroyed during the 2004 Tsunami. The views are incredible from this area, but be careful when inside of these structurally questionable units.
Phak Nam Bay (East)
Situated to the south of Loh Ba Kao Bay, Phak Nam is a quiet beach area accessible year-round. As with the rest of the island's east coast, slack tide exposes the reef considerably, so be sure to anchor in no less than 15 meters of water. Be cautious of eastern winds during the northeast monsoon.
The reef here makes this area one of the best places on the island for snorkeling and freediving. Snorkeling on the reef is stress-free during high tide, but slack tide brings the water to pretty shallow depths. About 200 meters from shore, the shallow sprawling reef drops off at a ridgeline, and this is where you can snorkel during low tide.
On the beach, Relax Resort offers reasonable accommodation and a nice restaurant and bar. For a short excursion, follow the signs that lead you through the jungle to Viewpoint 4, where you can see across the sea to the mainland on a clear day.
Loh Lana Bay (West)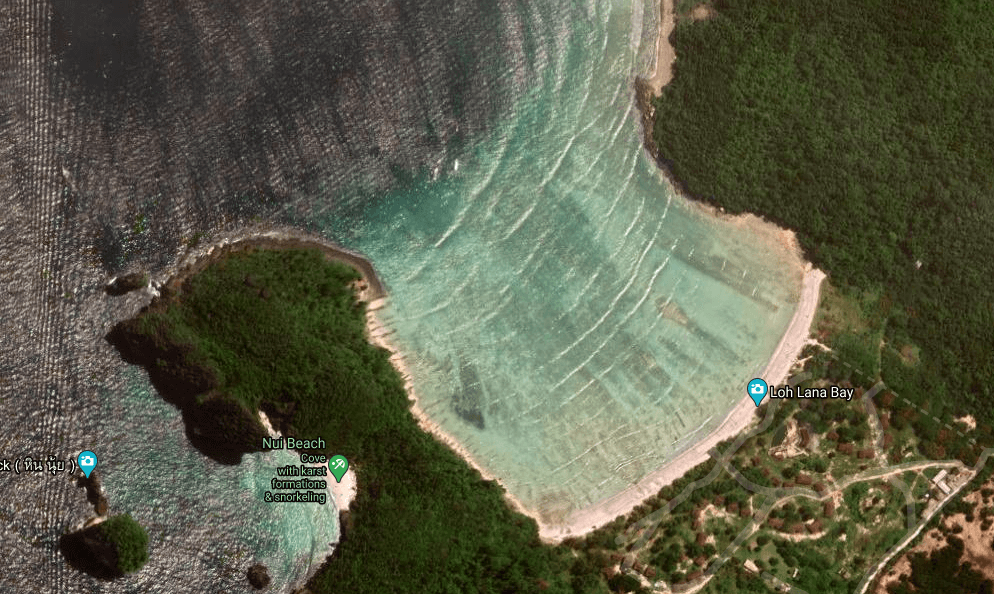 Loh Lana is a large, secluded, and shallow bay on the west side of Koh Phi Phi Don. While the bay is nearly inaccessible during low tide, you can anchor just outside of it on the north end. Make sure to drop your anchor in at least 15 meters of water, and although the bay does provide a natural shelter from harsh conditions, be mindful of wind direction and proximity to other boats.
The beach area is quiet and shaded, but there aren't any hotels, restaurants, or facilities nearby. This area is a junction for different parts of the island, so it's an ideal spot to base yourself when exploring. Along the southeastern wall, there are signs that lead you into the jungle and over the hill to Nui Bay. If you want to head to the east side of the island, simply follow the signs that lead you there. If you plan to hike through the jungle, strap-on sandals or closed-toe shoes are best; avoid flip-flops in case of rain and rough terrain. Pack plenty of water, and don't forget to bring mosquito repellant.
Nui Bay (West)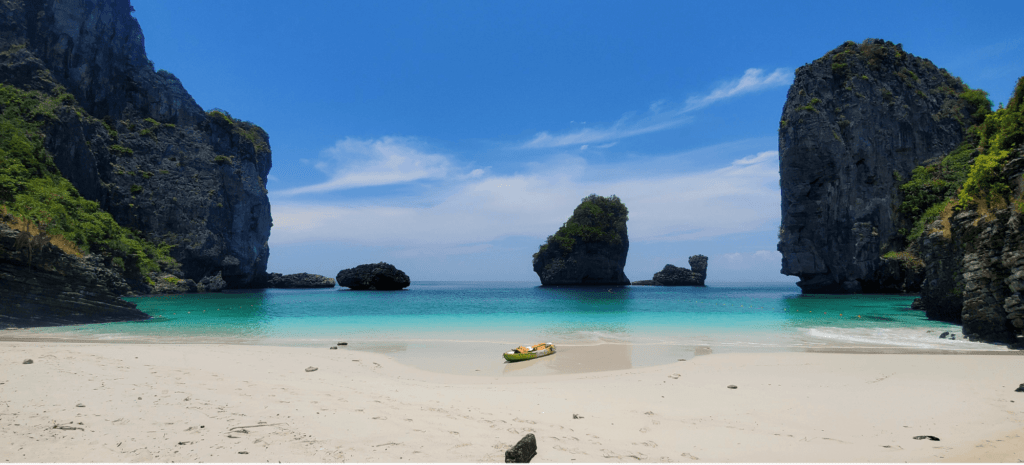 Nui Bay is arguably the most beautiful area in all of the Phi Phi Islands. There is an exposed pinnacle called Nui Rock directly outside of the bay, which a few boats can anchor around. Be sure not to hold too close to the rock, though, as there is a beautiful coral reef that an anchor could easily damage. Do not anchor in less than 15 meters depth, and be cautious of the longtail and tour boats that frequent the bay.
The snorkeling and freediving in the bay are fantastic, but again, be mindful of longtails and tour boats. Try to snorkel behind the buoy lines that separate the swimming and boating areas. If freediving outside of the buoys, always use a diver flag to indicate your position in the water. There are no hotels, restaurants, or facilities in the small bay, so come prepared with everything you'll need for an enjoyable afternoon.
Monkey Beach (West)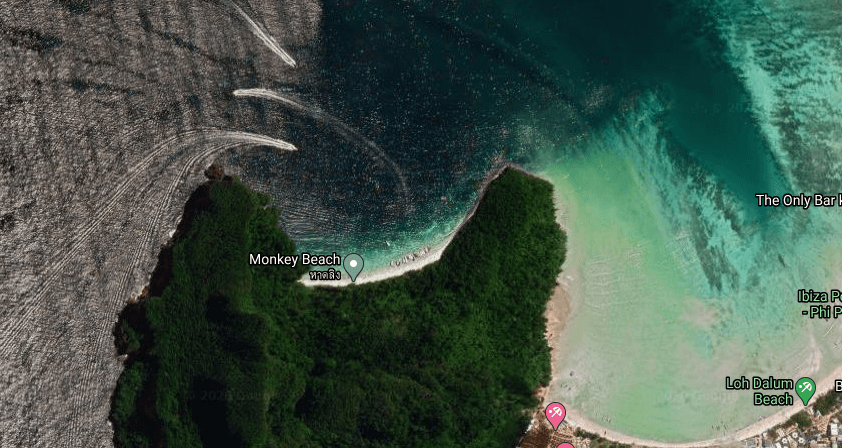 Not to be confused with the popular tourist hotspot in Tonsai Bay, this semi-secluded inlet on the island's west side is accessible in either season. There is a coral reef running parallel with the beach, so anchor in at least 15 meters of water to avoid contact during slack tide.
There are no facilities here, but the bay is beautiful and is an excellent spot for snorkeling or swimming. The monkeys can be aggressive, so use caution when interacting with them. Directly to the east of the bay, Loh Dalum Beach has restaurants, bars, and shops, but unless you are coming to shore for a short time at high tide, do not try to access the beach.

Koh Phi Phi Lee
Maya Bay (West)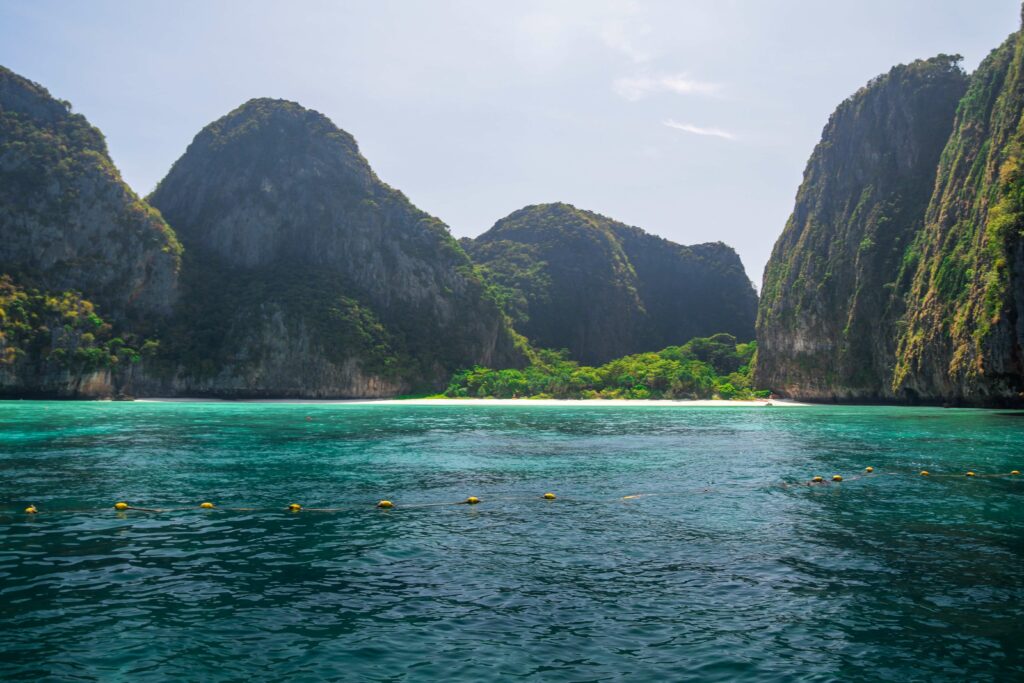 Situated on the west side of Koh Phi Phi Lee, Maya Bay is an iconic destination for anyone visiting the islands. During the northeast monsoon, conditions allow boats to pick up an existing mooring line for a few hours or even overnight. Because of the ongoing rehabilitation and conservation efforts in the bay, there is a strict "no anchor" policy enforced by the Marine Police. If there are no mooring lines available, you must anchor your boat at a minimum distance of 20 meters outside the bay. Be aware that this area can be quite choppy at times, so you may want to reconsider staying overnight if conditions are less than ideal.

Provisioning
Koh Phi Phi Don is a relatively small island, so provisioning resources do not stack up to what is available in nearby Phuket or Krabi. If you do need something while you're on Koh Phi Phi, however, you can find the basics with ease.
Fuel
To purchase small amounts of fuel for things like your outboard or generator, take your dinghy to the small beach shop just east of Tonsai pier. For reference, the shop is directly east of the iconic turquoise marlin statue seen when heading to shore. Although they don't keep large quantities of fuel on hand, you can make sizable orders which will arrive from the mainland in 1-3 days. The shop also sells engine oil, drive belts, and other general supplies.
Food and Supplies
For food and supplies, there are a few options available in Tonsai Village. While you will not find all-inclusive grocery stores like Tesco or Big-C, you can resupply here with the basics.
Phasaow is the village's main grocery store, and they sell fresh meats, produce, alcohol, frozen fish, and pre-packaged dry goods. It's also one of the cheapest places on the island to buy alcohol, so if you need to restock your booze and can't wait until Krabi or Phuket, Phasaow is a good option. In the back of the shop, you can find cookware, dish soap, cleaning tools, hardware, pest control items, and much more.
If you need clothing, sunglasses, or basic electronics, walk down the main street leading to and from the pier in Tonsai Bay. Don't be afraid to haggle over cost, as the original quote is usually about 1.5 times the amount of a reasonably negotiated price.

Scuba Diving
Compared to Koh Phi Phi, places like Koh Tao in the Gulf tend to get more attention from divers due to low prices and an abundance of dive shops. However, experienced divers often prefer diving in the Andaman Sea over the Gulf of Thailand for various reasons. For one, Koh Phi Phi's colorful reefs, calm water, and schooling fish make the dive sites an underwater photographer's paradise – especially for beginners.
Below, we discuss everything you'll need to know about the best dive sites around Koh Phi Phi Thailand:
Bida Nok
Bida Nai
Viking Cave
Malong
Palong
Kled Gaeow Wreck
Garang Heng
Most of Koh Phi Phi's Thailand dive sites are part of the national marine park, and visiting will require you to purchase a daily marine park pass. The cost is 400 THB for a single day, or 600 THB for two days.
If you want to take a dive course, or simply have a local dive guide – you may want to visit a dive shop on the island. Princess Divers is easily one the best on the island. Mention us over here at #BoatLife when you speak with Roger or Sal.
Bida Nok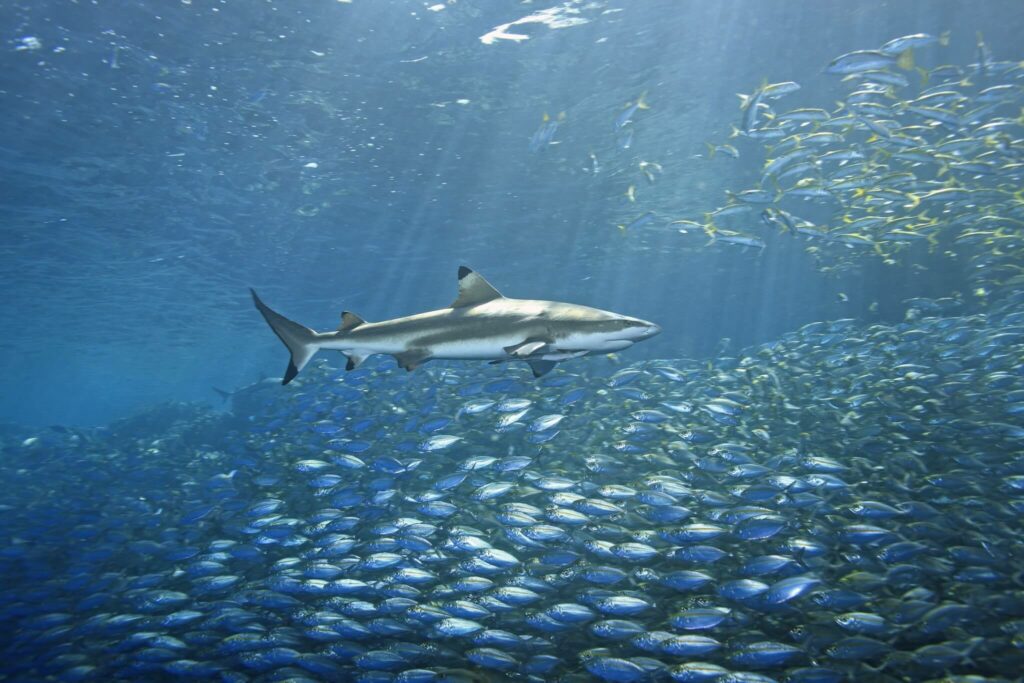 If you ask a local diver on Koh Phi Phi which dive site is their favorite, nine out of ten will answer "Bida Nok," without hesitation. About a 25-minute boat ride from Tonsai Bay, Bida Nok, and Bida Nai sit to the south of Phi Phi Lee and offer some of the best diving around the islands.
These sites are accessible year-round; however, conditions can be rough during the southwest monsoon. You can snorkel over the shallow reef in the bay, but be cautious of the swells when conditions get rough.
With depths reaching just under 30 meters on the northwest side of the island and as shallow as just a few meters at the south of the island, Bida Nok truly has something to offer for every level of diver. Currents are generally mild, but if they do get a bit strong for your liking, it's easy to find sheltered areas to relax and enjoy your dive.
Since the island is so far away from the mainland, there is little surface runoff or other land factors that reduce water clarity. Typically, conditions will allow for 10-25 meters of visibility.
The cliffs of Bida Nok drop dramatically into the water, where under the surface, they transform into coral-encrusted walls that taper out to the seafloor. Along these walls, you'll find giant gorgonian sea fans, clams, honeycomb moray eels, and colorful nudibranchs, just to name a few. The coral gardens are just as captivating, and you will frequently spot boxfish, angelfish, and giant pufferfish among the barrel sponges and staghorn corals.
Highlight: Bida Nok Bay and Finger Reef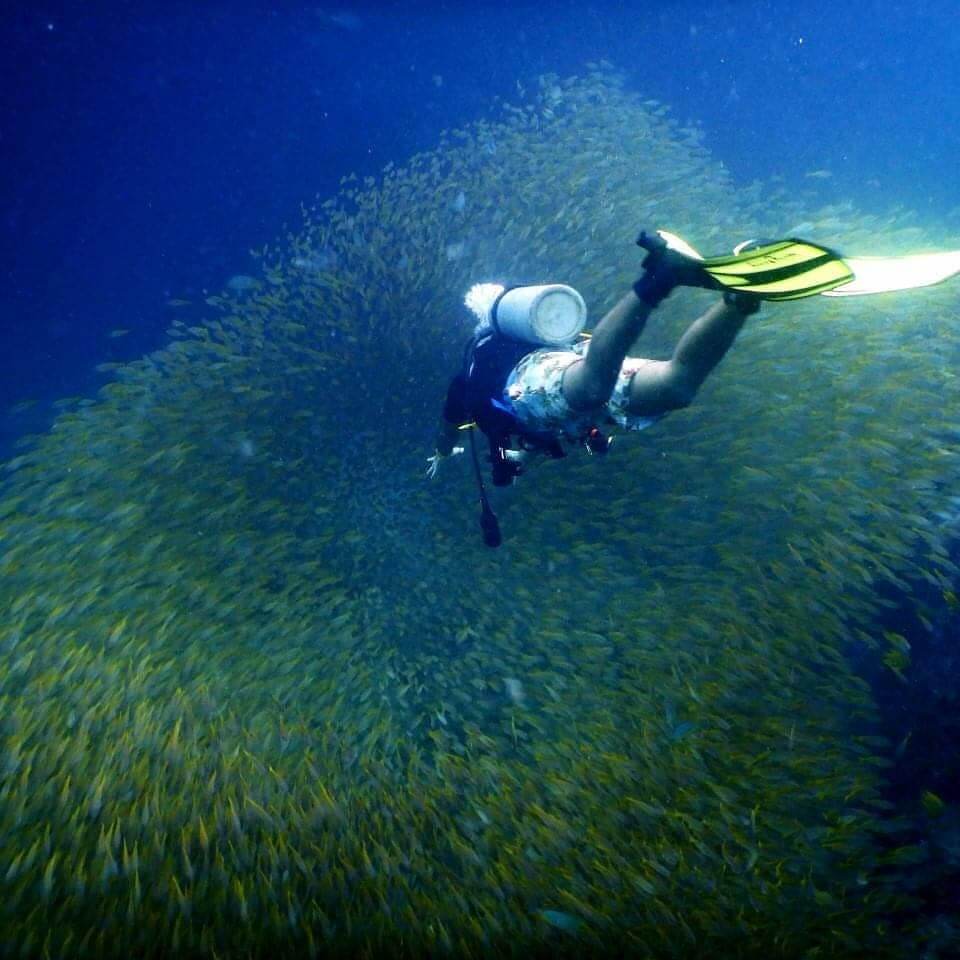 The main bay and reef at the south of the island is a favorite of most, and for good reason. Along the shallow bay's outer walls is the best place to see blacktip reef sharks, so many divers like to begin their dive here.
After exploring the bay, follow the reef due south to reach "Finger Reef," one of the most beautiful areas on the dive site. Finger reef slowly descends as you head south, reaching a dropoff at about 12 meters depth.
Along this reef, you can frequently spot hawksbill turtles, banded sea kraits, and giant schools of yellow snapper. When you come across the large masses of yellow snapper, slowly approach and swim into them. If you can manage your buoyancy and remain calm, the school will swallow you whole, blocking out the light from every direction – a truly amazing experience. Continuing along the reef, make sure to search the cracks and crevices for giant moray eels, mantis shrimp, and the occasional octopus.
Bida Nai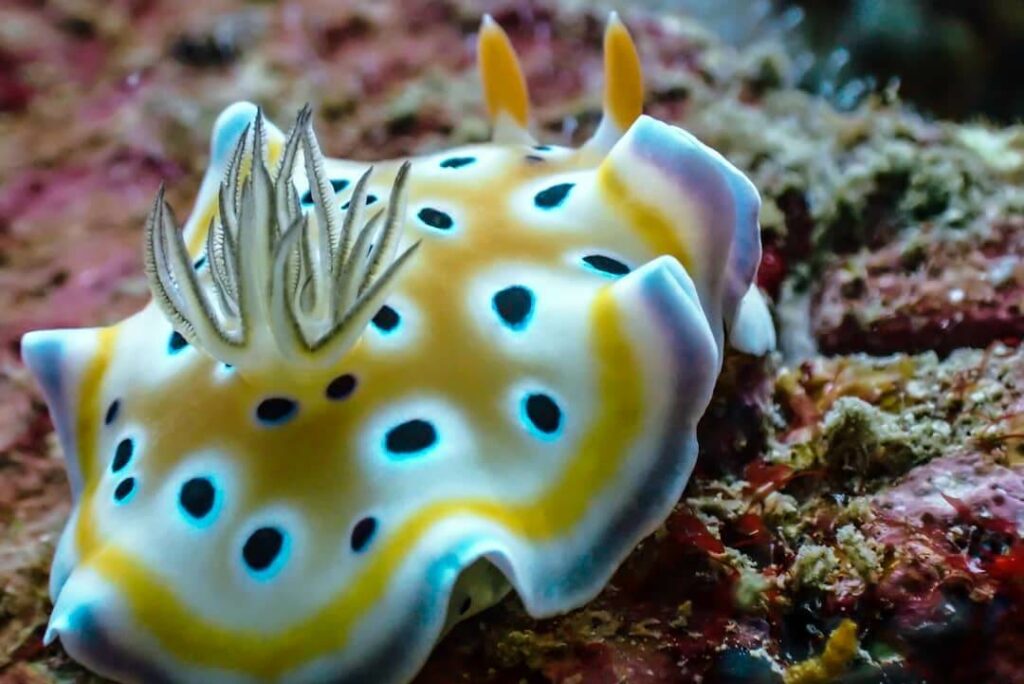 Bida Nai is the sister island of Bida Nok, so it should come as no surprise to know that it's another fantastic dive site and a favorite of many. The main difference between the two islands is the absence of a central bay at Bida Nai.
Since Bida Nai sits just north of Bida Nok, accessibility and conditions are similar throughout the year. However, currents tend to be stronger at Bida Nai, so it's best to do a current check from the boat before jumping in. As long as conditions allow, you can easily enjoy the island's shallow southern reefs from the surface with a mask and snorkel.
The island's northern wall is deep, mostly unsheltered, and stunningly painted with corals and sponges. Carefully inspect the wall for some of the more unique nudibranchs found around the islands, and watch for blue-spotted stingrays in the sand below.
Highlight: Fantasy Reef
Fantasy Reef is an area directly southeast of the main island. Here, a massive group of staghorn corals sits next to a rock formation covered in hard corals, soft corals, sponges, and sea fans. There is a large swim-through here, which makes for a pretty incredible photo opportunity. Just outside of the swim-through on either side is one of the few places around Phi Phi in which you can spot ghost pipefish and seahorses.
Leopard sharks like to lounge in the sand around this area, so be sure to occasionally scan the reef's outer edges. Large schools of trevally, jacks, and yellow snapper are very common, as are giant marbled grouper, pufferfish, and moray eels.
Viking Cave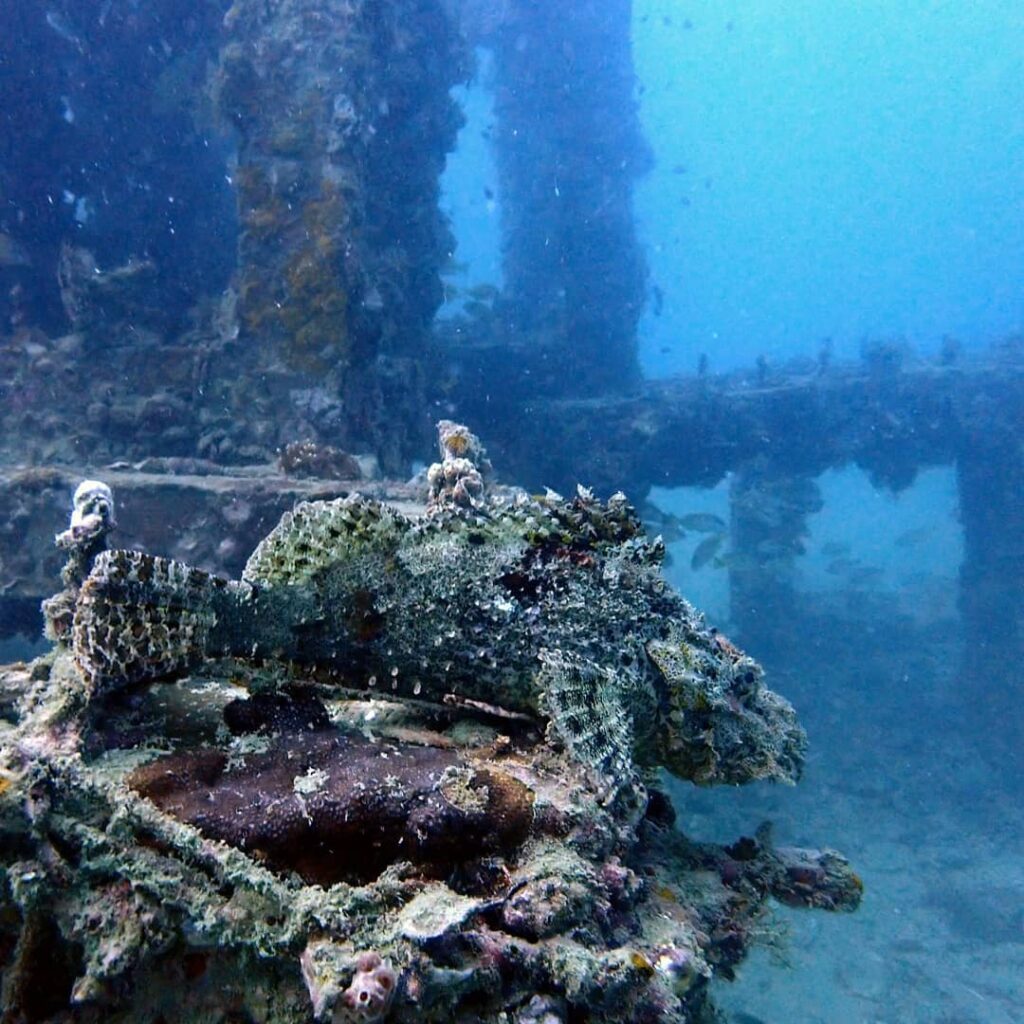 Viking Cave is a staple dive site on the northeastern edge of Koh Phi Phi Lee and is home to the island's largest artificial reef and coral nursery.
The natural reef here begins right inside of the small bay located to the north of Viking Cave.
The reef starts at only a few meters but extends out to depths exceeding 25.
This dive site is accessible year-round, as the island to the west provides adequate shelter from rough surface conditions. Currents at this site are mild to negligible, making it a great dive site for any level of diver, snorkeler, or swimmer. During low tide, a small beach stretch is exposed under the cliffs inside the bay, making for a good shaded location to relax.
The reefs here are less dramatic than Bida Nok and Bida Nai, sprawling out over large areas rather than dropping straight down from the cliffs. There is a small "coral garden" at the center of the dive site at about 12 meters depth, which is home to mantis shrimp, moray eels, and clownfish. The area is densely packed with coral, making it a worthwhile area to explore for a good part of the dive.
Highlight: Artificial Reef
In 2006, marine conservation officials created an artificial structure made of hollow concrete cubes to boost the marine ecosystem. Since then, an artificial reef has established itself, bringing a diverse set of marine life to the area. Swimming along the cubes, you are sure to see clownfish, giant barracuda, and groupers. The cubes are also home to a few resident scorpionfish, one of the world's most venomous fish. Thousands of tiny glassfish gather inside the cube structures and make for a cool reflective show, so don't forget your dive torch on the boat. The artificial reef extends from approximately 12 to 22 meters deep, and is very easy to navigate. Since sea urchins, lionfish, and scorpionfish call the cubes home, it's best not to swim through them.
Malong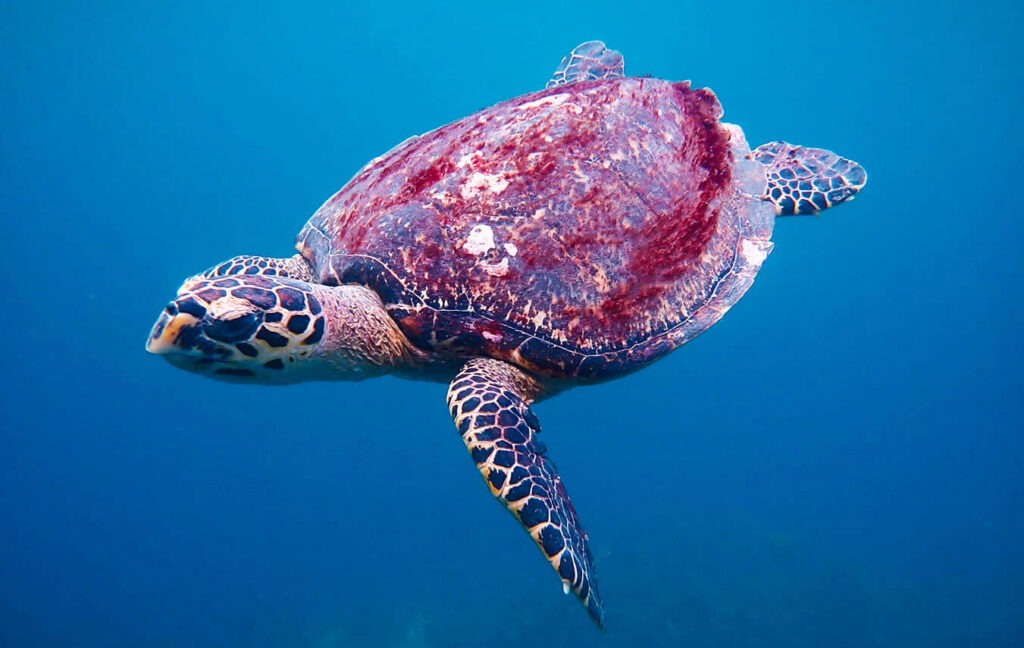 Noted as the best dive site to spot green and hawksbill sea turtles, Malong sits at the outer edge of the famous Maya Bay on the western side of Koh Phi Phi Lee. The reef here is relatively shallow, starting around 5 meters and extending out to about 16. There is a small inlet along the wall, which is a good place to start your dive. Spend a few minutes exploring the tiny cave with your dive torch, and then head for the swim-through directly to the south.
Malong's conditions are best in the high season during the northeast monsoon; however, conditions can allow for good diving at all points throughout the year. Currents are generally negligible, and visibility is typically somewhere between 10 and 20 meters. Snorkelers and freedivers will enjoy the area around the corner directly to the south on the outer edge of Maya Bay's northwest corner.
Keep an eye on the wall beneath the cliffs if you want to spot blacktip reef sharks, while turtles can be found anywhere on the dive site. Malong is also the dive site with the greatest abundance of nudibranchs, and you can often find them in pairs or trios on the reef.
Highlight: Swim-throughs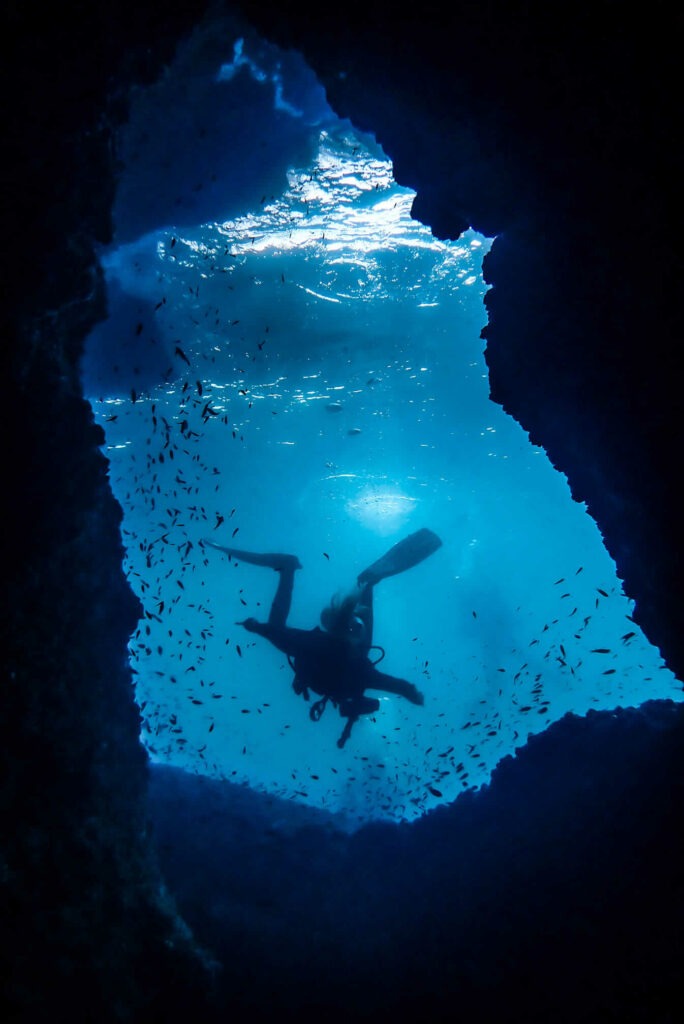 Malong is home to four different swim-throughs scattered across the site, making it one of the best places to practice your buoyancy skills around the Islands. Be cautious of sea urchins and lionfish when moving through, and watch your head while inside the swim-throughs.
One swim-through is at the southern edge of the dive site near the wall, with the other three scattered across the area to the north. Happy hunting!
Palong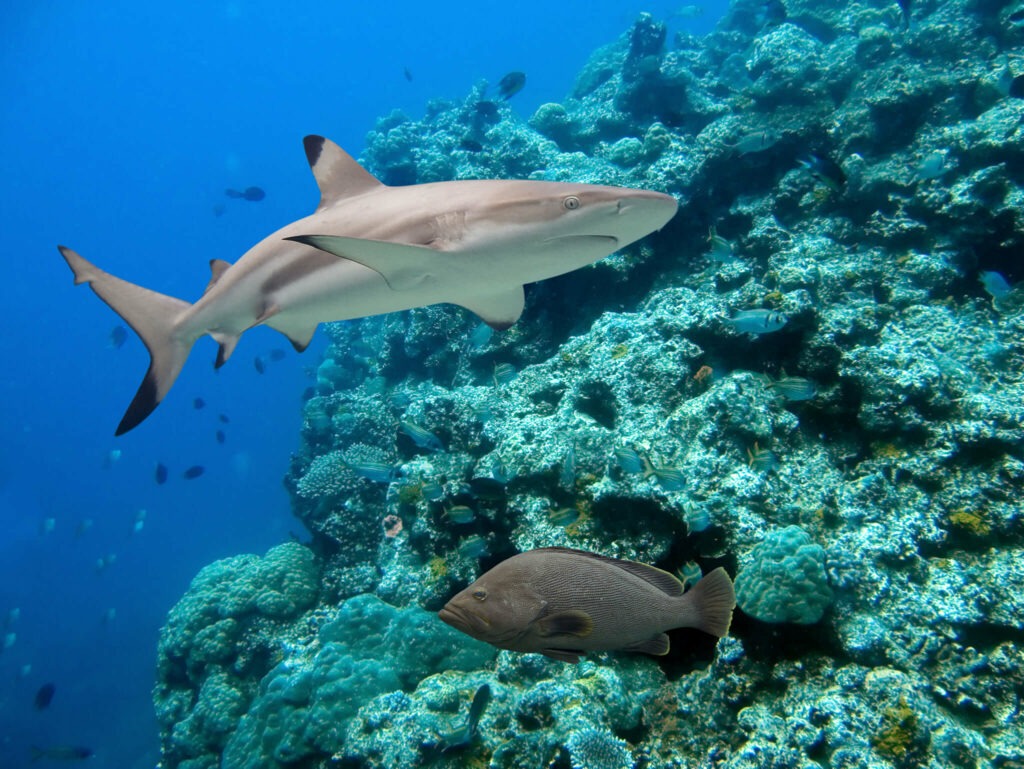 Palong is the dive site directly to the north of Malong, and really, these sites are just extensions of one another. Palong has a large, flat shelf between 5 and 8 meters and is the best place to see large numbers of blacktip reef sharks. Here, you can frequently spot several of them throughout a dive, so keep your eyes peeled when on the shelf. The site reaches out gradually, bringing a maximum depth of about 16 meters.
While currents are generally very mild, the swells near the wall and at the shelf can get quite harsh. For this reason, snorkelers will have a harder time enjoying this site unless the conditions are favorable. Visibility varies but is commonly between 10 and 20 meters. For the most sunlight during a dive, visit this sight in the afternoon instead of the morning.
Keep an eye out for banded sea kraits, cuttlefish, and the occasional octopus anywhere along the reef. Nearing the end of the dive, you will reach a large rock that nearly reaches the surface, which is a good spot for your safety stop due to the protection from the surge.
Highlight: Blacktips Along the Shelf
If you have the time to dive this site more than once, you could easily spend an hour along the shelf, exploring the well-lit area and watching for blacktips. If you're lucky, you can spot over a dozen blacktips in a single dive.
Kled Gaeow Wreck
Kled Gaeow is Koh Phi Phi's local wreck and is one of the few dive sites that isn't near a large island or land formation. The wreck starts at a depth of approximately 16 meters and reaches the sea floor at about 28. For this reason, this site is only suitable for advanced divers and is not accessible for snorkelers.
Currents here can be powerful near the surface. There is a buoy and rope connected to the ship, which you should use to descend if the current is anything other than negligible. While currents near the surface can be strong, they are much more manageable near the bottom. Conditions vary drastically here, and visibility can range from anywhere between 3 and 25 meters.
The ship has become home to various marine life over the years, and you will commonly find scorpionfish, lionfish, grouper, barracuda, and trevally hanging inside and outside the sunken vessel.
Highlight: Penetrating the Wreck
If you are certified with your wreck specialty, you can penetrate the wreck to explore its inner rooms. Be sure always to use the proper techniques and equipment when penetrating a wreck, and always dive with a buddy.
Garang Heng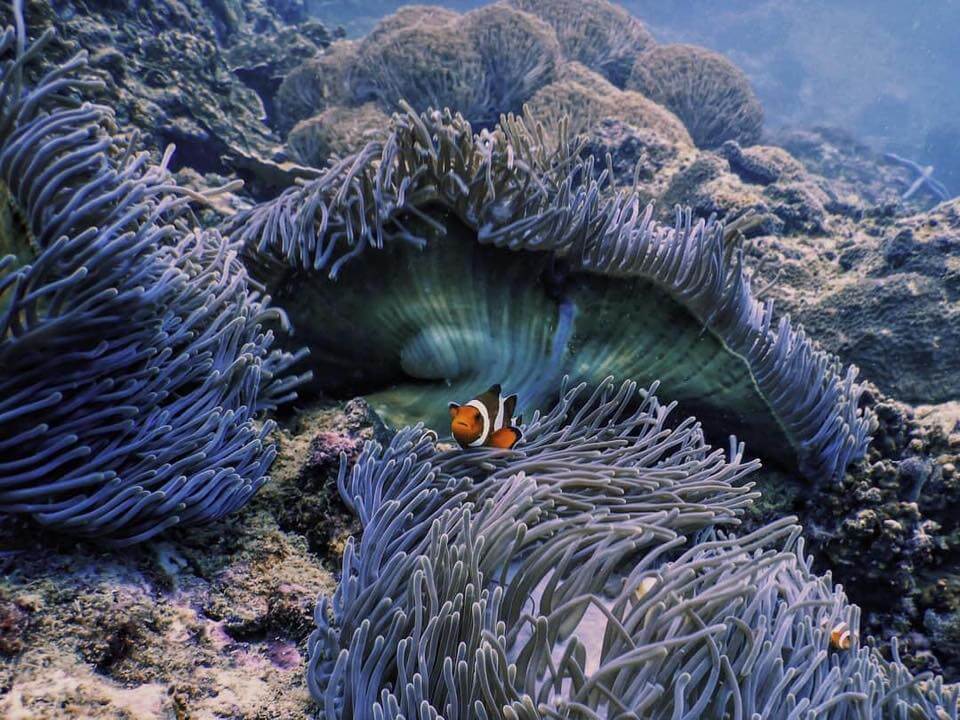 Garang Heng is an underwater pinnacle that is almost entirely covered in soft corals and is one of the most beautiful and unique dive sites that Phi Phi has to offer.
The site is relatively unsheltered, and the sea's currents make the soft corals look as though they're blowing in the wind.
Gareng heng is also home to several resident leopard sharks, so keep an eye out along the sandy bottom for a chance to spot one.
Currents at this site can be unpredictable and occasionally strong due to the lack of shelter in the area. Although this site can be suitable for both entry-level and advanced divers, strong currents can make for a challenging dive. Conditions here vary widely, and you can expect 10 to 25 meters of visibility when diving on a nice day.
The soft corals on this site are home to a ton of clownfish and huge schools of yellow snapper that drift with the passing currents. Blue-spotted stingrays, pipefish, and turtles all frequent Garang Heng, but the biggest attraction is the sheer abundance of soft corals on the pinnacle.
Highlight: Leopard Sharks
At about 14 – 16 meters around the circular pinnacle, you have a relatively good chance to see leopard sharks lounging on the seafloor or sweeping the sand for shrimp, crabs, and clams. Garang Heng offers the best opportunity to see these creatures around Koh Phi Phi, so don't miss the chance when you visit the area.

Fishing
Since the islands of Koh Phi Phi are part of the national marine park, the law states that you cannot fish under any circumstance. However, you can fish just outside of the marine park boundary, although it's hard to know just where that boundary lies. The best bet is not to fish around the islands unless you have verbal permission from the marine police. The police station is on the main road of Koh Phi Phi Don, heading east from Tonsai Pier.

Sightseeing
Maya Bay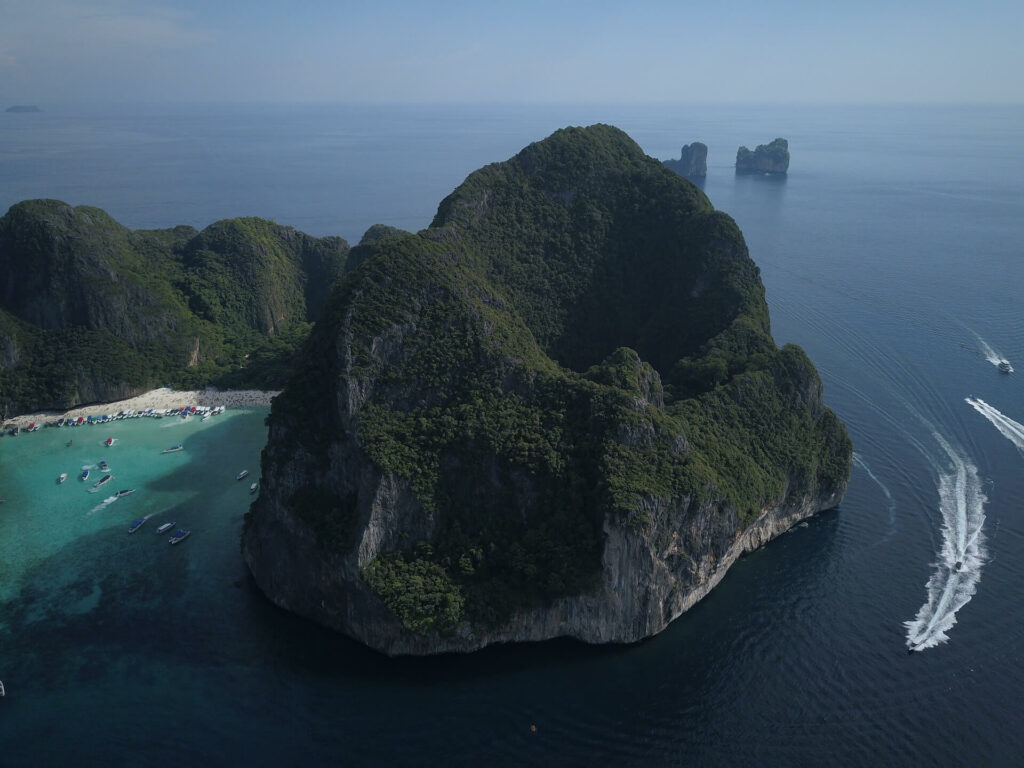 Made famous by Leonardo DiCaprio in the movie "The Beach," Maya Bay is one of the most popular attractions around the Phi Phi Islands, and for good reason. Maya Bay is gorgeous, and while it has been closed since June 2018, it will re-open to a limited number of daily tourists in 2021. On the east side of the island in Loh Samah Bay, a pier is under construction, which will allow tourists to walk west through a short stretch of jungle to reach Maya Bay.
Maya bay is one of the best locations around the islands to watch a sunset, so show up early and get yourself a mooring line before they're all taken. While you wait for sunset, you can snorkel and freedive along the Bay walls for a chance to see blacktip reef sharks, turtles, and various reef fish. Dive sites Malong and Palong are just around the corner, so consider starting your day with a dive or two. Dive boats begin to arrive around 8 AM, so be sure to get under the water before then for a truly unique diving experience.
Pileh Lagoon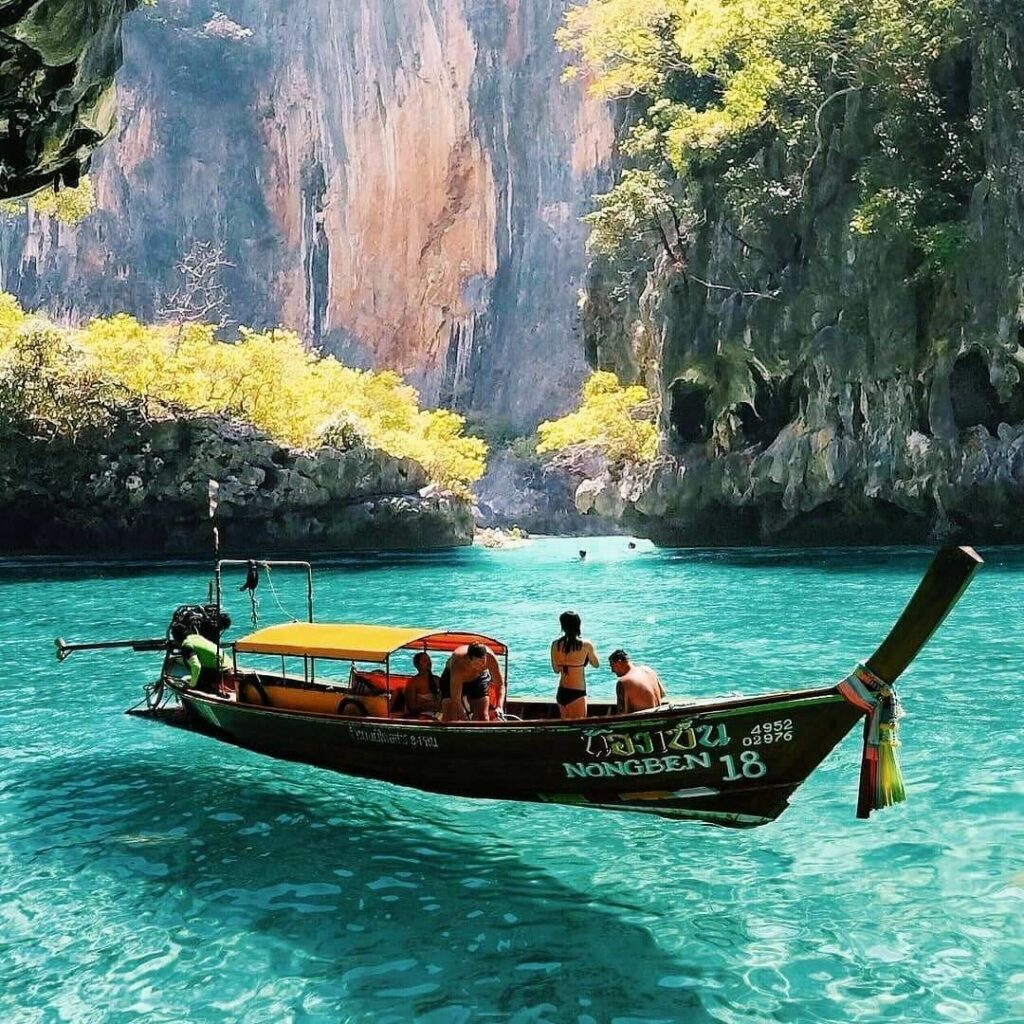 Pileh Lagoon is one of the most beautiful of all of the natural attractions in Koh Phi Phi, and arguably, in all of Thailand.
The lagoon is an inlet on the uninhabited Koh Phi Phi Lee, so you won't find any facilities or restaurants nearby.
If you are already on Koh Phi Phi and plan to stay for a few days, Pileh Lagoon is reachable in a short time from anywhere nearby.
Do yourself a favor, though, and check the tide tables to determine the best time for a visit.
The lagoon gets extremely shallow during low tide, but you shouldn't have a problem navigating the area in a dinghy. Alternatively, high tide brings visitors on longtails and tour boats, so try and visit as the tide transitions one way or the other.
The lagoon is the definition of picturesque, having crystal-clear turquoise waters that are thriving with marine life. The limestone cliffs surrounding the lagoon shelter you from the sun at most points during the day, so it's one of the very best places to take photos, especially nearing sunset.
During high tide, the entrance to the lagoon offers fantastic snorkeling along the walls. In contrast, the back of the lagoon has much deeper waters and provides the chance to see the occasional blacktip reef shark or turtle, which have yet to escape the inlet with the shifting tides.
Monkey Beach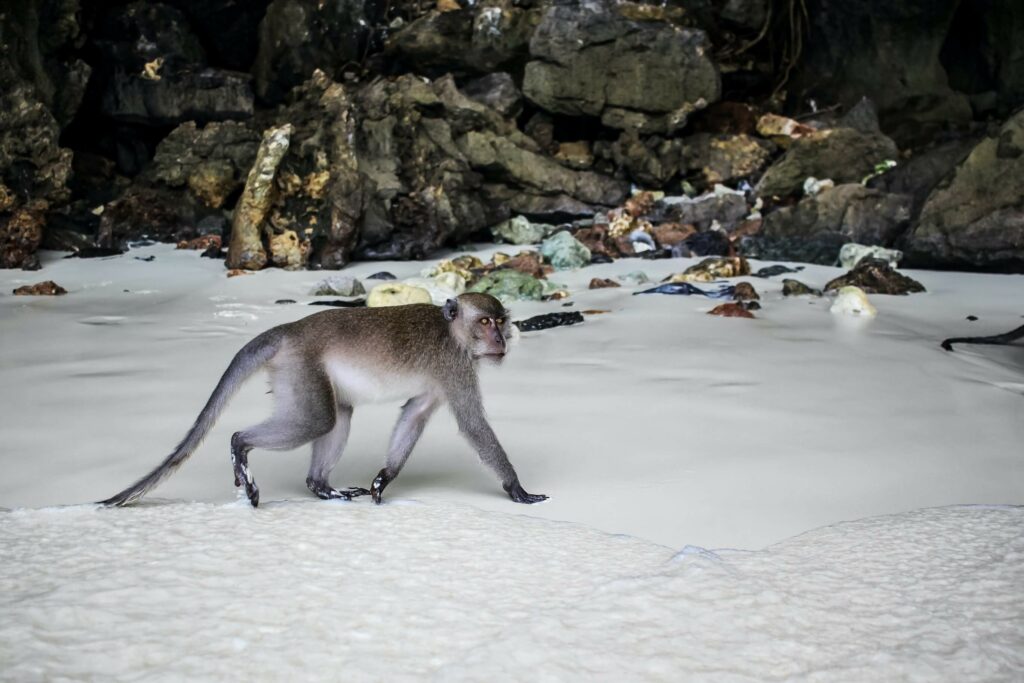 There are two different locations on Koh Phi Phi that claim the name "Monkey Beach." Both are only accessible by boat and are popular spots among visitors who want to interact with the monkeys
On the west side of Koh Phi Phi Don, Monkey Beach is a good spot for an afternoon beach day. There are no facilities here, so bring everything you'll need for a day of exploring the local reef and meeting the monkeys.
The second beach is located along the western wall of Tonsai Bay and is the more well-known attraction of the two. Longtails, tours, and party boats frequent this site during the day, and the beach area can become crowded during high tide. The monkeys on this beach are not shy, and they are used to visitors feeding them. They will swipe things from people's hands, open bags for food or drinks, and even get physical with visitors who taunt them. If you visit, only feed the monkeys food that is natural to their diet, and interact cautiously.
There are some mooring lines about 50 meters off the beach, and you can also anchor in 15 meters or more of water. When visiting from a personal vessel, your best bet is to anchor down and take your dinghy to shore. The beach is a pretty small area, so be mindful of other boats and tour operators.
Nui Bay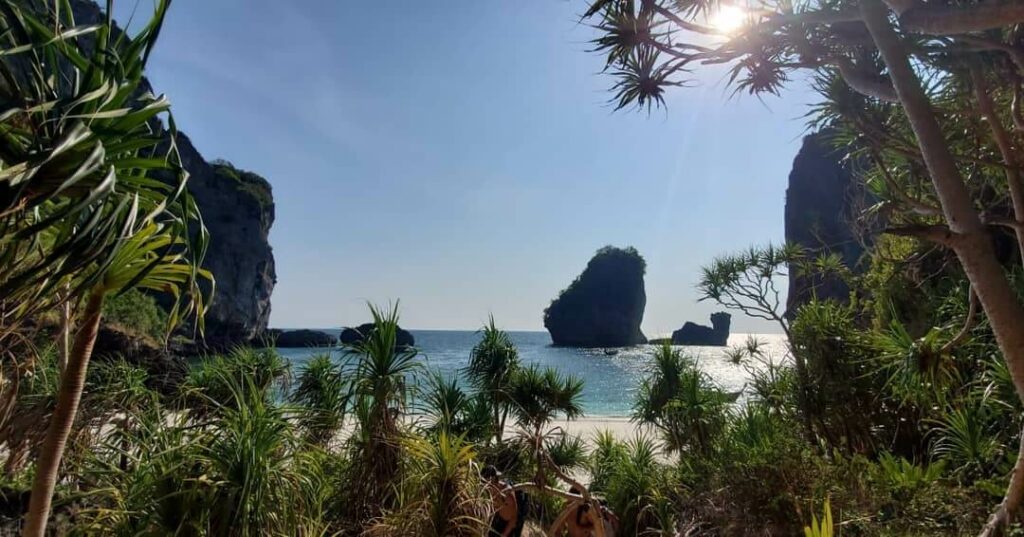 Following the trend of beautiful, secluded nature, Nui Bay is another location on the island that is a must-see. To get to the bay, you have to hike through the jungle, take a boat, or kayak from another area on the island. With a powdered white sand beach that sits at the center of a semicircle of cliffs and jungle, the experience can feel like a dream. Nui Bay is frequented by boats from Krabi, Phuket, and Koh Lanta, so for the best experience, head to the bay during the early mornings or late afternoons when crowds are small.
In the bay, the reef is host to a massive amount of marine life, so snorkeling is second to none when conditions are right. Right outside of the bay, the reef begins to drop off to about 20 meters.
If you enjoy freediving, this area is one of the best anywhere around the islands. Be cautious of boat traffic, though, and try to stay within the buoy lines.
At the north of the bay, you can swim out to a second smaller beach tucked up into the rocks. There is more access during low tide, but you can get there quite easily at any time. Just be mindful of the coral as you approach the stretch of sand.
There is a small "cave" inlet at the northwest corner of the bay that is fun to explore when conditions are calm. You can see natural light everywhere inside, so it's not as though you are fully penetrating a cave. Instead, you can swim carefully through the overhangs and submerged rocks and out the other side.
There are two swim-throughs in the cave connecting to the outside, but only dive them if you are a confident freediver. The entrance to either sits about 3-5 meters below the surface and have a swim-through length of about three meters. Make sure you have someone spotting you if you decide to give it a go.
Lastly, be extremely careful of the barnacles that cover every rock and wall of the cave. The surge can be strong, and people who aren't careful often swim away from the cave bleeding.
Shark Point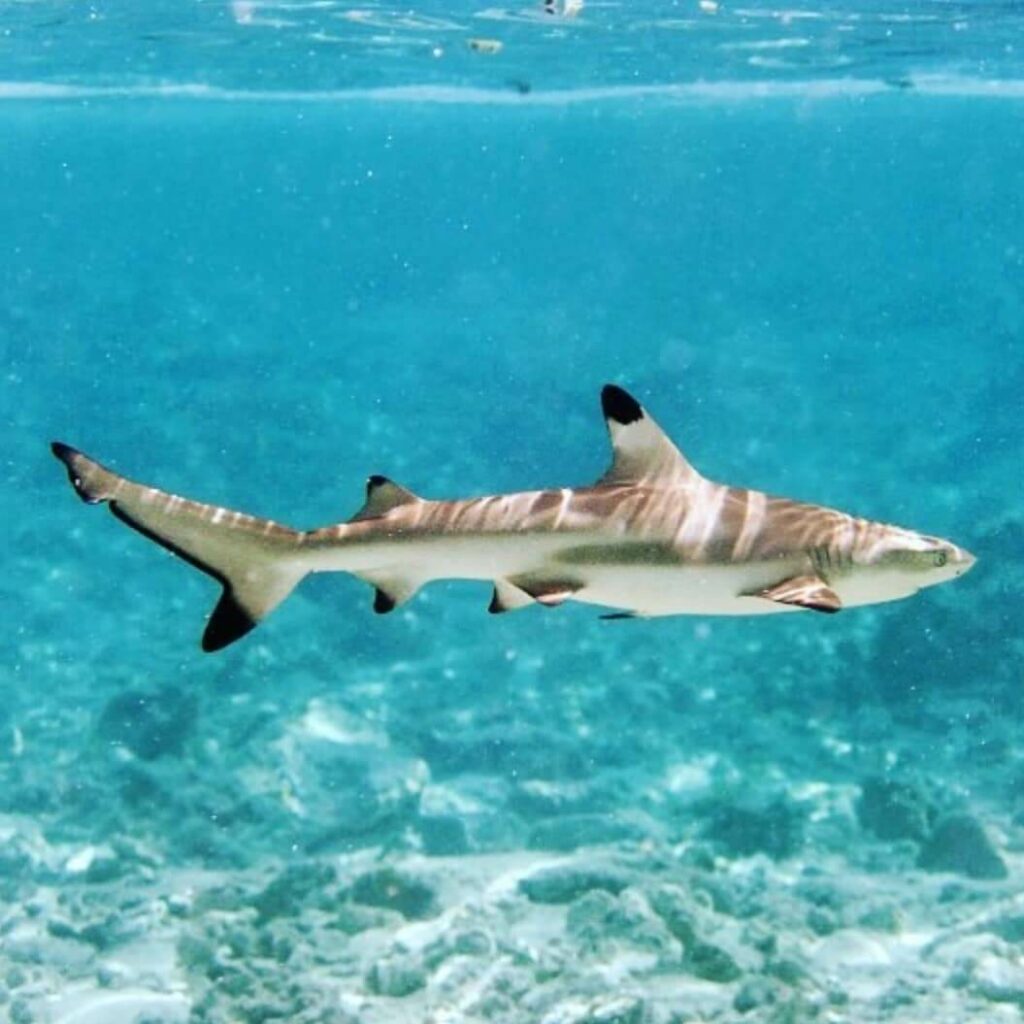 Located at the southeast corner of Koh Phi Phi Don, Shark Point gets its name from the blacktip reef sharks that frequent the area. Shark Point consists of a series of semi-submerged rocks approximately 200 meters off Long Beach, which you can easily reach with a quick swim.
Here, you have the chance to spot all sorts of marine life, with blacktips being the main attraction. Most of the blacktips around Phi Phi are only a meter or two in length, and they are not known to be aggressive.
Viewpoints
If you've ever seen an image of Koh Phi Phi, there's a good chance that it was from Viewpoint 2 on Koh Phi Phi Don. There are four viewpoints in total on the island, all of which require a fair amount of climbing or hiking.
Viewpoints 1 and 2 are the most frequented, as they do not require any jungle hiking and give you the best view over the islands. The trek to these viewpoints is mostly a large, steep staircase and a well-maintained trail to the platform. Most will advise you to wear strap-on sandals or closed-toed shoes, but you can easily make it barefoot or in flip flops as well.
To get there from town, follow the signage labeled "Viewpoint" or "Tsunami Evacuation Route," as they are one and the same. You will eventually find yourself at the bottom of a staircase in front of a lovely restaurant and shop that the locals call "Mamas." Do yourself a favor and grab a quick lunch, fruit shake, or a few beers before making the climb. From here, follow the stairs up until you reach the entrance to Viewpoint 1.
The entrance fee is 30 THB per person, and gets you into both viewpoints. Viewpoint 1 is nice, although the platform at Viewpoint 2 offers the best views. Here, there is a small shop for water or snacks and a restaurant to relax in.
If you reach Viewpoint 2 and still have the energy, continue further to Viewpoint 3. To be fair, Viewpoint 3 offers a very similar view and requires another entrance fee of 20 THB, so don't feel like it's something you'll miss out on if you decide not to go.
Viewpoint 4 is located further into the jungle on the east side of the island. Usually, people just use it as a stop-off point during a hike to other areas. If you decide to make the hike to Viewpoint 4, continue past the first viewpoints and follow the path until you reach Phak Nam Bay. Phak Nam is a beautiful and quiet stretch of beach with good snorkeling and freediving during high tide.
Bamboo Island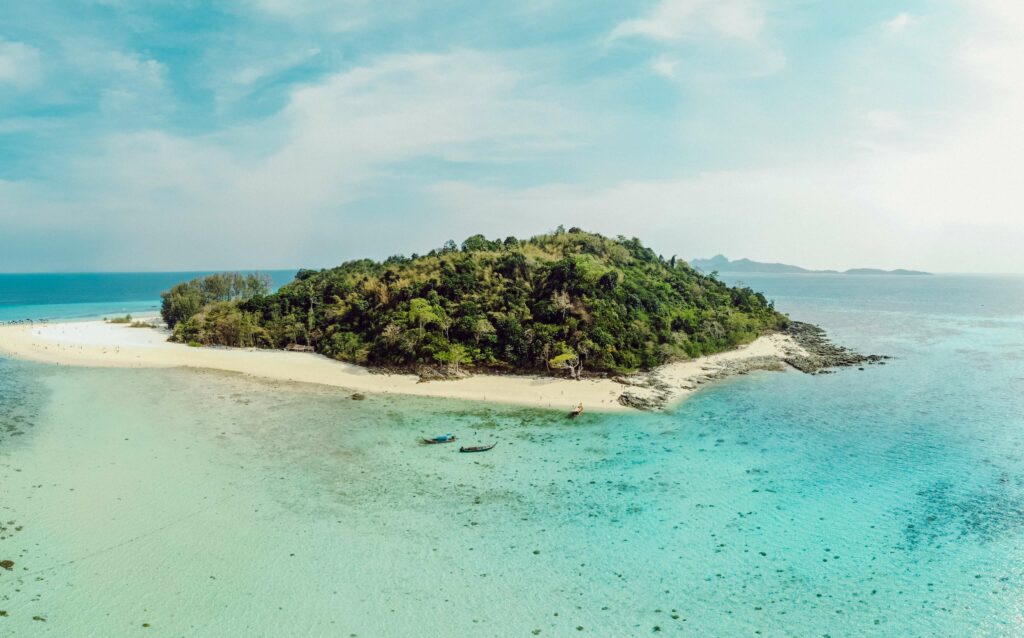 Bamboo Islands sits about five km off the northeastern tip of Koh Phi Phi Don and is a fantastic way to spend a day in the sun. This small island offers an escape from the crowds, as well as some of the best snorkeling anywhere nearby. There is a lovely coral garden called Hin Klaeng, which is a highlight of the trip. Here you can see moray eels, turtles, and just about every type of reef fish you can think of, including the long lost Nemo.
The beaches of Bamboo Island are truly unique and some of the only powdered white sand beaches around. There is a small restaurant and shop on the beach where you can eat, grab a beer, or just relax in the shade.
Keep in mind that the island is part of the national marine park, which means you will need to pay a daily fee of 400 THB per person or 600 THB for a two-day pass. The pass will grant you access to anywhere within the marine park, so plan a couple of days to hit all of the places you want to visit. There is a designated mooring area for visitors to the island.

Nightlife
Koh Phi Phi is a famous destination for its nightlife, and there is no shortage of wild nights to be had on the island. Once the sun sets, the island comes alive with live music, DJs, fire shows, party games, dancing, and Thai boxing. Walk down any street, and you are sure to find at least one place to kick back and enjoy a drink.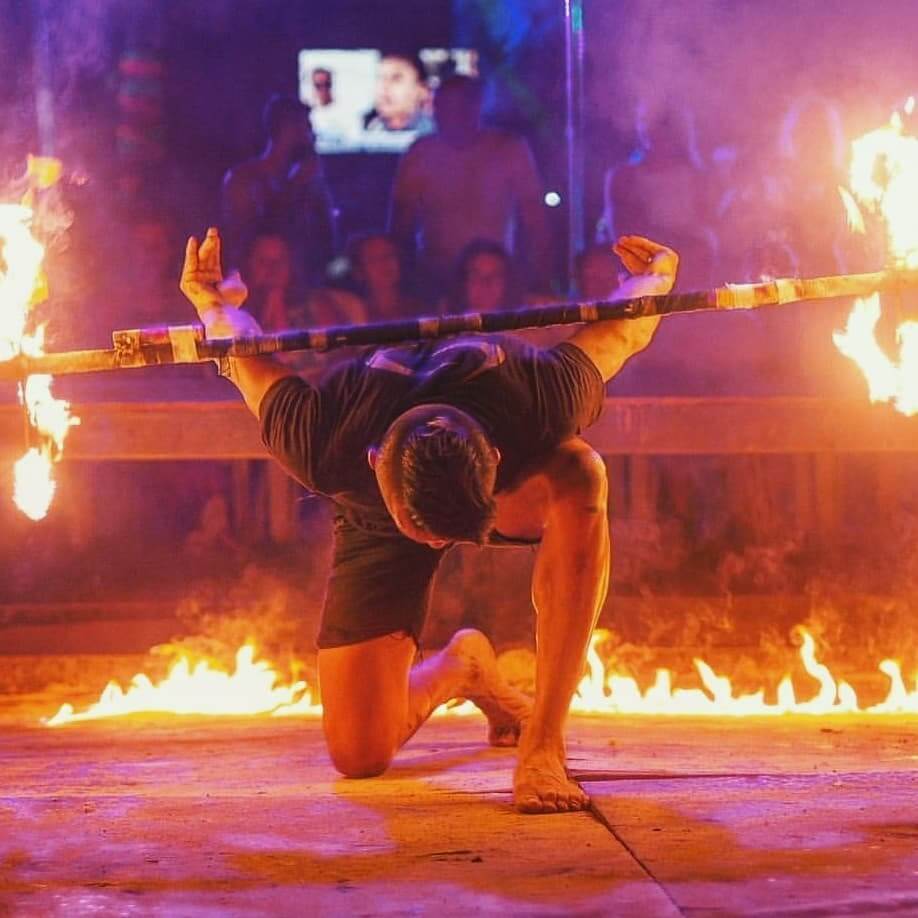 For late-night dancing and fire shows, head to Loh Dalum Beach. This area is accurately named "party beach," and this is where you can drink buckets and dance until 2 AM.
Rolling Stoned Bar offers up a more relaxed vibe, although the crowds are rarely thin. Play a game of pool, sing karaoke, or just put down a few Leo's while making a few new friends.
On the eastern side of Tonsai Bay, Carlito's Beach Bar is a favorite of visitors to the island.
Live music and fire shows are the highlights here, starting at about 9:30 every night.

Nearby Destinations
With so many unique destinations in every direction, it can be hard to choose an itinerary leading to or following your stay in Koh Phi Phi. Below, we outline our suggestions for the most worthwhile destinations nearby:
Phuket
As one of Thailand's main ports of entry in the Andaman Sea, Phuket is a destination that most will pass through at some point. Phuket is the biggest and most populous city in the surrounding areas, and it's the best spot for provisioning and repairs.
At the south of the island in Chalong Bay, there are dozens of free moorings available placed by the local marine department to avoid further damaging the reef ecosystem.
You can anchor in most places, but there are no recommended anchorages on the west side of the island during the southwest monsoon (May-November). The anchorages along the sheltered east coast are calm and safe to use at any point of the year.
Ao Nang
Ao Nang is the tourist center of Krabi and a location that many visit when they need provisioning or a short stay on land. Hotels, restaurants, and nightlife are just steps off of the beach, and there are plenty of tourist attractions to fill your time during a visit. One of the most popular attractions is Railay Beach to the south of Ao Nang, where you can snorkel, rock climb, or kayak between the karst limestone cliffs.
Moorings are available in Railay Bay to the south of Ao Nang, but they are used heavily for tourism during daylight hours. If mooring overnight, be respectful, and move off the line in the morning.
Visitors to Ao Nang can take advantage of the anchorage just off of Ao Nang Beach, or they can anchor in the various bays and coves along the coast. Keep in mind that the southwest monsoon can make these anchorages unsafe, so always consider the weather carefully and give yourself enough space when anchoring near other boats.
Similan Islands
Located about 130 km to the northwest of Phuket, the Similan Islands consist of nine granite islands surrounded by aqua blue water and white sand beaches. As an established marine park that is mostly uninhabited, the natural environment and underwater marine life thrive, making it one of the most popular destinations in the Andaman Sea.
Similan National Park Permit for Private Yachts
To enter Similan National Park on a private yacht, you are now required to obtain a permit purchased before your arrival. Arrange a permit with the main headquarters of Similan National Park on the mainland near Tap Lamu Pier in Khao Lak. There is a cap to the number of permits issued for SNP, so be sure to make arrangements in advance.
Documents Needed for Permit:
Passports
Boat Registration and Insurance
Boat Photograph
Scuba Diving License
Rules and Regulations for Similan National Park:
Maximum Stay – 5 days / 4 nights
To stay overnight inside SNP, private yachts must have at least one certified diver and scuba gear on board. Divers and dive boats have priority to the moorings here, as it is the main activity and income for the park.
The furthest islands to the south are considered conservation areas, so anchoring, landing, snorkeling, and diving are prohibited.
National Park Police do check for yacht permits regularly, and fines of 1000 THB per person are issued if caught in the park without a permit.
Fishing is not allowed anywhere around the Similan Islands.
Closed waste-water systems are required in the park.
*To protect the natural underwater environment, anchoring in the Similan Islands is not permitted. Further, there are very few spots to anchor that are sheltered enough to be considered safe.
*Moorings are available in just about every bay, but some of them are considered unsafe for overnight stays.
Koh Muk
Located just southeast of Koh Lanta, Koh Muk is a fun island to explore while traveling to the Andaman. The shorelines on the north and the south of the island offer great beaches, caves, and jungle, which are accessible all year round as long as weather permits. Emerald Cave is a highlight of the entire region, so be sure not to miss it while here. If exploring the cave by dinghy, do not use your outboard inside of the cave. Also, be sure to bring a waterproof torch when entering without a guide.
There are two good anchorages on the west side of the island, north and south of Emerald Cave. In the north anchorage, anchor in 6 to 8 meters between two sheer cliffs in front of the small beach. To the south, anchor at a depth of 4 to 8 meters, and be sure to test your line. Large rocks in the area can create an unstable hold.
A few moorings are located right outside of the cave, but the north and south anchorages are a better option for your vessel.
Koh Lanta
A short trip south from Koh Phi Phi, Koh Lanta has a relaxed, laid back atmosphere that is perfect for a stop-off stay during your trip. The island is large enough to have most of the necessities and provisioning services you'll need. However, it will lack the resources of Phuket and Krabi to the north.
During the northeast monsoon, visitors can use the anchorages along the west coast of the island. The southern bays offer better views and fewer people, while the northern coast offers the most in accommodation, restaurants, and provisioning services. Holdings along the entire west coast are generally good, but be sure to allow plenty of space between yourself and other boats.
The island's east anchorages are accessible year-round, with the pier area offering the most in terms of facilities and provisioning. The small islands directly to the east of Koh Lanta offer anchorages that are accessible all year.
Moorings are available for all visiting vessels to use, but there are some considerations to make before picking one up:
Commercial vessels often use the moorings, and it is standard practice for visitors to forfeit the line if they need it. However, there are no official rules saying you must do so.
Mooring lines are not suitable for all sizes of vessels, so be sure to check the depths within your swing circle to be sure it is safe for you to use.
You can use yellow and orange buoys free of charge, but any other color may indicate a paid or private buoy.
Any damage or fault that occurs while using a buoy is your responsibility, and mooring owners will not be liable.
Koh Rok Noi and Koh Rok Yai
Located to the south of Koh Lanta, Koh Rok is host to some of the best beaches and scuba diving in the area. You will not find extensive infrastructure here, but there are a few accommodation options and campgrounds to take advantage of. You can enjoy fantastic snorkeling on the inshore reefs all around the island; just be cautious of the deeper channel on the island's north end. There are two famous diving locations nearby, Hin Daeng and Hin Muang. You have the rare opportunity to see manta rays and other pelagics such as whale sharks at these dive sites, along with an incredibly diverse coral community.
On the eastern entrance to the channel that separates the two small islands, you can find a semi-sheltered anchorage accessible year-round at depths of about 12 to 15 meters. On the western side of the channel, you can anchor in 3 to 6 meters of water, but be mindful of the swells and allow yourself enough room in your swing circle.
There are orange buoys put out by the marine park, but always inspect the buoys and lines in this area before hooking. Do not pick up the white buoy lines near the east of Koh Rok Noi, as they are too shallow and close to the reef.
Koh Lipe
Koh Lipe is one of the southernmost islands in Thai territory, just north of the Malaysian border. It is famous for its diving and snorkeling and is relatively free of overdevelopment. Here, you won't find any large buildings, banks, or cars, so keep this as a stop for relaxation along your way.
Koh Lipe is part of Tarutao National Park, so anchoring anywhere around the island is not permitted.
There are a few mooring lines available for visiting vessels on the northwest shore right off of Sunset Beach. Sunset Beach is the quietest area on the island, and there are little to no resources at your disposal. Pattaya Beach is the most touristic and lively area at the southwest of the island, and there are mooring lines available directly off the beach.
Moorings here may be harder to find, as much of the infrastructure and facilities are right on the shore. Lastly, Sunrise Beach is located on the east end of the island and offers good mooring lines in a sheltered bay year-round.
Enjoy the content here at #BoatLife? Help us build our community by posting in our public forum! We're here to host conversations of any sort regarding life on and around the water.
If you found this article helpful, please leave a comment below, share it on social media, and subscribe to our email list.
For direct questions and comments, shoot me an email at travis@boatlife.io