If you've ever dreamed of sailing through the same waters as 17th-century Buccaneers like Blackbeard and Calico Jack, look no further than the Atlantic's largest archipelago nation – The Bahamas. Situated approximately 180 miles southeast of Miami, Florida, the Bahamas are made up of nearly 700 islands, most of which remain uninhabited. The Bahamas are home to stunning pink sand beaches, wildly diverse scuba diving opportunities, and the world-renowned swimming pigs of Exuma. Most notably, though, the Bahamas is a yachties paradise. In this guide, we cover everything from planning to cruising costs to ensure that your trip goes off without a hitch.
Table of Contents:
Sailing the Bahamas After Hurricane Dorian
On September 1, 2019, Hurricane Dorian – the strongest hurricane to ever hit the Bahamas – caused flooding, mass destruction and took the lives of at least 74 people, leaving more than 200 others missing and presumed dead. Grand Bahama and the Abacos Islands took the worst of the storm, with the destructive mass sitting over Grand Bahama for a shocking 48 hours before moving past the island. The hurricane caused over $3 billion in damages – approximately a quarter of the country's entire GDP.
With all of the destruction and misery of such a recent tragedy, what is it like sailing the Bahamas nearly two years later?
With over 650 islands unaffected by Hurricane Dorian, a world-class destination awaits all of those who will be sailing the Bahamas. Airports, tour operators, hotels, restaurants, and more are open for business and eager to gather a few tourist dollars. In fact, many people depend on tourists to rebuild their livelihoods after the devastation. Tourism is the best way to support the Bahamian communities. Not just the big resorts, chain restaurants, and cruise ships, but the local individuals running and working in markets, mom-and-pop shops, and street food stalls. There has never been a better time for a holiday in the Bahamas.
What are the Best Months For Sailing the Bahamas?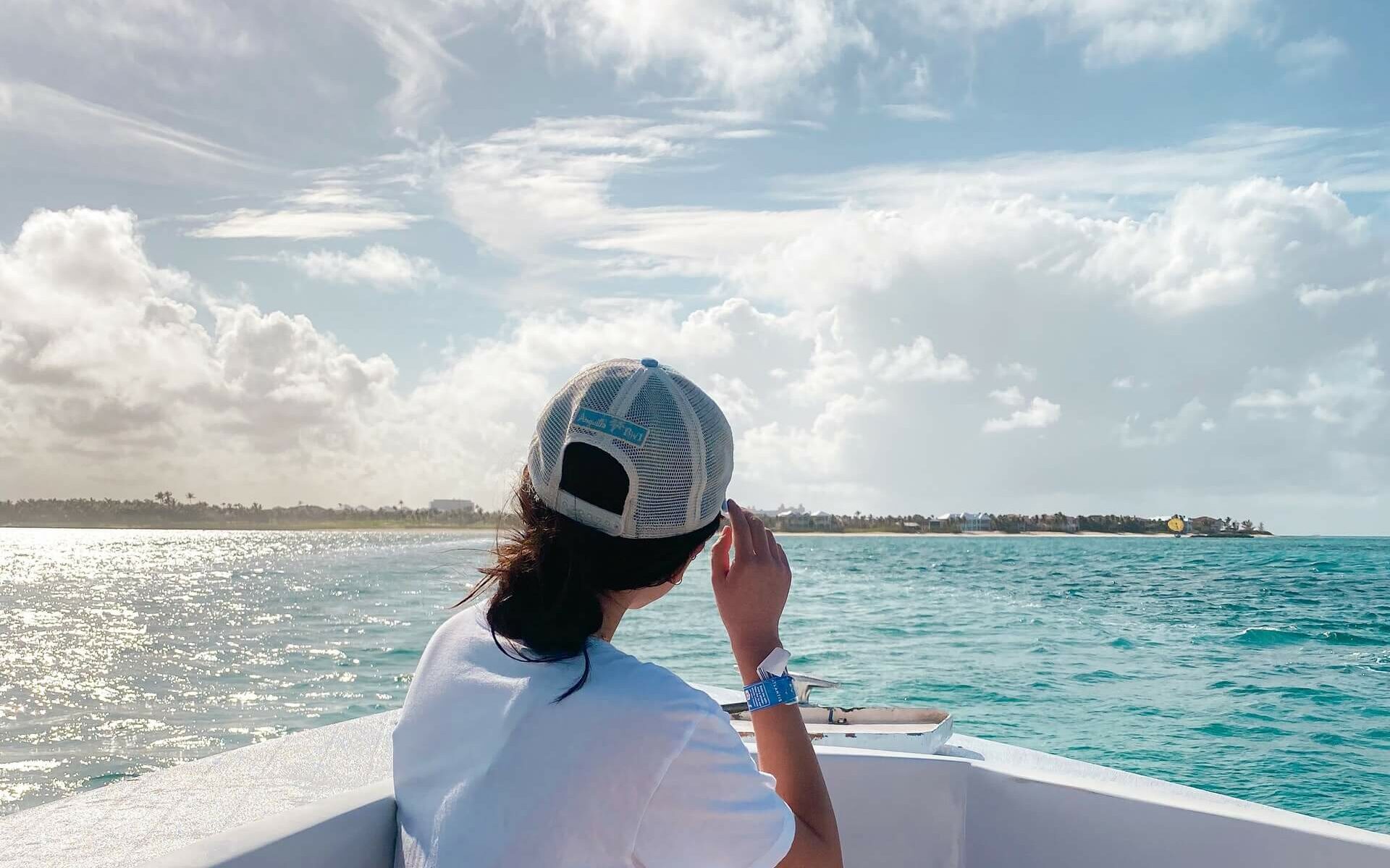 Sailing in the Bahamas is possible year-round, with access to shelter and resources nearly everywhere in the country. Each season comes with its pros and cons, though, and many prefer certain months to others. While each season is defined by exact dates, there is little assurance that mother nature remains consistent year to year.
Hurricane Season (June 1 – November 30)
While the term "hurricane season" seems daunting, you are by no means guaranteed to witness a boat-thrashing storm that crushes your cruising lifestyle for years to come. You are, however, advised to be mindful of a few things.
How Can I Stay Safe During Hurricane Season?
It's essential to have a strategic plan in place when cruising the Bahamas during hurricane season. Part of your strategic plan should be to keep up with weather forecasts and have all of the proper equipment on board to alert you of incoming storms and harsh conditions. Luckily, the islands offer numerous "hurricane holes" – providing shelter and safety for those who need it. Plan your cruising routes so that you are always a short distance from one of these harbors, making for an easy escape to safety before the weather becomes a threat. Choose the harbors based on shelter, size, and the abundance of moorings in an anchorage. If you choose to weather the storm at anchor, your holding must be perfect for ensuring your safety.
Will my insurance cover me while sailing the Bahamas during hurricane season?
Every insurance plan is different from the next, and each will have a specific set of requirements to provide robust coverage for you and your vessel. Actually, many consider hurricane insurance to be a sham, insisting that boaters meet ridiculous stipulations to cover even a fraction of the damages. Some plans require you to pull your boat from the water entirely, while others opt-out of hull coverage without an additional plan to match. Your best bet is to plan your trip well in advance. Decide what you want to do and where you want to do it, and find an insurance plan that fits the bill.
Peak Season (December 1 – March 30)
Peak season in the Bahamas offers up some of the best weather you could ask for, and it makes for the perfect escape from some of the brutally cold destinations throughout North America. While peak season is often regarded as the "best" time for sailing the Bahamas, others may have a different opinion. Consider the following before planning your trip during the high season.
How are the Crowds During Peak Season?
The Bahamas are the perfect escape from the cold weather in the north, and it shows with the crowds and lack of moorings available at the popular cruising destinations. Crowds aren't bad news for everyone, though – it just depends on the vibe you're looking for. Junkanoo, for example, is an epic festival that draws a ton of people from all over the world. It's a celebration of history, music, and cuisine that should not be missed if you're in the area.
Bahamas Peak Season Prices
As expected, prices tend to skyrocket with the peak season. There is a far higher demand for simple amenities, so make sure you know what to expect before arriving. If you aren't entirely set on a budget vacation, the peak season can be a thrill that's unrivaled for many.
Shoulder Season (April 1 – May 31)
As with many destinations worldwide, shoulder season in the Bahamas offers an excellent balance between weather, costs, and crowds. Many consider April and May to be the best months to visit for the simple fact that crowds are thin, anchorages and moorings are abundant, and the activities and attractions remain unaffected. While there is no "wrong" time for sailing the Bahamas, we strongly suggest considering the shoulder season for your next holiday – especially for those looking for superb diving and fishing.
How Should I Plan and Prepare for Sailing the Bahamas?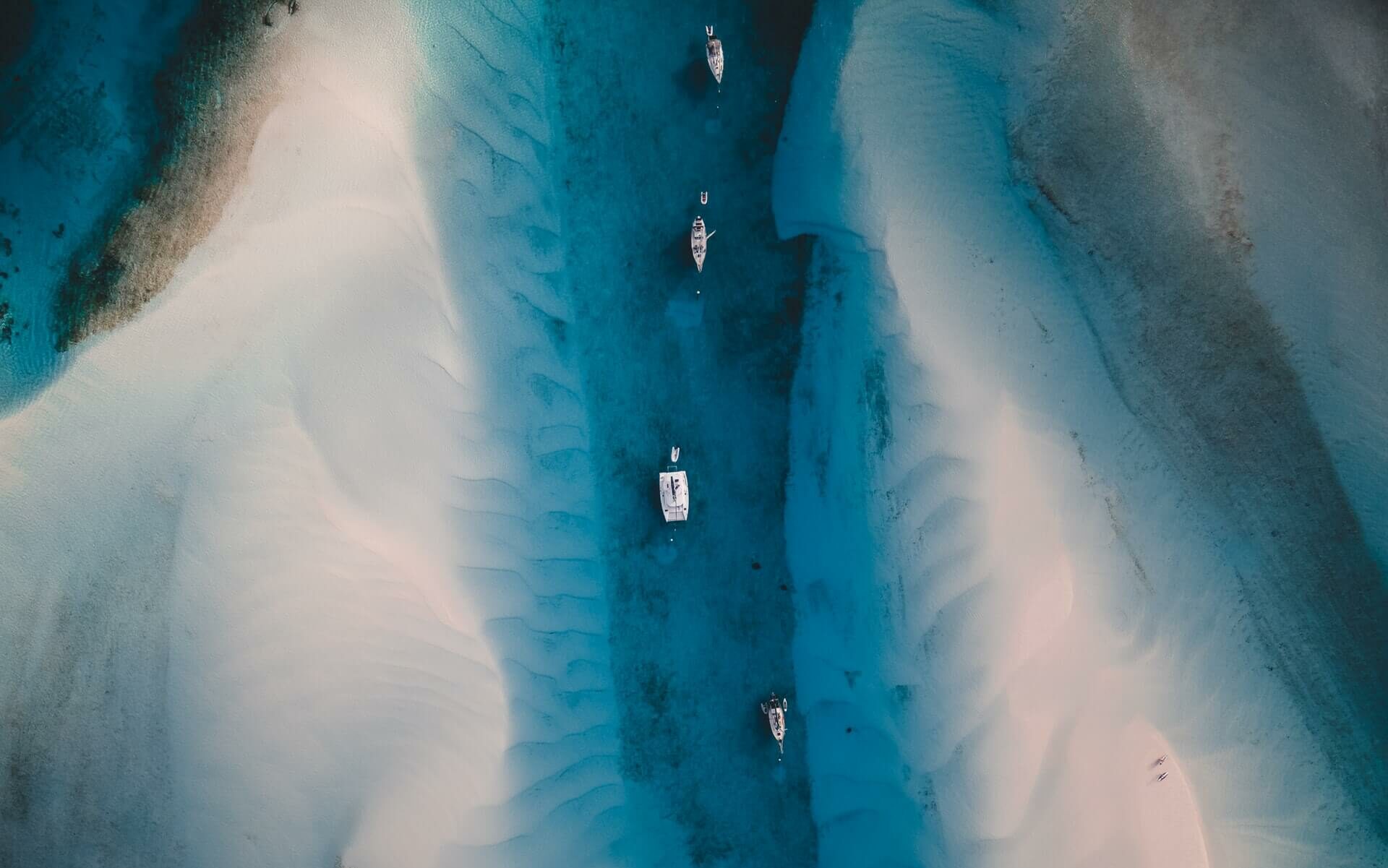 With so many people cruising the Bahamas every year, it seems like people make it happen with minimal effort. However, while you have the opportunity for a "paradise on earth" type of trip, you should approach it with the right amount of planning and preparation. Many people have shared their struggles and successes with sailing the Bahamas, so we put together a timeline to make sure you don't miss a beat in preparing for crystal blue waters, vibrant coral reefs, and powdered white-sand beaches.
3 – 6 Months in Advance
Apply for a cruising permit for sailing the Bahamas. You can do this online or upon arrival with immigration and customs at the port of entry. Online registration is the easiest way to apply and is strongly preferred by officials.
Order a yellow quarantine boat flag and a Bahamas courtesy flag to be flown while in the country. You can order these in various dimensions, but most opt for the 12" x 18" size.
Check your passport validity, and order a new passport if needed.
Join online resources such as Facebook groups and travel forums to stay up-to-date with everything related to cruising in the Bahamas. Updates on entry requirements, island closures, and nearly everything else will be discussed here by fellow yachties.
Arrange your bills to be paid automatically to avoid late fees, poor internet connection, and simple forgetfulness. Check for international fees when using your bank cards abroad. If your bank doesn't offer attractive global usage, consider setting up a new bank account. Many banks don't penalize their members for using their cards outside of the country. Radius Bank is one such online bank that reimburses users for foreign transactions and ATM fees.
Thoroughly read and understand your boat insurance, and consider switching plans if it makes sense. Many plans don't cover boaters who visit the Caribbean during hurricane season, so ensure your insurance plan suits your needs.
Download the US Customs and Border Protection app and understand the re-entry requirements for the return home.
Consider your options for communication, both on land and at sea. There are several options for internet and phone service while sailing the Bahamas, including:
Google-Fi is claimed by many to be the best cruising plan when visiting the Bahamas. There are three plans to choose from, with high-speed data starting at $10/GB.
My Island Wifi is one of the newest options and is quickly becoming a favorite for those in the sailing community. Island Wifi is a mobile hotspot device that offers daily, weekly, and monthly plans, with unlimited 4G data for just $85 per month.
Aliv is another new data service in the Bahamas that lets you buy a sim card and use your phone as a hotspot device. You can also buy a MiFi mobile router for data-only uses. For monthly unlimited 4G data, expect to pay around $140.
T-Mobile has an international plan that offers unlimited 2G data in the Bahamas for $70 per month. T-Mobile's plan can be an excellent low-hassle option for those who don't need the fastest internet speeds.
Verizon offers an international travel pass with unlimited 4G data for $10 per day, which is quite expensive for extended trips. If you just need a few days of coverage, though, this can be a good option for current Verizon customers.
BTC is a local Bahamas sim that can be used with any unlocked phone. While the internet speeds are not on par with some of the other options, it's simple to set up and use – making it a reasonable consideration for some. Data plans vary, with one of the most popular plans offering 15GB of data for $35 per month.
Research various Bahamian islands, routes, marinas, anchorages, and anything else that may be of interest during your trip. Make a rough outline of your itinerary, preferably on a map, and leave room for improvisation. Order guides, books, and any other resources that you may find helpful.
Learn as much as you can about the weather in the Gulf Stream. How to plan, prepare, when to leave, and everything in between.
Choose a jump-off point from the US, and arrange what you need to get there pre-departure.
The most popular starting points are Miami, Fort Lauderdale, Fort Pierce, and West Palm Beach.Research anything and everything regarding fishing, diving, handguns, and other activities you plan to do.
Be sure that you are up-to-date and understand the Bahamas' fishing laws and regulations before fishing from your private vessel.
Check and update your onboard safety equipment and first-aid kits. Ensure nothing is expired and that everything has been adequately inspected and tested.
Ensure you have replacement and repair parts for any vital equipment – most things are far more expensive in the Bahamas, so it's best to come prepared with anything you may need.
* Always check for up-to-date customs and immigration requirements well before departure.
3 – 10 Days in Advance
Take out a fair amount of cash from your bank. ATMs can be scarce, and when you do find one, you may be charged several transaction fees for using it. In addition, vendors often won't have change for large bills. Be sure to stock up on $1's and $5's to avoid this problem.
Monitor the weather and watch for optimal windows to make the Gulf Stream passage safely.
Provision your boat: Canned foods, paper products, soft drinks, alcohol, personal items, and more will often be cheaper to buy pre-departure.
Sailing to the Bahamas
Regardless of your chosen port of entry, the Bahamas is just a quick overnight crossing from south Florida. If you're running a speedboat, you may be able to make the trip in just a few hours. Either way, it's essential to select an appropriate window of good weather for the crossing, and most sailors agree that the further south you start, the easier the passage will be.
The Bahamas Ports of Entry
Below, we outline your options for ports of entry based on region. The list is subject to changes and updates, so be sure to check with the government's website before sailing to the Bahamas. Remember, leisure crafts must clear customs and immigration and purchase a cruising permit before they are free to operate in the Bahamas.

We've added an interactive map to help navigate your options for ports of entry when arriving in the Bahamas. Alternatively, see the screenshots below for a quick reference to each region.
The Abacos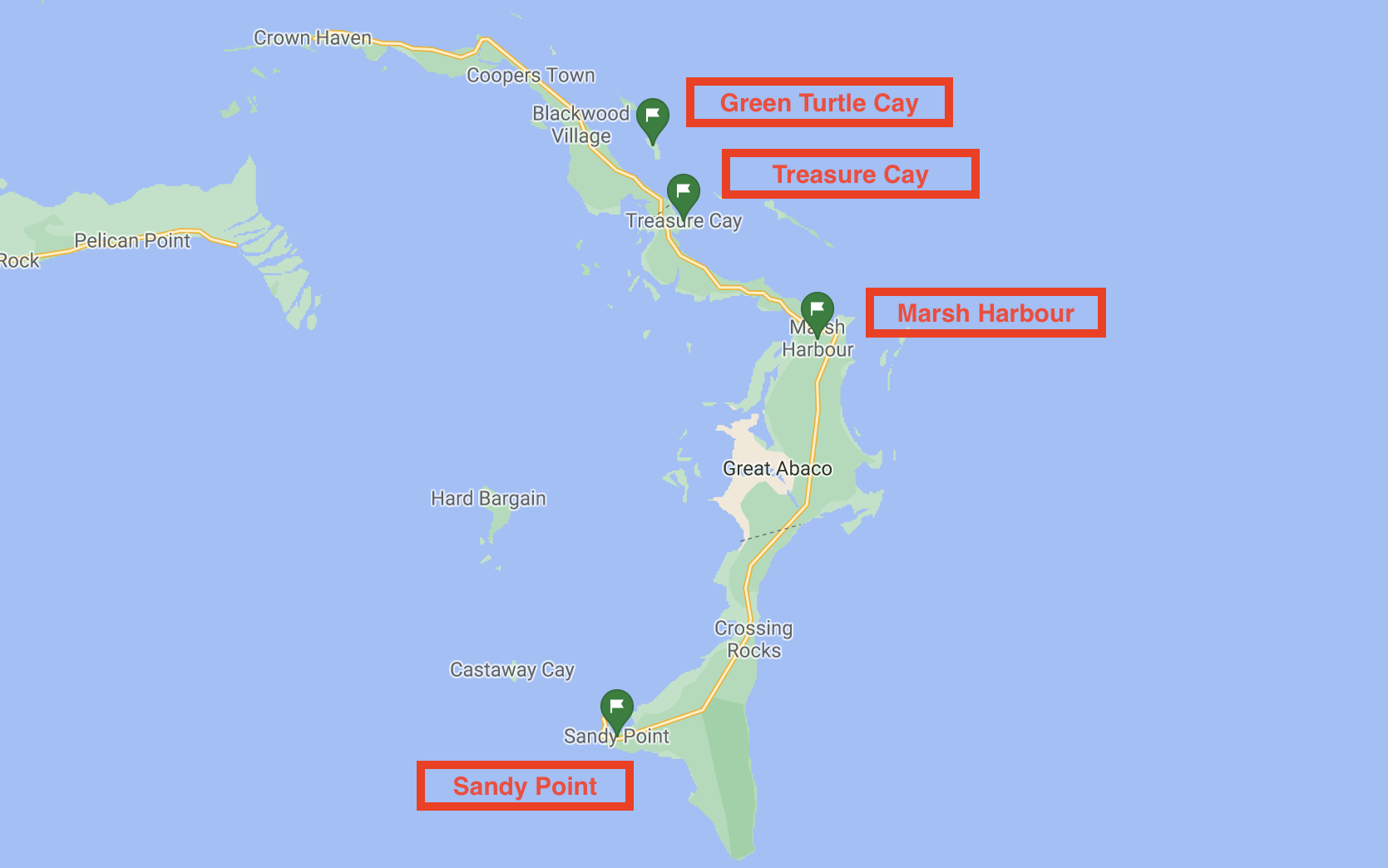 Greenturtlecaydock@Bahamas.gov.bs
Sandy Point
Airport – Sandy Point (By Request Only)
Sandy Point Public Dock (By Request Only)
Spanish Cay
Spanish Cay Airport (By Request Only)
Spanish Cay Marina (Landing Fee – $50)
Marsh Harbour
Baker's Bay Marina / Guana Cay (Private Members Only)
Cherokee Air
Conch Inn Marina
Great Abaco Beach Resort Marina
Jib Room Marina
Mangoes Marina
Leonard M Thompson International Airport

(+1) 242-367-1903 or (+1) 242-699-4021

Marsh Harbour Public Dock
Treasure Cay
Treasure Cay Airport

(+1) 242-699-4059
Treasurecayairport@Bahamas.gov.bs

Treasure Cay Marina
Treasure Cay Public Dock
Andros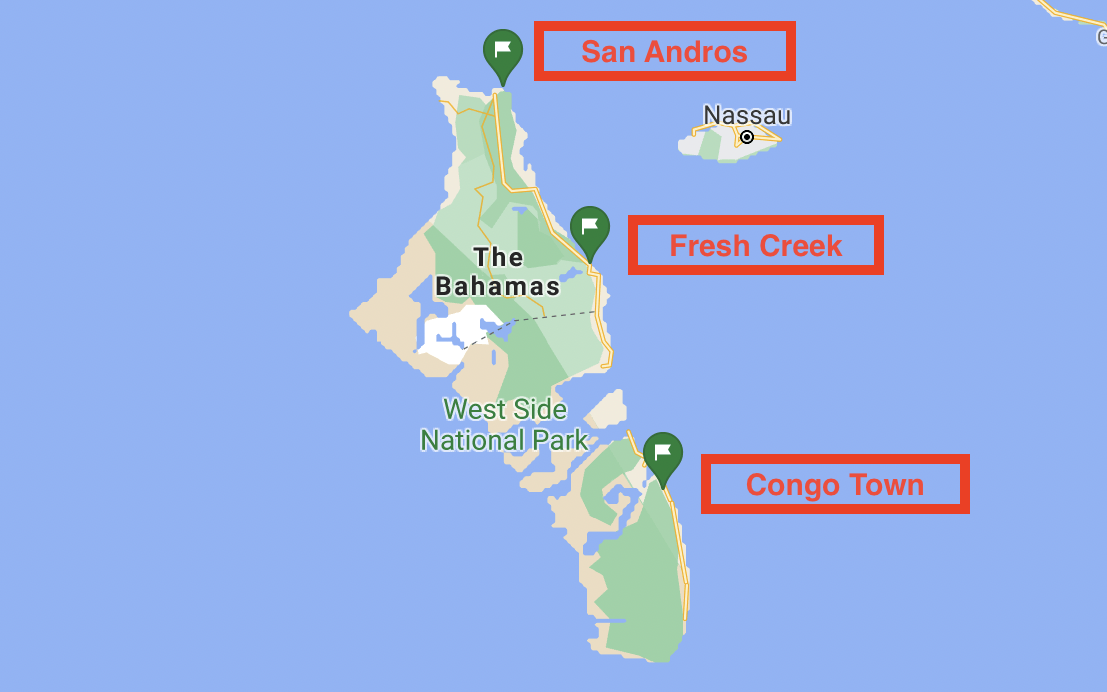 Fresh Creek

Fresh Creek Airport
Fresh Creek Public Dock
San Andros

San Andros Airport
San Andros Public Dock
Bimini / Cat Cay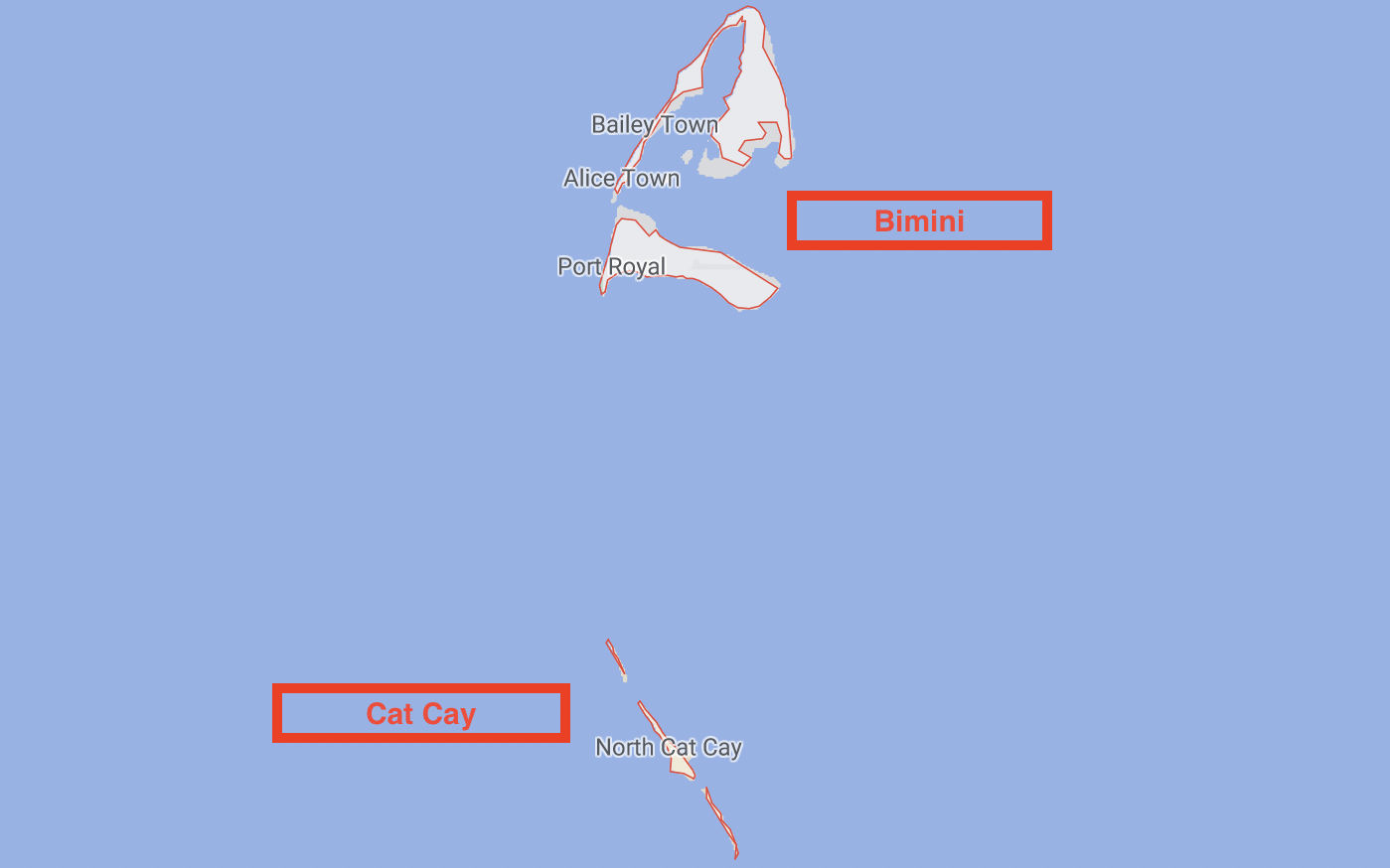 Big Game Club and Marina

(+1) 242-347-3391 (Landing Fee – $50)
Bimini Public Dock

(+1) 242-347-3100 or (+1) 242-347-3102
Biminidock@Bahamas.gov.bs or Biminiairport@Bahamas.gov.bs
Resorts World SeaPlane Base

(+1) 242-347-6100, Ext: 1016
Resorts World Bimini Marina

(+1) 242-347-6100, Ext: 1035 / 1036 or (+1) 242-473-1727
Sea Crest Marina

(+1) 242-347-3071 or (+1) 242-347-3477
The Berry Islands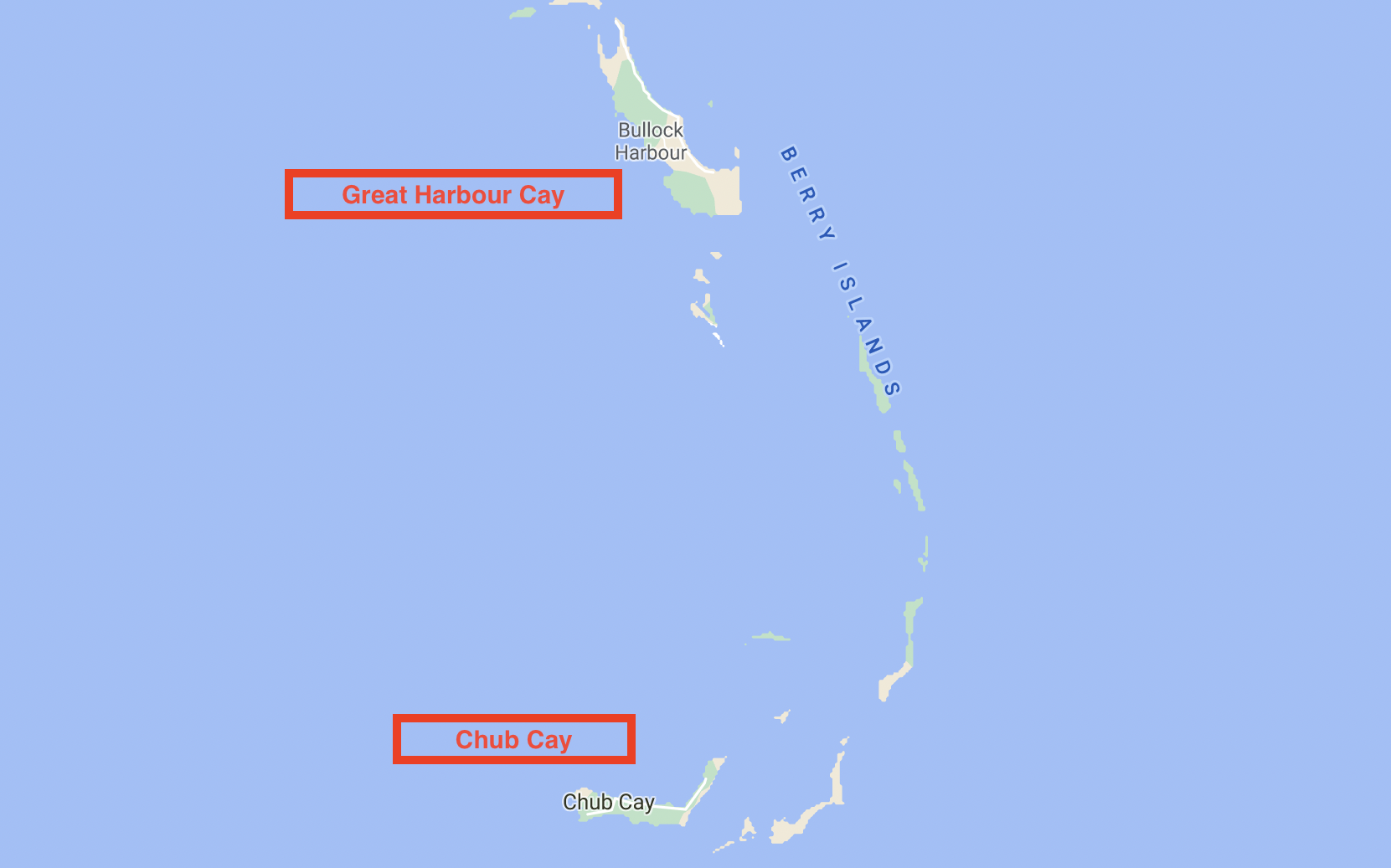 Chub Cay

Chub Cay Airport
Chub Cay Club Marina
Great Harbour Cay

Bullock's Harbor Public Dock
Great Harbour Cay Airport
Great Harbour Cay Marina
Cat Island
Arthur's Town Public Dock (By Request Only)
Bennet's Harbour Public Dock (By Request Only, Landing Fee – $100)
Smith's Bay Public Dock (By Request Only)

(+1) 242-342-2149 or (+1) 242-342-2223
Eleuthera and Harbour Island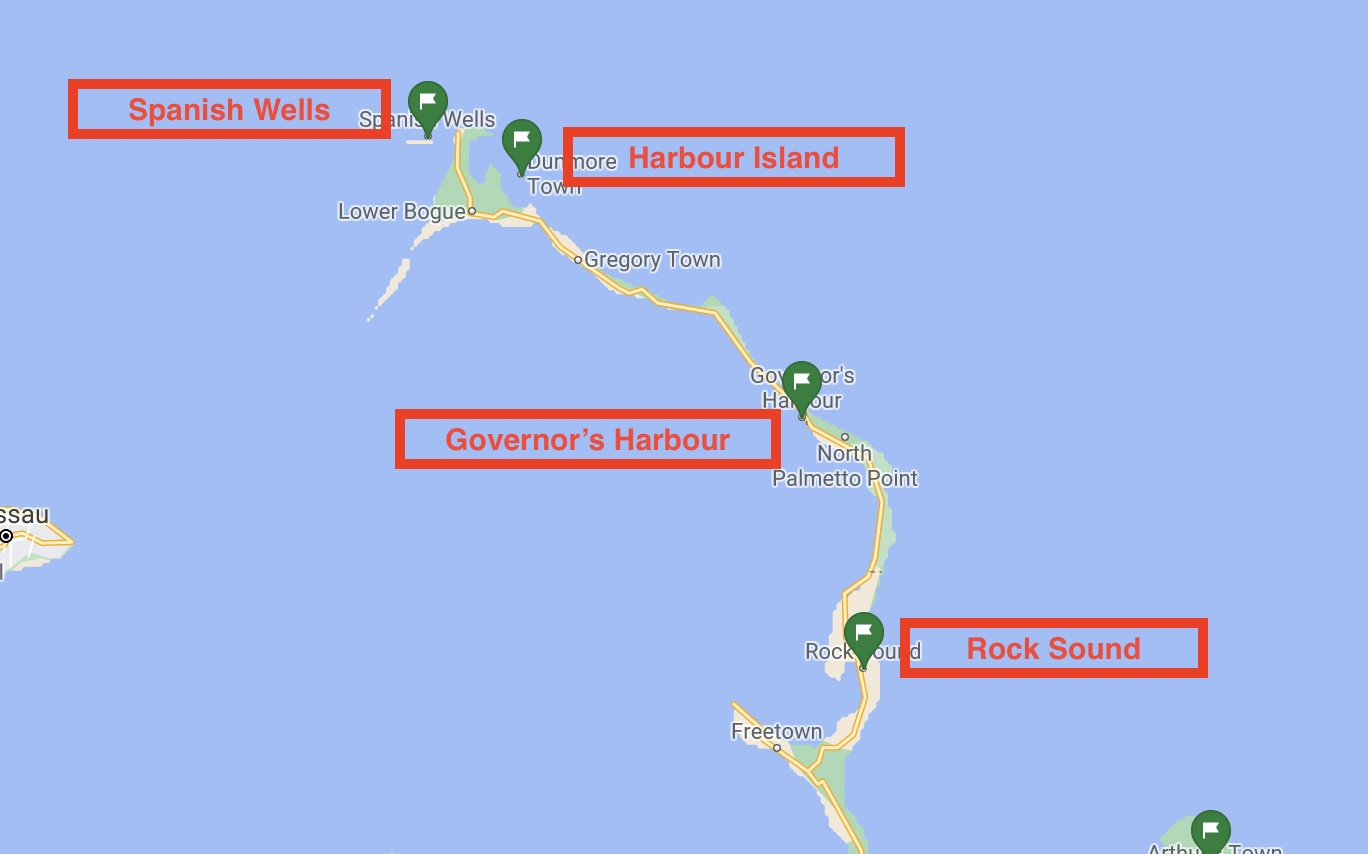 Harbour Island

Harbour Island Public Dock

(+1) 242-699-6122 or (+1) 242-699-6147

Harbour Island Marina

(+1) 242-699-6122
Harbourislanddock@Bahamas.gov.bs

Romora Bay Marina
Valentine's Marina

(+1) 242-333-2142 or 866-389-6864
Spanish Wells

R & B Boatyard
Spanish Wells Public Dock
Spanish Wells Yacht Haven Marina
North Eleuthera

North Eleuthera Airport

(+1) 242-699-6121 or (+1) 242-699-6117

White Crown Aviation
Governor's Harbour

French Leave Eleuthera Marina

(+1) 242-332-3777 or (+1) 242-332-3778

Governor's Harbour International Airport
Governor's Harbour Public Dock
Rock Sound

Cape Eleuthera Marina
Davis Harbour Marina
Rock Sound Airport

(+1) 242-334-2112 or (+1) 242-699-6126 / 6112
The Exumas
Great Guana Cay

Black Point (By Request Only)
Great Exuma

Exuma International Airport

(+1) 242-345-0071
Exumaairport@Bahamas.gov.bs

Exuma Public Dock
Emerald Bay Marina
Exuma Yacht Club Marina
Staniel Cay

Airport – Staniel Cay (By Request Only)
Staniel Cay Marina(By Request Only)
Grand Bahama Island
Freeport

Bradford Marine (Landing Fee – $118)
Freeport Container Port
Freeport Harbour (Landing Fee – $118)
Grand Bahama International Airport

(+1) 242-602-9546 (+1) 242-602-9400

Grand Bahama Yacht Club

(+1) 242-284-5193 or (+1) 242-373-7616

Lucayan Marina Village
Lucayan Yacht Club
Running Mon Sunrise Resort and Marina
Ocean Reef Marina (By Request Only)
Port Lucaya Marina
Port Lucaya Marina Village
Xanadu Marina (Older Docks – Not Advised)
West End

Blue Marlin Cove Marina

(+1) 242-349-4101 or (+1) 242-727-0514

Old Bahama Bay Marina

(+1) 242-602-9413 or (+1) 242-602-9481
Customswestend@Bahamas.gov.bs

West End Airport (Restricted)

(+1) 242-602-9413 or (+1) 242-602-9481
Customswestend@Bahamas.gov.bs
Inagua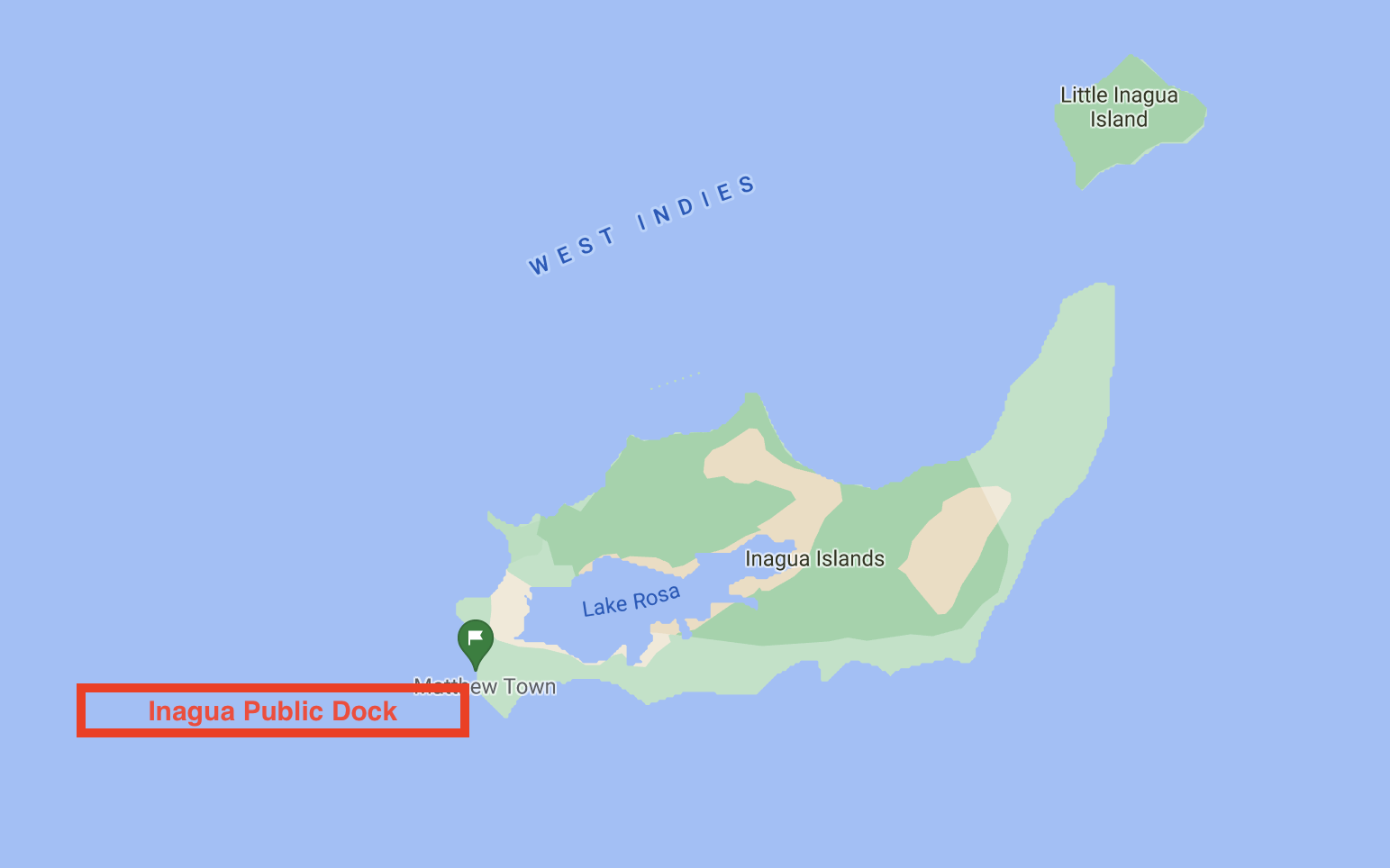 Inagua Public Dock

(+1) 242-339-1254
Inaguacustoms@Bahamas.gov.bs
Long Island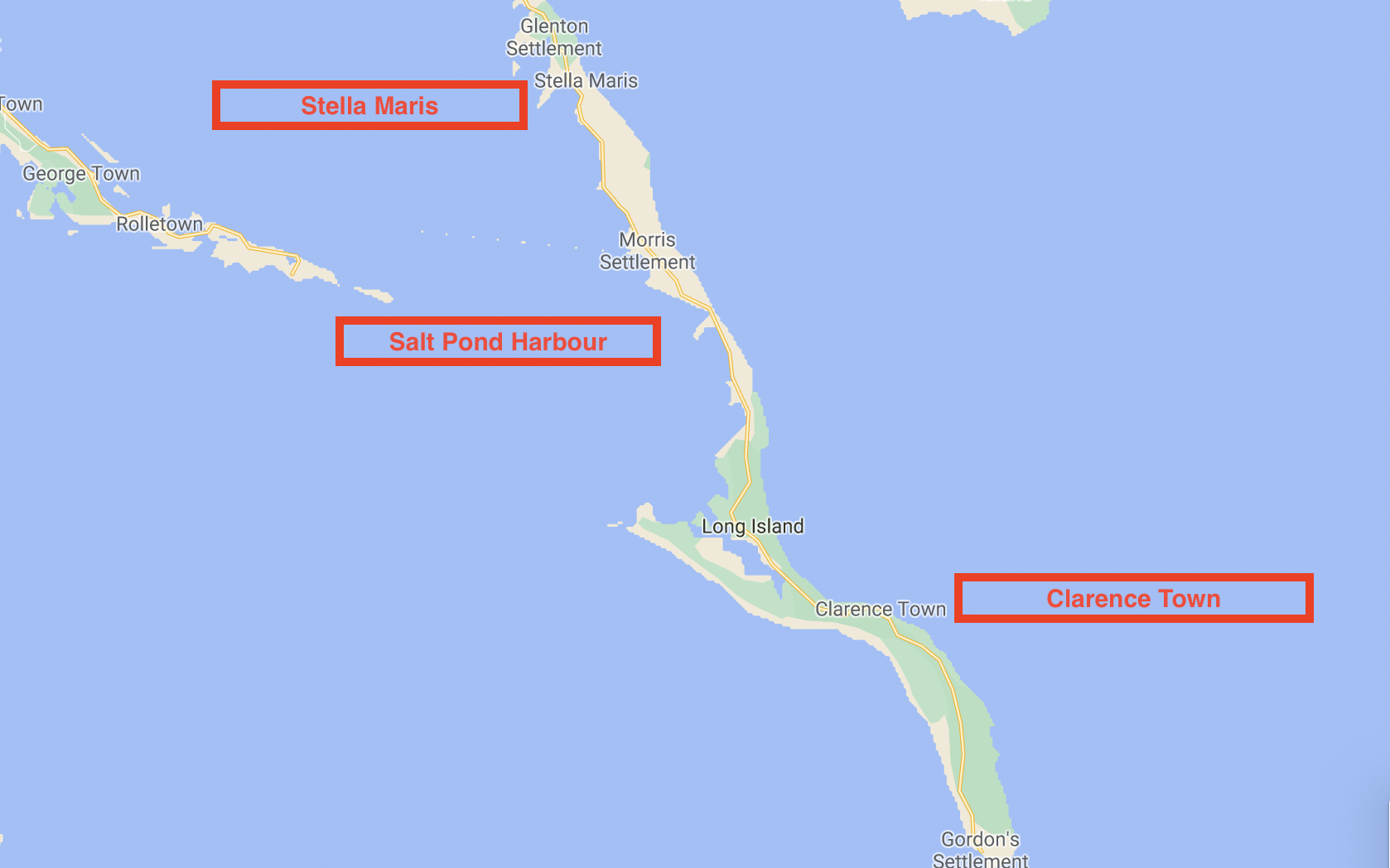 Clarence Town Public Dock (By Request Only – Contact Airport)
Deadman's Cay Airport (Domestic Only)
Flying Fish Marina – Clarence Town (By Request Only)
Salt Pond Public Dock (By Request Only – 2 Days Notice)
Simms Public Dock (By Request Only)
Stella Maris Marina

(+1) 242-338-2050 / 2051 / 2052
New Providence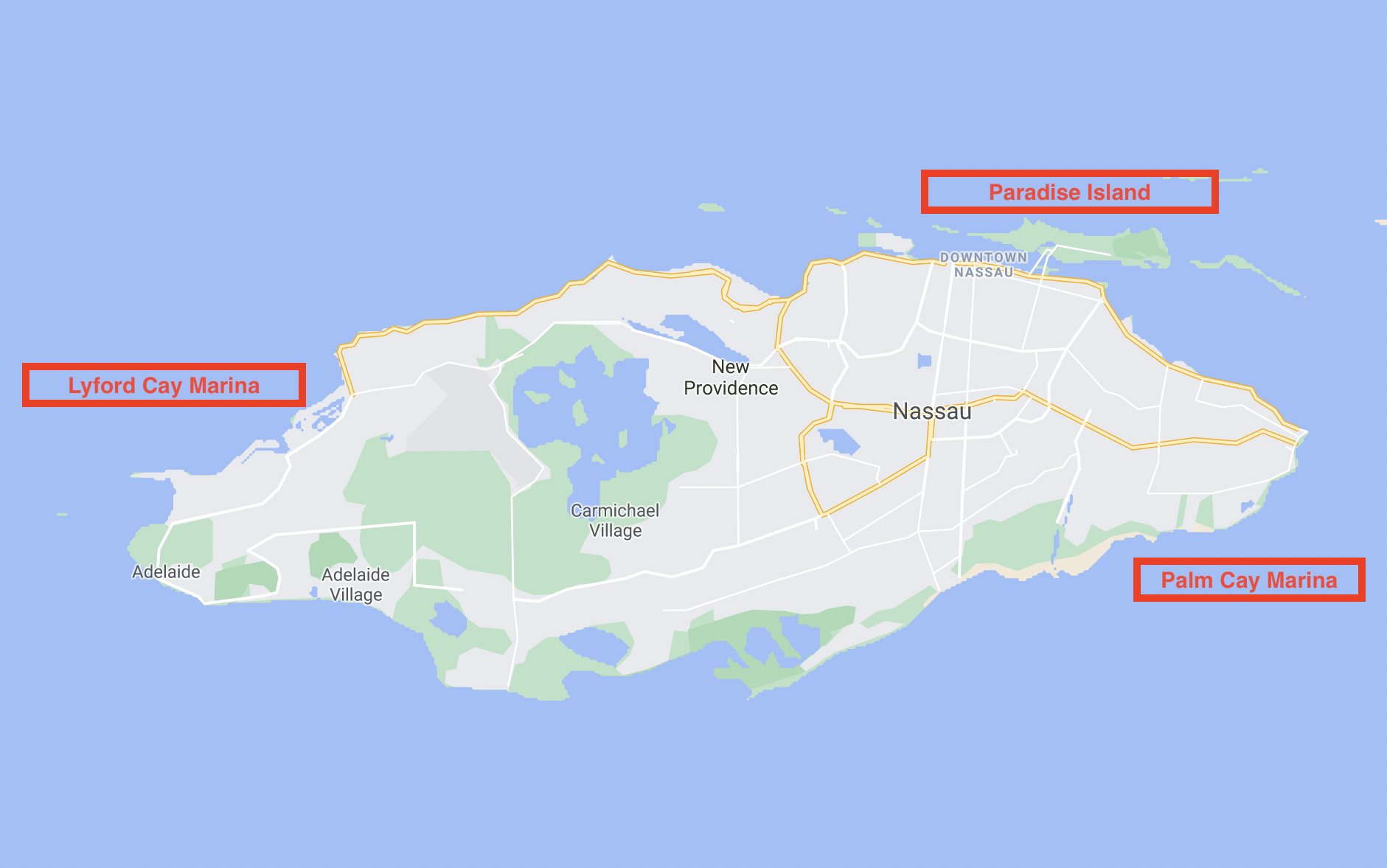 Nassau

Albany Marina
Arawak Container Port

(+1) 242-604-3196 / 3184 / 3187 / 3174

Bayshore Marina (Boats Must Not Exceed 40')
Brown's Boat Basin
Harbour Central Marina
John Alfred Dock
Kelly's Dock
Lynden Pindling International Airport
Lyford Cay Marina
Marlin Marina
Nassau Harbour Club
Nassau Yacht Haven
Palm Cay Marina
Prince George Dock
Rubis Harbour View Marina
Seaboard Marine (Contact Bay Street Marina)
Southwest Bay Dolphins
TPA Marina
Paradise Island

Atlantis and Hurricane Hole Marina
San Salvador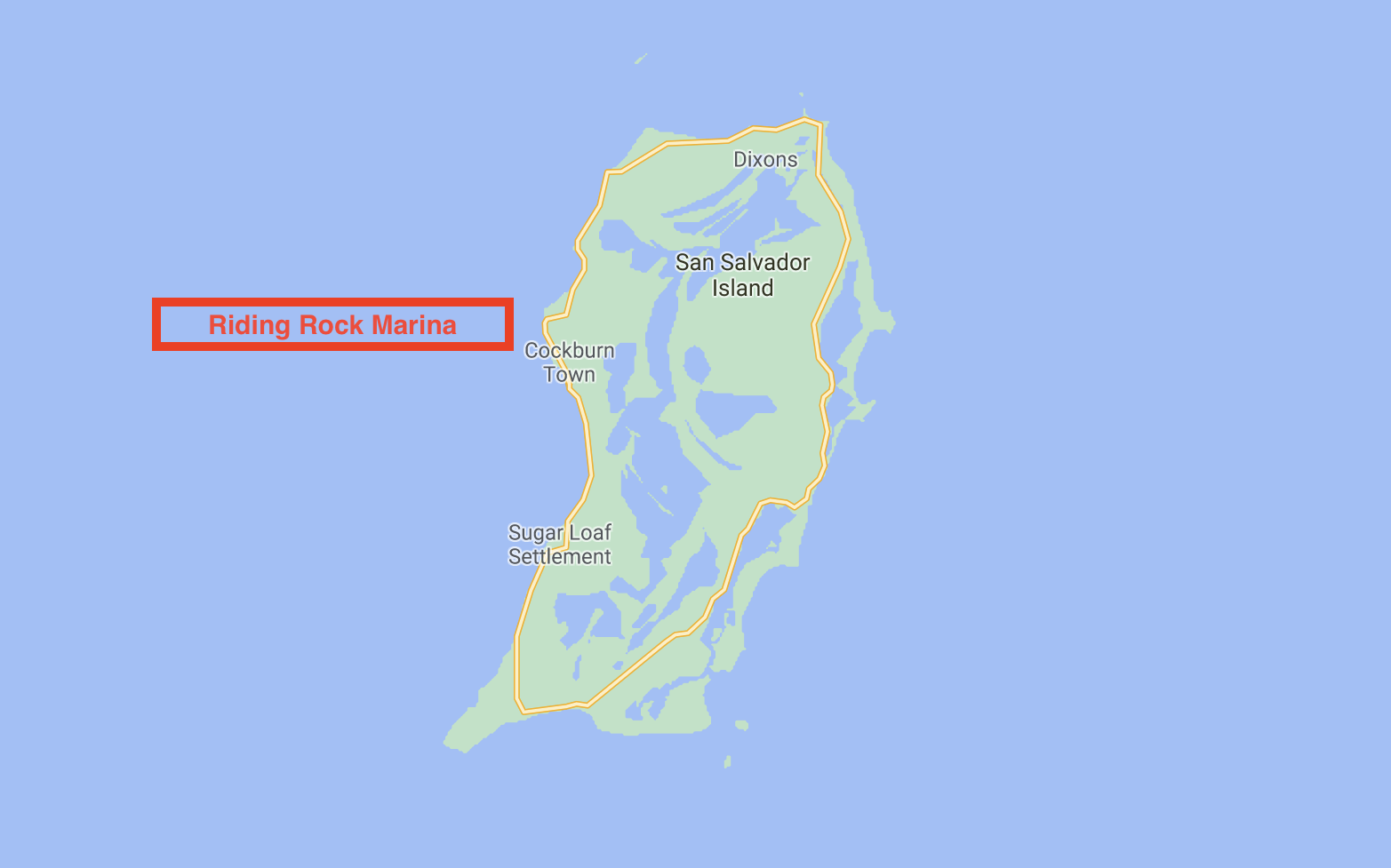 Riding Rock Marina

(+1) 242-331-2631 or (+1) 242-477-0900 or (+1) 242-452-6129
San Salvador Public Dock

(+1) 242-331-2131
Sansalvadordock@Bahamas.gov.bs
Florida to the Bahamas – Which Routes are Best to Follow?
While there are pretty much endless routes you can follow to get to the Bahamas, there are some tried-and-true paths that sailors commonly take. Keep in mind that any of these routes can be adjusted or mix-and-matched to better fit your overall itinerary.
Miami to Grand Bahama
For one of the shortest possible routes from the southern US, consider sailing to the Bahamas from Miami. Depending on where you plan to explore throughout your trip, this is a great spot to base yourself – especially for first-time visitors to the Bahamas.
Miami to The Exumas
Another option to sail to the Bahamas from Miami is to head straight for the Exumas. This route offers boaters a true taste of the Gulf Stream while also providing adequate shelter and calm seas at the ladder-half of the trip. If the weather gets bad, you also have several options for alternative stop-offs before reaching your initial destination. The Exuma Islands are made up of over 350 cays, so it's a great location to begin a holiday for sailing the Bahamas.
West Palm Beach to The Abacos
If you don't want to sail to the Bahamas from Miami, another popular jump-off location is West Palm Beach, Florida. Starting further north allows you to hit some of the northern Bahamian islands on your way out rather than your way back. It also provides a bit of a different vibe when making the passage across the Gulf Stream. The Abacos is another ideal starting point for a holiday around the Bahamas, as you can run the eastern edge of the archipelago all the way down to the Eleuthera and Harbour Islands if you so desire.
How to Navigate the Gulf Stream
The Gulf Stream is a 60+ mile wide ocean current that runs from the Gulf of Mexico to Florida and up the Atlantic coast of the US. The water in this current flows north at a considerable rate, and the water temperature in the current is higher than the surrounding waters. Because of this, tropical storms are much more likely and can occur with little warning. Three primary considerations need to be made before making the passage from the southern US to the Bahamas. Weather, heading, and boat speed.
Weather
Timing your passage across the Gulf Stream can be tricky, especially for those making the crossing for the first time. Throughout the winter months, patience is key to sailing across the Gulf Stream safely. To ensure ideal conditions for sailing to the Bahamas, you should wait until the winds do not exceed 15 knots, and you should generally avoid crossing in the presence of northerly winds. You can use numerous resources in preparation for the passage, and one of the most popular is the National Oceanic and Atmospheric Administration (NOAA).
Heading and Course
When crossing the Gulf Stream, your heading and course will never be identical. The current flows north at such a high rate that you will always run a course that ends up north of your heading. As a result, the Gulf Stream is a great place for sailors to hone their navigation skills. If you rely entirely on automated navigational equipment and your gear malfunctions, you can easily miss your landing point. Plotting a course on a paper chart and traveling at right-angles is the go-to method for sailors using anything other than high-speed boats.
Boat Speed
Speaking of boat speed, it should come as no surprise that the slower your boat is, the more you will be affected by the high-speed currents of the stream. While speedboats can generally snake the passage in just a few hours, those sailing to the Bahamas generally need to plan for a 6-10 hour journey depending on the destination and conditions. During your course, it's likely that you will cross paths with other boats at one point or another. Be extremely cautious when this happens, as boat speeds can be highly deceiving in the Gulf Stream.
Sailing the Bahamas – Customs and Immigration
After finally arriving at one of the many ports of entry in the Bahamas, you'll need to legally enter the country and obtain a cruising permit for onward travel. The customs and immigration process is similar to entering through an airport, but there are some differences and special requirements, which we discuss below.
What Documents Do I Need to Enter the Bahamas?
To enter the country on a private vessel, you will need the following documentation:
Copy of a Completed Bahamas Customs Clearance Form
Valid Passport as Proof of Citizenship
Bahamas Immigration Card Per Person
Copy of All Vessel Registration Documents

Title
Proof of Ownership
Any Other Supporting Documents

Cruising Permit

A cruising permit can be obtained online before entering through customs and immigration or upon arrival by boat. It is far preferred by immigration officials that this is done online before arrival.

Copy of All Firearm Documents
Copy of Pet Permit (If Applicable)

Pet permits are issued by the Department of Agriculture and are required for all pets older than three months. Annual or short-term licenses are available.
Certain breeds of dogs are not permitted to enter the country on any occasion, including:

Pitbull
Cane Corso
American Bully
Presa Canario
Staffordshire Terrier
Dogo Argentino

Certain pure-breeds of cats are also not permitted to enter the country for any reason, including:

Savannah Cat
Bengal Cat
Chausie

For more information and resources regarding animal passports, please visit the Government of the Bahamas website.
Clearing In Process
When entering the country by private vessel, you must follow the standardized process to ensure smooth and uneventful entry. Dress nicely, be patient, and treat all officials with respect. The general process for clearing in is as follows:
As you enter your chosen port of entry, hoist the yellow quarantine flag to notify a customs official of your arrival.
Depending on the port, either a customs official will come to your boat, or the boat captain will need to go to shore to find them. Only the boat captain is permitted to leave the vessel before clearing in.
All passengers on board are required to show proof of citizenship and fill out an immigration card.
After receiving your cruising permit, take down your yellow quarantine flag and hoist the Bahamian courtesy flag – fly this flag for the remainder of your stay.
* The crew on SV Tula recorded a video recording of their arrival process with a customs official entering Great Harbour Cay – it's a great resource to visualize the process for those who have yet to visit.
Can I bring a firearm with me while sailing the Bahamas?
Visitors to the Bahamas are allowed to have firearms on board their private vessels, but they must be declared with immigration officials. Only handguns, rifles, and shotguns are permitted in the Bahamas. All documentation should be presented upon arrival, including the serial number and manufacturer of each weapon. In addition, a customs official will take a hard count of all ammunition when inspecting the vessel, and that count will be double-checked during departure procedures.
As of June 2021, the following remains true:
There is a limit of three firearms per vessel, of which the caliber may not exceed .308.
No more than 250 rounds of ammunition are allowed for each firearm.
All automatic weapons are prohibited.
No weapons are permitted for any center console vessels. If firearms are found on center console boats entering the country, they will be taken by police and returned upon departure.
All firearms must be kept under lock and key while in the country and may not be taken off the boat for any reason without obtaining a permit through Bahamian police first. The Bahamas recently increased the penalties and sentences for those who break local firearms laws, and those caught violating gun laws will be dealt with accordingly. It is not uncommon for visitors to the Bahamas to be arrested when found with guns onboard illegally.
If for any reason, you must exit the country by air and leave your vessel for pickup at a later date, you must notify the police and customs of your departure. Police will escort you to your boat to retrieve your firearm(s) and store it for you until your return.
What are the fees for sailing the Bahamas?
Everyone entering the country by boat will need to pay an entry fee upon or before arrival. Fees are standardized by boat size as follows:
0-34': $150 for up to 3 Months – OR – $300 Annually
34-100': $300 for up to 3 Months – OR – $600 Annually
100-150': $500 for up to 3 Months – OR – $1000 Annually
150-200': $800 for up to 3 Months – OR – $1600 Annually
200'+: $1000 for up to 3 Months – OR – $2000 Annually
These fees cover a private vessel's cruising permit, fishing permit, and departure tax for up to three people. For additional passengers, a departure fee of $20 will be added to the total. All fees are valid for a second re-entry within 90 days of departure.
Clearing Out Process
All vessels must clear out of the country and receive a certificate of clearance before departure. Both the cruising permit and immigration cards will be returned to customs officials. If there are firearms on board, they must be declared with all ammunition present. Weapons procedures are essential to reduce the availability of illegal weapons in the Bahamas.
* No fees are required for clearing out
Sailing From the Bahamas Back to the United States
If you're headed back to the U.S. after clearing out of the Bahamas, you'll need to be familiar with the re-entry process and the documents required to clear back in. You are considered to have entered the US once you have anchored or tied up within US waters – Nobody can leave the vessel until cleared by customs officials. As of September 2018, the Small Vessel Reporting System (SVRS) is no longer an option for returning boats, and float plans are no longer required or accepted. All operators of non-commercial boats MUST report to a CBP Port of Entry.
When arriving at your chosen Port of Call in the U.S, the boat captain must immediately report the vessel's arrival to the US Customs and Border Protection. You can report your arrival by phone, mobile app, or on the web.

Toll-Free: 1-800-432-1216
CBP ROAM Mobile App
www.cbp.com

Once you have reported your arrival, you'll be directed to the nearest Port of Entry to physically present all passengers and crew on board.
Prepare the following documents for customs officials to review upon your arrival at the chosen Port of Entry:
Vessel Name and Vessel Registration
Vessel Owners Name and Passport
Captains Name, DOB, and Passport
Passenger Passports
List of Foreign Ports Visited While Abroad
Total Value of Purchases Made Abroad
Which islands should I visit while Sailing the Bahamas?
With over 700 islands throughout the archipelago, there's something that fits the bill for nearly every type of sailor. So whether you're on the hunt for blissful coral-lined shores or the community vibes of a busy anchorage, the Bahamas has a destination that delivers. While far from an exhaustive list, the islands listed below are some of the favorites of visitors to the country.
Abaco Islands
The Abaco Islands are genuinely some of the Bahamas' best, hosting clear turquoise waters, coral-encrusted coasts, world-class golf courses, and colonial seaside towns. The island chain stretches over 120 miles in length and is surrounded by calm, shallow waters that are home to a vast abundance of marine life – making it the perfect destination for long days on and below the water.
You could easily spend weeks at the various cays along the chain of islands exploring the reefs, enjoying the local cuisines, and visiting the swimming pigs of Abacos – not to be confused with the swimming pigs of Exuma.
The beaches at Treasure Cay have been recognized by National Geographic as some of the best in the world, making this a no-brainer for your itinerary while sailing the Bahamas.
Andros
Andros Island is considered the bonefishing capital of the Bahamas, lined with mangrove shallows and creeks – the perfect habitat for the various species found in the Caribbean. You can cast a line from the shore or drop an anchor and test your luck. Either way, you should have no problem landing a few meals around the island.
If you're looking to do some snorkeling or scuba diving, the Andros Barrier Reef is the third largest reef in the world, measuring over 190 miles in length. With over 160 species of fish and coral, Andros is one of the most popular diving locations in all of the Caribbean. The area is also home to various blue holes, both inshore and further out, that the Bahamas are known for.
Nassau
Nassau is the capital of the Bahamas, a popular cruise ship stop-off point that's famous for its offshore coral reefs and pastel-painted buildings. Today, Nassau holds over 80% of the population of the Bahamas, although it has maintained the laid-back Caribbean vibes people come for.
Using Nassau as a base location in the Bahamas is relatively common, as it sits nearly centered in the archipelago and offers easy access to almost all other Bahamian islands. With an international airport on the island, it's also one of the most popular places to charter a boat from after flying into the country.
The Exumas
The Exumas are among the most popular islands in all of the Bahamas, and make no mistake – they are incredible. Consisting of 365 cays, the majority of the islands are entirely uninhabited. They are host to a seemingly unreal abundance of wildlife, both above and below the water, so we suggest you come prepared with a mask and snorkel in hand.
In Norman Cay, you can snorkel in calm, crystal-clear waters above Pablo Escobar's sunken drug plane – making for a truly unique experience.
A short boat ride from Norman Cay, Staniel Cay was the shooting location of two James Bond movies – stop off and have a Martini – just make sure it's shaken, not stirred. The island is also home to a world-famous cave system called "Thunderball Grotto" – a must-see for any qualified cave divers.
Not too keen on snorkeling or diving? Spend your days marveling at the rare iguana species and marine birds, and swim with the world-famous pigs of Exuma on Pig Beach at Major Cay. You can even bring some fresh fruit to feed the pigs – it makes for some outstanding photos!
Berry Islands
If you're heading to the Bahamas in search of tranquility, the Berry Islands offer up just that. These mostly undeveloped islands sit about halfway between Grand Bahama and Nassau, making it the perfect stop-off for the beginning of your trip.
Devil's Cay anchorage is a must-see destination in the Berry Islands, hosting the serene nature and wilderness you imagine when you think of the Bahamas. There are small, secluded stretches of sand nestled along the coastline that offer nearly everyone in the area the chance to lounge in their own personal paradise.
Bimini
Bimini comprises three main islands – South Bimini, North Bimini, and East Bimini – and many small, uninhabited cays scattered around and between. Most of the residents stay on South and North Bimini, and the East island consists mostly of coastal mangroves. The Bimini Islands are the closest of the Bahamian Islands to the mainland US and hold over 2000 of the country's residents.
The Bahamas is one of the world's greatest shark sanctuaries, and Bimini is host to nearly every shark found in the country. Visitors who participate in guided shark tours frequently see lemon sharks, tiger sharks, blacktips, nurse sharks, bull sharks, and even the occasional hammerhead when in season. Whether you're a diver, snorkeler, or just someone who wants a unique experience on your holiday, these marine-rich waters deliver on all fronts.
If you're like most – you may be a bit skittish getting in the water with sharks, but there are also shallow areas where juvenile lemons hang out that kids and non-swimmers can interact with. The Bimini Shark Lab offers tours where they teach visitors about their research – a wonderful experience not to be missed.
Eleuthera and Harbour Island
Eleuthera is the Bahama's fourth-largest island – a long and spindly stretch of land no more than a few km wide for most of its length. The inner island holds pineapple fields and flatlands, with a coastline shrouded in jaw-droppingly beautiful beaches. The shallow, crystal-blue waters are perfect for swimming and snorkeling, and the powdered sand is as ideal as it gets for a day of sunbathing.
Just off the coast of Eleuthera sits Harbour Island – a location known for its stunning pink sand beaches. There are numerous anchorages just off the shore, and visitors shouldn't run into any trouble finding a place to hold. There are even seven marinas for docking and coming to shore if you want to spend a night or two there. If you hope to dock at a marina slip, be sure to contact the marina well before your arrival to ensure your slip remains available.
Be aware of the "Devil's Backbone" when coming into Harbour Island – a treacherous, shallow reef that extends along the island's north coast. Many first-time visitors have been unfortunate enough to find themselves coming in contact with the reef's jagged edges, so be cautious upon your arrival to avoid similar pitfalls.
Fishing While Sailing the Bahamas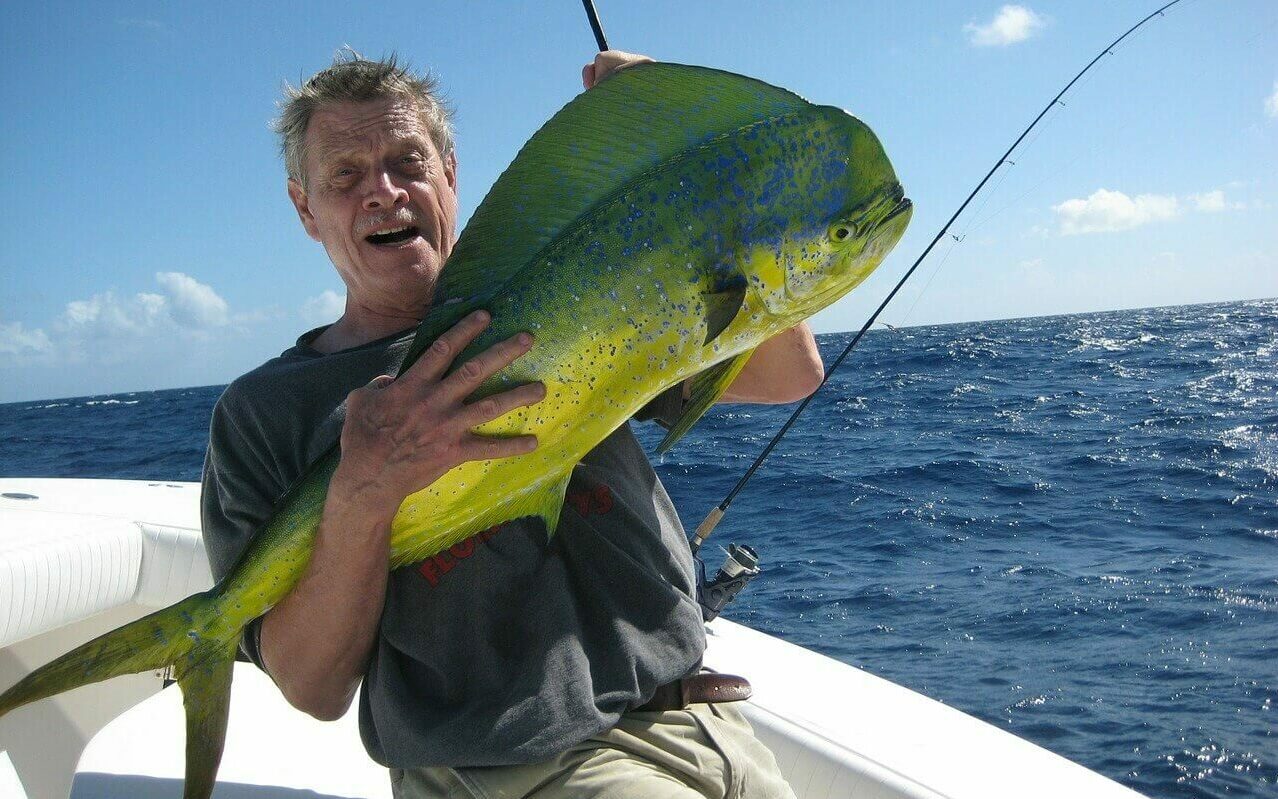 Fishing in the Bahamas is on any ambitious angler's bucket list, and it's easy to see why. Just imagine – You cast a line, loosen your drag, and kick back in your lounge chair overlooking the crystalline waters of the Caribbean. Suddenly, the sounds of the waves lapping against your boat are interrupted by the ZZzZZzzZZZ of your fishing line – you're hooked! Anywhere else, you'd assume you're in for a quick fight and expect to have dinner on the boat deck within minutes. Here, though, assumptions are better left at home.
Fishing in the Bahamas offers you the chance to catch nearly every Caribbean species imaginable, along with the opportunity to land world record fish on a daily basis – the excitement is real. Few places hold a candle to the epic, big game battles that happen on these waters – and it all happens with dream-worthy Bahamian backdrops painted endlessly in a thousand shades of blue, white, and turquoise.
Before you cast a line into these awe-inspiring waters, it's essential that you know the fishing rules and restrictions of the Bahamas to avoid any problems.
Don't let a simple case of unawareness put a damper on your holiday. Here's a quick overview of the basic fishing guidelines, but be sure to FOLLOW THE LINK ABOVE for more in-depth information on fishing in the Bahamas and the rest of the Caribbean.
A fishing license is required in the Bahamas, although you should have been issued one along with your cruising permit.
Various fishing nets and traps are off limits, and so are certain mesh sizes (see link above).
Various marine parks prohibit fishing within their boundaries (see link above).
All coral species, sharks, billfish, turtles, and sea fans are illegal to target or take.
Closed seasons and size limits exist for various species (see link above).
Spearfishing is legal in the Bahamas, but spearguns are prohibited – only Hawaiian Slings are approved for use. Additionally, you may not spearfish within 200 meters of any coastline throughout the country.
Now that you're up to date with the laws, regulations, size limits, and seasonal fishing restrictions in the Bahamas, it's time to dig deep and make some tough choices. Of course, certain fishing locations throughout the country are better for specific species than others, but you won't run into many troubles regardless of where you are. Here are just a few fishing destinations that are sure to leave you stunned with excitement, and hopefully, deliver some of the best fishing of your life while sailing the Bahamas.
Abaco Islands Fishing
Situated in the northeast Bahamas, the Abaco Islands are known for their outstanding fishing – specifically, marlin fishing. During peak season – historically running from April to July – marlin can be found just about anywhere around the islands. However, locals have their favorite stomping grounds, and the secret is getting out. Right off the lighthouse of Elbow Cay, marlin fishing has proven to be consistently productive, and the action isn't slowing. Your best bet is to drop your lines when the depth reaches about 500 feet. Another local tip is to troll the area when the tides are receding and when the water is abundant with plankton – generally changing the water's color to milky green.
If you're interested in a fishing tournament, look no further than the Abaco Islands. Every year, between April and July, the islands host big game fishing tournaments, and the turnout is never disappointing. In 2011, one fishing team pulled out a nearly 120-pound Bluefin Tuna – setting a world record for the species and further signifying the epic possibilities in the area.
Bimini Fishing
Bimini is only 50-some miles from Miami, Florida, and it's comprised of three main islands that sit in the middle of the ocean. The islands are a fisherman's playground, allowing the opportunity to catch nearly any species found throughout the Bahamas. In fact, there have been over 50 record-setting catches in Bimini alone – making it a highly coveted destination for sport fishermen.
The locals in Bimini spend a lot of time tuna fishing, as do the visitors to the area. As with most other destinations throughout the Bahamas, the once-coveted Bluefin Tuna has seen a massive decline in numbers over the years. Yellowfin Tuna are now found in higher numbers than ever before, so they have landed the spot for the top species in the area. Tuna fishing can be unpredictable, but the locals have found tried-and-true methods for locating their masses. Follow the birds! Seabirds target baitfish that swim near the surface, and so do the tuna. The birds are the first to spot the baitfish, so trolling the waters before the tuna gets you a headstart on the action.
Exumas Fishing
Deep-sea fishing, reef fishing, shore fishing, spearfishing, bonefishing, lobstering – you name it, the Exumas delivers. The nice thing about the Exumas is the location. Whether you're basing your trip entirely around big game-fish or want to spread the love and make the rounds between your fishing techniques, the Exumas offers easy access to nearly any location throughout the Bahamas.
Big game can be caught year-round in the Exumas, but some months produce a better catch than others. In January, for example, Wahoo tends to run in masses. You can catch some of the heftiest fish you've ever laid your eyes on in the Exumas. On the other hand, April and May see mahi-mahi in unheard-of numbers. You have the chance to land a world record at any moment during these months.
* Always be aware of catch restrictions. All billfish are catch and release only in the Bahamas.
While you can be successful reef fishing just about anywhere in the Bahamas, visitors swear by the Exumas time after time for species like snapper and grouper. The reef fishing is second to none in any month, so no need to plan your trip around the fish. Reef fishing is the best angling for a family, especially those with younger children just starting in the sport. While deep-sea fishing is great fun, it's often a bit too much effort for those who aren't overly excited in the first place. Just be sure to reel in your catch quickly. Sharks are commonly drawn in for an easy meal from your hook. Sandy Cay is a popular reef fishing spot, but you'll have luck over just about any reef.
Spiny lobster fishing is another favorite for those in the Exumas, but you'll need to be aware of the season and the catch laws associated with it. Generally speaking, the spiny lobster season runs from April 1 to July 31. Always check for changes and updates with the local authorities. Once you're clear, you may only use snorkel gear and a Hawaiian Sling. No scuba gear or spearguns are permitted to harvest lobster. Grab a local guide or ask around for tips on hot locations, and happy eating!
Fishing in Nassau
Nassau is the capital of this giant archipelago nation, so it's only reasonable to mention it as one of our top fishing destinations. As with the rest of the Bahamas, Nassau hosts a massive spread of fishing opportunities, including bonefishing on the flats, reef fishing for snapper, and bluewater fishing for big game-fish.
Tuna fishing is one of the most sought-after species in Nassau, and the actions happen during the summer months between May and August. Yellowfin and Blackfin Tuna are the most common species, with Bluefin Tuna falling to the wayside – as they are far less common to land. The Yellowfins caught here often weigh anywhere from 20 to 400 pounds, with the Blackfins commonly taken between 25 and 55 pounds. The fish here are no joke, so prepare yourself for a real workout if you land one on your hook. "The Pocket" is one of Nassau's most popular fishing locations for Tuna, so gear up and head out to the deep blue.
The bonefishing is best at the south of the island. The most popular fishing hole here is called "The Southern Flats." During low tide, shallow waters expose giant sand patches where Barracuda, Permit, and Tarpon hang their hats. Get ready to see what all the fuss is about, but bring your A-game. These fish can escape your hook in a matter of seconds if you're not careful.
Scuba Diving While Sailing the Bahamas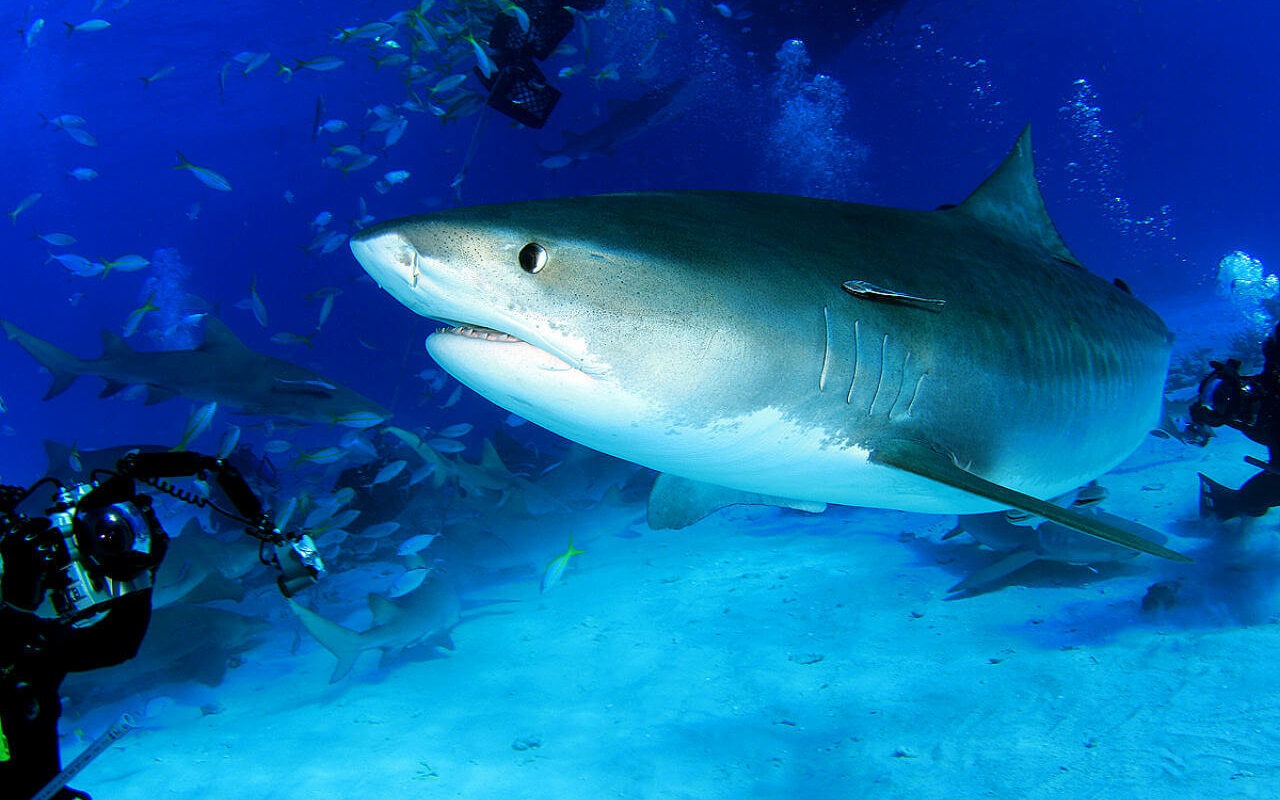 Sailing the Bahamas offers countless experiences that are as shocking as they are awe-inspiring, and scuba diving holds its place at the top of the list. Diving in the Bahamas is arguably unrivaled by most other destinations, with a vast and expansive list of unique dive sites suitable for any experience level. Adrenaline-packed drift dives, massive and dramatic wall dropoffs, eerily beautiful blue holes, color-bursting reefs, and heart-pounding shark dives – you can have it all. From ripping through washing-machine-like currents to blowing bubble rings above calm coral reefs, the following dives are certain to leave you smiling from ear to ear.
Tiger Beach – Grand Bahama
Located about an hour's boat ride from the west end of Grand Bahama sits Tiger Beach – a small and shallow sand flat home to numerous shark species – most notably, tiger sharks. Few places offer shark diving like the Bahamas, so recreational divers, scientists, and underwater photographers come from all over the globe for the experience.
The sharks at Tiger Beach are residents, and you can have face-to-face encounters year-round. With that said, October to January is breeding season for tiger sharks, so a visit during these months pretty much guarantees close encounters. Conditions are relatively consistent throughout the year, with calm currents, warm water, and lots of sunshine. The dives are shallow, and you don't do much active swimming, so expect bottom times of 45-120 minutes.
While tiger sharks undoubtedly take center stage at Tiger Beach, the dive site is also home to lemon sharks, reef sharks, nurse sharks, bull sharks, and great hammerheads. You'll see numerous shark species on most dives, and it is not uncommon to see up to 20-30 sharks at a time. There's no better place than Tiger Beach to hone your underwater photography skills, so come prepared to capture the photos of a lifetime.
To dive at Tiger Beach, you'll need to arrange a trip with a certified dive shop and an experienced dive guide. Diving in such an area without the proper briefing, knowledge, and experience can easily lead to disaster, so be sure to choose a reputable shop or guide. Day trips to Tiger Beach are possible from land but are more commonly made by liveaboard dive trips.
Current Cut – Eleuthera
Few things are more exciting than tearing through high-speed, multi-directional currents – and Current Cut is a dive site that delivers pure adrenaline for those with an itch to scratch. The dive site is a 60-foot deep, 100-yard wide crevice off the island of Eleuthera that hosts a wildly strong current that makes for some of the best drift diving in the world.
With current speeds that can reach up to 10 knots, this dive is one of the fastest drifts on the planet. In just 10 short minutes, you'll cover nearly ⅔ of a mile – only experienced divers should consider this dive. Those that make the plunge tumble their way over magnificent coral reefs covered in hearty, soft coral and sea fans – just a few of the organisms that benefit from the high flow of nutrients carried by the current. It's common to see mako and blacktip sharks, schools of stingrays, and massive big game-fish like tuna and wahoo. Don't bother bringing your camera on this dive, though – there's just no chance of consistently catching quality shots.
Vulcan Bomber and Tears of Allah – James Bond Wrecks – Nassau
For those with a love of Sean Connery, cinema, secret spies, or a shaken martini, diving the James Bond wrecks in New Providence is hard to pass up. Appearing in "Thunderball" and "Never Say Never Again," the Vulcan Bomber and Tears of Allah shipwrecks are two of the most famous in the Bahamas. Due to the nutrient-rich waters, you'll find that these artificial reefs are teeming with life – unlike many shipwrecks around the world. Turtles, rays, and sharks are all area residents – it's a dive you shouldn't miss if you're around New Providence.
Both wrecks are shallow and calm, so the sites are accessible to all levels of divers. It's easy to explore both in a single dive, as they lie just 30 feet or so from one another along the seafloor. If you want to capture a bit of Bond's legacy during your dive, be sure to bring a wide-angle lens to fit the wrecks in the frame.
The Crater Blue Hole – Andros
Andros is the largest island in the Bahamas, and it's home to several natural "blue holes" – large marine caverns or sinkholes that develop along coral reefs and limestone. "The Crater" is the most famous of the Andros blue holes, with a thriving ecosystem that delivers on numerous fronts. Blue holes are commonly suitable for more experienced divers, but the blue hole in Andros is accessible to all skill levers – just be sure to hire a guide for your dives.
Generally, first-time divers to The Crater will just explore the outer edges in shallow water. The outer edge resembles a canyon, and the dropoff to the deep blue is quite dramatic. Only highly experienced divers should descend into the hole, and they should not do so without a local dive guide. Blue holes are notoriously dangerous, as the lack of ambient light can lead to confusion and vertigo – killing many who have dived beyond their limits. The Crater is home to sea turtles, rays, eels, various reef fish – ideal marine life and an underwater landscape that make for an experience you won't soon forget.
Golfing While Sailing the Bahamas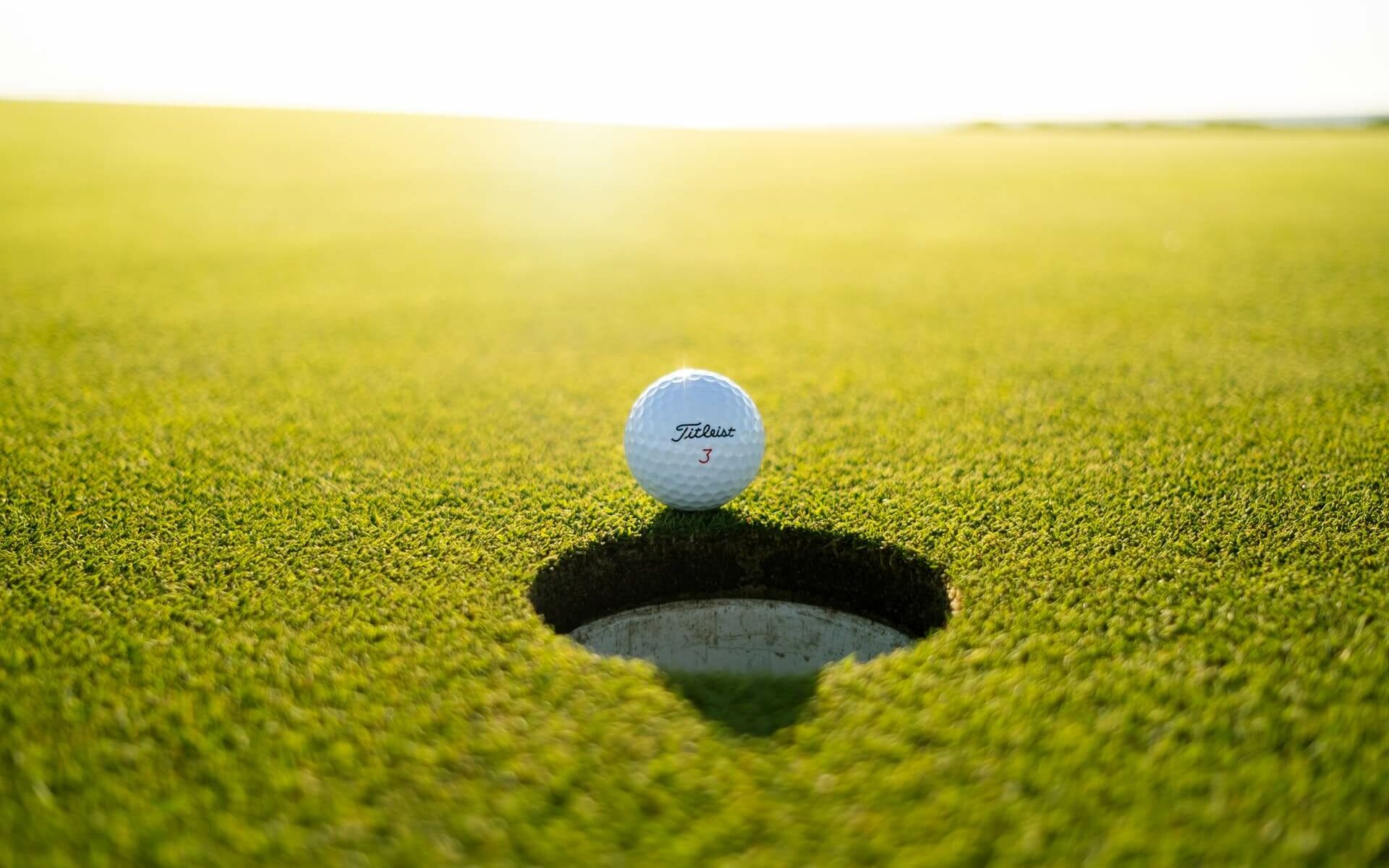 "If God played golf, he would only play in the Bahamas." It's a common expression for golf enthusiasts who get the chance to swing their clubs on these heaven-like links. Whether you've played the sport for weeks or decades, the Bahamas is a golfer's paradise for any skill level. Many of these world-famous courses display painted blue backdrops of the Atlantic, making it nearly impossible to forget your time spent on these fairways. Take a break from sailing the Bahamas and hit the links during your time around the islands.
The Abaco Club on Winding Bay – Great Abaco
It's no easy task to choose a "favorite" golf course in the Bahamas. Still, many who are experienced around these island courses choose the Abaco Club – hands down. These Scottish-style links are nestled right on the sea, offering panoramic views of the Atlantic that are arguably unrivaled by other courses in the Bahamas. Your driving game will need to be clean and polished to be successful on this hard, fast course, and you'll need to keep your cool when staring down some of the most intimidating tee shots around. Bunkers, dunes, and sloping greens make this course both challenging and rewarding for those with the patience and skill, so bring your A-game and get ready for a truly unique experience.
Ocean Club Golf Course – Paradise Island, Nassau
The Ocean Club Golf Course of Paradise Island is an 18-hole, par-72 course that spans over 7000 yards along the island's peninsula. Designed by Tom Weiskopf, this championship course is tough on even the most experienced golfers, making it a coveted experience for those up for the challenge. The course offers rentals, practice facilities, a pro shop, and golf lessons with certified PGA instructors for novice golfers or those who want to brush up on specific skills. You can book tee times up to two months in advance, so make sure to reserve your space as soon as your trip is certain.
Royal Blue Golf Club at Baha Mar – Nassau
The Royal Blue Golf Club is an 18 hole, par-72 course designed by Jack Nicklaus – considered one of the greatest golfers in the sport's history. The front nine and the back nine vary drastically, with the front nine displaying an Atlantic backdrop and a back nine of jungle and limestone. The elevation changes throughout the course make it challenging to stay on par, so it's the perfect place to test your driving and short-game precision. Don't want to haul your clubs to the course? No problem. The world-class rental program offered at Baha Mar lets you rent the latest and greatest in the game, with equipment from Callaway, PXG, TaylorMade, and Titleist, to name a few.
Tours While Sailing the Bahamas – Nassau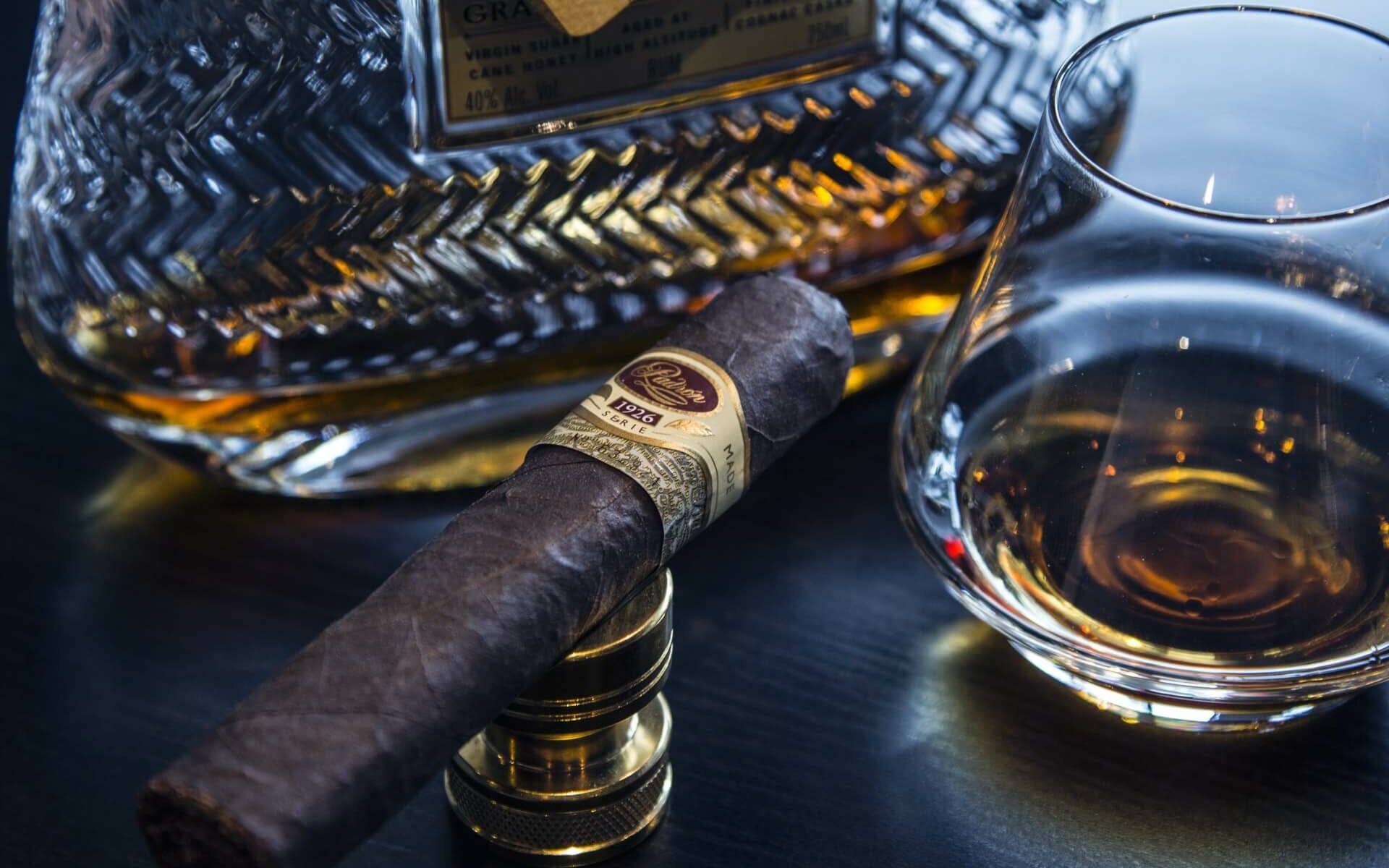 One of the best ways to explore new destinations is by taking local tours, and there are some truly unique and memorable experiences to have while sailing the Bahamas. You can hire a private guide, join a group tour, or arrange your own itinerary. We always prefer hiring a local guide – the knowledge and experience of locals, regardless of the destination, always wins over a standardized tour. Whether you're looking to explore the history, culture, or cuisine of the Bahamas, there's a tour to satisfy.
Graycliff Cigar Rolling Demonstration and Rum Tasting Tour – Nassau
In the Bahamas, there is no pairing more iconic than cigars and rum. Of all the companies offering rum tasting and cigar rolling tours in the Bahamas, none are as well known as the Graycliff Cigar Company – an extension of the historical Graycliff Hotel and Restaurant in Nassau. Graycliff cigar production began in 1997 with a single cigar roller and has now grown to a globally recognized boutique cigar company that employs 16 master rollers – each having perfected the art of Bahamian cigars.
The Graycliff company offers a two-hour cigar rolling demonstration and rum tasting tour for those interested in seeing how the cigars are produced. The tour gives you first-hand insight into just how artistic Bahamian cigar rolling is and how a truly perfect pairing of tobacco and rum can take you to a place of bliss. For a full-bodied taste of traditional Bahamas, look no further than this tour.
Straw Market Tour – Nassau
When traveling to a destination for the first time, the best way to get a feel for the people, culture, and cuisine is to visit a local market. This holds especially true with the Bahamas. For a truly authentic Bahamian experience, join a locally guided tour to the Straw Market in Nassau. The market hosts local vendors who sell handmade crafts and souvenirs – most of which are woven from straw. Bags, hats, mats, dolls, conch jewelry, wood carvings – the list is long, and it's continuously evolving. The vendors accept both US and Bahamian dollars, and the market operates daily from 8 AM to 8 PM.
Bahamian Food Tour – Nassau
To truly discover a country and its culture, you need to dive deeply into the local cuisine. The culinary world of the Bahamas is made up of a myriad of tastes, textures, and colors – and the fresh local ingredients deliver bursts of joy with every meal. Seafood, of course, is a staple throughout the country – with conch taking center stage as the national dish of the Bahamas. Conch is cooked in endless ways, each as mouth-watering as the last. Conch fritters, cracked conch, conch salad, conch chowder – be sure to try as many conch dishes as possible. Food Tours in the Bahamas are plentiful, and Nassau is arguably the best place to indulge.
Visiting National Parks While Sailing the Bahamas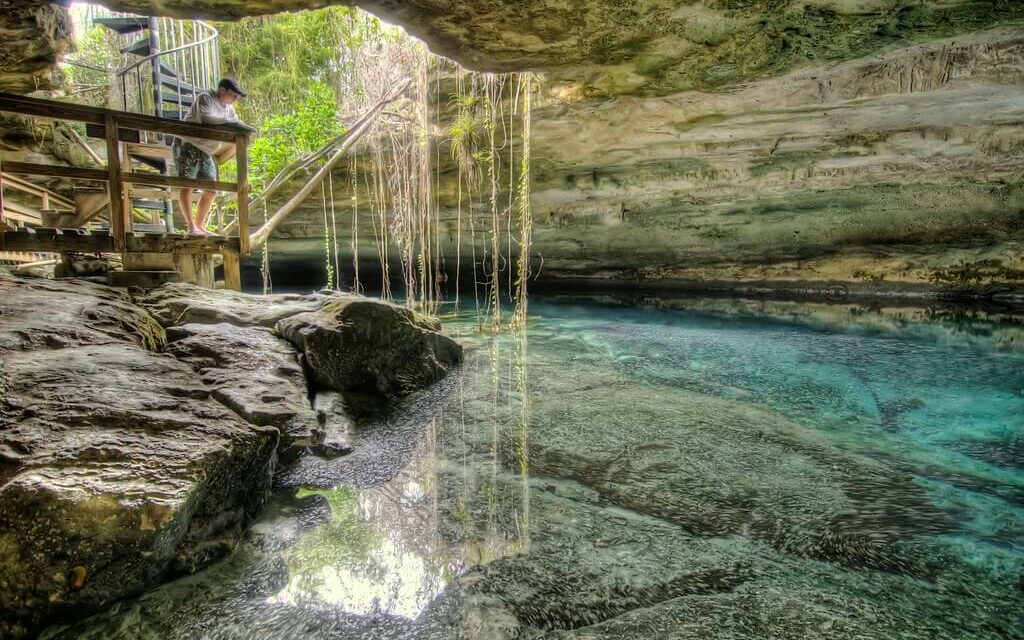 The Bahamas is home to 14 national parks, two land-and-sea parks, and two marine parks – making the prospect of exploring some of the 20,000+ square miles of protected land a genuine possibility. Protected and endangered wildlife inhabits much of the land, and natural wonders are abundant – with one of the largest marine cave systems and the third-largest coral reef in the world.
Inagua National Park – Great Inagua
Inagua National Park is located on the southernmost island of the Bahamas, boasting over 280 square miles of pristine island beauty. Due to its location, visiting the park is usually an uncrowded and blissful experience. The park is home to the world's largest breeding colony of West Indian Flamingos – the national bird of the Bahamas. With the number of flamingos in the park reaching over 70,000, a visit to the park delivers an unreal experience that can be had in few other places across the globe. The park does have an active warden but lacks infrastructure and trail systems to assist visitors in exploring the park. The park requires visitors to hire an approved guide for a visit, most of which run for about three hours and cost around $40 per person. Reduced rates are available for groups of five or more.
Exuma Cays Land-and-Sea Park – Great Exuma
Known as "The Crown" of the Bahamas – the Exumas consist of 360+ islands, displaying some of the most beautiful landscapes in the region. Every island offers a unique experience, and the Exuma Cays Land-and-Sea Park on Great Exuma is no exception. The park was created in 1958, and today, the park is made up of over 175 square miles of land and water. It was the first "no-take" reserve in the Caribbean. Fishing or harvesting marine life is illegal, creating some of the most pristine underwater environments you could ask for.
The park is easy to explore for those with a boat due to the numerous moorings available for visitors. They are available on a first-come, first-served basis, and many can even hold larger yachts. From snorkeling with nurse sharks to exploring the various naturally occurring ecosystems on land or underwater, the Exuma Cays Land-and-Sea Park is sure to tick a few boxes for any type of visitor.
Pelican Cays National Park – Cherokee Sound, Abaco
As the second land-and-sea park created in the Bahamas, Pelican Cays is a marine-life hotspot in the already abundant and thriving Bahamas. The park's unique and extensive reef systems are enhanced by the laws and regulations in the area, boosting marine life biomass and increasing biodiversity. As a result, people worldwide flock to the park to enjoy the snorkeling and diving opportunities on offer. Apart from the marine life excitement, the park is home to powdered white sand beaches that are as pristine as any other throughout the Bahamas, making the prospect of lounging in paradise all too real. The park is located about 9 miles southeast of Marsh Harbour, and moorings are available for visitors who are sailing the Bahamas.
Festivals and Events While Sailing the Bahamas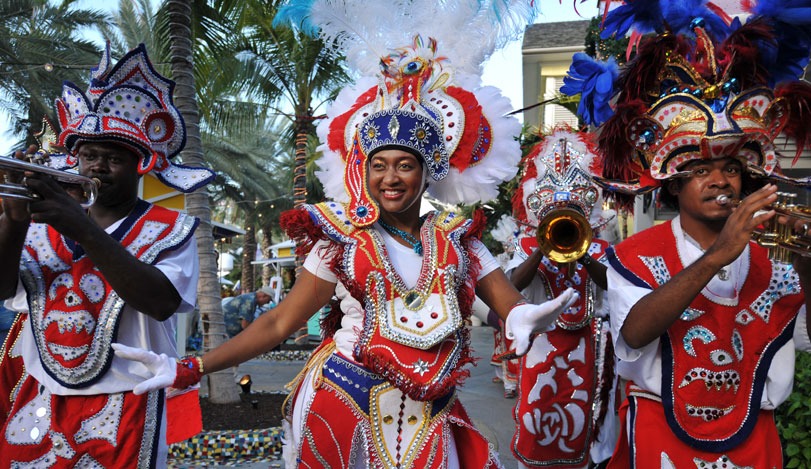 The Bahamas has a vibrant history that has developed and evolved over many generations. With its roots stemming from African culture, the island nation has developed a unique and colorful style of expression to include its American and European influences. From the world-famous Junkanoo Festival to the Regattas attended by yachties worldwide, there is always something to bring out the authenticity and taste of the Caribbean that the Bahamas is so well known for.
Junkanoo – Nassau
Junkanoo is by far the most well-known cultural festival in all of the Bahamas. It is said that the celebration originated in the West Indies by slaves who demanded the right to celebrate amongst themselves. Although it began as a spontaneous event, it has now become one of the Caribbean's most significant festivals celebrating the people and culture of the Bahamas. The biggest days for Junkanoo celebrations are on Boxing Day and New Years Day, although there are smaller celebrations during the spring and summer months. Be sure to ask about the smaller festivals anytime you are sailing the Bahamas. The largest of the celebrations occur in Nassau. If you're headed to the area strictly for the festival, Nassau is your best bet.
Participants in the festival spend months preparing costumes, instruments, and dances for the spectacle. Many compare Junkanoo to New Orleans during Mardis Gras, a colorful and vibrant event fueled by dance, music, cuisine, and culture. On Boxing Day, the main event takes place from 2 AM to 10 AM, so you'll need to have your party shoes on to stay lively through the night.
National Family Island Regatta – Elizabeth Harbour, Exuma
Every year, for a period of four days, the top sailors from all over the Bahamas come to Elizabeth Harbour on Exuma for the National Family Island Regatta. During the event, sailors race their locally built sloop rigs for "Best in the Bahamas." While the sailing competition is the main draw for the event, visitors who don't participate in the race can enjoy many things both on and offshore. Parties, weight-lifting competitions, sand volleyball, and much more give those without the racing itch yet another reason to visit the world-renowned Exuma Islands. The event generally occurs in the last week of April, but the dates are subject to change by the year. Be sure to check in with the official NFIR website for updates on the dates and the event itself.
All Andros Crab Fest – Fresh Creek, Andros
Andros Island, otherwise known as "the land of crabs," hosts a festival every year in the second week of June called All Andros Crab Fest. The purpose of the festival is to amp up the local economy by bringing in both domestic and international tourists – teaching them the crab-catching ways of the Andros people. With thousands of visitors to the event every year, the culinary experience of the festival is truly unique, serving up local dishes such as crab rice, crab soup, crab and dough, and just about any other crab dish made famous in the Caribbean. A friendly note to attendees of the festival – all pets must stay on leashes at all times. Loud, unexpected noises can startle animals and make the event unenjoyable, so consider leaving them at home or on the boat for the event.
Historical Sites and Cultural Landmarks of the Bahamas
If you're looking to add a bit of history and culture to your trip to the Bahamas, you should have no trouble satisfying the urge. The Bahamas is home to numerous historical and cultural landmarks. Places like Nassau have weeks worth of locations to keep you busy. From time-honored colonial buildings to various parks and historical museums, these islands will keep you wide-eyed and wondering for years to come after your visit.
Fort Fincastle and The Queens Staircase – Nassau
This pairing is one of our favorites. The Queens Staircase is one of Nassau's crown jewels when it comes to history, and it's located inside the Fort Fincastle complex on top of Bennet's Hill in Nassau. The fort was initially built in 1793 by a man named Lord Dunmore, and the staircase was created as an access point from the city. 600-some slaves constructed the hand-carved limestone staircase and, which took more than 16 years to complete. The staircase is named after Queen Victoria.
Fort Fincastle was also constructed with limestone, and its structure resembles a colonial riverboat. Sitting at the top of the hill, it overlooks Nassau and the rest of Paradise Island – the chosen location to guard Nassau and the harbor. The fort is relatively small, and you can stroll through the complex in under thirty minutes. The view from the top is quite spectacular, so come prepared with a camera in hand.
Hamilton's Cave – Long Island
Located on Long Island, Hamilton's Cave is among the most extensive cave systems of the Bahamas. Not a fan of confined spaces? No worries! The passages in Hamilton's Cave are at least 50 feet wide and 10 feet tall, making it a no-stress situation for even the most claustrophobic of us. Lucayan artifacts have been discovered since 1935, and you can still see the original hieroglyphics on the cave walls. The cave's entrance is located just a few hundred feet off of Queen's Highway. While the cave is relatively safe to explore, you may not explore the cave without a guide. The chances of getting lost are pretty high if you are unfamiliar with the cave system. Please be advised that while the passages are large, the area is unsuitable for those with physical disabilities or wheelchairs.
* Support the local communities by hiring a guide for excursions while sailing the Bahamas.
Is Sailing the Bahamas Safe?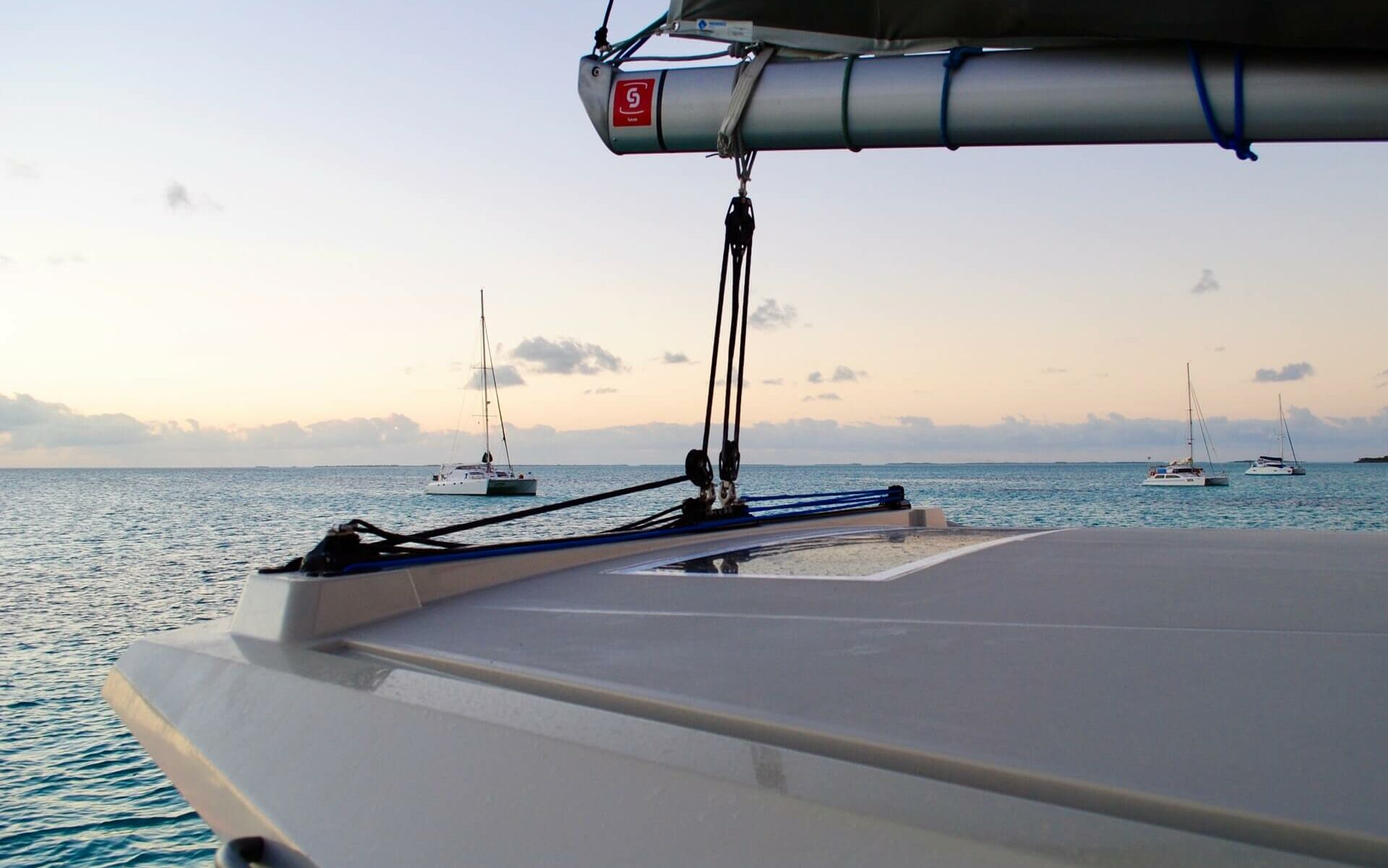 Generally speaking, sailing the Bahamas is as safe as any other destination. As with anywhere, though, it's essential to exercise caution to prevent theft, robbery, and assault during your visit. If you ask around, the common response to crime inquiries will follow with something about Nassau. That being said, with the right state of mind and some common sense, you should be able to avoid any real problems.
The following advice and travel warnings have been issued by the US Department of State – they are subject to change, so double-check for updates before you leave for sailing the Bahamas.
Visit the US Embassy's website for up-to-date safety information before your arrival.
Do not answer the door at your hotel/residence if you do not know who it is.
Do not physically resist any robbery attempt.
Review the Bahamas crime and safety reports before your arrival.
Review the US Travelers Checklist before your departure.
Outside of personal safety, you should be mindful of petty theft while sailing the Bahamas. Things like dinghy outboard motors, tools and personal belongings are all easy targets – as with anywhere in the world. Mainly, these thefts occur at night when the boat owners and crew are sleeping and can be avoided by simply not leaving things accessible to would-be thieves.
If you can, remove your outboard from the dinghy and place it into storage while not in use. If you do encounter a theft in progress, don't physically confront the burglars. Instead, turn on as many lights as possible, make loud noises, and immediately call for help from local law enforcement.
When leaving your vessel for the day or going to town for an evening, be sure to lock all entry points to your boat. Don't loudly speak of your plans in public areas, and if possible, stay in an anchorage or marina with other boats nearby. The sailing community is close-knit, and other boat owners are happy to keep an eye on your boat while you're away.
Costs of Sailing the Bahamas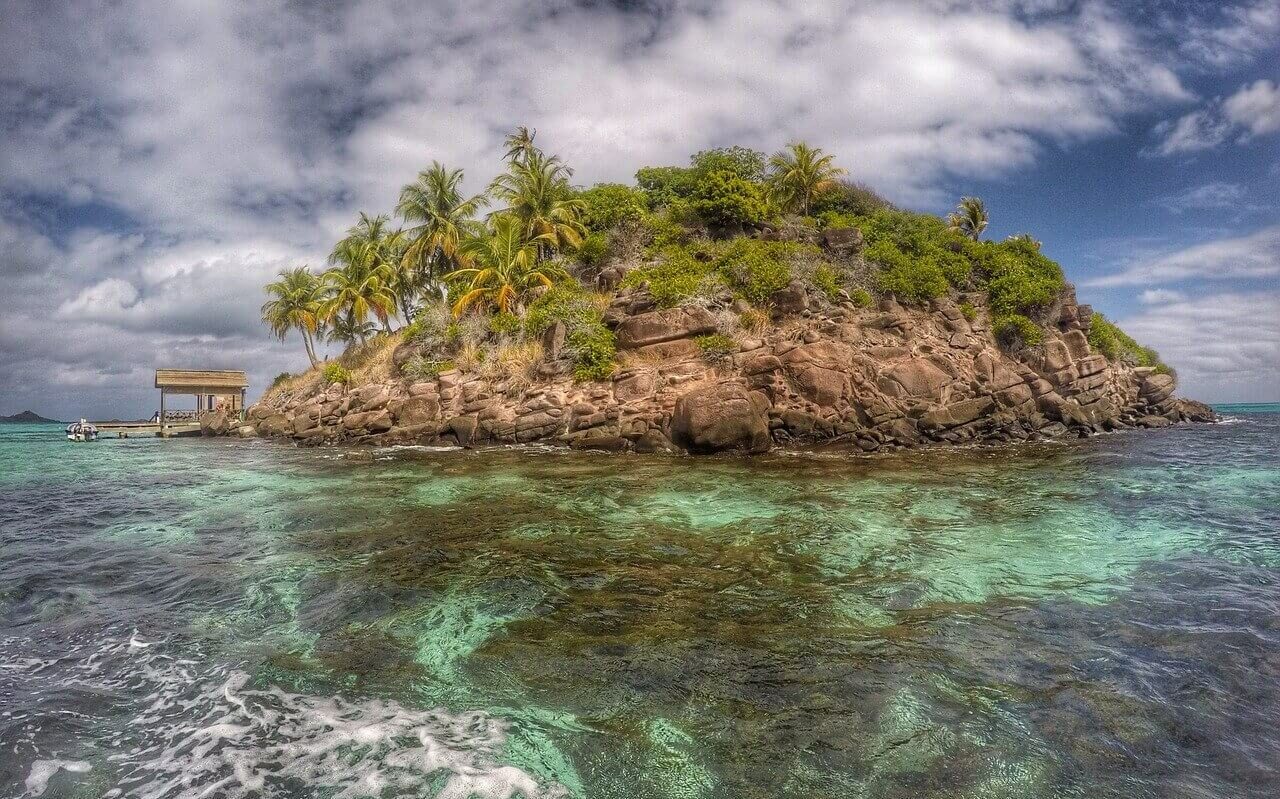 As with any destination, the costs of cruising the Bahamas will depend entirely on your cruising style and the experiences you aim to have. After considering all costs, from repairs and maintenance to excursions and eating out, the costs for cruising the Bahamas can vary wildly. The good news is, most sailors are in the same metaphorical boat – trying to stretch their finances as far as they can while still living out their dreams.
How Much Will Sailing the Bahamas Cost?
We've broken down the expenses and estimated monthly costs for four different sailing categories below. Keep in mind that these are all estimates, and while many people have documented falling in these price ranges based on their cruising style, not everyone will be able to manage their expenses the same. The qualities listed can be mix and matched to suit your lifestyle, and you can trade certain luxuries and costs for others when it works for you.
Shoestring Budget Sailing – The Bahamas ($700-$1000/Month)
While not many choose to live the extreme budget cruising lifestyle, it is still possible with the right amount of planning and preparation. The following is typical for shoestring budget sailing in the Bahamas:
25-35' sailboat – it's uncommon to see many cruisers on a boat under 30'.
Able to successfully fish for a significant amount of meals.
No marina stays – only anchorages and moorings.
Basic meals will suffice – beans and rice will be a staple.
No car rentals.
No hotels on land.
Self-entertained – little to no paid excursions.
Slow travel – minimal fuel costs.
Independent boat maintenance and repairs.
Budget Sailing – The Bahamas ($1000-$1500/Month)
Budget sailing is more common than shoestring sailing, and many people who are eager to jump into the cruising lifestyle start on a budget similar to this. The following is typical for budget sailing the Bahamas:
35-45' sailboat – smaller boats are easier to maintain and require less fuel.
Able to successfully fish for meals several times per week.
Limited marina stays – sleeping at anchorages and moorings on most nights.
Strike a balance between high-end and basic meals – primarily cooking on the boat.
Limited car rentals – reserved for special occasions and emergencies only.
Limited hotels and excursions – special occasions only.
Semi-slow travel – conscious of fuel costs.
Mostly independent maintenance and repairs.
Comfort Sailing – The Bahamas ($1500-$2500/Month)
While not everyone can afford this cruising lifestyle, it is possible to live this way – especially when comparing the costs of living at home or elsewhere abroad. The following is typical for comfort sailing in the Bahamas:
45-55' sailboat – larger boats provide more functionality and more leisurely travel.
Able to successfully fish for meals on occasion – two to three times per week.
More room for high-end dining – You should cook about 50% of your meals on the boat.
Only staying at marinas when needed for electricity, repairs, and provisions.
Occasional car rentals when necessary for travel or special occasions.
Hotels and excursions when desired during travels or special occasions.
Travel at a faster pace – still using the sails when possible.
Some independent maintenance and repairs – outsourced when necessary.
Luxury Sailing – The Bahamas ($2500+)
Luxury sailing brings a new level of comfort and class to the cruising lifestyle. It is common for those living within this budget to be retired, earn passive income, or work from the boat. The following is typical for luxury sailing in the Bahamas:
55'+ sailboat – ranging all the way up to superyachts.
Successfully fishing for meals serves more as a hobby or sport rather than a requirement.
Catered, high-end meals on the boat or on land are an option.
Paid long-term marina slips are an option – prices vary drastically.
Explore and travel by car as you wish.
Stay at hotels or homestays as you wish.
Speed of travel is not of concern.
Able to outsource nearly all maintenance and repairs.
Want to join the community at #BoatLife? Get a conversation started on our new forum by leaving a question or comment!
If you found this article helpful, please leave a comment below, share it on social media, and subscribe to our email list.
For direct questions and comments, shoot me an email at travis@boatlife.io