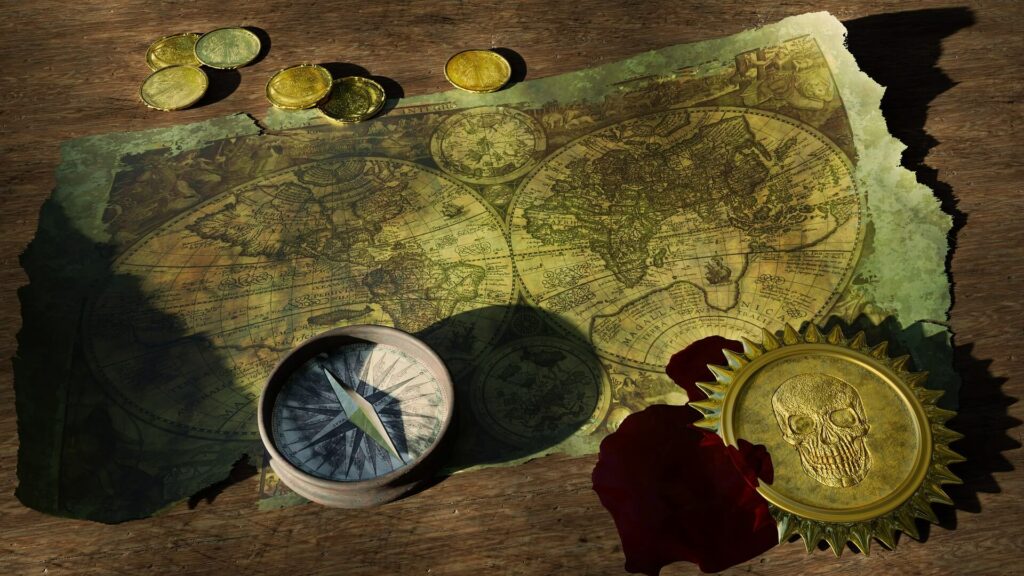 How Will You Discover Underwater Treasure While Diving on a Sailing Holiday?
After choosing a geographical area for treasure diving, detection devices map out the seafloor to search for sunken wreckage.
Examples of underwater equipment used are:
Boat-towed side scan sonars
Boat-towed metal detectors
Remotely operated underwater vehicles (ROV)
Autonomous unmanned vehicles (AUVs)
Cameras
Video
Handheld metal detectors
How to Detect Undiscovered Shipwrecks Underwater
Over time, shipwrecks become unrecognizable as saltwater corrodes them and coral communities begin to grow on their exteriors. Once enough sediment deposits on and around them over time, they disappear entirely into the sea bed.
To find these lost ships, treasure divers and salvage teams rely on modern-day electronic devices that scan the seabed using a combination of side-scan sonars and metal detectors. Specifically, side-sonar towfish or magnetometer-towfish sweep the seafloor to locate wrecks by enhancing the relief of any form, including a wooden hull if sediment has not covered it.
To find completely buried items, a magnetometer device detects things such as anchors, nails, cannonballs, and any other metallic objects.
Many shipwreck diving sites are well known, but you will want to avoid these locations when searching for treasure. If you were searching for treasure in Egypt, you wouldn't look toward the world-famous pyramids for results. The same applies to popular shipwreck diving sites. Your chance of salvaging valuable items increases dramatically when you focus on new sites which others have not discovered.
Your priority is to establish an area for your search. Bear in mind that most ships have run aground in shallow waters – and wrecks are often within 3-miles of land.
If you're looking for old shipwrecks, you could study ancient supply routes and see what areas within those routes were notorious for storms or other factors that would have caused ships to sink. Many people focus on island groupings within these routes and have had success in finding wrecks in similar locations.
Indeed, many ships went down in the deep sea due to severe storms, battles, or piracy, but locating these vessels is a costly endeavor that will require highly specialized techniques and equipment.
Equipment for Detecting Underwater Shipwrecks
What is a Towfish?
A Towfish is a torpedo-shaped cylinder, manufactured as either a side-scan sonar or magnetometer. It is usually towed three ship lengths behind the boat to ensure that its vibrations and structure do not interfere with the data collected.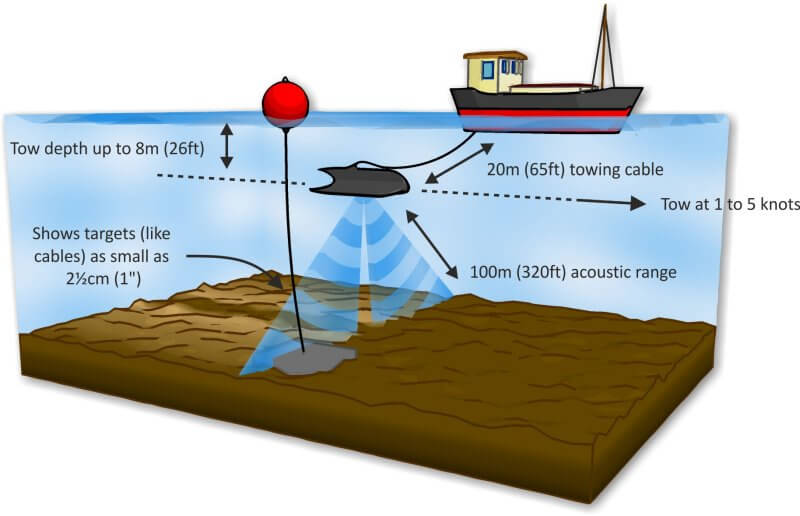 A Towfish typically has​ 2 – 4 fins behind the cylinder. Most manufacturers make them so that the fins will dislocate if the Towfish becomes stuck in the seabed – ensuring the cylinder is retrievable.
With new materials and technology, the weight of the "fish" has reduced dramatically. Most towfish weigh under 20kg, making them easily operated by a one-person crew. The typical length of a Towfish is 1.5 meters​ or less, with some models measuring only 250mm in length. ​
There are even records of kayak enthusiasts who have used towfish to locate shipwrecks, making them the ideal instrument for a small boat owner to operate.
Towfish Side-Scan Sonar
The side-scan sonar sends a burst of acoustic energy out from both sides of the instrument. The acoustic energy bounces off any object that isn't buried and echoes back to the vessel. A transducer receives the echo and produces a computer-enhanced image of the object.
Side-scan sonars offer detection as deep as 150 feet and as wide as 24 feet. These sonar scanners often exceed $2000. More expensive units can scan the deep sea. These are not for amateur treasure diving hunters, though. They are mostly used to do research work with or by professional salvage companies.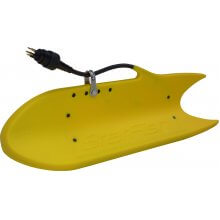 Towfish Magnetometers
A magnetometer is a passive survey instrument that does not send out any signals but picks up any object's signal within the earth's magnetic field. The magnetic disturbance will depend on the object's material, size, and depth under the sediment. Iron objects will typically cause the most significant disturbance, but shallow and larger non-iron items could also cause a considerable change in the magnetic field.
A boat-towed magnetometer is the most powerful device for detecting iron and steel. These devices also use a towfish, and since they compare the intensity and direction of the magnetic field to one another, they seem to give more accurate readings.
With these devices, large areas of the seafloor are scanned, making them proficient and economical instruments. The magnetometer can pick up a shipwreck from up to 1000 feet away – depending on the object's material and depth. The price of a towfish magnetometer is in the region of $5,000 upwards.
ROVs
Remote Operated Vehicles, or ROVs, are unmanned vehicles that are highly maneuverable and operated remotely by humans. ROVs typically tether to the operator or ship by a series of cables, making them slightly more limited in their ability than AUVs. An ROV can send back video, data, and other valuable information without risking human time and safety.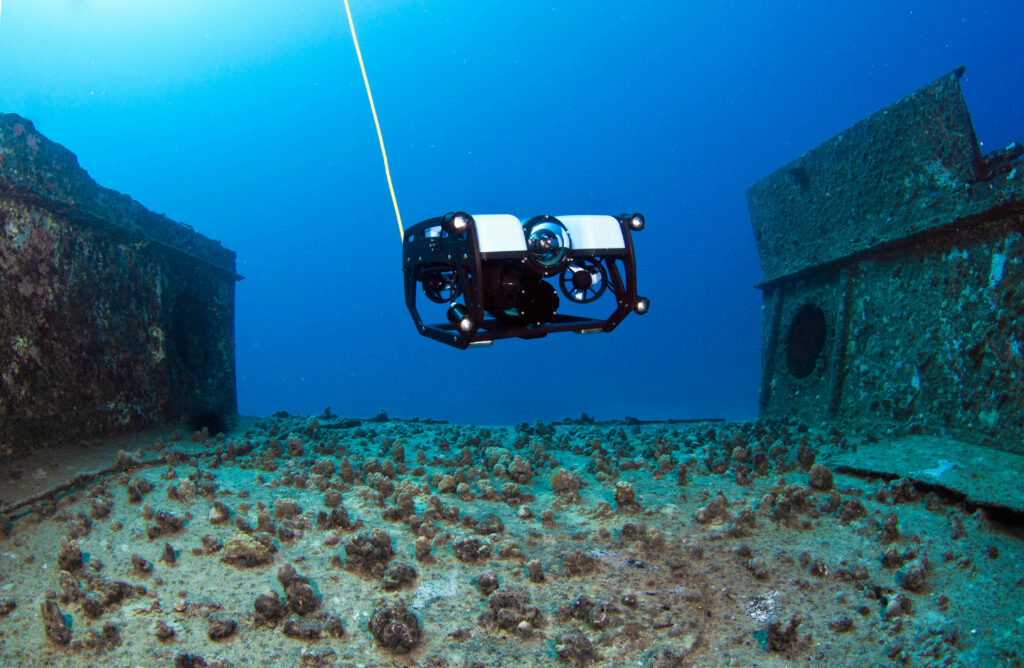 ROVs can utilize many different useful accessories. Hydraulics, cables, cameras, and lighting equipment help to survey underwater landscapes and potential wrecks. Side sonars and magnetometers have proven more useful when used in conjunction with them.
They can work to depths approaching 4,500 meters (15,000 ft), depending on the model's specifications. A basic ROV that can dive to a depth of 100 meters can be obtained for less than $2,000, making it an ideal tool in an amateur treasure hunter's arsenal.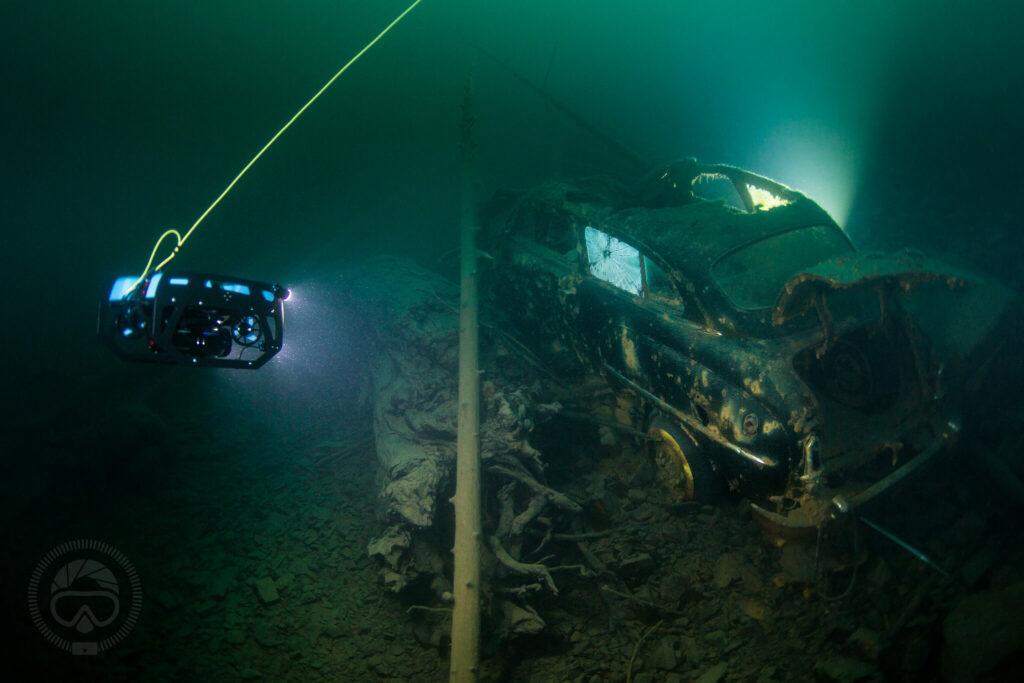 AUVs
Autonomous Unmanned Vehicles or AUVs, employ one or more of the technologies listed above. AUVs operate independently from a ship, with no connecting cables, and have an operating depth of approximately 11,000 meters (36,000 ft). AUVs are generally too expensive for an amateur treasure hunter and cost anywhere from $80,000 upwards.
Manufacturing AUVs with lightweight composite materials allow them to withstand large amounts of pressure without sacrificing design features. Autonomous Unmanned Vehicles weigh anywhere from several hundred to several thousand pounds, depending on the model's depth specifications. Smaller AUVs can fit on a sailboat; however, even the smallest AUVs are not suitable for an amateur treasure diving hunting excursion.
They run on battery power, and the battery's size influences the price range of the model. The submersion time depends on the strength of the battery bank, and the cost reflects performance.
Handheld Metal Detectors
Metal detectors used in underwater searches can withstand pressure at great depths and are useful after defining smaller target areas. When you've pinpointed your search area, these units are perfect for defining individual targets. Underwater handheld metal detectors eliminate the effects of highly mineralized water and magnetic black sand – giving a signal only when a metallic object is present.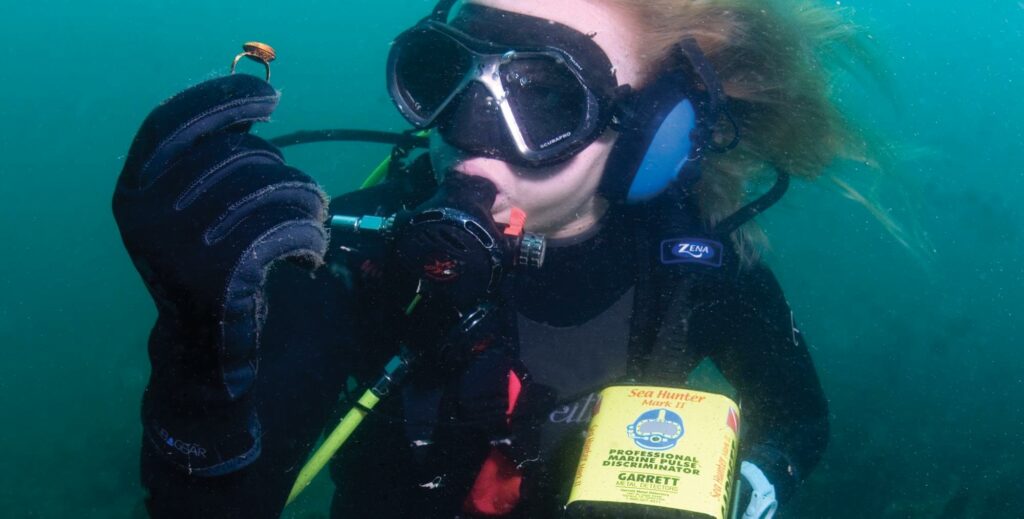 Magnetic detectors can be used to a depth of 200 feet and have a search coil that is permanently attached to a control box. Headphones are also hardwired to the control box and have a robust volume control for hearing through the neoprene hood. Depending on the dive, however, underwater hearing impairment may be an issue.
Pinger Receiver
Once you've discovered a shipwreck, you'll want to mark its location. An acoustic transmitter – called a pinger – marks your position at the wreck and then transmits a frequency for relocation.
To track the frequency, you'll use a pinger receiver. This receiver can be deployed from a boat scanning 360-degrees using an external hydrophone kit, or carried by a diver.
The receiver is handheld, easy to operate, and has attached earphones to locate the frequency. When the receiver is pointing in the pinger's direction, the LED light on the console will flash, and an alarm will sound into the headphones.
Using Data from Landsat 8 Imagery
Landsat 8 is a collaboration between NASA and the USGS, using thermal infrared sensors and land imagery to collect data and images from the ocean and the earth's surface. Although you will likely need a course to interpret the data and images correctly, it's a free and useful resource for amateur treasure hunters.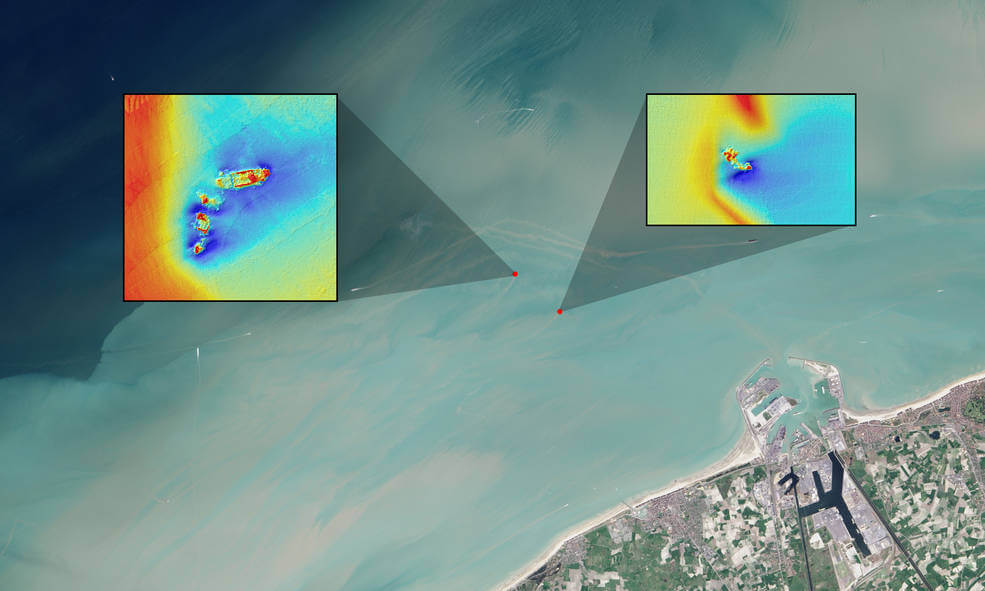 Structures and vessels resting on the seafloor can create tell-tale sediment plumes or upheavals on the sea surface, mapped with Landsat 8. Plumes extend as far as 2.5 miles downstream from a shipwreck in shallow water, traceable with the ebb and flow tides.
A sunken ship's structure creates scour pits filled with fine sand, clay, and organic matter during slack tide. Sediments are deposited in these pits and are re-suspended during the ebb and flow tides. When the sediment reaches the surface, it forms these plumes, making it easier and cheaper to find uncharted shipwrecks.
To date, Landsat 8 imagery is most effective in shallow coastal waters.
Finders Keepers?
The "Law of Salvage" may apply when a submerged ship and its contents go unclaimed for a certain amount of time. When dealing with archeological finds, countries have different laws for salvage.
Countries like China and the Philippines claim ownership of everything under the water in their territory, while the USA claims ownership of any wreck with 3-mile proximity to the coastline. Many other countries lay claim to wrecks older than 150 years, and some organizations forbid you to disturb a wreck of historical value.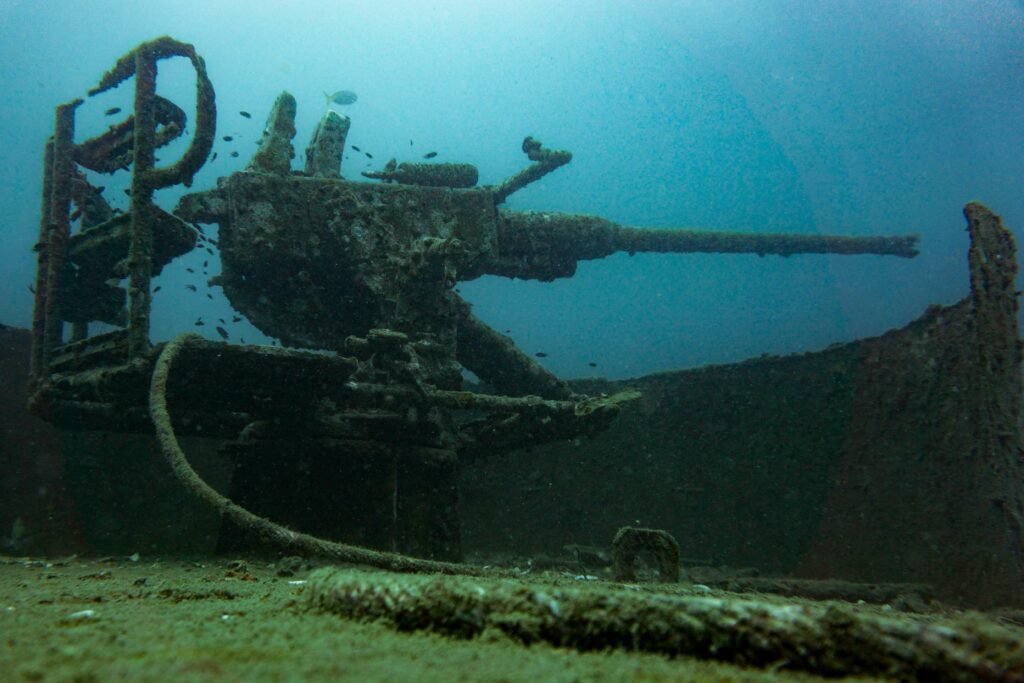 It can be exhilarating to discover hidden treasures in shipwrecks under the sea. It is, however, important to be aware of your responsibilities when you discover something. For treasure diving it is advisable to research your rights before taking on the expedition; otherwise, you may be inadvertently breaking the law and exposing yourself to the possibility of punishment.
Not all shipwreck dives are created equal
Is it a Treasure?
Many underwater explorers have found great treasures, riches, or fame; however, not every shipwreck lying at the bottom of the ocean carries salvageable or profitable goods. Many warships sunk in the first and second world wars were carrying artifacts and artillery, but it was uncommon for them to have a treasure like gold or silver.
Some shipwrecks have deteriorated so much that they are indistinguishable, and it is hard to salvage anything from them. You will often only find things such as pottery and metal artifacts, as their weight keeps them from washing away with the currents and tides. Most of these wrecks are now host to coral communities and sea life, protected under environmental law.
Too Deep to be Profitable
Our oceans are vast, and at some points, the seafloor reaches depths of 27,000 feet, making it impossible to access without complex and expensive equipment. Shipwrecks at these depths remain only accessible to professional explorers and scientists with the money and resources to salvage them.
All in all, amateur treasure diving hunters can use most of the above equipment to improve their chances of finding wrecks that offer treasure and adventure.
* If you plan to penetrate shipwrecks, caverns, or caves while diving in search of treasure, you will need to be certified to ensure your safety.
Interested in learning more about everything #BoatLife? Help us build our community by joining our public forum and starting a conversation!
If you found this article helpful, please leave a comment below, share it on social media, and subscribe to our email list.
For direct questions and comments, shoot me an email at travis@boatlife.io