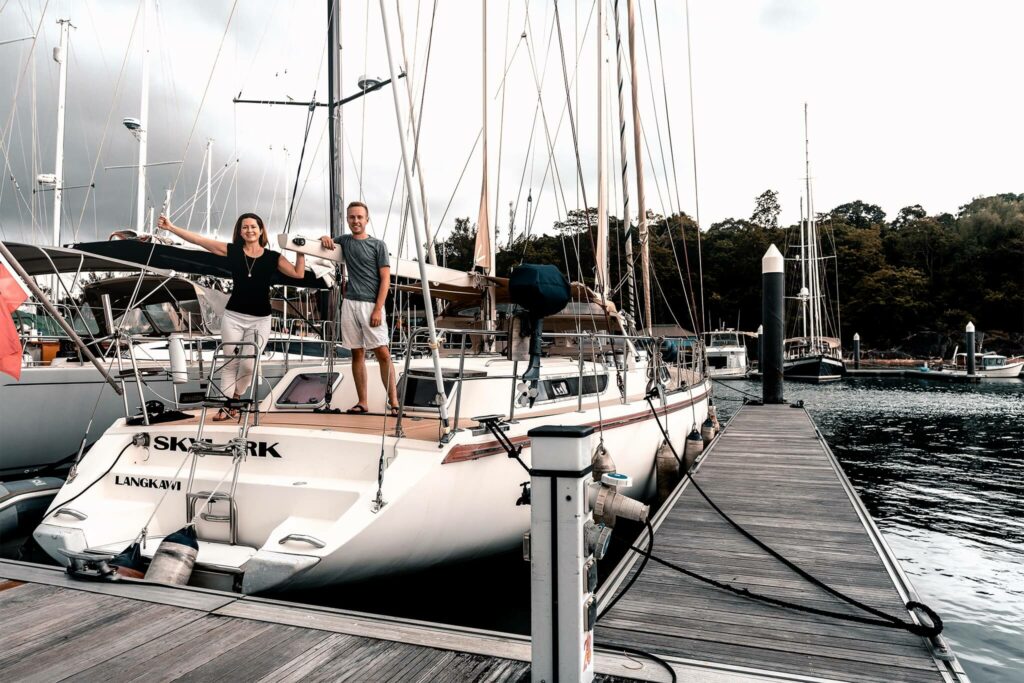 Jennifer and Chris Likins are two airline pilots turned full-time sailors during the COVID-19 era. Between a mix of aspiration and circumstance, the couple has now found themselves living aboard their 54-foot sailing vessel, "Skylark."
Although cruising full-time was not in the initial plans for 2020, their sailing enthusiasm has been alive for years. After meeting in 2011, Jennifer and Chris traveled to over 100 countries on seven continents together, several of which they visited during charter boat trips.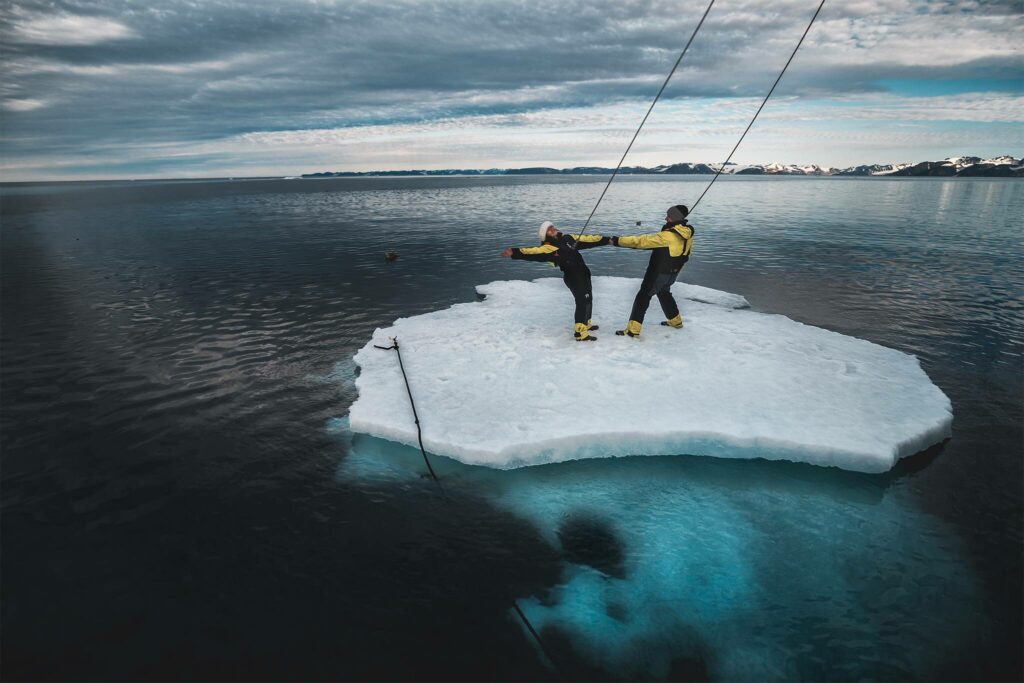 In October of 2019, the couple purchased SV Skylark to take sailing trips around their month-on, month-off work schedule. Little did they know what was ahead of them and how their plans would begin to change.
The aviation and travel industries were two of the hardest hit by the global COVID pandemic, which meant that Jennifer and Chris' careers came to a sudden and unexpected halt.
Having purchased SV Skylark several months prior, however, the lack of work and abundance of free time proved to be somewhat of a blessing in disguise.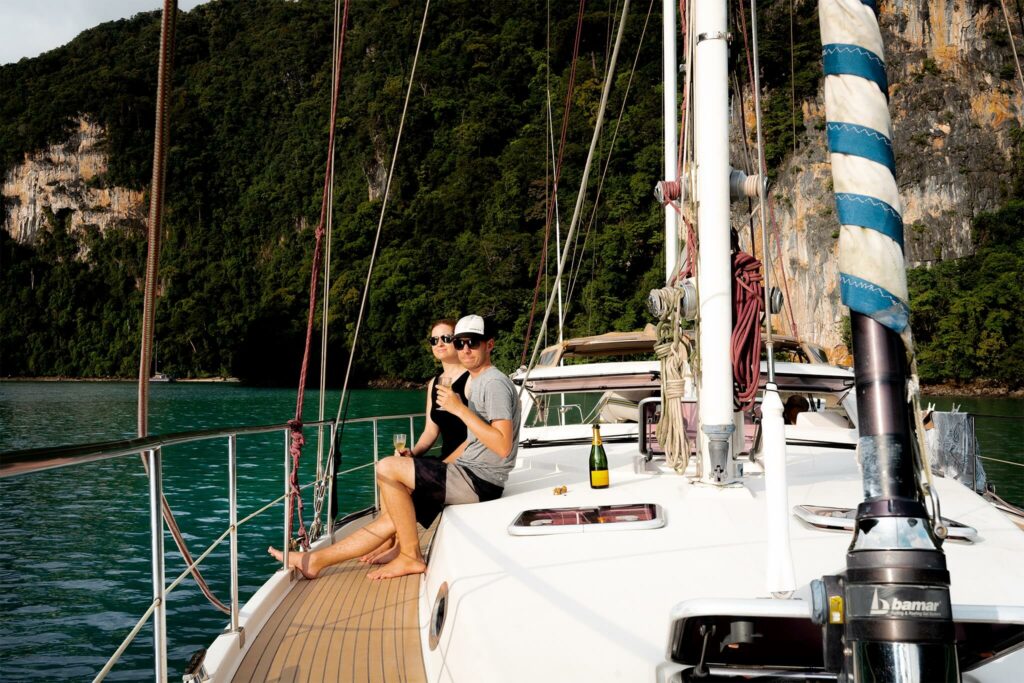 The opportunity created by these new circumstances didn't come without its own set of challenges, though.
Jennifer and Chris purchased their sailboat in Penang, Malaysia. After spending a bit of time in Langkawi, they made their way to Thailand in January of 2020. Not long after, global shutdowns and border closures meant that sailing onward to new destinations would have to wait. During the height of Thailand's lockdown, the couple spent nearly a month anchored at a small island near Phuket. With provincial borders closed, they decided it was best to hunker down and try to enjoy the downtime.
The lockdown measures proved to be effective, though. After a few months of social distancing and travel restrictions, Thailand began to shift towards re-starting its economy. Although Jennifer and Chris were unable to move freely, they traveled domestically to some of Thailand's wonderful distinations.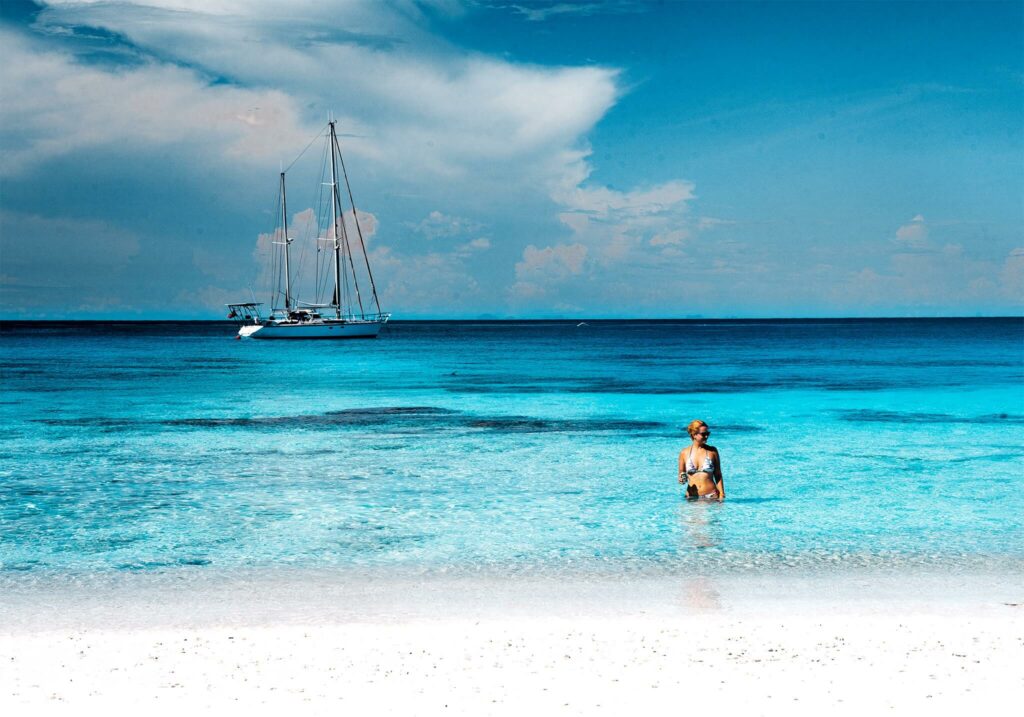 I had the chance to speak with them before their passage to the Maldives, and got a little more insight into the beginning of this new chapter.

How did this dream become a reality, and where did your journey begin?
"Chris and I have been traveling together since we met nearly ten years ago. We loved visiting the various countries over the years, but we wanted to take on a new type of challenge. Having chartered several sailboats during our travels, we decided on one for ourselves. We agreed on an Amel 54, as we liked the different safety features it offers. It was a purchase made so that we could sail during our time off from work. We generally work one month on, and one month off. Things, of course, changed with that after COVID."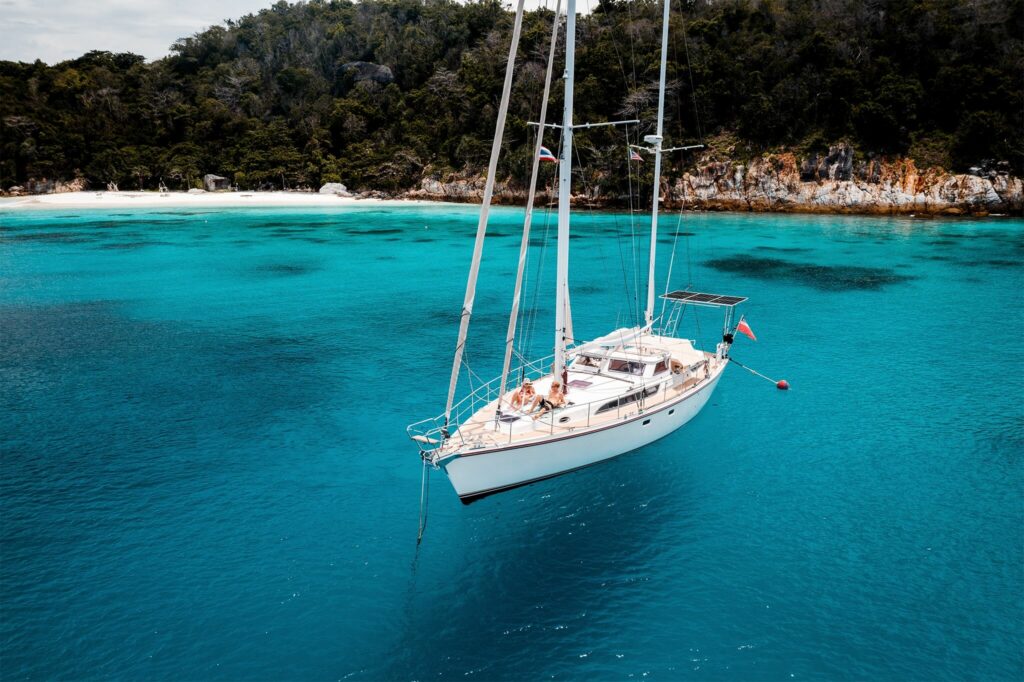 Did either of you have much sailing experience before starting this new adventure?
"I grew up sailing. My parents had a 42-foot sailboat, and I was a sailing instructor as a teenager. Chris began sailing when he met me ten years ago, and we have done many sailing trips since. We chartered boats in Tonga, Tahiti, Brazil, Greece, Italy, Croatia, Spain, and Svalbard. We did a sailing course together in Greece a few years ago since many charter companies require an internationally recognized sailing license, such as the RYA Day Skipper. As owners, we have learned a lot about sailing and boat maintenance over the past year."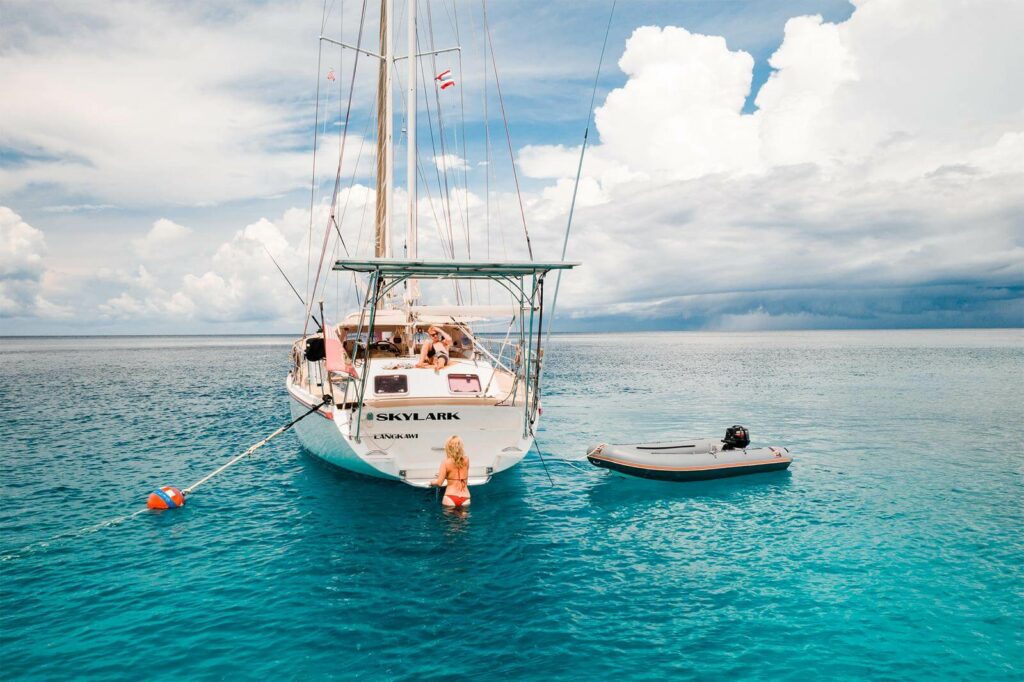 What kind of sailboat is SV Skylark?
"Skylark is a 2009 Amel 54. French yacht builder, Amel, is known for producing some of the safest yachts in its class. She is a 54-foot center cockpit, ketch-rigged sailboat capable of cruising the world in comfort and style. From the cockpit, you control all of the primary sails, adding to its safety and making her very easy to sail short-handed. The Amel 54 is an ideal cruising yacht for a couple. She is a sail-powered boat that also has a Volvo Penta 110hp engine."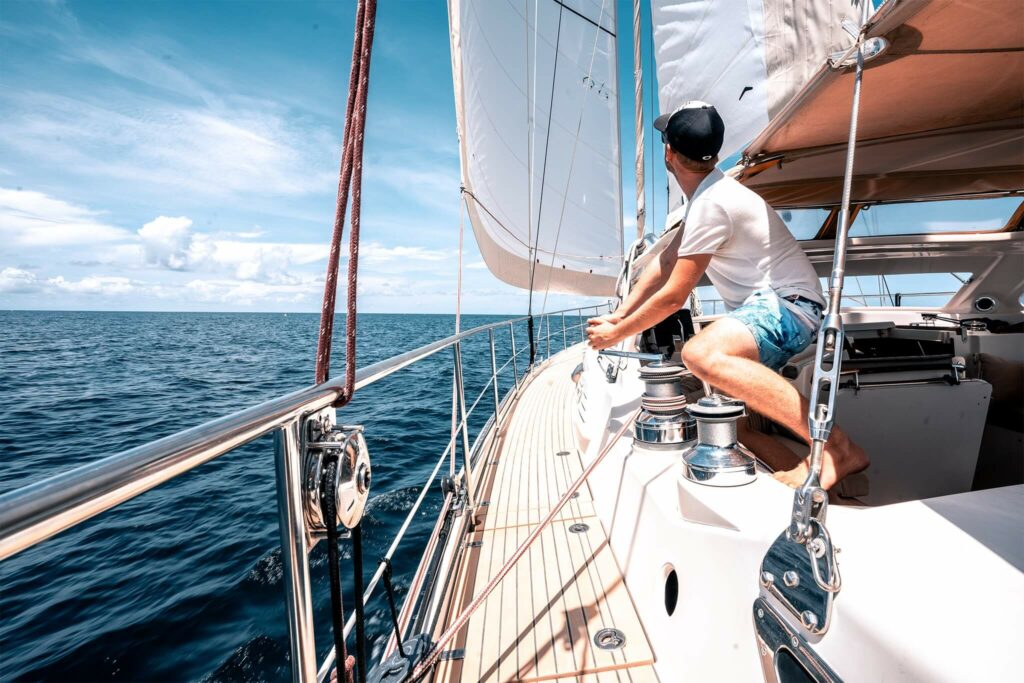 Did you have to give SV Skylark a significant overhaul, or was it well-maintained before you purchased it?
"Skylark was well maintained when we purchased her, and we are trying our best to keep it that way. The previous owner took excellent care of her using all of the manufacturer's recommendations, and the woodwork was pristine. As soon as we saw Skylark, we knew she was the yacht for us. The boat was ready to go as soon as we walked in! We are very fortunate to keep in touch with the previous owner, and he has been helpful when we have any questions. He also left us with lots of spare parts and tools. When considering used yachts, the history of the boat and how the previous owner maintained it is super important."

What items, upgrades, or accessories have turned out to be the best investment before starting your journey? The least useful?
"The best investments have been our solar panels and davits. We waited nearly eight months after we purchased Skylark to invest in them since we were only planning to cruise for a month at a time and had a foldable dinghy that fits in the aft locker. We became sick of lifting the dinghy up every night, though, and decided to make the investment in a davit. We're very happy with this!! We also save on fuel costs using solar panels since we don't have to run the generator as much, which is very pleasant. Other great purchases have been a BBQ, hammock, and projector with a karaoke machine.
"The least useful was a fly trapper from Lazada. It just spins and spins, but it doesn't capture the flies! Maybe we were doing something wrong, but it seems to be a bad purchase. It now sits in a cupboard."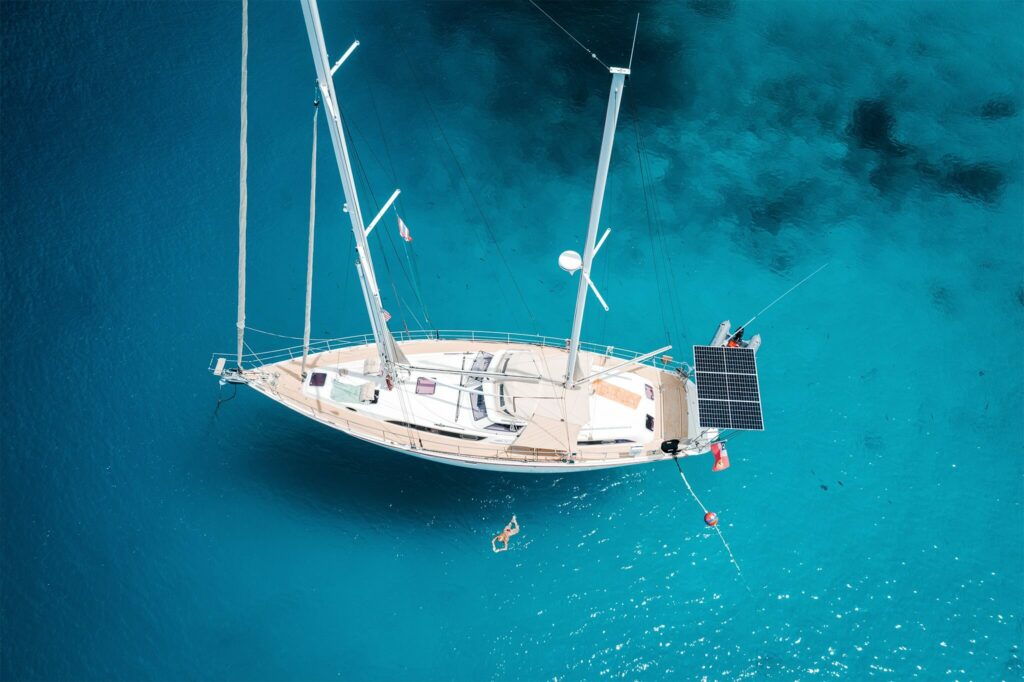 How much has it cost to sail and maintain Skylark in Thailand during COVID, and how do you expect those costs to change once you begin sailing to other countries?
"We are fortunate we made it into Thailand before the border closed. To keep a yacht at a marina in Thailand, it costs about $1100 a month for a 54-foot yacht (around 20$/foot/month). We had a yacht manager take care of our boat for $300-$700 a month while docked at the marina. The care price ranges based on the package, and if we wanted Skylark to have weekly systems tests, cleaning, and daily dock line checks, it's towards the higher end. If you leave a boat unattended for extended periods, it will develop problems and begin to look rough, so proper care is essential.
"Since we've been in Thailand, the overall costs per month have varied. We spend about 95% of our time on anchor, so our marina fees are minimal. We only go into marinas when we have maintenance work that is difficult to do at anchor. Some things in Thailand are affordable compared to other parts of the world, such as labor. However, boat parts cost a lot more since there are heavy import taxes.
"With boating, you can have a month where you spend next to nothing; and other months, things are breaking left and right, or there are things you want to upgrade and change.
"If you're willing to do some maintenance yourself at anchor rather than hiring a professional at a marina, it can save you a lot of money. I keep a detailed spreadsheet of the money we have spent, and after converting it into USD, our monthly expenditures (including food) ranged drastically from $1,500/month up to $15,000/month. We had the most expensive month in July when we installed solar panels and davits to our boat.
"We were out of the water for a couple of weeks, staying in a hotel, and working on various other tasks. Our ignition key malfunctioned, and a replacement from Volvo was about $300 – we also needed new membranes for our water maker, which was close to $1800 for parts and labor. We didn't have anything break in October, and we had bad weather, which meant we cooked many meals onboard Skylark. We were able to spend little that month.
"Over the last year, we have learned a lot about the systems on Skylark and are becoming more and more comfortable doing most of the work ourselves. This is essential for going to remote locations where there are not mechanics readily available. We have also purchased many spare parts, so we don't expect to have to buy much more over the next several months. When we get to the Maldives, we plan to eat on the boat a lot, so our food and beverage expenditure will go down significantly. During the COVID restaurant lockdowns, we saved a lot eating all our meals made with ingredients from the local shops. Now that everything is open, we have been enjoying all of the amazing restaurants and bars on offer."

What has been the hardest part of adapting to life on Skylark? The easiest?
"The hardest part was not having air conditioning. We only have air conditioning while in the marina since we use power from the shore. At anchor, we would have to run the generator, so it's just not practical. In April, it was super hot in Thailand, and we had many difficult nights of sleep! Now we are used to the heat and get cold when we use air conditioning. We recently made a trip up to Bangkok and Chiang Rai, and we were freezing in the hotel room! When it's a hot evening on the boat, I try to remember how cold we were in Chiang Rai!!
"The easiest part is enjoying sundowners. We often anchor somewhere beautiful and have a nice sunset, so it's perfect to complete the day with a cocktail. We enjoy swimming off the boat into beautiful waters and meeting lots of new friends. It's easy to feel like we are on a full-time holiday, and try to reel ourselves in and make sure to eat healthy, exercise, and maintain the boat."

Describe what it's like dealing with visas, customs, and permits in Thailand. Was it a hassle?
"We have only completed one international voyage on Skylark, from Malaysia to Thailand, and it was very streamlined back in December/January.
"For a while during the emergency COVID decree, pleasure crafts could not exit Thai waters without special approval from the skipper's embassy, who then contacts several Thai government agencies for approval. There wasn't really anywhere to go, so we decided it was best to stay in Thailand. We had two friends who ended up leaving and successfully going to Australia with their yacht, but the process was long.
"Cruising in the near future will be more difficult with the restrictions in place. If COVID was not a factor, we would love to visit the Andaman Islands. However, we cannot do this. Thankfully the Maldives is open!
"We also want to visit Chagos in the British Indian Ocean Territory, but for a while, they closed the border due to COVID. Thankfully, we recently received an email stating they were accepting applications, but only three yachts are allowed in the territory at once. Luckily, we put in an application with our friend Paul, and we were both approved!!! They have strict insurance rules requiring coverage for environmental cleanup, wreck removal, and personal health evacuation. We are super excited that we got approved for four weeks next year and that we can experience a place that fewer people visit than summit Mount Everest."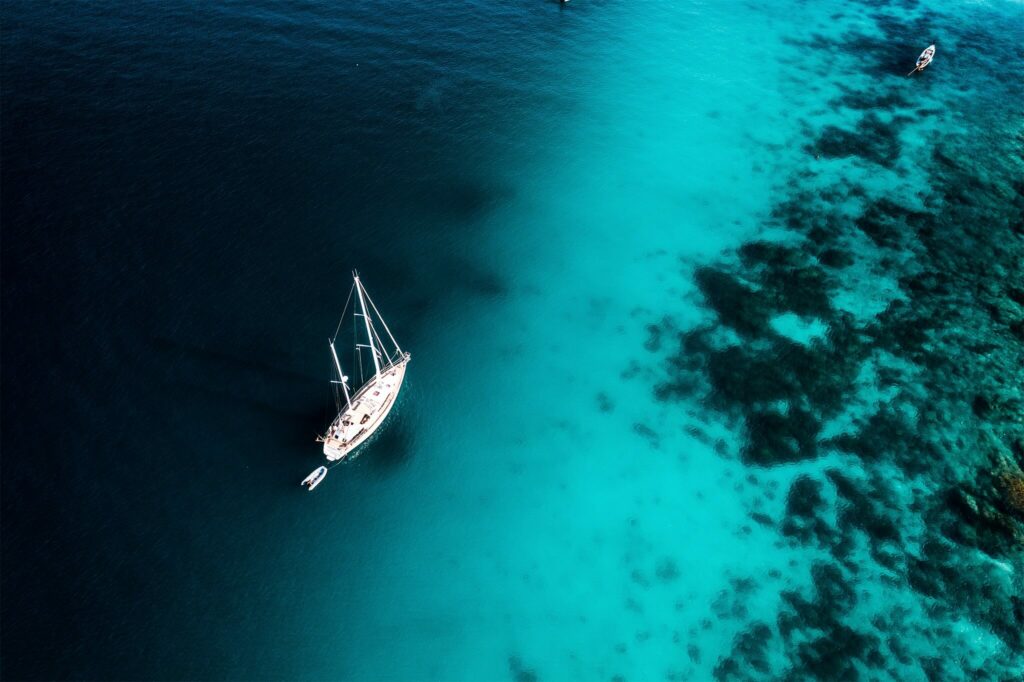 What has your provisioning strategy been to this point, and will that change once you set sail for new destinations?
"While in Thailand, we keep enough dry food to last us about a month, and we stock the fridge with fresh fruits, vegetables, and meat. We also keep a lot of food in the freezer.
"Since we won't have access to markets during our upcoming journey to the Maldives, we just did a huge provision. I calculate we now have four to six months of food onboard. We're mindful of expiration dates, so we don't buy too much perishable food. There's lots of meat in the freezer, and we bought tons of Thai products such as curry paste and larb seasoning. We're going to miss the Thai food!! We are still continually loading up the boat with more supplies."
*Check out the link here to see how Jennifer and Chris prepared for their passage across the Indian Ocean to the Maldives.

Have you been fishing recently, or do you plan to fish for food when you are in more remote locations such as the Maldives?
"We have been trying, but in one year, we only caught two needlefish. We haven't had much luck in Thailand, but we expect there to be more fish when we get offshore! There are many Tuna in the Maldives, so we are hoping to have more luck there. We stocked up on Japanese sushi rice, wasabi, soy sauce, and nori so that when the time comes, we can make sushi on board with fresh fish.
"When we were on a charter in Madagascar last year, we caught five large Wahoo! We prepared it in a bunch of different ways, including sashimi."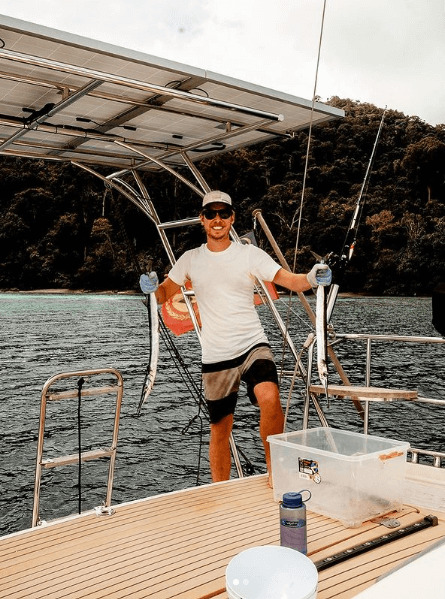 What books or other resources would you recommend for someone who is planning for cruising life?
"Outsidewatch.com. Haha. Just kidding. We would recommend "The Voyager's Handbook," by Beth Leonard. It includes everything, from picking out the ideal boat for your taste and budget, to what it's like cruising around the world.
"There's a lot of good information in there, and it's important to properly research the boat you want. If you end up with lemon, it will be expensive and difficult to sell."

What are your cruising goals for the future?
"Our cruising goals are constantly changing! It's been difficult to make plans with all of this uncertainty. We are currently planning to cross the Indian Ocean, with stops in the Maldives, Chagos (BIOT), Seychelles, Tanzania, Madagascar, and South Africa, but that can change quickly! Eventually, we want to end up in the Caribbean and then Europe. After that, we'll see. We learned in 2020 not to make too many plans."
Follow SV Skylark in real-time with the interactive map on their site.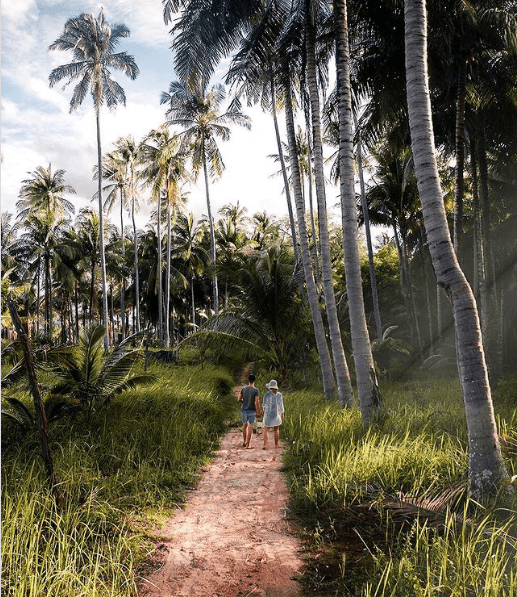 If life makes a shift toward normal over the next year, do you expect to give up the cruising life and go back to work as full-time airline pilots?
"We don't plan to give up cruising life altogether. If we end up going back to work, we'll find somewhere that gives us the flexibility to have stretches of days off to continue sailing. The plan is always changing, though, so who knows. Maybe we will be flying within six months again! Until then, we are going to try and enjoy boat life. We could be back at work before we know it."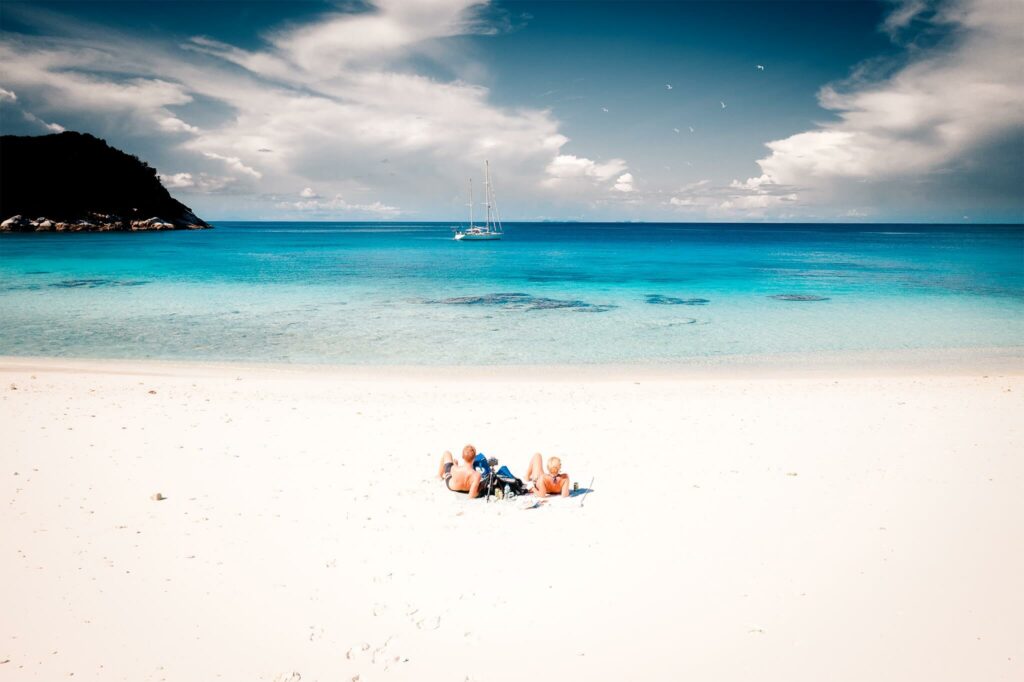 What are your favorite hobbies or pastimes to keep you busy when living on a sailboat?
"We keep busy with boat maintenance, cooking, reading, yoga, and planning our next adventures. I'm currently working on completing an online yoga instructor course. Chris and I did a lot of yoga at Keirita's Yoga in Koh Lipe, and we want to be able to practice on the boat in beautiful locations. We're also busy working on our vlog and blog for Outside Watch."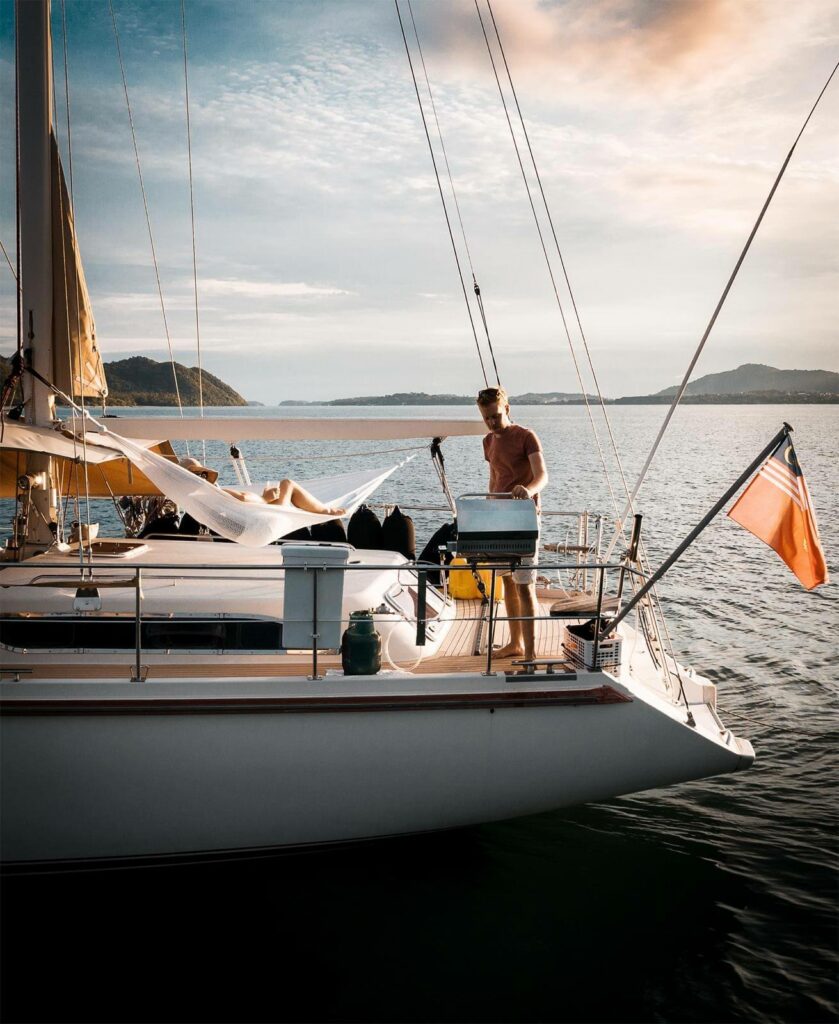 Do you scuba dive from your boat?
"We dive from our boat, but we don't have a compressor on board. We have four tanks that we fill onshore, and we own all of our other equipment. When we went diving in Koh Lipe from Skylark a few months ago, we saw Whale Sharks! It was incredible. We also dive when we clean the hull, which isn't as glamorous, but it's important to keep the bottom clean of marine growth so that our boat speed stays fast."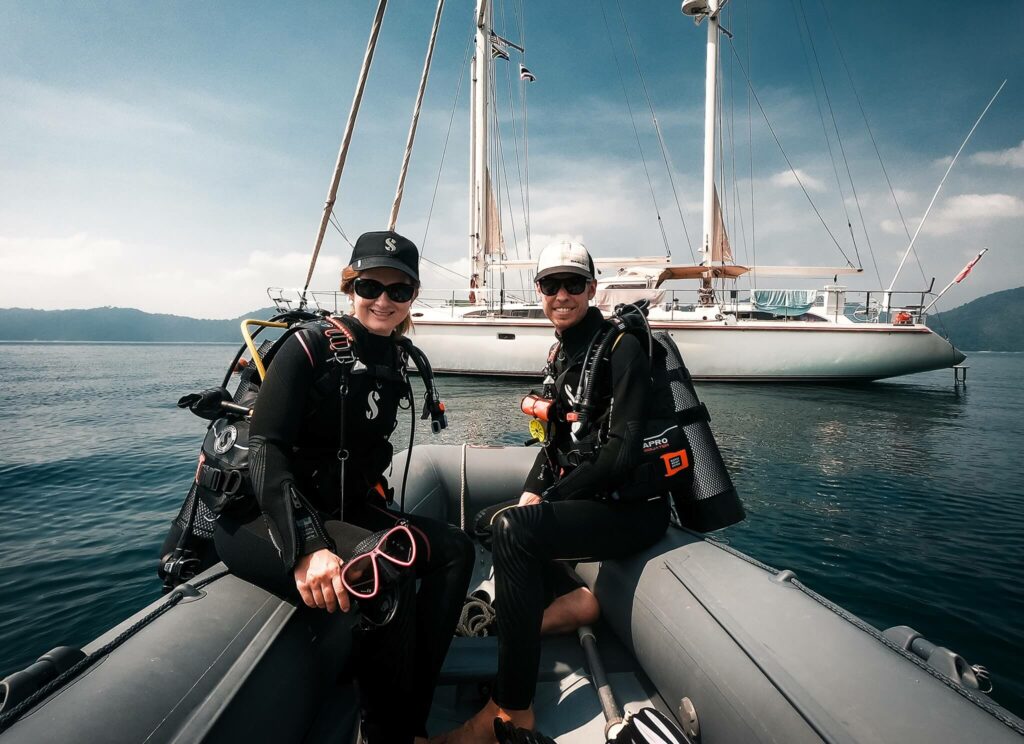 After the first months living on Skylark, is there anything you wish the vessel had that it currently does not?
"We wish we had lithium batteries and a larger inverter – we nearly decided to switch to lithium, but the available batteries were expensive and not exactly what we wanted. We would have had to make some modifications to the boat, and we didn't do enough research to commit to that. For now, we decided to stick to traditional AGM batteries.
"With a bigger inverter, we could run more appliances without starting the generator, including our Nespresso machine. When our current batteries need replacing in a few years, we'll be sure to research our options before making the switch."

What would you like our readers to know about your journey, and what advice would you give to someone considering boat life?
"Sailing is a very rewarding pastime, and living on a boat has many advantages and disadvantages. It's not all beaches, bikinis, and cocktails. There are lots of ups and downs, and it's a lot of work. Maintaining a boat is basically a full-time job in itself, but anything worthwhile is worth hard work! We're excited to finally be ready to go offshore with Skylark on this next adventure to the Maldives!"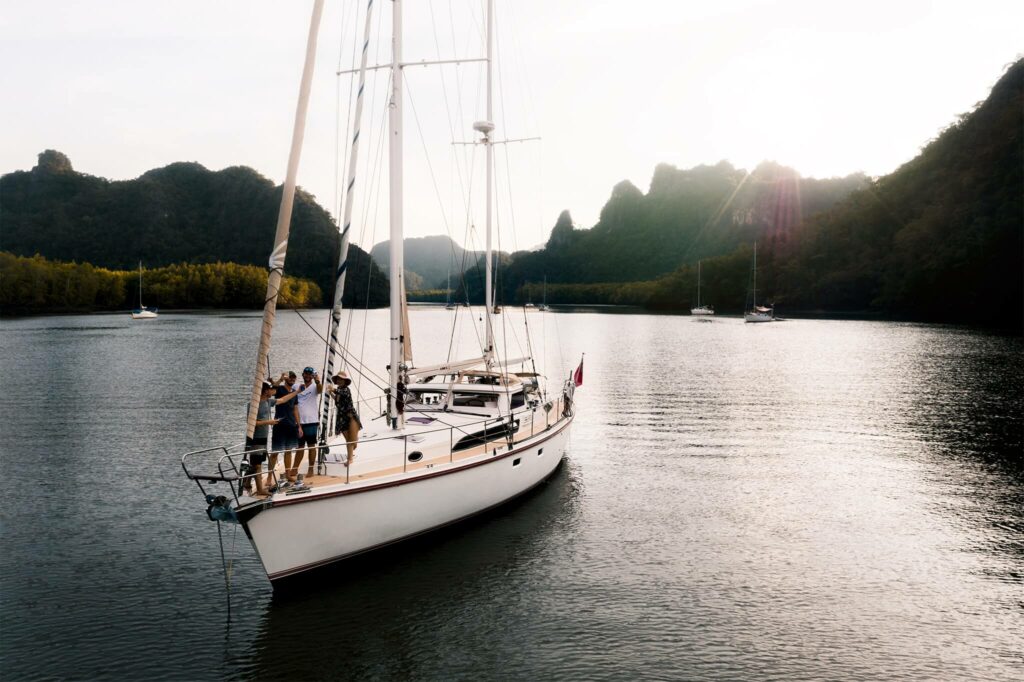 Follow Jennifer and Chris on their adventures aboard SV Skylark at Outsidewatch.com, as well as Facebook, Instagram, and YouTube: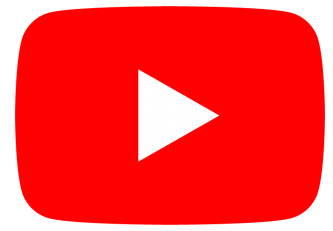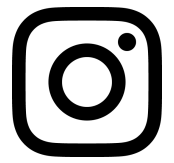 Enjoy reading about Jennifer and Chris? Join the #BoatLife community and find others who love living life around the water by posting in our community forum!
If you found this article helpful, please leave a comment below, share it on social media, and subscribe to our email list.
For direct questions and comments, shoot me an email at travis@boatlife.io