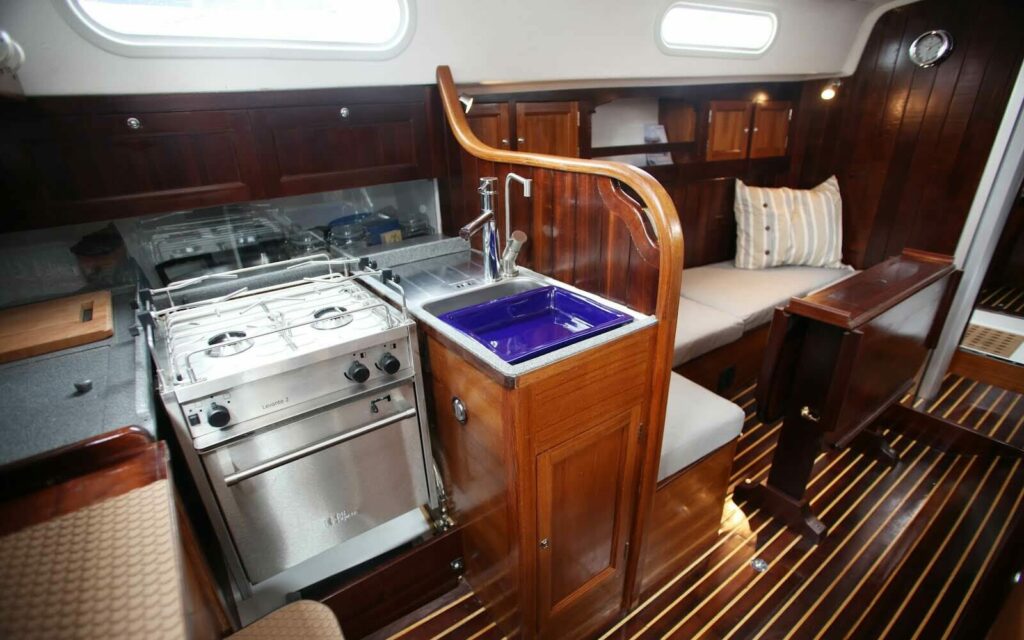 Living on a boat comes with countless challenges, but few can cause more frustration than a poorly designed galley. It's tough enough to cook a great-tasting meal that everyone enjoys in a standard kitchen, but managing that in a swaying, confined space with limited resources can make you want to hurl yourself overboard. A perfect boat galley is well-designed, highly functional, and safe to use. Below, we cover everything you'll need to know to make the most out of your space.


The Boat Galley
Boat galleys vary in a ton of different ways. Size, layout, storage, proximity – the list goes on. Each boat will require a slightly different setup than the next, but certain features are beneficial across the board.


Boat Galley Basics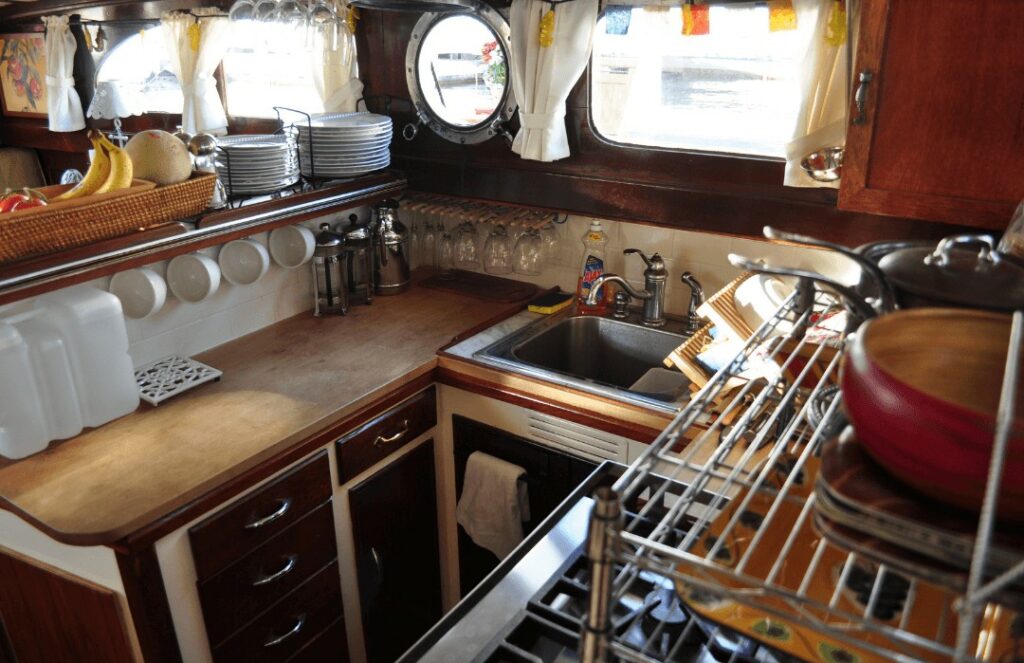 Boat Galley Location
From cooking and cleaning to remaining mobile and social, the location of a galley can dramatically impact your culinary experience at sea. The galley should be accessible from both the cockpit and saloon, well ventilated and in an area that is less prone to boat roll than other areas. Placement at the foot of the boat's companionway is ideal, as it satisfies the three considerations mentioned above. Those with multiple roles on the boat will enjoy this location as they make trips above and below deck. Each boat will have a different setup, though, so be sure to consider the specifics for you and your crew. What works for some will be less than ideal for others.
Boat Galley Layout
The shape and layout of your space will dictate how you set up your kitchen and arrange your boat galley accessories. Three standard layouts for a boat galley exist – Linear, L-Shaped, or U-Shaped. L-Shaped and U-Shaped galleys are more commonly found on offshore cruisers, as the design provides more support and security when the boat is rolling. They also keep spaces and cooking accessories nearby for a busy evening as the lead cook.
While these confined layouts are more suitable for safety and convenience, they reduce the overall ability to be creative in the kitchen. Less space means you have to be more mindful of the equipment you're using, as well as how many dishes you can prepare at once. It would be best if you determined your galley's layout by evaluating how many people are on board, how often you'll be cooking during open-water passages, and how creative a cook you are in the first place.


Functionality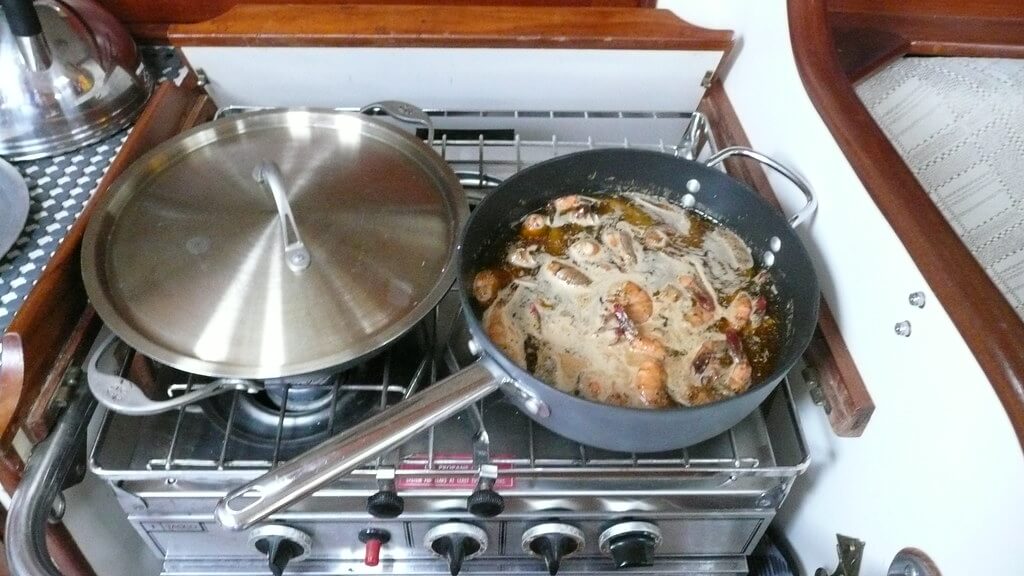 Gimballed Boat Appliances
A gimbal is a single-axis support system on which objects pivot to stay level, even when their surroundings are not. Having gimbaled boat appliances is essential to cooking safely, especially when making long passages in inclement weather. The most common boat appliance to mount on a gimbal is a stove and oven. Gimballed boat appliances are lockable when not in use, so you can use the equipment as usual when at anchor or docked in the marina.
Logical Refrigeration Placement
While modern boat galleys are becoming more logical in their design and layout, there are often things that leave us scratching our heads when looking at older vessels. Unfortunately, one of the most common issues we see is the placement of refrigeration and freezer units. Whether due to space restrictions or simple neglect, we see these cooling units installed near engine rooms, ovens, or in areas with minimal ventilation. For obvious reasons, placement in these areas will drastically reduce energy efficiency and drive up costs. When looking to buy a used boat or renovate your existing galley, make energy efficiency a primary consideration.


Boat Galley Convenience Features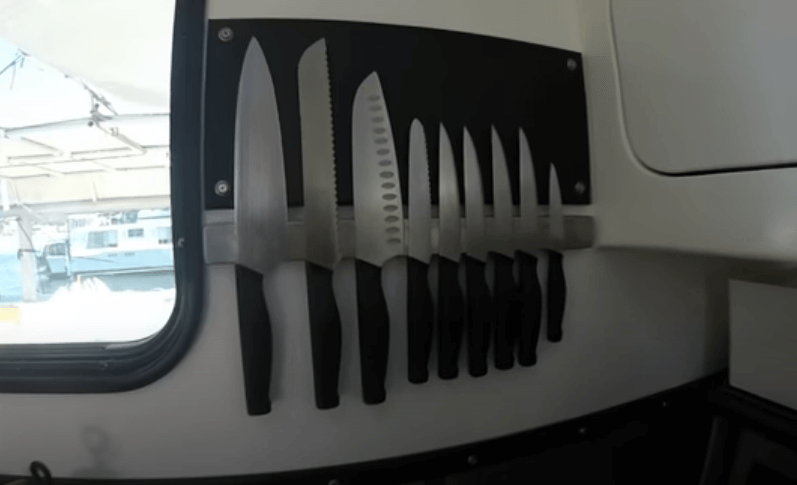 Double-Basin Sink
While this is, of course, a subjective opinion, many offshore cruisers prefer to equip their boat's galley with a deep, double-basin sink. Deeper basins offer a few advantages, although not every person will see them as essential.
The main advantage is the ability to soak your dishes without worrying about water overflowing when the boat rolls. However, if you're only cooking for a few people, you can manage this with a shallow sink as well. The selling point for most is the double basins. With two basins, you can use one for washing and draining while the other serves as a soaking station. After all, efficiency is the name of the game in such a small and limited cooking space. If you aren't using one of the basins, you can increase your counter space by placing a fitted cutting board or surface over the second basin. Depending on the meal, you may require more space or an assistant in the kitchen.
Locking Cupboard, Drawer, and Oven Latches
Installing lockable latches to anything with a swinging door or a sliding drawer is the best way to prevent things from coming open during a passage. Not only are you risking breaking your kitchenware, but you're potentially turning ordinary household items into dangerous, high-speed projectiles. These latches are cheap, easy to install and provide peace of mind for a more relaxed journey.
Vertical Cupboard Dowels
Another infinitely helpful boat galley accessory is vertical dowels, installations to keep glasses in place and prevent breakage. You can also use dowels to stack plates and bowls, although most find the best use for them to hold their precious wine glasses and beer mugs. Ensure you won't be drinking your wine from plastic cups by installing these boat galley accessories in your cupboards.
Wall-Mounted Racks
Having wall-mounted racks in strategic locations around the galley can help the chef stay organized and uncluttered without sacrificing accessibility for items like oil and spices. If your wall rack doesn't have a security band or horizontal dowel to keep items secure, you can easily install a bungee cord to keep things from moving around.


Boat Galley Safety Features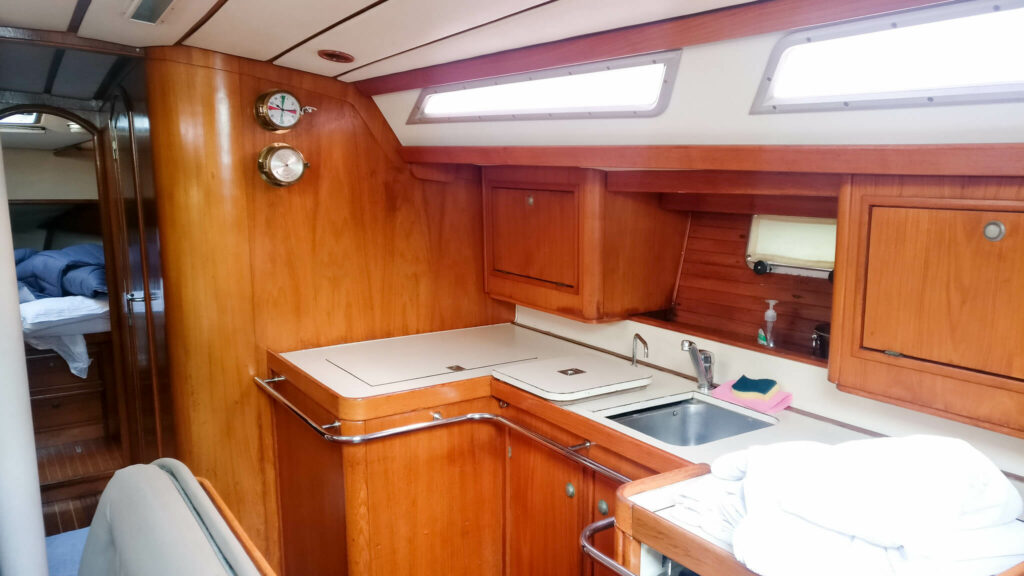 Grab Rails and Handles
When it comes to the boat galley, you need to consider safety a top priority. If not, you'll quickly find out why this is such a pressing matter. One of the biggest threats to a cook is the prospect of being tossed across the galley. One of the best ways to prevent this from happening is by having handles and grab-rails within reach, although some prefer tether systems. The debate will likely continue through eternity, but most long-term cruisers seem to prefer handles and grab-rails as it keeps them mobile in case of emergency.
Tether System
Depending on who you ask, tether systems that hold a cook in place are extremely useful or extremely dangerous. Most seem to think they are more dangerous than beneficial, but those with knee or back injuries may find them invaluable in keeping them stable and safe in the kitchen. When cooking on a boat during a rough passage, being tied in place directly in front of hot liquids, fire and pans can be dangerous. If any of those things spill in your direction, burns and bruises are sure to follow. Handles and grab-rails are a common alternative to tether systems, but debates on a better design can become heated depending on who you ask.


Boat Galley Upgrade Considerations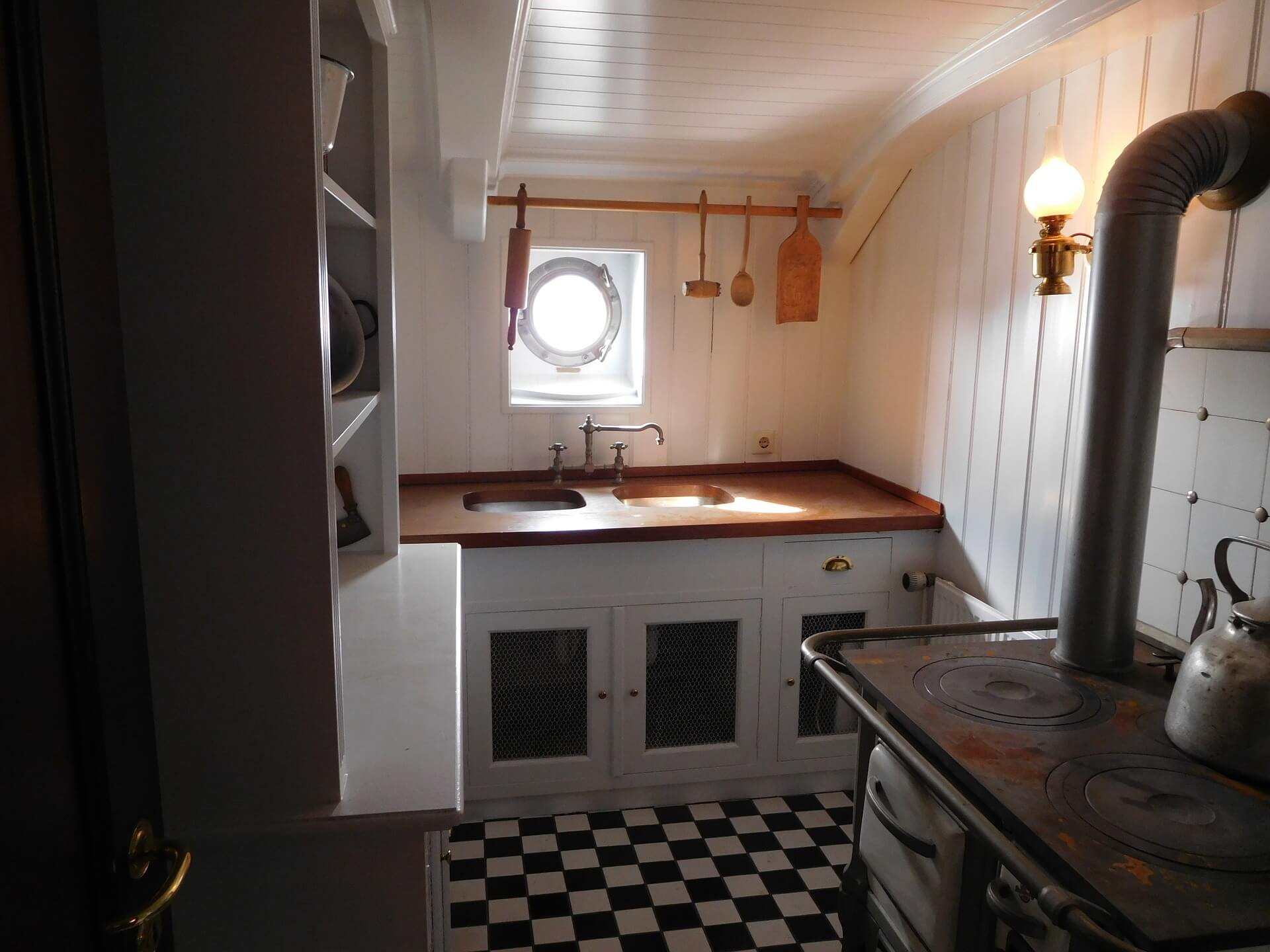 Another method to improve refrigeration efficiency is to create an "organization plan." Installing shelves and drawers will help with organization and space efficiency, and using color-coded labels can help with the quick identification of any item.
Hand and Foot Pump Faucets
Using your freshwater supply to clean dishes is far from economical, so installing a hand or foot pump to the faucet is a great way to minimize the use of your limited resources. Cleaning your dishes with seawater is not only easy, but the resources to do so are completely free. You can arrange hand pumps and foot pumps however you prefer, but a common method is to hook a hand pump to freshwater and a foot pump to seawater. Just clean your dishes with soap and saltwater, and give a quick rinse with fresh water to conserve your onboard resources. You can take the conservation efforts a step further by filling a spray bottle with fresh water to rinse dishes. Although a hand or foot pump uses minimal water, a spray bottle uses even less.
Stainless Steel Boat Appliances
Everything from your kitchen sinks to refrigerators and stovetops is subject to deterioration from salt while at sea. Most new vessels come equipped with all stainless steel appliances for just that reason, but certain models cut costs by supplying the galley with boat appliances made of other materials. If you have boat appliances or kitchenware constructed with anything other than stainless steel, it's worth considering an upgrade. By spending money on items constructed with high-quality material now, you can avoid higher-cost replacements down the road.
Boat Galley Lighting
Poor lighting in your boat's galley can create a dull and uninspired atmosphere, so upgrading your existing lights to LEDs can help liven the mood. Apart from your mental health, LEDs are far more efficient than standard bulbs, which reduces long-term energy costs. Consider installing additional lights to areas above the sink, stove, or countertops. Some LED lights can switch from red to white light, which is beneficial when setting the appropriate mood.
Port / Hatch Enlargements – Ventilation
Your boat's galley is the space that needs the most ventilation – for comfortability, safety, and health. When cooking on a boat with propane, it's crucial to have a well-ventilated kitchen space. Natural gases tend to be denser than air, which means that the gases will "fall" beneath the lower deck if a leak goes unnoticed. Once below deck, the heat can cause combustion to occur, endangering everyone on board or near the boat. Improper use of propane has killed and injured many cruisers in the past, so be sure to prepare appropriately if you decide to use propane as a fuel source. On that note, install gas monitors for further protection.
Galley Cookware and Accessories
With a small amount of planning and preparation, cooking on a boat in a small galley can be enjoyable. Some of the most important considerations to make are the essentials and non-essentials for kitchen cookware and boat galley accessories.


Boat Galley Essentials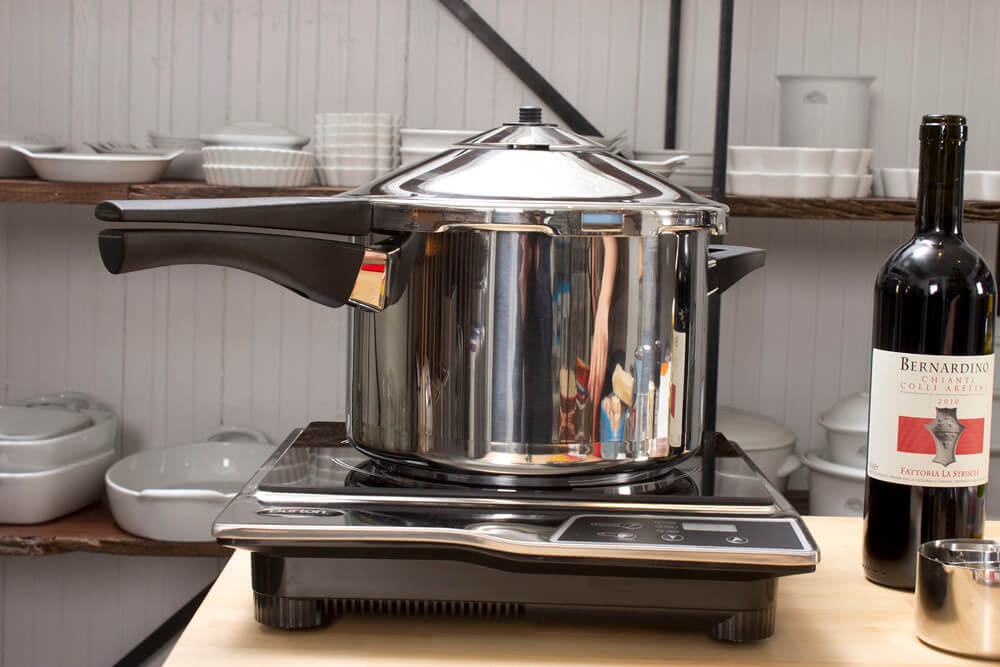 Pressure Cooker
Pressure cookers are the perfect answer to your multi-purpose needs in a boat kitchen. With the steam vent left open, a pressure cooker serves as a standard pot for all daily meals you would prepare in a kitchen at home.
Closed, your cooking time decreases drastically, making those long-haul passages in inclement weather nothing short of a breeze. Although most people who venture into the cruising lifestyle don't have a ton of previous experience with pressure cookers, the learning curve is exceptionally shallow. You can master it in nearly no time.
Nesting Pots and Pans
Dual-purpose kitchen cookware covers all of your bases without stocking up on too many unnecessary items. Further, having nesting cookware is the key ingredient in keeping storage space efficient and uncluttered. Simply put, nesting cookware cascades in size, allowing you to stack each item inside one another. Once you clean them, stack them together, and viola – efficiency at its finest.
Tin Foil and Freezer Bags
Two of the most challenging items to find in foreign countries, whether in the south Pacific or the Caribbean, are heavy-duty tin foil and freezer bags. Keeping your perishables fresh and delicious becomes extremely difficult without the proper boat galley accessories, and these two items are at the top of the list.
Anything and Everything Silicone
Silicone products are a full-time cruiser's best friend, making life easy in a variety of ways. Silicone mats allow you to bake without using oil or parchment, are easy to clean, save on storage space, and provide slip-resistant surfaces for any area in the galley. Collapsible mixing bowls and measuring cups are unbreakable, light, and space-efficient.
Almost all silicone kitchen items can serve multiple purposes, as they are heat resistant, soft, and have gripping properties. Not only are silicone products highly functional, but they are also stylish and colorful – bringing even the dullest of kitchens to life.
High-Quality Knives
Having just a few high-quality, sharp knives on board makes a world of difference for the seasoned chef. In this case, quality over quantity has never been so important. Stainless steel material is the go-to in saltwater environments. High-quality knives make it easy to serve multiple purposes without sacrificing storage space or functionality.
Boat Galley Storage
Living on a boat will turn even the messiest of us into overly neat and well-organized human beings, but this only happens through trial and error without proper direction. Luckily, information is right at our fingertips these days.


Dry Storage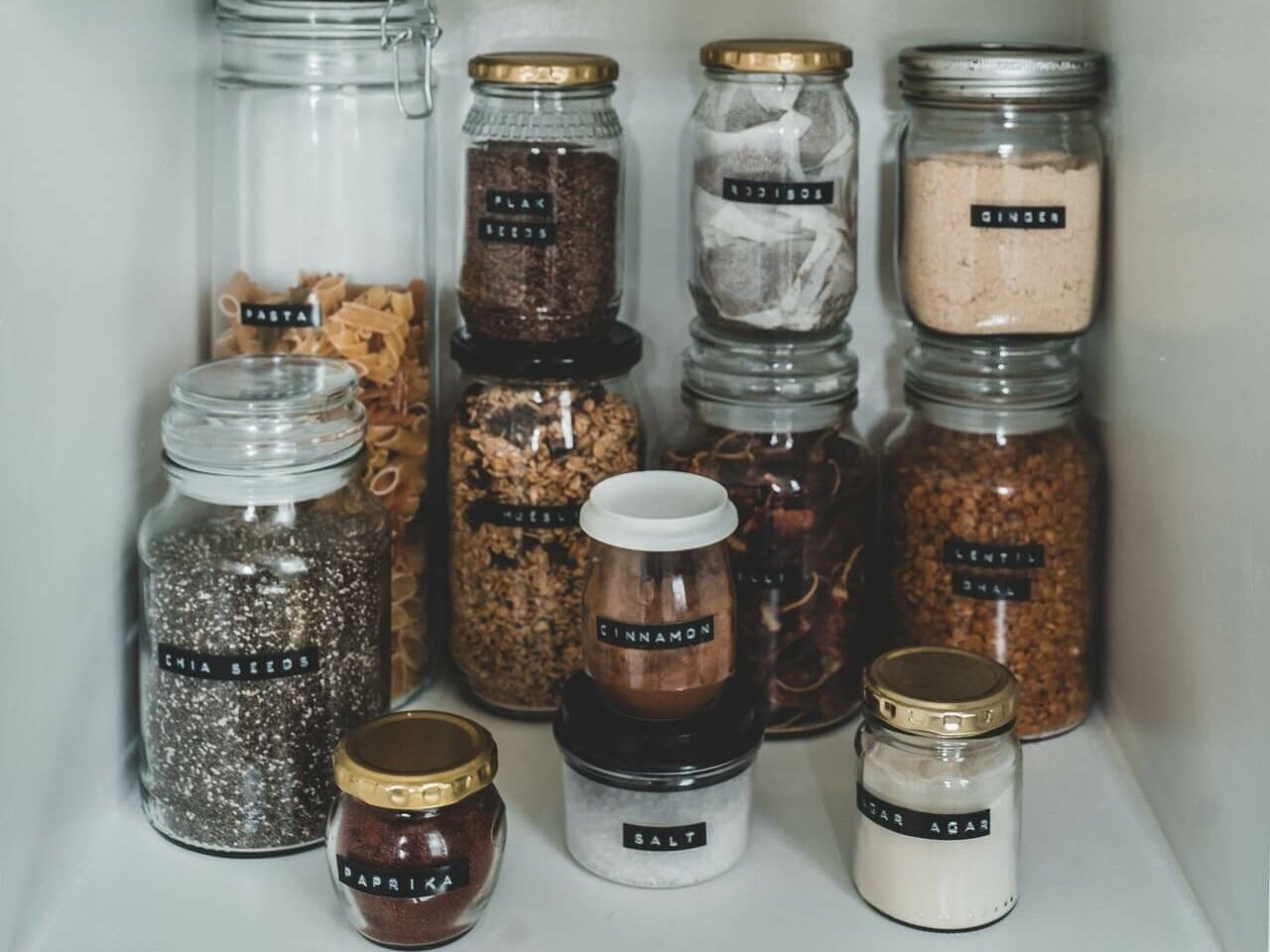 Storage Hammocks
Keeping dry goods such as fruits, vegetables, and spices in a storage hammock is a great way to conserve your cupboard space in the boat galley. Storage hammocks are just what you would imagine them to be. They are small, mesh nets that hang as a hammock does above your sink or stovetop – just try to keep them out of the way of cabinet doors and drawers.
Many experienced boat cooks keep the essential items here for easy access and quick use while preparing meals. The hammock swings just slightly when sailing through rough seas, but they are far from a nuisance if you install them in an ideal location.
Rotating Cupboard Shelves
Instead of pulling out every spice jar to reach the back of the cupboard, install a rotating shelf to make life easier on yourself. Emptying your whole cabinet during passage is a huge inconvenience, and keeping everything secure can become a hassle. You can install rotating shelves as multi-tiered vertical fixtures, so you can use each shelf to organize in a sensible way for your galley.


Refrigerator Storage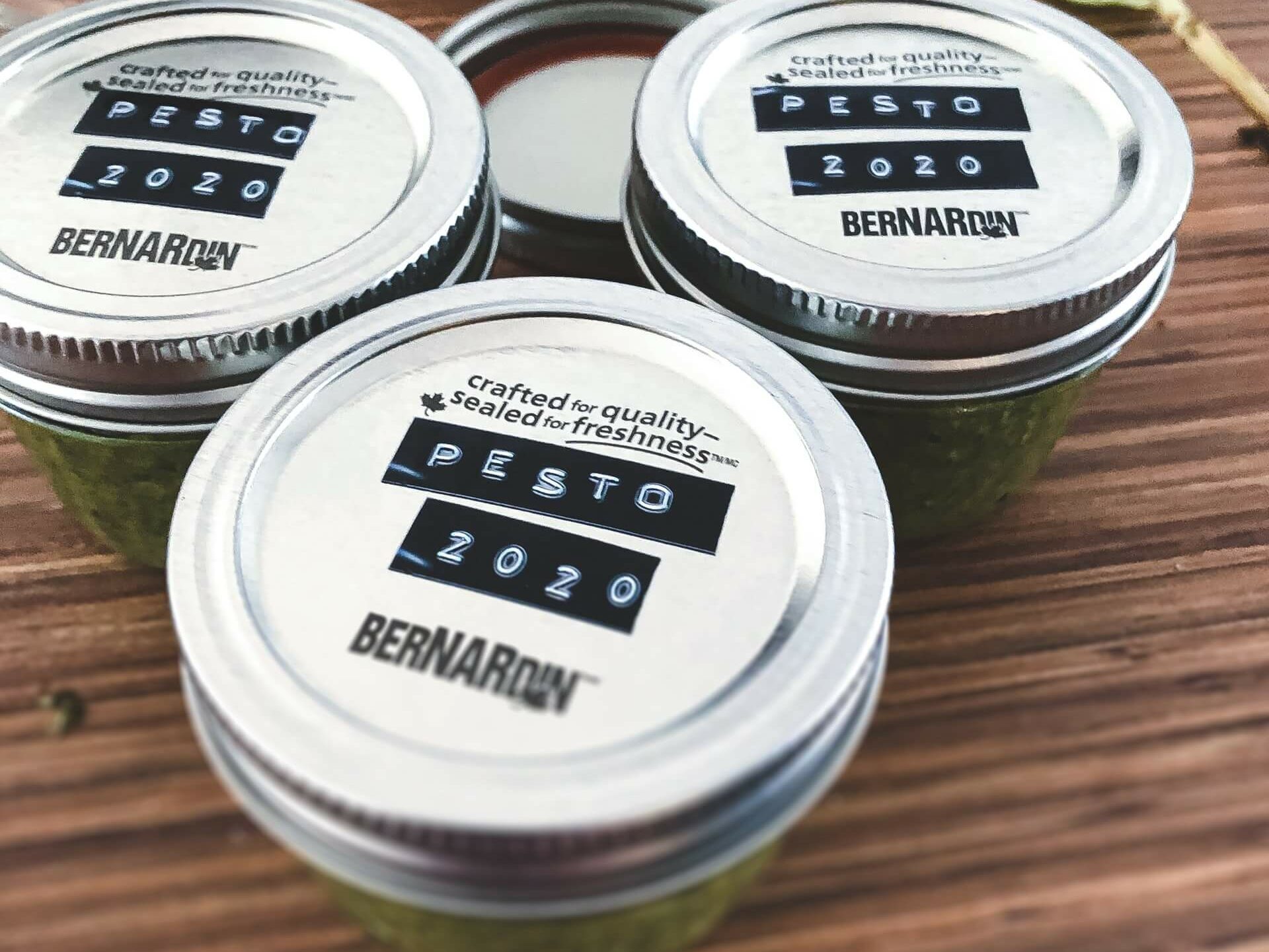 Knowing What Needs Cooled
Not all foods need cold storage for safe consumption. Having a good understanding of which items in your kitchen need cooling will save you space and energy, so familiarize yourself with the requirements of the foods you keep onboard.
Grains, rice, flour, fruits, vegetables, and many other items sealed in jars don't need cooling for healthy consumption. Follow this LINK for estimated keep times of various food items commonly held on a boat.
Top-Loading Refrigerator
Generally, top-loading refrigeration units are open and empty spaces without bins or trays for a personalized organization. When people first try to figure out the best way to organize their cold foods, they often just stack things wherever seems easy and convenient. For most, this leads to developing bad habits that ultimately cost them money as they continually reduce their energy efficiency. We recommend using dividers, trays, and compartments to organize. Over time, you will learn to optimize your storage space – making life less stressful in the galley.


Freezer Storage

Color-Coded Mesh Bags
Having a storage system for your frozen goods is the best way to minimize the time that the freezer door stays open for unnecessary reasons. A standard method for doing this is to have color-coded mesh bags to store frozen items. When looking for fish, poultry, vegetables, or anything else, having a color system reduces time spent fumbling through storage looking for something specific.
Freezer Placement
When buying a new or used boat, your cooling units will likely already have a home. If you're planning to replace or upgrade your freezer, however, install it below the waterline for a lower ambient temperature – this will help with energy conservation, especially in warmer locations like the tropics.
Keeping Pests Under Control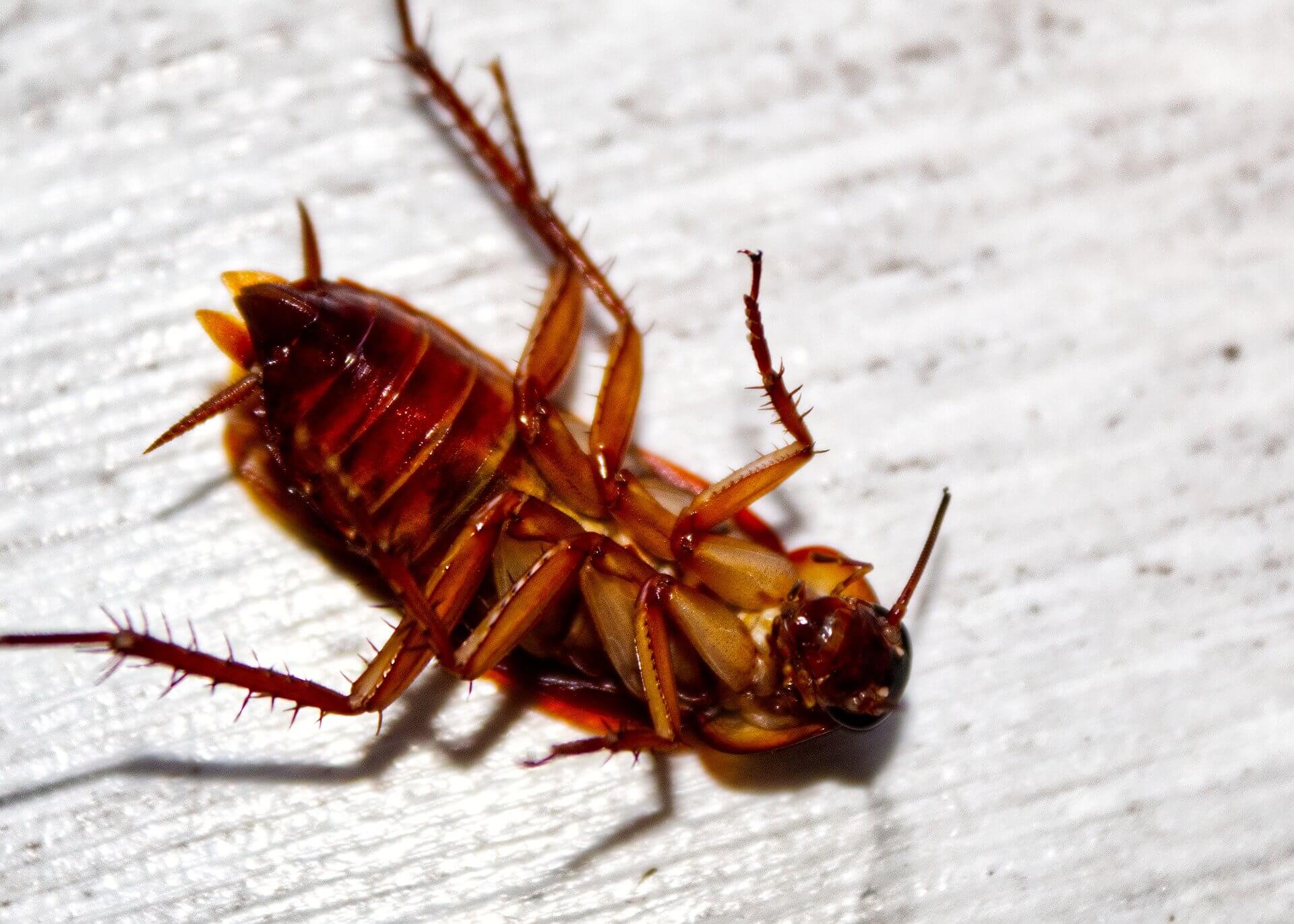 Cardboard and Paper Labels – Cockroaches
Cockroaches are among the biggest nuisances on a boat, especially when stocked with long-term provisions. Small spaces between cardboard mesh and underneath paper labels are the ideal breeding ground for cockroaches – the reason behind most boat infestations. Some cockroaches species carry egg capsules inside their bodies, and before dying, they release dozens of offspring. Getting rid of cockroaches is extremely difficult if not identified promptly. When provisioning, your best bet is to entirely remove any paper or cardboard from every item before placing your goods into storage. Once you remove the labels, use a permanent marker to indicate the contents of the container. Instead of using cardboard boxes as storage, invest in hard plastic tubs and trays to minimize the otherwise continuous battle. Air-tight bins and plastic bags are low-cost and efficient in keeping cockroaches at bay.
If you find yourself with cockroaches scuttling across your floors, you need to act quickly. While there are dozens of strategies for clearing your boat, each will require a different approach. Some cockroach species are easier to eradicate than others, and it seems that everyone has different results with the same methods.
Your best bet is to employ several of the following simultaneously:
Cockroach Gel-Bait
Poison Powders
Traps
Sprays
Fumigation When Necessary (this method requires you to vacate the vessel for 48 hours and remove any cookware, cutlery, and utensils beforehand)


Air-Tight Plastic Storage – Weevils
Weevils are another common onboard pest, and they can be majorly destructive to your provisions. Food items such as rice, nuts, flour, and beans can become infested quickly if not correctly stored in air-tight plastic containers. These foods act like magnets for weevils, and they are the perfect breeding ground for their nearly unnoticeable larvae. Even when treated with pesticides, things like flour provide the ideal habitat for weevil larvae to flourish.
If you are unfortunate enough to open up your grain or flour containers to find weevils, there are a couple of tried and true ways to get rid of the infestation. For flour, simply microwave the product for five minutes or longer, or bake it in the oven at 200 degrees F for 30 minutes. After heating, let cool before storing in an airtight plastic container and store with bay leaves to repel future weevils. For food items such as grains or nuts, you can place them in a deep freezer for several hours to several days. For the freezing method, you need to have a freezer that reaches temperatures well below freezing.


Keeping Clean – Ants
Whether on land or at sea, ants are among the most common pests in a kitchen environment. Sugary drinks, crumbs, and unattended spills are all reasons for ants to come aboard, so clean diligently everywhere on the boat – not just in the galley. You should take preventative measures before you ever see a single ant on the boat to ensure that a full-blown infestation doesn't occur. Once ants make their way on board, you need to eradicate the problem at the source.
Preventative measures include:
Creating Barriers on Dock Lines (Petroleum Jelly)
Strategically Placed Ant Traps and Poisons in High-Risk Areas
Whole or Ground Cloves Placed Near Sugar Containers
Keep Sugars, Syrups, Honey, etc. in Sealed Plastic Bins
You can manage an existing ant infestation in various ways, although using several of the following methods at once is easy and effective:
Sprays
Traps
Gel-Baits
Poisons (Borax and Sugar Mixture)
Galley Cookbooks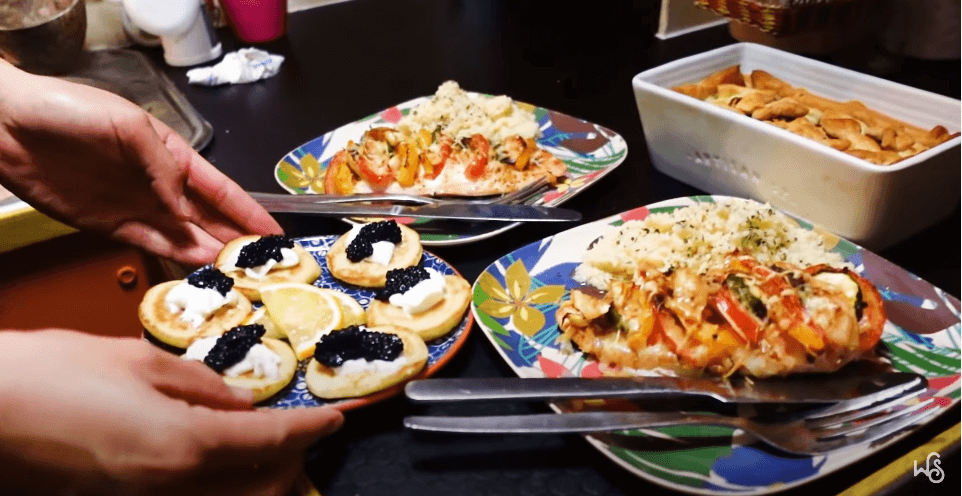 The Boat Galley Cookbook: 800 Everyday Recipes and Essential Tips for Cooking Aboard, by Carolyn Shearlock
The space is tight, the ingredients are limited, and you just caught a fish you've never even considered preparing before. The boat-friendly recipes and tips in this book are sure to help out any long-term cruiser in the galley, but especially the unseasoned, first-time liveaboard chefs. In some parts of the world, chickens come whole, fish come uncleaned, and you need bones for your broth. Making bread and yogurt can also be a daunting task with limited resources. Taking raw, simple ingredients and turning them into full-blown authentic dishes inspired by cuisines worldwide is easy with this galley cookbook. Make sure this book is onboard – you'll find plenty of uses for it.


Feasts Afloat: 150 Recipes for Great Meals From Small Spaces, by Jennifer Trainer Thompson
This book addresses one of the biggest problems with cooking on a boat, and it mentions it directly in its title – limited space. While other boat galley cookbooks try to create complex recipes with unusual ingredients and specialized cookware, this book takes a different approach – bringing you straightforward, easy-to-cook meals without sacrificing taste or quality. You can cook a new boat-friendly recipe from this book every day for nearly half a year, although you are sure to find a few weekly staples along the way. The printed, high-quality color photos inspire the boat chef and create a mouthwatering appetite for everyone on board. If you only keep a couple of cookbooks on board, this should be one of them.
* For a complete list and description of our favorite books to help you plan, prepare, and execute a life of cruising, follow this LINK!
Galley Tips and Tricks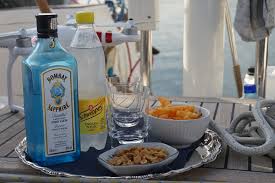 Before preparing a meal, take out every ingredient you'll need and situate them in a way that will maximize workflow. Fumbling through your cramped and limited storage becomes frustrating when you need something at a moment's notice.
Decide on the items you find most useful, and make sure you have them with you – even if it means sacrificing a bit of storage space. If you eat vegetables with every meal, you can reduce the time spent in front of your cutting board by buying a heavy-duty hand dicer. If you're a skilled fisherman and eat seafood often, having a vacuum sealer can be a lifesaver. Tailor your kitchen equipment directly to your needs, rather than using the "blanket method" for preparation.
If you don't have silicone mats, use damp towels to prevent plates and bowls from sliding across surfaces. You can take this idea a step further by applying a small amount of rubber cement to the bottom of plates and bowls. Once dried, few materials will grip surfaces more tightly.
Wear a full-length apron to ensure that you won't suffer burns if hot liquids spill as the boat rolls during passage.
Old tube socks serve as excellent protection for precious wine and liquor bottles. Some will choose to invest in proper fixtures to make sure breakage does not occur, but you can just as easily prevent this from happening with towels and socks.
When preparing freshly caught fish, the smell on your hands may linger for hours or even days. Washing your hands with vinegar is a sure-fire way to get the odor off right away.
Want to join the new forum at #BoatLife? Get a conversation started by leaving a question or comment for the community!

If you found this article helpful, please leave a comment below, share it on social media, and subscribe to our email list.
For direct questions and comments, shoot me an email at travis@boatlife.io